Delivery and packaging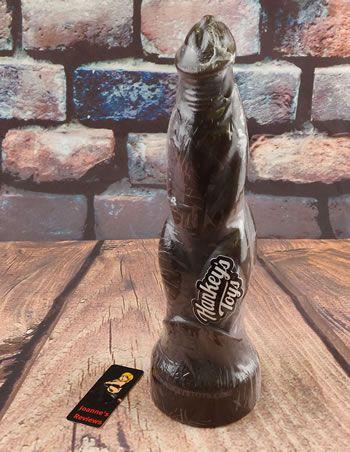 I didn't have to wait long for my package to arrive from the USA by courier.
It was dispatched quickly and in a very discreet plain cardboard box which contained this dildo and two more from the new Hankeys XS range (reviews coming soon).
Each dildo was individually wrapped and sealed in a plastic film to keep them clean in transit. The package also arrived with an adorable Hankeys Toys sticker which is now affixed to my laptop.
The simple approach to packaging helps to keep prices down as there is a lot of silicone in these dildos, and that is not a cheap material.
The simple packaging is also good for the environment and I for one like that.
Design and materials
You are going to hear a lot of words like stunning, amazing and fantastic in this review, and that is because those words are a perfect fit for this silicone creation.
The Beowulf is a fantastic (see there you go) looking dildo that has been created by the same sculptor who designed the Seahorse Dildo that I have already reviewed.


The Beowulf has lovely changes in girth and a nice knot at the base
It features a massive knot at the base and lot of changes in girth along the shaft to tease your holes as you use it.
The glans is unusual in its shape and design, it has a pronounced coronal ridge that feels incredible as it pops inside you. Just under this feature is a series of ridges that are just perfect for gliding over your clitoris to deliver spine-tingling sensations.

The Beowulf has a fantasy glans shape that feels great nudging against my cervix
The muscly and meaty shaft delivers lots in terms of changes in diameter and textures, with detailed veins adding extra texture to the shaft.
The main knot at the base of the dildo gives you a real challenge as you try to squeeze even more of it inside you. It really opens you wide and feels incredible.
This is the small, and there are three larger sizes available if you really fancy a challenge. Mr Hankeys Dildos are always larger than life and perfect for size queens who want a challenge, enjoying the fuller sensations when masturbating.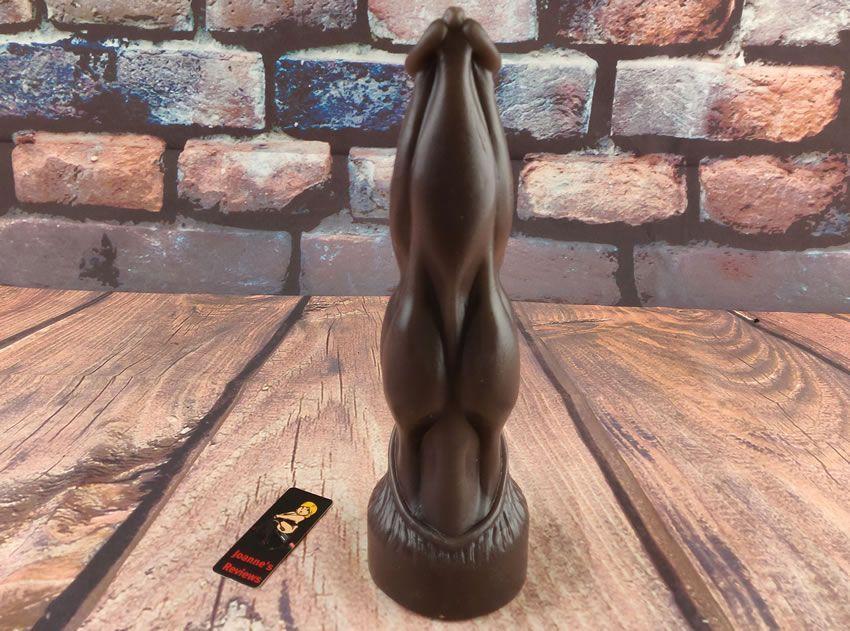 The Beowulf has a stunning fantasy design with lots of muscly changes in girth along its shaft
Specifications
BEOWULF - SMALL
Circumference near head (rim): 4.25"/10.8cm
Circumference near middle: 6.00"/15.2cm
Circumference at knot: 8.00"/20.3cm
Circumference near base: 7.00"/17.8cm
Overall length: 10.00"/25.4cm
Insertable length: 9.00"/22.9cm
Texture: Smooth/Light Texture
Strapon Ring Size: 2.50"/6.4cm
When you order a Hankeys Dildo, you get the opportunity to include a Vac-u-lock compatible hole in the base. As this costs just $4.95, you would be daft not to do so as it increases your play options.
Imagine this dildo or one of the larger ones on the end of a strap-on harness or on the thrusting rod of a fucking machine, and you will see why it is good to have.
Having experienced it on the business end of a fucking machine, all I can say is that it is mind-blowing. I will go into more detail on that in a moment.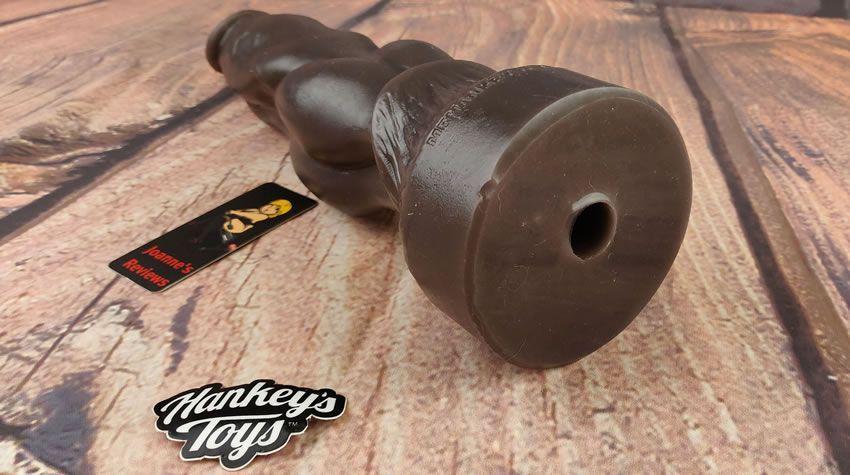 The Beowulf has an option for a vac-u-lock compatible hole in the base and it is a great option to take
The Beowulf is available in a more modestly sized XS version in the new Hankeys Toys XS Range.
When you order the full-blown version, you have lots of options. It is available in four sizes, three colour options (Natural Tan, Deep Brown and Black) and two firmness ratings (Med-firm and 75% Soft).
The difference between the two firmness ratings is easy to understand once you understand the thought process behind it. Consider an erect penis, Med-Firm compares to a hard erect penis in terms of its firmness. Whereas 75% Soft corresponds to a semi-erection at approximately 75% hardness. That is a bit easier to understand than Shore Hardness ratings.
This one is a Medium Firmness Small in Deep Brown.
The blend of silicone used is really nice. This dildo has a little squish when you squeeze it, but you can fold it fully in half.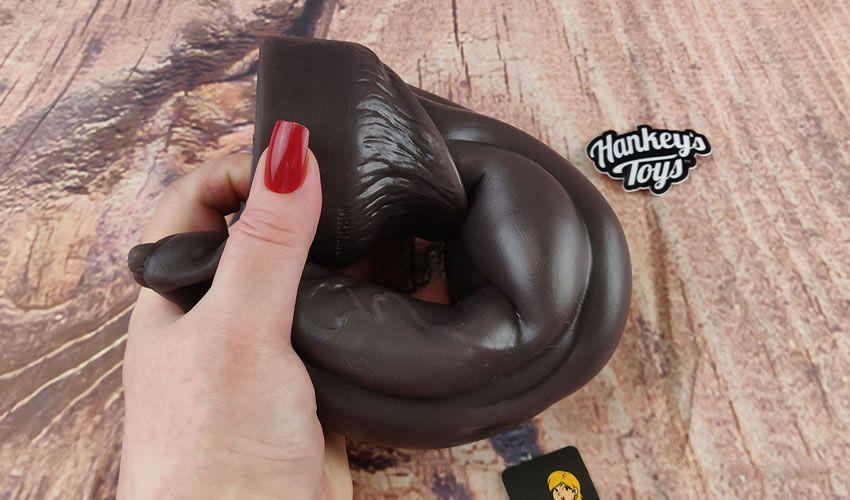 The Beowulf is very flexible and can be folded in half without it breaking
The silicone is smooth but with a nice amount of drag to pull your skin, adding to the sensations. Of course, being silicone, it is non-porous, latex and phthalate-free and very easy to clean.
Placed on a strap-on harness or fucking machine does see it droop a little but that is t be expected with a weighty chunk of silicone as long as this one.
Performance
So, enough about how it is made and what it looks like, you are no doubt more interested in how it performs in use, and I can understand that.
When I first laid my eyes on the Small Beowulf, I knew that I was in for a treat. The delightful textures and girth, combined with the draggy silicone, mean that it is a joy to use.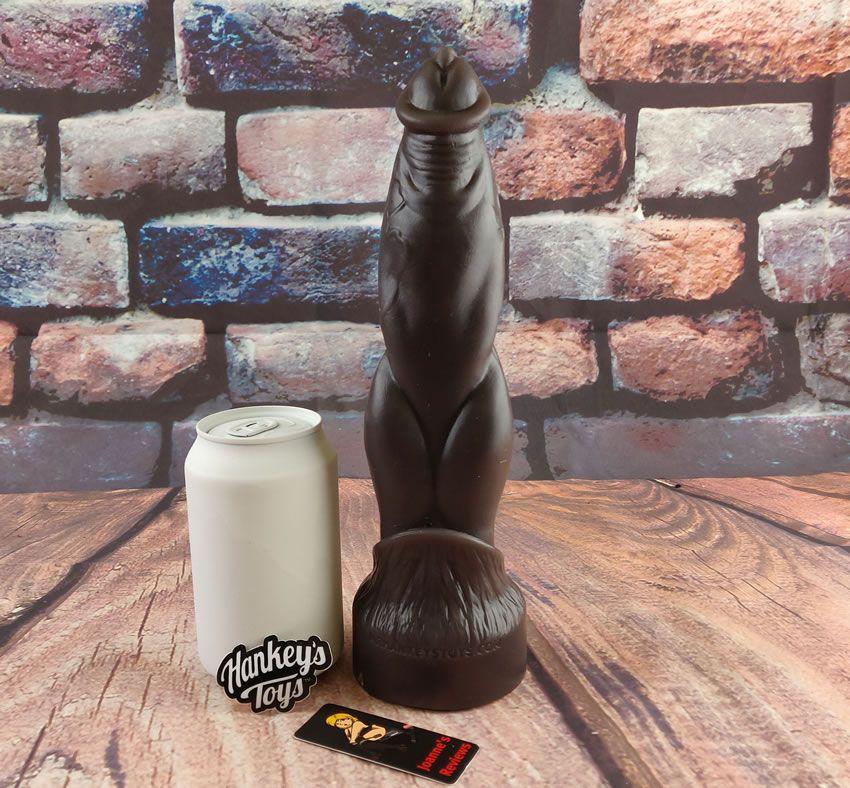 Yes, that is a soft drinks can that the Beowulf is stood next to and this is the small
The glands at the head give great sensation as you insert it and you certainly know once it is inside as the coronal ridge pops into you.
It just gets better and better as you slide more inside with each inch of this dildo opening you up wider and wider until you feel you can't take any more. But after waiting, relaxing and taking a deep breath, I managed to take it right to the base, and that felt incredible.
I was pretty proud of myself, and the interesting glans felt amazing as it pushed down past the end of my cervix giving me a feeling of being totally full and about to split in half.
After relaxing some more, I started to thrust with it, and that felt delightful. The changes in girth really get you going as you feel it opening you wider and wider as you thrust with it.
Use plenty of good quality water-based lube like Sliquid H2O or Secret Play Natural to enjoy the girth of this beast of a dildo.
Using it on a fucking machine takes the play to a whole new level of enjoyment, and I can just lay there being literally ploughed by this behemoth of a dildo.
On your hands and knees doggy style, it is much easier to control the depth of each thrust, and I relished the feeling of having it almost slip out of me before filling me entirely again.
At high speeds this is amazing, and orgasms are hard and fantastic with so much dildo to clamp down upon.
This is a dildo that I have no chance of taking anally, but vaginally it is a real toe curler. If you can take it anally, then you are going to love the texture and the changes in girth.


The Beowulf is a fantastic dildo for stretching and knot play
I had so much fun with the Beowulf, and he has left me tender and sore on several occasions after a good fucking machine session with it.
The Beowulf silicone dildo from @HankeysToys is a sight to behold. Every inch just gets wider and wider filling you completely.
Click to Tweet
Key Features
Key features:
Silicone dildo avilable in two hardnesses
Three colour options
Four size options
Vac-u-lock hole option
Body-safe
Strap-on compatible
I would recommend it to:
Anyone looking for a body-safe dildo larger than the norm
Anyone who enjoys dildos with knots
Anyone looking for a fantasy dildo
Size queens everywhere
I wouldn't recommend it to:
Anyone not into large dildos (check out the XS range though)
Anyone not into fantasy dildos
Final Thoughts
The Beowulf is a size queens dream come true, but it is also available in more modest proportions if taking things to the max is not your thing.
The silicone blend used is delightful, and it is firm yet flexible. It allows you to feel every texture while still giving a little as you clamp down on it mid-orgasm, and that is a feeling I love.
Hankeys Toys are excellent quality and beautifully designed, they have something for everyone, and the new XS range is brilliant.
If you fancy a challenge then definitely consider going for the Beowulf, this primal dildo will give you the ride of your life. I still love those changes in circumference, they really feel incredible.
I was sent the Small Beowulf Dildo by Hankeys Toys and I would like to thank them for giving me the opportunity to review it for them.
Joanne's rating
Where Can I Get One From?
Grab one of these fantastic fantasy dildos from Hankeys Toys from just $119.95 (£97.51) and treat yourself to some beastly girthy fun.
Check them out and don't forget to tell them that Joanne says "Hi".
Disclosure
Disclaimer - I was sent the Beowulf by Hankeys Toys to review free of charge and this has in no way affected the outcome of this review. This post contains affiliate links and if you purchase something when you follow one of these links I may receive a small commission at no cost to you. For more information check out my disclosure page.