Advertising
Advertise Your Site/Brand Here
I am really proud of how my site has grown since its inception and it's always nice to have new partners come aboard. We are continuing to grow and it is nice that you have shown an interest in my work and site.

There are a lot of reasons why you should advertise your brand or site here on sexmachinereviews.co.uk some of them being an excellent targeted audience coupled with being associated with a growing sex blog. I enjoy working with my advertisers to maximise their reach.
My site is listed on the Kinkly Top Sex Blogs Directory where it features within the top 100 sex blogs and it continues to climb month after month. Last year my site was listed in Kinkly's Top 100 Sex Blogging Superheroes list of 2018.
Website Stats
I'm very proud of my site and it has a mozilla rank of 4.98, a Google Domain Authority of 8/10 and a Google Page Authority of 7/10 plus I have gained over 4k+ followers on my main social media presence twitter in just 3 years. Together with 3,750+ followers on Tumblr, 1,160+ subscribers on YouTube and 630+ connections on Linkedin.
I use my social media accounts to promote my reviews, my advertisers and their products.
A good social media strategy is essential to growing my reach and therefore the audience for your products or your service. This data snapshot is from my Google Analytics data from Jan 2018: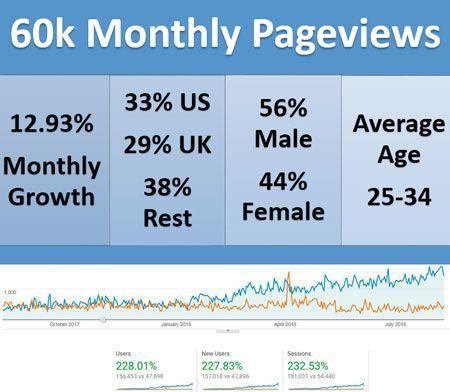 The graph shows daily page views since 1st Aug 2017 and shows a continuous upwards trend.
---
Premium Advertising Space
This advertising package consists of a 250 x 250 pixel banner image shown on the right side of my site globally. This is a prime advertising spot and is one of the first things that visitors eyes are drawn to.
Premium advertisers receive regular twitter posts advertising their business, these will be at least weekly and extra posts can be arranged to support any special promotions or competitions that you are running.
Premium advertisers will be able to rotate the banner image or change it whenever they want.
You can have upto four different banner images that rotate randomly increasing your click through rate. Please allow upto 48 hours for me to action any changes if you send me any new banner images.
I will also be happy to host and arrange competitions for Premium advertisers and this is an excellent way to gain some targeted viral traffic to your business and is a great way to increase brand awareness.
I only have two premium advertising spaces left on the site at the moment.
---
Standard Advertising Space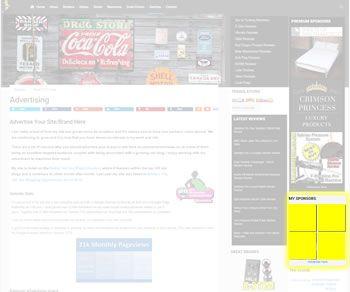 This advertising package allows you to list a 125 x 125 pixel banner image on my site.
These banners are also shown globally but they aren't as prominent as Premium advertising banners as they are listed below them so readers often need to scroll to see them.
Standard advertisers will benefit from twitter advertising posts made every two weeks generating brand awareness and traffic.
Standard advertisers cannot rotate their banners and so it is crucial that you design the right one for this site and its readership. I can help you with banner design if required.
Competitions can be run, just get in touch with me for details.
---
Package Benefits
---
Advertising Package Prices
My advertising rates are extremely competitive and include volume discounts when you book more than a months advertising space. Contact me for my rates.
---
Payment
I accept payment through PayPal or Bank Transfer.
If paying with PayPal I will create an invoice for your to pay for your advertising which will be sent through PayPal for your payment.
If you want to do a Bank Transfer then just let me know and I can send you a manual invoice. I will remind you when your selected advertising package is about to expire.
Getting Started Is Easy
How to get started - Simply get in touch with me through my contacts page so that I can send you my advertising rates and we can work something out together.
Terms & Conditions
I am very easy to work with and you will find it easy to get your advert listed on my site. I do however have some terms and conditions, all of which are common sense and logical:
Banners must be confirmed by me before I will display them. I will not host homophobic, racist, sexist or offensive adverts. I am sure you will understand this simple rule.
Purchased advertising space is non refundable.
I will ensure that I inform you two weeks before your advert runs out to give to time to decided if you want to renew it or not. If you do decide to renew your purchased time will be added onto the end of the original purchased advert time.
Premium adverts are displayed in a rotating order so your advert will spend an equal time at the top as the other premium adverts. I do not believe in favouring one advertiser over another, this is the fairest way to do things.
Advertisements carry no guarantee of traffic, you are purchasing advertising space only and the quality of your advertising banner will dictate how much traffic your advert generates.
I reserve the right to amend or alter these conditions at any time.
My Testimonials
Our Testimonials
$$
Peter
TheDodil.com
Joanne has been wonderfully sweet and supportive in her approach and dealings with us, a young company in a big new world. She reviewed our dodil in an accurate and passionate manner, and we wish her all the best in all her endeavors. Wish to meet Joanne in person one day. I am keeping a big hug for her.
Rachel
AdultShopIt.co.uk
I want to say a big thank you to Joanne Summers for her fantastic reviews. We at adultshopit.co.uk have sent various items to Joanne and we have always been very happy with the work she has provided. Dealing with her is always very easy as she very approachable and friendly to talk to. She describes the items we have sent from the way the product has arrived, how it is packaged and how the products work. She is very thorough and honest with her reviews and gives the customer a well informed description of our products. I wouldn't hesitate to use Joanne for our Product Reviews again and will definitely provide her with some more Adult Goodies to test out for us again in the near future, thanks again Joanne.
---
Found Something Useful, Or Do You Just Like What I Do?
---
Related items