Delivery and packaging
This dildo, just like all of the others that have come from Mr Hankey's toys arrived in a plain box. It carried no indication as to the contents on the outside of the box.
This is important for obvious reasons, and I can confirm that Mr Hankey takes customer discretion very seriously.
The BFG dildo came well packaged, and it was inside a sealed plastic pouch, so I knew that no-one had tampered with it since its dispatch to me. This minimalistic approach to packaging is also good for the environment and your pocket, too, as it keeps prices down.

The BFG dildo comes shrink wrapped for hygiene
I also received a lovely Mr Hankey's sticker. This now sits on my laptop, much to the entertainment of my partner - Stunt Cock.
I usually keep the Hankey's dildos for myself to review as I love the larger toys that they produce. But, as this is from the Xtra-Small Series, I asked the lovely sub'r' to use is and give me her opinion of it.
Design and materials
The Hankeys Xtra-Small Series takes their most popular dildo designs and has shrunk them down to more modest proportions.
Like all Hankey's Dildos, this one is made from platinum cure silicone. This is the perfect sex toy material as it is both latex and phthalate-free as well as being non-porous too.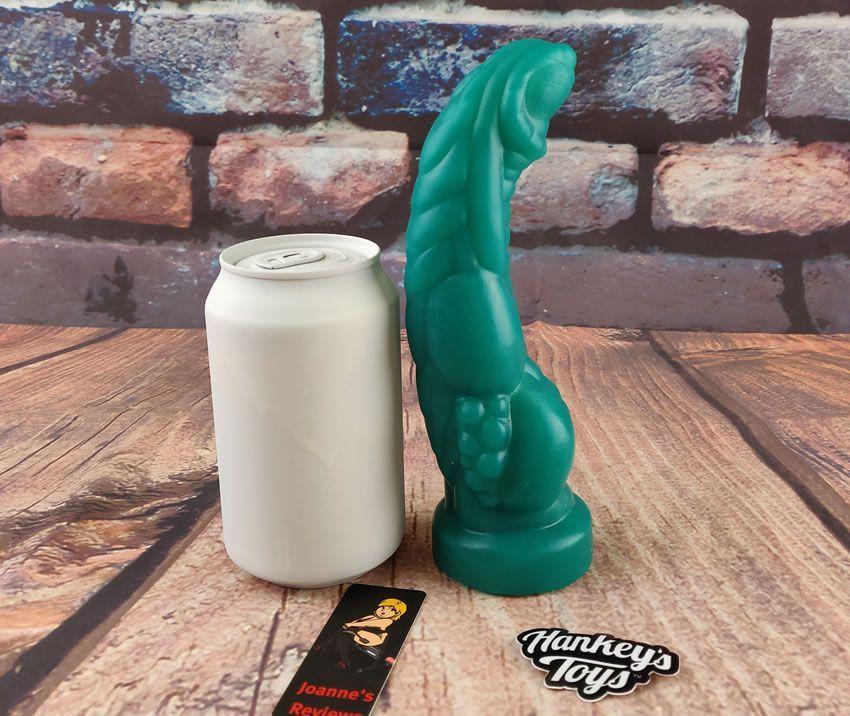 The Xtra-Small BFG dildo is much more modest in its proportions compared to its big brother
Circumference near head: 4.0"/10cm
Circumference near middle: 5.0"/12.5cm
Circumference at knot: 6.5"/16.5cm
Circumference near base: 5.35"/13.6cm
Insertable length: 7.0"/17.8cm The blend that Mr Hankey uses is lovely, and this dildo is available in two hardness ratings (75% Soft and Med Firm). You also get a fantastic choice of colours on offer with Bubblegum Pink, Blood Red (a dark red) and Metallic Green (this one) along with their standard Natural Tan, Black and Deep Brown available for no extra charge.
The hardness ratings are a little confusing, but in essence, Med Firm relates to how a fully erect penis feels. While 75% soft as its name suggests refers to a penis that is 75% erect. Of the two, the 75% options feels really lovely, but I wanted to get the most of the textures, so I opted for the Med Firm blend.
Having so much choice means you can tailor your dildo to your requirements and with another eight dildos in the Xtra-Small Series you get a lot of options to choose from.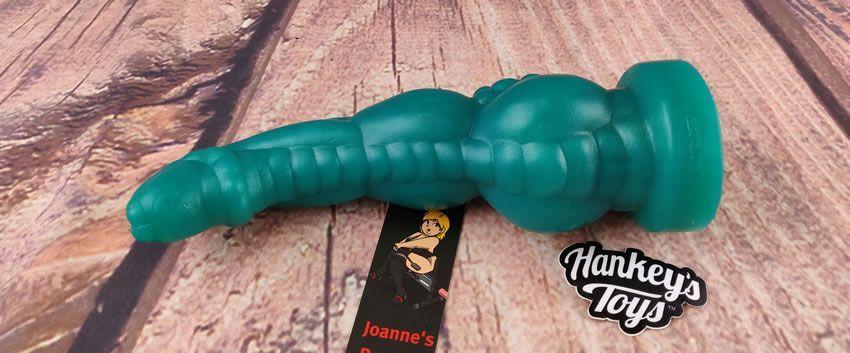 The Xtra-Small BFG dildo has lots of textures on it upper edge
It is still softish, and you can have a lot of fun just squeezing it, and you can almost bend it in half. The silicone is slightly draggy, which helps make it feel even more intense as you thrust with it.
The BFG dildo features a lovely curve to it, which creates a lot of g-spot stimulation as you use it and it is one of the features I like most about it. It also features a well-defined glans and coronal ridge as well as lots of changes in diameter along the bulbous shaft.
The widest bulges form a knot and are near the base, and these feel very intense as you bear down upon them. This is a fantastic fantasy dildo with texture to satisfy any texture queen.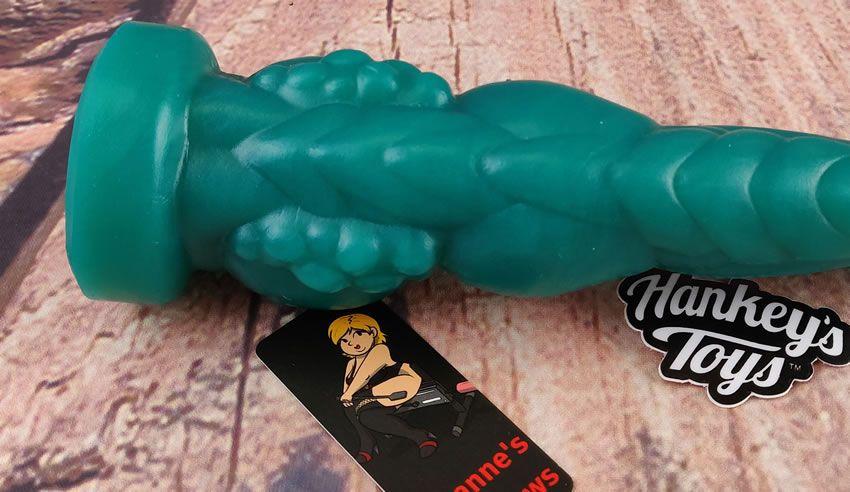 The bulges at the base of the BFG dildo form a knot for you to enjoy
I would love to see this come with a storage bag to keep dust and lint off it between uses, but I use a large sandwich bag to store this one after it has been cleaned and dried.
On the subject of cleaning, make sure you get into all the nooks and crannies of this dildo. Like lots of fantasy dildos, this one is a bit of a vag-goo trap. You can wash it in warm soapy water, and you can use an anti-bacterial sex toy cleaner on it too.
I recommend using a good quality water-based lube with the BFG such as Sliquid H2O and Secret Play Natural.
Performance
As sub'r' got first dibs on this dildo here are her thoughts on it:
I like the BFG, and I was surprised at how light it is. My wrists get tired very quickly with heavy sex toys, and so I was delighted with how this one felt.
Every inch of the BFG feels fantastic as I slide it into my pussy. The textures deliver delightful sensations, and I love the changes in diameter. The bulges near the base are a nice challenge for me and the feeling of being filled so completely when I take it all is amazing.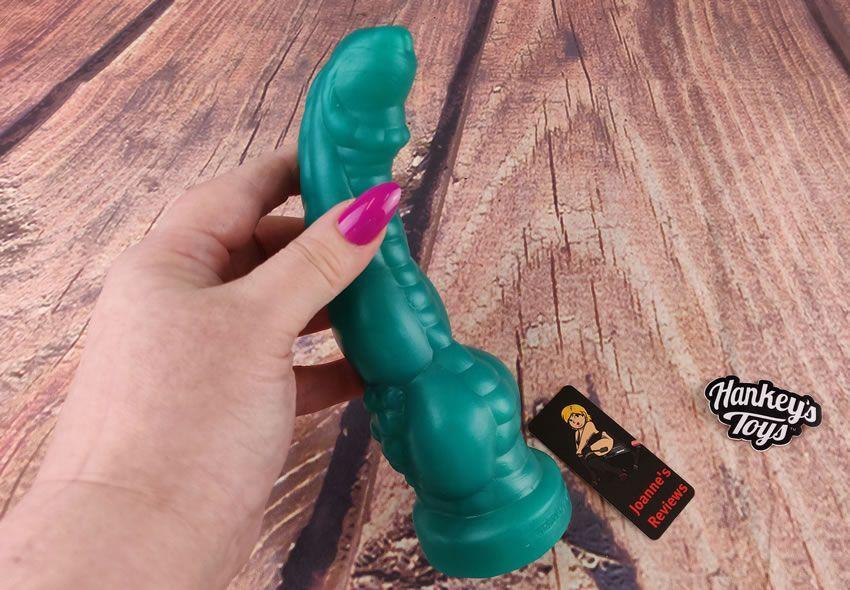 The upturned head provides lots of g-spot pleasure
Thrusting with it is sublime. The combination of the textures, changes in diameter and the constant pressure on my g-spot means I can get myself off quickly with the BFG. I also enjoy long slow lady-wanks with it too, it is a very versatile dildo.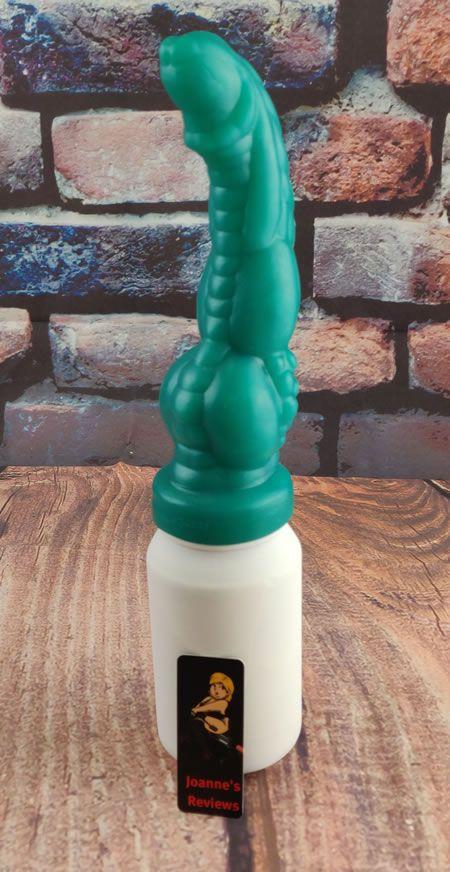 I enjoyed having my partner use it on me, his thrusts got faster and faster. As I orgasmed, he pulled it out quickly, and I squirted everywhere. I got so embarrassed for a second until he thrust it back in me, bringing me to another very wet orgasm.
I also enjoy fitting it to my strap-on harness for some kinky girl/girl fun, and I can assure you that the BFG feels as good in my backside as it does in my pussy.
When thrusting with it, I tend to use a lot of lube as I love the slippery feeling, and the BFG feels incredible when I get it all in. It is hard to describe the sensation of those bulbous sections on the shaft, but you can really appreciate them when playing with it.
Lots of lube is especially important when I use the BFG anally because all that texture means lots of friction. It is this friction that helps to get me off so quickly with it up my bum too.
The diameter of the BFG starts quite easy, and as you take more, it opens and stretches you wider, so this is an ideal dildo for anyone wanting to push their boundaries a little.
The base, while not advertised as being a suction cup base sticks well to smooth surfaces. I love using dildos in the bath and find orgasms to be much stronger when I am bathing. So I love using the BFG in the tub, and it stays in place well as I ride it.
Overall, I am thrilled with the BFG; it is so much fun vaginally and also anally. The curve on it feels fantastic against my g-spot, and I would imagine it would feel likewise on a guys prostate gland.
The BFG is a fantastic dildo for anyone looking for a fantasy dildo with lots of texture and features.
Check out the fantasy BFG silicone dildo from @HankeysToys, it features some delicious textures.
Click to Tweet
Key Features
Key features:
100% Platinum cure silicone
Phthalate and latex free
Lots of texture and changes in girth
Two hardness options
Seven colour options
Eight other Xtra-Small Series dildos to choose from
I would recommend it to:
Anyone who enjoys fantasy dildos
Anyone who enjoys dildos with lots of textures
Anyone who enjoys dildos with lots of changes in girth
Anyone wanting a more manageable Mr Hankeys dildo
I wouldn't recommend it to:
Anyone who doesn't like lots of changes in girth and textures
Anyone looking for a larger dildo
Anyone who doesn't like fantasy dildos
Final Thoughts
We enjoyed reviewing the BFG and sub'r' loves playing with it, and she is getting very good with using it in her strap-on harness.
The textures on it are sublime, and the material and softness of it means it feels great in use. Silicone is my go-to sex toy material, and the blend used on the BFG is second to none.
Try this dildo if you are looking for a modestly proportioned dildo packed full of texture or if you are a size queen then go for the full-sized ones and give yourself a challenge.
Check out the rest of the Mr Hankey's dildo range for some incredible designs that will tax the greediest of size queens and their Xtra-Small Series means you can enjoy the classic designs even if you haven't got a pussy like St.Pauls Cathedral.
I was sent the BFG dildo by Mr Hankey and I would like to thank him for giving me the opportunity to review it.
Joanne's rating
Where Can I Get One From?
Grab one of these fantastic silicone dildos from Mr Hankey, you can grab a BFG dildo for just $65.95 (approx. £50.89) which is great value for money for a silicone dildo of this quality.
Check them out and don't forget to tell them that Joanne says "Hi".
Disclosure
Disclaimer - I was sent the BFG Dildo to review free of charge and this has in no way affected the outcome of this review. This post contains affiliate links and if you purchase something when you follow one of these links I may receive a small commission at no cost to you. For more information check out my disclosure page.