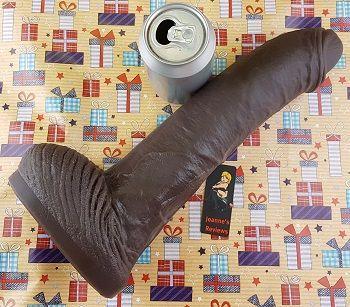 Mr Hankeys Toys is a US based company that makes all of their own dildos in their own facility in San Diego, California. Their quality control is exceptional and all of the dildos that I have received from them are flawless in every way and the detail in their range really does stand out, these are dildos for the connoisseur of all things fine, especially the lovers of the larger sex toys. The CutlerX stands testimony to this, it's quite simply huge.
The detail on the CutlerX dildo is simply stunning with every wrinkle, fold and crease on CutlerX's manhood recreated in all of its glory, this is a life-cast and I am amazed that he managed to stay hard long enough for the moulding process to work, having just made a replica of my own pussy I have the upmost respect for Mr Hankey and his abilities when it comes to making casts and pouring exceptional dildos.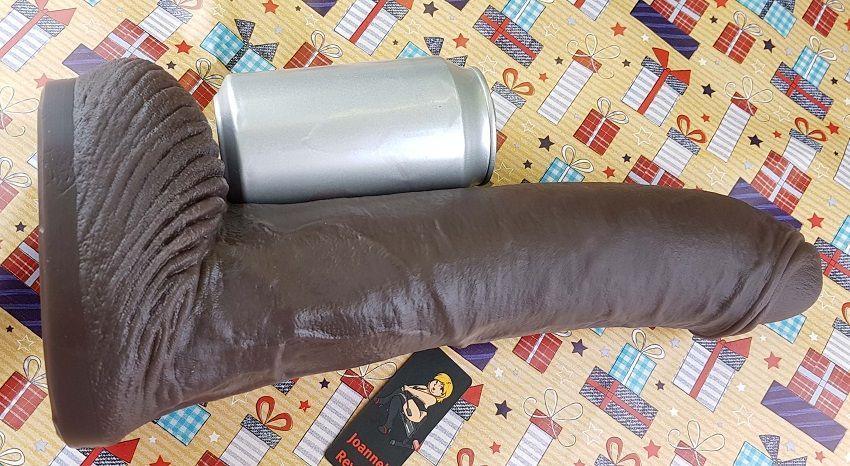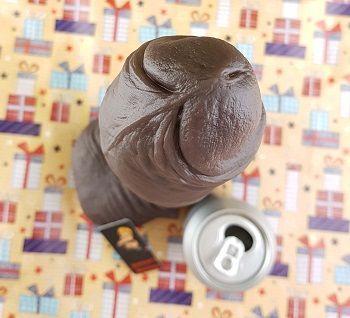 The first thing I noticed when I received my package from Mr Hankeys Toys was the weight of the two dildos inside. The packaging was very plain as you would expect and I actually had to place the CutlerX on a set of scales to satisfy my curiosity as to its weight as it is very heavy.
It turns out that it's just over 1.5kg of Platinum cure silicone and as this is the perfect material for creating dildos you will be happy to know that it contains no phthalates, no latex and it isn't porous making it entirely body-safe.
There is simply nothing small about this dildo and so here are the stats, it's 13.25" / 33.7cm long and a massive 11.25" / 28.6cm is insertable. As for its circumference it is 7.75" / 19.7cm around the head, 8.25" / 21cm around the middle and 8.5" / 21.6cm around it at the base.
All in all this is one behemoth of a dildo and it's honestly as wide and as long as my forearm. I have never considered myself capable of being fisted but after enjoying the CutlerX I believe I could enjoy that particular activity sometime soon.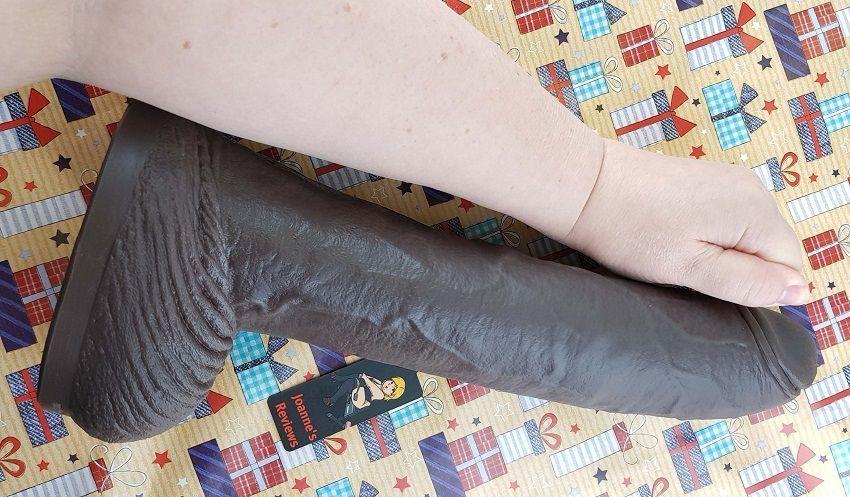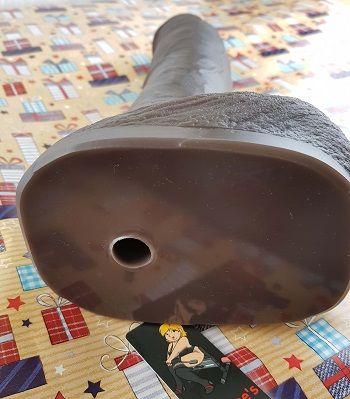 This dildo is strapon compatible and you will need a ring size of 2.50" /6.35cm or 3.00" / 7.6cm plus a fairly substantial harness to support its weight. You can get this dildo with a vac-u-lock hole but I would recommend not relying on it, use a strapon with a metal ring to be safe as this dildo is heavy.
If you want a vac-u-lock hole in the base of this dildo it will just cost you an extra $4.95 and for that price you would be mad not to opt for it on a just incase basis. It's also available in two hardness ratings but only one colour as lets face it this is CutlerX's cock so it is available in its natural colour - deep brown.
The two hardness ratings are Medium Firm and 75% soft and basically in layman's terms the Medium Firm blend is similar to a fully erect penis, you get some give but it's fairly rigid. The 75% blend is similar to a cock that is 3/4 erect and so it is softer and easier to bend.
The one that I am reviewing is the 75% blend and I like it a lot. It's very flexible but only has a bit of give when you squeeze it.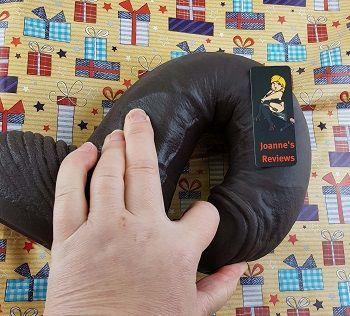 I can even bend it almost in half but it's a tough one to do and if it had slipped out of my hand it would probably have given me a black eye. Go for the Medium Firm though if you prefer a firmer cock inside you.
Well that's enough about the stats you are probably most interested in just how it feels, I know I was as soon as I saw the pic of it on Mr Hankeys website.
This is a toy that I needed to warm up for and so I really enjoyed myself with progressively larger dildos culminating with the Amaconda Dildo. I used lots and lots of lube and I am quite enjoying a new lube that I am reviewing at the moment which is a hybrid lube which is a water-based lube mixed with a silicone lube.
Once I was ready it was time to enjoy the CutlerX dildo and it took some working to get it in but once I had done so it felt oh so good. I just slid it into my pussy as far as it would go and then just lay there relaxing and getting used to being stretched wider than ever before and I loved it.
Once you get the head of the dildo the rest is pretty easy as you just keep gentle pressure applied and you gradually relax and take it. I haven't managed to get it all inside me but I'm quite proud of how I did.
I then had to experience it on a fucking machine and so it was onto my Shockspot with it and after a bit of time trying to get everything aligned I placed it at the entrance to my vagina and I used the machines controls to slowly get it inside me.
I found that on a long slow stroke this dildo feels incredible and it didn't take me long to reach a very satisfying orgasm. It isn't the sort of dildo that I could use on a daily basis but it's one hell of a treat and a lot of fun to use infront of someone else.
The trick is to warm up for it and to use lots and lots of lube replacing it as and when necessary. I know that a lot of guys will enjoy this one anally but it's just too big for me back there and so I'll just stick with having my pussy filled by CutlerX. I can also see this being the ideal dildo for professional Dominatrix's to use on a strap on harness to terrify their submissives.
If you fancy a challenge then check out this huge dildo, the lifecast "CutlerX" from @HankeysToys. Click to Tweet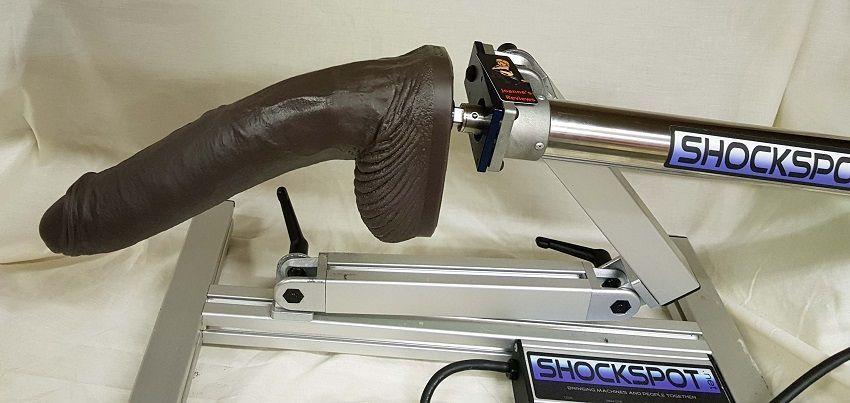 Key Features
Key features:
100% Body safe silicone
Vac-u-lock compatible
Lifecast from a very big boy, CutlerX - male pornstar
Huge size to please the size-queens out there
Incredible detail
Final Thoughts
This is the dildo for size queens to enjoy, it is hard to describe the intense feeling of being filled with it and on a fucking machine it is a real toe curler. The details on it makes it a true work of art and I have even found myself looking at it closely just admiring it. With two hardness ratings to choose from you can have this made to fill you in just the way that you enjoy being filled.
I was sent the CutlerX by Mr Hankeys Toys and I would like to thank them for giving me the opportunity to review it for them.
Joanne's rating
Where Can I Get One From?
Grab one of these remarkable dildos from Mr.Hankeys toys for just $149.95 which equates to about £113 at the time of writing this review. This is a heck of a lot of silicone and the detailing on it is fantastic. If you are a fan of CutlerX and fancy having him give you his trademark hard shagging then you won't be able to resist this incredible life-casting.
Check it out and don't forget to tell them that Joanne says "Hi".
Disclosure
This review does contain affiliate links, for more information about affiliate links check out my disclosure page.