Delivery & packaging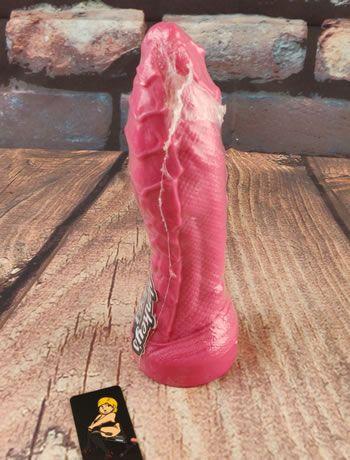 The Hankey's Toys XS Dragon arrived quickly and discreetly from the USA. The box it came in had no indications as to the contents displayed on the outside of the box.
I often get packages left with my neighbours, and so little details like that are relevant to me when shopping online.
The Dragon dildo arrives with very minimalistic packaging, it is simply coated with heat-shrink wrap. This keeps it clean in transit and helps to keep costs down.
It came with a very nice Hankey's Toys sticker which is affixed to my laptop now. I am not sure if they send them out with every order but it was really nice to receive one.
One downside though is you don't get the joy of a beautiful box and opening it up to see what is inside. You also don't get a toy bag with this dildo so my suggestion would be to have a sizeable resealable sandwich bag ready for the dildo.
Design and materials
All Hankey's Toys dildos are made from 100% platinum cure silicone. This is excellent as it makes them non-porous as well as being latex and phthalate-free.
As with all silicone sex toys, it can be a bit of a lint and dust magnet (hence the sealable sandwich bag). Cleaning it is simple, just wash in warm soapy water or use an anti-bacterial sex toy cleaner. Ensure it is thoroughly dry before storing somewhere until the urge takes you again for some dragon dick.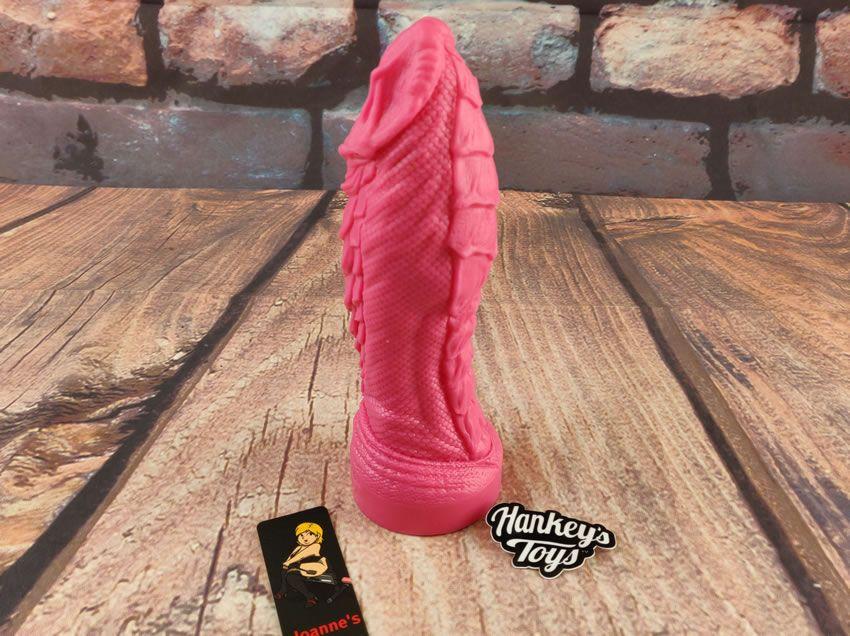 Just look at all that lovely texture, this dildo has some amazing textures
This dildo is a texture lovers dream, as such, you need to take care when cleaning it to get all of the vag-goo or other body fluids off it from the nooks and crevices.
This is a dildo from the new XS range from Hankey's Toys. Mr Hankey has taken his nine most popular behemoth dildos and shrunk them down to more manageable proportions. I love my large Hankey's toys, but I would be the first to admit that usually, they are a bit large for the general audience.
The XS range takes care of that, and you get the same levels of quality and details in these dildos as their big brothers. The regular Dragon dildo goes up to a staggering circumference of 12.75"/32.3cm and a length of 15.75"/40cm.
The XS version is a much more manageable 5.75"/15.8cm in circumference, and it has an insertable length of 6.5"/16.5cm. I am sure you will agree that it is much more manageable for most people.
That is the beauty of the XS range, it features incredible dildo designs that anyone can use and enjoy.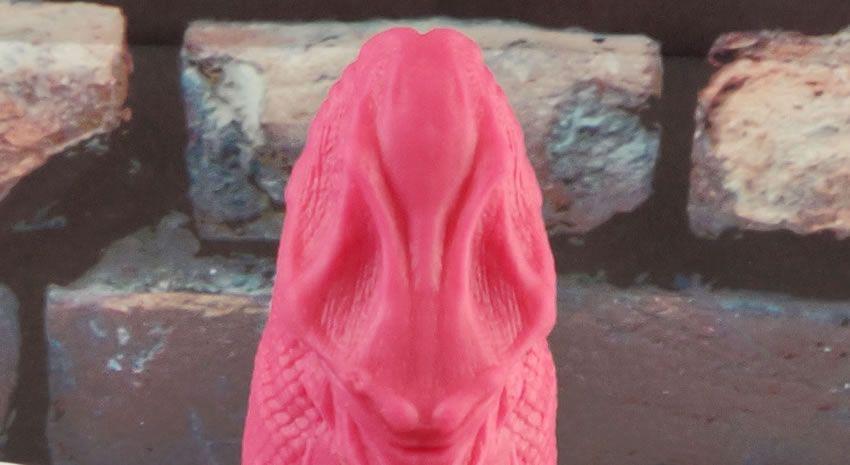 The textures and details on the glans is amazing, it looks almost snake head like
This fantasy dildo looks incredible with its superb glans with a well defined coronal ridge to the scales and snakeskin detailing down the shaft. There are a few small air bubbles on the glans and shaft of the dildo which is surprising as usually Hankey's Toys are flawless.
The girth of it feels amazing as you slide it into you and thrusting with it is incredible. I love my textures on a dildo, and this one really ticks that box for me. The widest portion is the top half of this dildo. As such, even shallow thrusting feels incredible as those scales stimulate your insides.
The top and underside of the dildo feature well-defined scales, and it is these in conjunction with the snakeskin effect on the shaft that really gets my pussy purring.
This is a dildo that will need lots of lube to enjoy it fully. I recommend Sliquid H2O or Secret Play Natural as both a great for anyone with a sensitive pussy.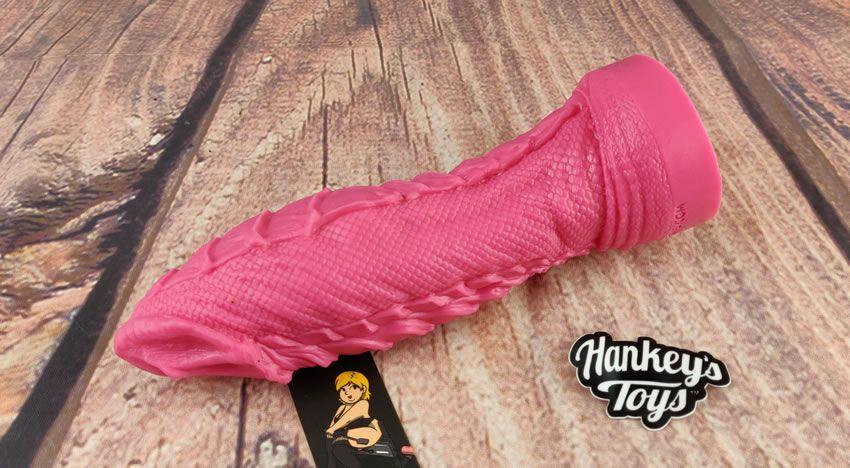 The scales on the top and bottom of the dildo produce some incredible sensations
The blend of silicone that Mr Hankey uses is lovely, and this dildo is available in two hardness ratings (75% Soft and Med Firm). You also get a fantastic choice of colours on offer with Bubblegum Pink (this one), Blood Red (a dark red) and Metallic Green along with their standard Natural Tan, Black and Deep Brown available for no extra charge.
The hardness ratings are a little confusing, but in essence, Med Firm relates to how a fully erect penis feels. While 75% soft as its name suggests refers to a penis that is 75% erect. This dildo is in the 75% option, and it feels adorable.
It is very flexible and surprisingly light for something made from silicone, and that means long slow lazy-wanks are not tiring on your wrists.
All of these colour and firmness combinations means that you can tailor the dildo to your exact requirements and that makes it very special. It is hand-poured just for you and for me, that means I find it much more enjoyable.
So, enough about what it looks like, no doubt, you are more interested in what it feels like in use.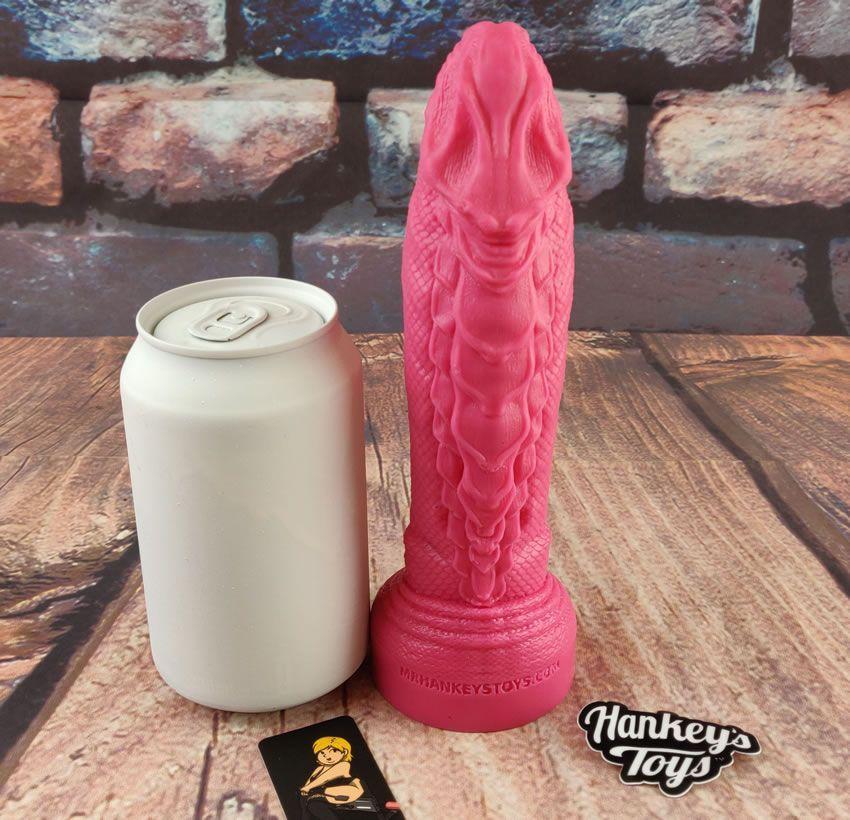 This dildo is much more modestly sized than most other Hankey's Toys dildos
Performance
From the moment the tip of the Dragon dildo starts to part your lips, you know you will be in for a good time. The fantasy design means lots and lots of delicious textures for you to enjoy.
The glans of this dildo is a work of art and just having the tip inside me feels great. I relish the feeling of just gently moving it in and out so that the coronal ridge teases the entrance to my vagina.
Sliding it further in stretches you open until you take the widest portion. The scales feel amazing one the way in and of course out again too.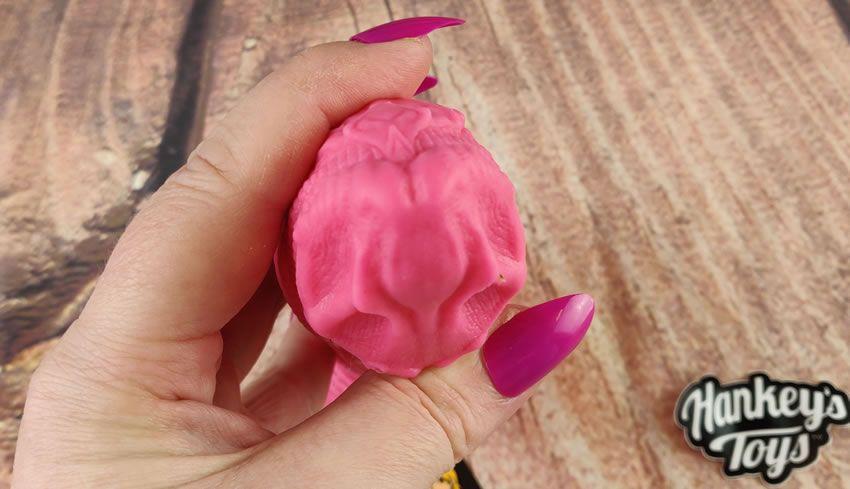 This dildo is so much fun to insert and thrust with
Both sub'r' and I got the most enjoyment out of sliding it back and forth over our g-spots. The textures really mean you get some fantastic sensations.
I can't take it anally but sub'r' loved the texture in her backside too and fucking her with a strap-on harness like that was very exciting. She also loves sucking on it deeply stating that every sub should be able to deep throat any cock. I have to admire her conviction on that is this is a really girthy dildo.
It looks incredible and also somewhat intimidating on a strap-on harness, and I can see Mistresses loving a dildo like this one.
When using it anally, it is even more important to use a good lube and to go slow when you start. All that texture really means some intense stimulation.
The flexibility of this blend of silicone means that as you thrust with it, you can bend it so that the scales glide over your clitoris. This feels very intense, making me cum quickly.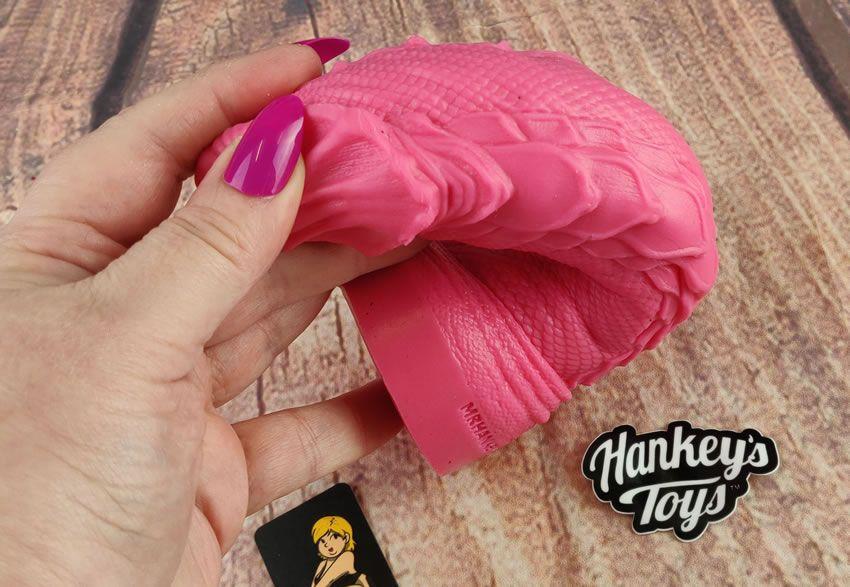 This dildo is very flexible which makes using it very easy
The Dragon dildo is perfect for long slow lazy wanks as well as hard and fast thrusting that will have you clawing at the sheets and biting your lip.
The softness of it feels very lovely, especially as I orgasm as it is nice to clamp down upon it as I cum hard.
All in all, we have both really enjoyed the Dragon dildo from Hankey's Toys.
If you love fantasy dildos then you should check out the XS Dragon from @hankeystoys, it is covered in some delicious textures.
Click to Tweet
Key Features
Key features:
100% body-safe platinum cure silicone
Fantasy dildo
Two hardness ratings and six colour choices to choose from
Lots of textures
Available in four larger sizes
I would recommend it to:
Anyone who loves fantasy dildos
Anyone who likes dildos with lots of texture
Anyone looking for a body-safe sex toy
Anyone who can't handle the regular sized hankeys dildos
I wouldn't recommend it to:
Anyone who doesn't like fantasy sex toys
Anyone who doesn't like lots of textures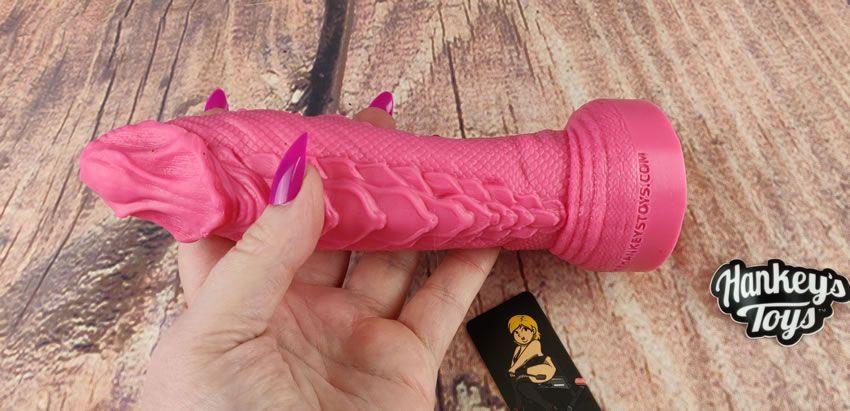 This is a dildo that I have really enjoyed getting to know, I just love the textures on it
Final Thoughts
The XS range is fantastic for anyone who likes fantasy toys and who wants to explore the Hankeys range of sex toys.
Their modest sizes make them suitable for virtually anyone, and they give you a good taster as to what the full-sized dildos look and feel like.
Being able to select lots of different colour and hardness choices means you can tailor your dildo to your own preferences and that is fantastic.
I have loved every dildo I have tried from Hankey's Toys, and this one is no exception to that. It is fantastic quality, and the textures on it are sublime in use. Check out the rest of the XS range to see what tickles your fancy.
I was sent the XS Dragon Dildo by Hankey's Toys and I would like to thank them for giving me the opportunity to review it for them.
Joanne's rating
Where Can I Get One From?
Grab one of these fantastic silicone dildos from Mr Hankey, you can grab a XS Dragon dildo for just $65.95 (approx. £50.89) which is great value for money for a silicone dildo of this quality.
Check them out and don't forget to tell them that Joanne says "Hi".
Disclosure
Disclaimer - I was sent the XS Dragon dildo to review free of charge and this has in no way affected the outcome of this review. This post contains affiliate links and if you purchase something when you follow one of these links I may receive a small commission at no cost to you. For more information check out my disclosure page.