Step 1 - Do you need a riser?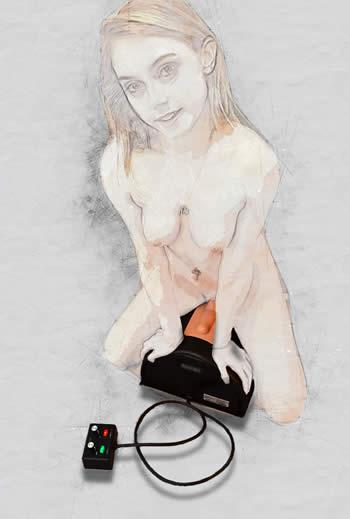 The Sybian comes with a set of red risers and these two attachment raise the clitoral area of the attachment to give more clitoral stimulation and after riding your Sybian a few times you will know if you need them or not. They allow the Sybian to be fine-tuned to anyone physique.
Step 2 - Choose the right attachment
Sybian now produce a range of attachments in different materials. Their original range come in a material called C-Flex which is good but it isn't the best choices for insertable materials.
They have now supplemented that with a range of new silicone attachments and these have some very clever designs that feel amazing. I was lucky enough to be one of the first to try someone them and you can read my reviews of the new Sybian attachments here on my site.
Your first choice is material, I prefer the Silicone attachments but go with what you like. Your second choice will be whether to go for an insertable attachment or an external one. Basically, some attachments have raised phallic sections designed to penetrate you and some just have a ridge for external clitoral stimulation.
Make sure that you fit the correct rod or spring to an insertable attachment. Only use red rods if you are using the red risers. These risers are used to raise the clitoral stimulation of your attachment and they, therefore, need a slightly longer rod. Using a red rod without the red risers risks having it damage your attachment.
Step 3 - Lube up!
Even if you don't normally use lube when masturbating use some lube on your attachment as it is really going to be moving when you start to play and lube makes everything better as we all know. Use a good quality water-based lube such as Sliquid H2O.
Step 4 - Saddle up!
Now it's time to let the fun begin. Most people use the Sybian on a soft surface as it helps to reduce the noise. I usually fold up an old duvet and place mine on there. Get yourself comfortable, your clitoris should be in contact with the attachment and nothing should feel uncomfortable. If you are not comfortable then wriggle around until you are.
If you have knee problems and struggle with kneeling you can place the Sybian on a chair or platform and that way it's easy to straddle without putting pressure on your knees.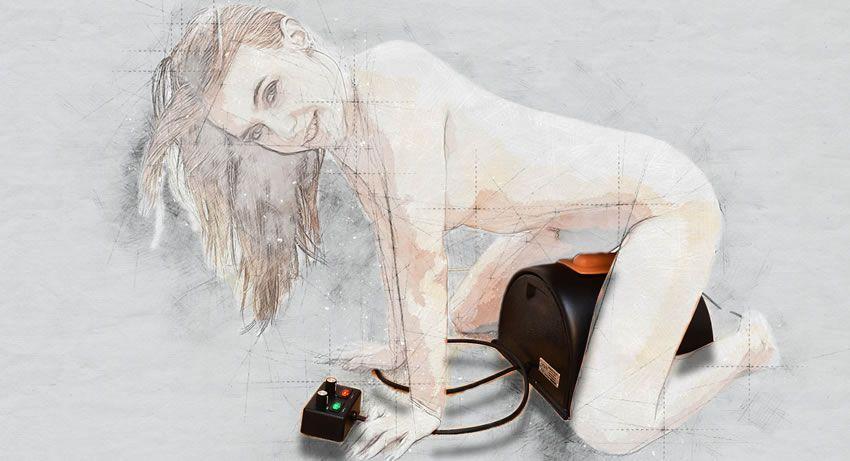 Step 5 - Start off slowly
I recommend using the controls yourself, especially if you are using the Sybian for the first time. Often people who get to control the Sybian get carried away and turn everything up too high too quickly. For your first orgasm use the controls yourself as this will give you much more control as you learn how to ride it properly.
Start off by setting the rotation of the internal part of the attachment so it's how you like it. This control alters the speed that the insertable portion of the attachment moves around inside of you stimulating the area of your G-spot. Think of a finger being wriggled around making a circular motion at its tip and that is basically how it moves inside you. If using an external attachment then just leave the rotation feature switched off.
Here comes the best bit. Start the vibrations off with a very low setting. Get yourself warmed up and enjoy the deep rumbly vibrations that the Sybian delivers. As you become more aroused slowly increase the tempo, let your body decide how high to go and don't rush. The best orgasms on a Sybian come from slowly letting everything build up to a mighty crescendo.
Listen to your body and alter the speed setting accordingly, remember that you can go down as well as up with the controls. I like to edge myself, taking myself to the brink of an orgasm and then denying it by slowing down again. Each time I get more and more aroused.
Grinding against the Sybian attachment is very pleasurable, just move your hips and grind your clitoris into the raised part of the attachment to really ramp up the pleasure.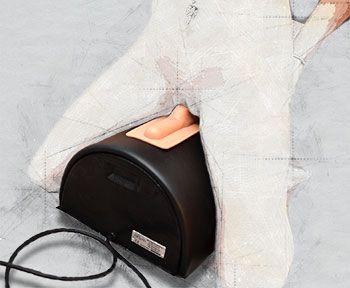 Eventually, when you are ready, push on and tip yourself over the edge into a mind-blowing orgasm. Sybian orgasms are felt throughout your lower body and they tend to roll on and on. I find that by not stopping but by lowering the power slightly I can roll into another orgasm and then another until I can take it no more and literally collapse onto the floor.
I often end up squirting on the Sybian and it's the only sex toy to have ever managed to make me to do that. So you may want to place a towel under yours to catch anything.
Step 6 - Take it further and play with a friend.
There is nothing better than having a partner behind you holding you tight as you ride a Sybian. Whispering in your ear and supporting you as you cum. When you are happy then give them the controls and let them dictate the tempo of your play.
Sharing Sybian sessions is a very special thing and why not try sex in the doggy position over a Sybian with an external attachment. You will get the direct stimulation from the Sybian through your Clitoris and your partner will have his balls resting on the Sybian and your whole pussy will be vibrating. Trust me you will both end up in a quivering heap having sex this way and it's a great way to finish a session on the Sybian.
Conclusion
The Sybian is an amazing sex machine but it's one that takes some experimentation with to get the most out of it. Don't rush, it isn't a race (unless you want to see how fast you can cum of course). Edging yourself can be lots of fun and there is a great deal of difference in the sensations from internal and external attachments so experiment with both.
If you let someone else control it then make sure that they go slow and tease you to a knee-trembling orgasm.
If you don't own a Sybian but want to try before buying then check out the manufacturers 45 day money back satisfaction guarantee. Or, if you live in the UK then why not hire one to see what all the fuss is about from Fucking Machine Fun. Tell them both that Joanne says "Hi".
Have fun and enjoy your ride....