I couldn't get a decent supplier for the curtain hangers that she used as the basis for her design, and so I decided to just use wire as the basis of mine.
In this article I am going to show you the build of mine step by step, however, if you copy the design and make your own, then you use it at your own risk. This is my design that I am building for my use and I accept the risks of doing so. You are free to do the same, but you assume all risk in doing so. There, I am glad that is out of the way, basically, if you build one then have fun.
I decided that my clitoral electrode should have three electrodes and these are:
Bi-polar electrodes that sit either side of the clitoris.
The ability to join these electrodes to form a monopole electrode.
A clitoral electrode in direct contact with my clit for BDSM games.
Material Required
With these three contacts in mind I set about gathering all of the materials I would need for the build, and these are as follows:
18"/45cm of 2.5mm (13AWG) electrical copper wiring
Heat shrink tubing
Conductive rubber tubing (4mm internal diameter, the external diameter can be 6, 6.5 or even 8mm)
Three TENS style adhesive pad electrodes
Scissors
Pliers
Lighter
Simply follow steps 1-5 to make a simple monopole clitoral electrode and then continue on with the extra steps if you want to make it bi-polar or even tri-polar.
Step 1 - Strip the wire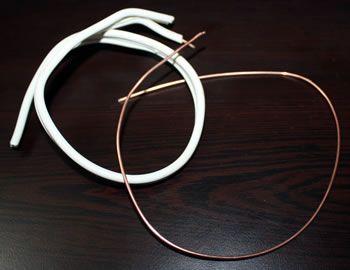 Once you have gathered the materials, you need to first strip the plastic sheath from the wire so that you just have the copper core.
I managed to just pull my wire out of its jacket using a pair of pliers, but you may need to cut the plastic coating from the wire. If you do so, then be very careful so that you don't cut yourself in the process.
Try not to nick the wire if you do that as that will weaken it. You can throw the plastic sheath away as it has no use in the build.
You can also strip the other wire and make two electrodes at the same time as it always helps to have a spare.
Step 2 - Fold the wire in half

Fold the wire in half as we will be doubling up on it for strength reasons. Locate the centre and fold it trying to keep the two legs as straight as possible.
Use the pliers to crush the bend to make it as small a radius as possible.
Step 3 - Make a hook and twist the wire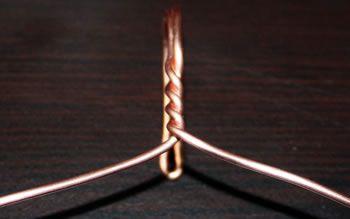 Fold the wire in half to create a hook about 1"/2.5cm from the bend in the wire.
This will be used as a handle and also carry the clitoral electrode.
At this stage you don't have to be too neat but try to keep things square.
You should make two or three twists in the wire roughly opposite the end of the electrode.
This is to give this area some rigidity and strength.
Step 4 - Make the two legs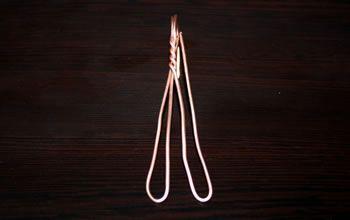 Next fold each leg in half.
You want to have the end of the wire finishing just past the twisted section of the electrode.
This creates the two legs that will sit either side of the clitoris and inner labia.
At this stage, you can make the legs shorter if you want by simply cutting off some of the extra wire.
Mine are approximately 2"/5cm long and they are this length so that I can easily attach a decent length of conductive rubber tubing to prevent any hot-spots.
Step 5 - Wrap the ends of the wire around the body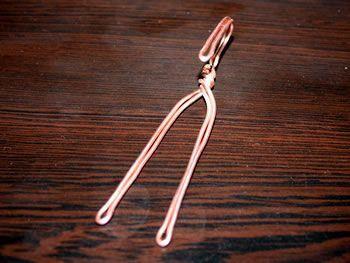 At this stage use your pliers to crush the bends in the end of the legs to make them nice and tight.
Then using the pliers again wrap the ends of the wire around the twists in the electrodes body. Try not to leave any sharp bits standing up.
At this stage it can be used an a simple monopole elctrode but if you do so then I recommend wrapping some electrical tape around the twists to cover any metal edges from the ends of the wire.
You can use a cable with a crocodile clip at its end to attach it to the top of the hook.
You can also bend the legs to any shape so that you can insert them into your vagina if you want or use them as a simple pussy spreader.
Extra Step 6 - Start insulating the body using heat shrink sleeve.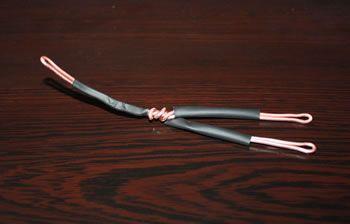 As I want to make an electrode with three contacts further steps are now required.
To insulate the body completely, it needs to be wrapped in heat shrink sleeve
Folding the hook flat makes it easier to fit the tubing. I started by adding three extra bits of heat shrink tubing where most of the bending will occur to help strengthen these areas.
Slide the heat shrink tubing on and then use a lighter or candle to shrink the tubing around the wire.
In this image the tube on the left has been shrunk the two on the legs are not yet shrunk.
Extra Step 7 - Finish the heat shrink sleeve coating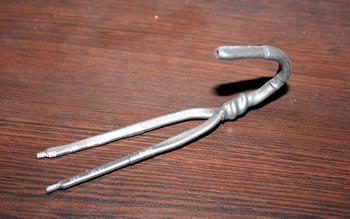 Now just coat the whole of the electrode in heat shrink tubing ensuring that it shrinks tightly around the wire.
You now have an insulated wire frame on which to mount your electrodes.
It is crucial that all of the wire is coated so that the electrodes will be electrically isolated so that they cannot short out.
This is important to prevent damage to your equipment.
Extra Step 8 - Bend to its finished shape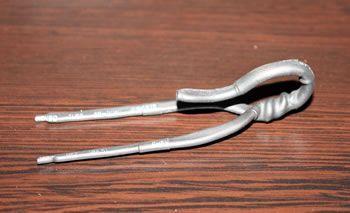 In this picture, you can see that I have re-bent the hook and brought it forward and lowered it at its edge.
This is where the third electrode is going, and I want it to sit and apply pressure directly to my clit.
Final adjustments can be made after fitting the electrodes, but you can see where the design is going now.
Each leg will carry an electrode as well giving you three to use.
Extra Step 9 - Prepare the wire and connectors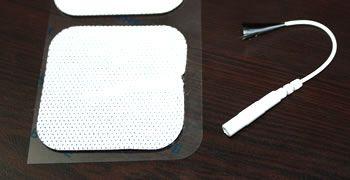 The next step is to cut the cables and connectors off a pair of e-stim electrode pads (or tens pads).
Strip the wire back about 0.75"/1.9cm you will see that the wire is carbon and not metal so you can't solder it.
It will be slid inside the conductive rubber as you slide it onto the elctrode to form the electrical connection.
Extra Step 10 - Cut two lengths of conductive rubber tube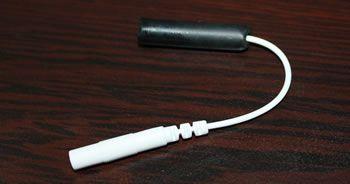 Now cut two lengths of conductive rubber tubing. Mine are 1"/2.5cm long and one is for each electrode.
Insert one of the connector cables into each rubber tube so that all of the carbon cable is inside.
It will be a tight fit sliding it onto the clitrode so a little electrogel would help. I didn't use any and struggled but it would make assembly much easier.
Extra Step 11 - Fit the conductive rubber tube to the clitrode

In this picture, you can see both pieces of conductive rubber tubing slid into position on the clitrode.
I rotated them slightly back and forth whilst sliding them on and this will spread out the carbon filaments of the cable giving better conductivity.
This clitrode now had two conductive rubber strips making it a bipolar electrode. I can add a third piece of rubber on the scorpions tail handle so that it can be bent to fit exactly on top of my clitoris but I am too keen to get playing with it in its current form.
Extra Step 12 - Tidying it up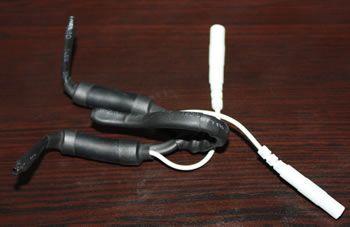 In this picture, you can see that I have used some more heat shrink tubing to tidy the edges of the conductive rubber up a bit.
This just tidies it up a bit and helps with cleaning as I put a little silicone inside the heat shrink prior to shrinking it. This seals around the cable and stops vag-goo getting inside.
I have also bent the long legs up at an angle so that they act as labia spreaders, when wearing it they hold my labia open giving access to my vagina and urethra if required.
The flexibility of the copper core makes it easy to adjust the position of the electrodes to get them nestling either side of my clitoris easily and securely.
UPDATE - Does it work?
I have to say that I am absolutely delighted with its performance. I haven't experienced any hot spots although due to the short length of conductive rubber I dont need my power box on a very high setting.
I get amazing sensations directly through my clitoris and it is very pleasant however crank up the power and it could easily be used as a torture device LOL.
So far my favourtie session has been using my Moaner Bi-polar Electrode in my vagina on Channel A of my 2B Control Box and my clitrode connected to channel B. This is mindblowing where I get the feeling of being ghost fucked whilst enjoying direct clitoral stimulation.
Overall, I think this was a fun little project and it is an easy one to make so I would encourage you to give it a go - at your own risk of course.
UPDATE - Check out my Tripolar Pussy Clamp Electrode
I have had so much fun designing what I like to call my "Bumble Bee", it is a Tri-polar Pussy Clamp Electrode that is great for BDSM and electroplay. Check out my post about the Bumble Bee Tri-polar Pussy Clamp Electrode.