Example Diary Page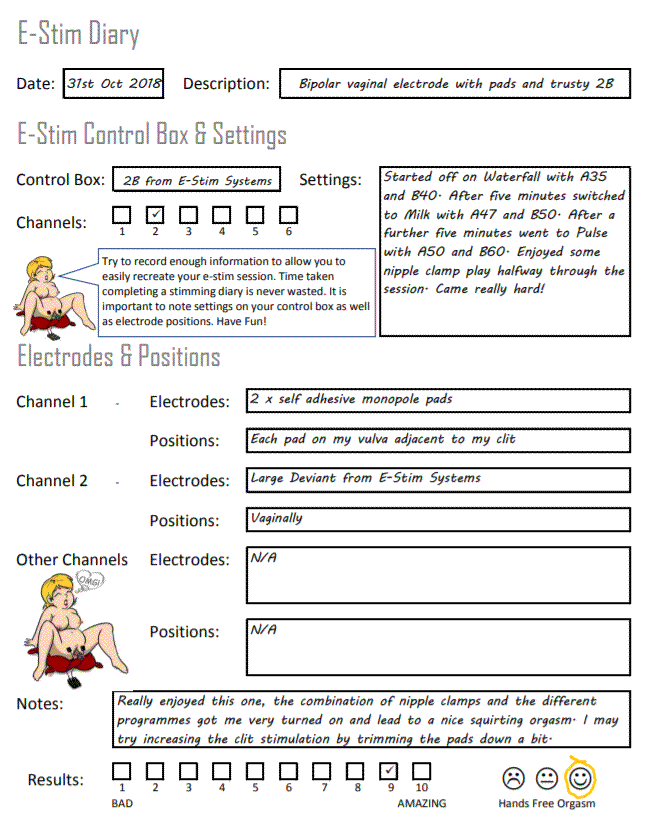 Image showing an example e-stim session diary page filled in
---
The beauty of it is I can quickly jot down notes and ideas I have had during a session, and I can also refer to past sessions to make sure that I get the most out of my time stimming. My aim is for hands-free orgasms every time that I stim and I am pretty much there now. I can honestly say that this style of diary has helped me in my quest for e-stim orgasms and an example of one page is shown above.
The amount of detail that you enter is up to you. More detail makes things easier to understand in the future when referring to them but there is no right and wrong way to fill it in. Just try to think of the information you would need to be able to recreate a particular session.
Do you have to use this style of diary - hell no! You can come up with your own, tweak mine or do whatever you want to do. This diary is just available for anyone who wants a quick and easy way of recording stimming session. Take it or leave it.
Some might say that filling a diary in after a session is a little sterile, my reply is that without this information you are destined to chase yourself around in circles trying to find the best setups. Why not try a structured approach to your stimming quest for hands free orgasms, what have you got to lose?
You can download the diary in pdf form to print out below but before you do, have you checked out my Electrode Positioning Guide for both penis and vagina owners? It may contain electrode placements that you haven't considered and I am always interested to hear of new ones I can add to that guide.
If you are chasing the hands-free e-stim orgasm, use a stimming session diary to keep track of the settings that you have tried and liked - or hated.
Click to Tweet
E-Stim Session Diary Download
Feel free to download, use and distribute this file to anyone you feel may have good use for it.
Download the E-Stim Session Diary
If you have found it useful then why not consider buying me a coffee using the link below to say thanks Joanne you electron loving little minx xxx.
Disclosure
This article does not contain affiliate links, for more information about affiliate links check out my disclosure page.