Joanne's Beginners Guide To Electrosex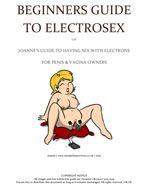 Check out my completely free Beginners Guide To Electrosex e-book, it's packed with help, advice and safety information for anyone looking to enjoy some e-stim play.
Check it out and let me know what you think of it.
View My Beginners Guide To Electrosex
Read on for a brief introduction to electrosex or e-stim.
Estim in a nutshell (or nutsack if you are male)
In a nutshell, E-Stim or electrostimulation, (also known as 'estim', 'electroplay' or 'electrosex'), is the use of electricity to provide extremely pleasurable sensations in your body. You control the strength and feeling of these sensations to produce unique stimulation, e-stim essentially causes muscle contractions, and this can be incredibly arousing in your genitals.
Imagine the feeling of tiny butterflies caressing the inside of your vagina or the tingling of pins and needles around your clitoris. You can even enjoy being penetrated with the impression that you are being fucked hard by using an insertable electrode for a true hands-free vaginal orgasm.
A basic system consists of a control unit or powerbox that controls the electrical impulses, cables to attach it to a set of electrodes, these act as contacts and allow the current to pass through your skin and muscles before going back to the power box completing a circuit.
Safety first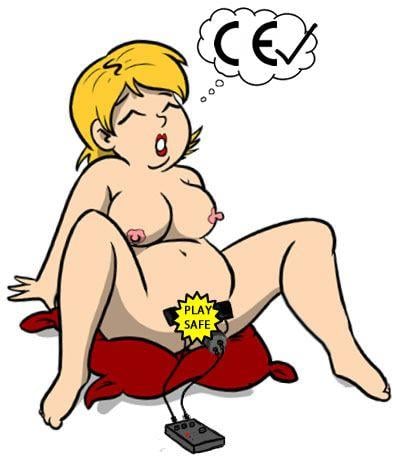 I don't want to put anyone off, the opposite is actually the case but safety is paramount and something that you really need to understand.
Only use equipment designed specifically for E-stim, never try to cobble something together yourself, it is just not worth the risk of injury or even death. Ensure that any equipment you buy is CE marked and again designed for E-stim use. Never try to adapt anything not intended for E-stim use such as animal trainers.
Never apply a current through your chest and this includes going from one arm or hand to the other as the current will go through your chest, and you have an essential piece of you that resides there and relies on electricity to work correctly, and that is your heart. Applying a current across your chest risks problems with your heart and you don't want to go there.
Special electrodes are available for nipple fun but don't try using the sticky pad style electrodes anywhere on your chest area. Trust me when I say that you are going to want to focus down below with your E-stim experimentations so just ignore nipple zapping when you start out.
Control Units - where the good stuff is generated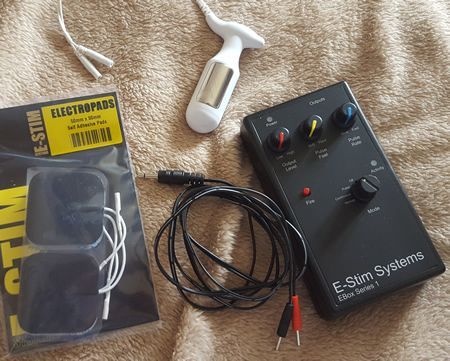 This the heart of the estim system and you should be looking for a made to play device rather than a TENS unit. I use a Series 1 Box from E-Stim Systems (you can see it on the image on the left) and it is great as well as the ElectroPebble which is the latest next-gen e-stim control unit, you can read my review of it HERE. I got it as part of a kit to review, and it introduced me to the whole new world of electrostimulation, you can read my full review of it HERE.
The Series 1 Box is an entry model and other variations are available from other manufacturers or suppliers as well as E-Stim Systems. They do two variations of it, the A-Box which uses audio input to control the pulses so imagine getting off to your favourite sounds track. Also available is the EBox Series 1 Remote which is a control box with similar capabilities to the original Series 1 Box but it has a remote control key-fob. It's regularly used on TV to zap errant guests and would be ideal for a Dom/Sub scenario where instant pleasure or punishment could be metered out from afar.
The Series 1 control box is now being phased out and replaced with the ElectroHelix which is a massive jump in terms of functionality and ease of use and you can read my full review of the ElectroHelix to see what I thought of it.
These systems have what's called a single channel output, that means they can have multiple electrodes, but they are all on the same circuit, so everything gets the same current. More advanced systems are available such as the 2B™ Power Box which is currently my control box of choice. This takes E-stim to a whole new level or power and performance, it has two channels that are isolated for safety so you can do two separate functions at the same time (i.e. insertable and pads doing different things). It can also be hooked up to a computer, and it can even be controlled remotely over the internet.
All of these systems are purpose designed for e-stim fun and are much better than TENS units and much safer than homemade items. Start with an ElectroHelix, and you can't go wrong. I can highly recommend the Intro2Electro™ Kits from E-stim Systems, they have everything in them that you need to get going - safely.
Always remember to switch your control unit off before attaching or removing any cables and especially when removing an electrode from your body.
Electrodes - What are they?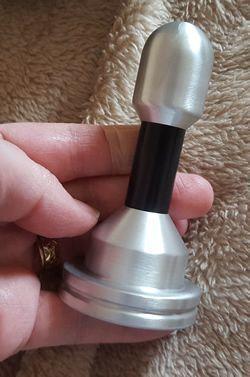 Well that is the complicated stuff out of the way lets learn a bit about the types of electrodes used in an E-stim session. The simplest of which is the self-adhesive sticky pad electrode.
These are monopole electrodes, and this just means that only one wire goes to each pad, you will need two pads on your body to complete a circuit. Top tip the adhesive on these pads is really quite strong so try not to use them on overly hairy areas. Trust me on this one a quick shave can make things much more enjoyable when it comes to removing a pad.
Insertable electrodes are often Bi-polar electrodes, as you have probably already worked out, they have two wires going to them and will have two contact areas on them that contact the skin, your skin then completes the circuit. These are my favourite type of electrodes.
Cock Loops are monopole electrodes that can be wrapped around a cock or pair of balls, as each only has one wire you will need two of them or one cock loop and an insertable or a pad electrode to create a circuit.
Other Types Of Electrodes
There are lots of different electrodes that I haven't already covered to explore and enjoy and these range from pinwheels, urethral sounds, ball crushers (ouch) and even an e-stim Speculum for medical fun and games. Each has its own feeling, use, and advantages and if you get into the scene you could add them to your collection of electrodes but to start with I recommend that you stick to the pad and insertable electrodes.
Lubrication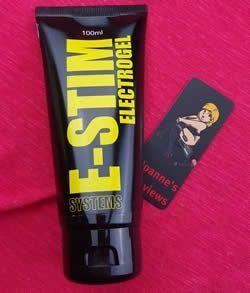 We use water-based lubes with e-stim electrodes to ensure a good contact with the skin, this is essential for optimum performance. Remember that we are all made up of a high proportion of water in our bodies and this makes us good conductors of electricity. Water-based lubes help that electricity get from the electrode, into and then out of our bodies. Having dry spots can be uncomfortable so make sure that you lube up well. Most water-based lubes are good but the Electrogel Conductive Lube from E-Stim Systems is amazing (its also a great standard lube as well). You can read my full review of Electrogel HERE.
For skin play rub some water-based lube into the area you are going to experiment with before playing, it will hydrate your skin and help you to enjoy it more. However, don't use any lubes with pad style electrodes as it will cause them not to stick to your skin. They have a special conductive sticky coating on them to help make the circuit.
Always hydrate well before an e-stim session as you need the liquids to get the most out of it.
That is it really, it isn't as scary as it first seems and the combinations of electrodes and types of stimulations caused are endless, it's great fun for both men and women so what are you waiting for. Get some kit and go and zap your lady bits.
What's Next?
You can check out my E-Stim Resources Page to find links to all of my reviews and advice articles on this amazing form of masturbation.