Adult Products and Sex Toy Reviews
If you need a thorough review then you have found the right place
I will happily review your adult product or sex toy for you. Contact me to discuss the details of what you need reviewing.
Upon agreement, I will conduct an honest and unbiased review of your product as I do with everything that I review. You are welcome to quote excerpts of the review (subject to my policies on quoting my work) or use it in your own promotional material. I will review sex toys, bondage items, sex machines and attachments, lubes or anything else of an adult nature.
Website Stats
I'm very proud of my site and it has a mozilla rank of 4.98, a Google Domain Authority of 8/10 and a Google Page Authority of 7/10 plus I have gained over 4.3k+ followers on my main social media presence twitter in just 4 years. Together with 3,750+ followers on Tumblr, 1,340+ subscribers on YouTube and 720+ connections on Linkedin.
I use my social media accounts to promote my reviews, my advertisers and their products.
A good social media strategy is essential to growing my reach and therefore the audience for your products or your service. This data snapshot is from my Google Analytics data from Sep 2019:

The graph shows daily page views since 1st Aug 2017 and shows a continuous upwards trend.
It's important for you to remember that whilst you are sending me something to review this will in no way affect the review. It will be written from my own experiences with the item and will reflect my experience with it. Basically I will provide you with honest feedback, I cannot be held responsible if the review is not to your expectations, that said though if you have a great product then you can expect a great review.
Reviewing process
I often get asked how I do reviews and the timescales involved in doing them and so I have created this infographic to show you roughly how the process works: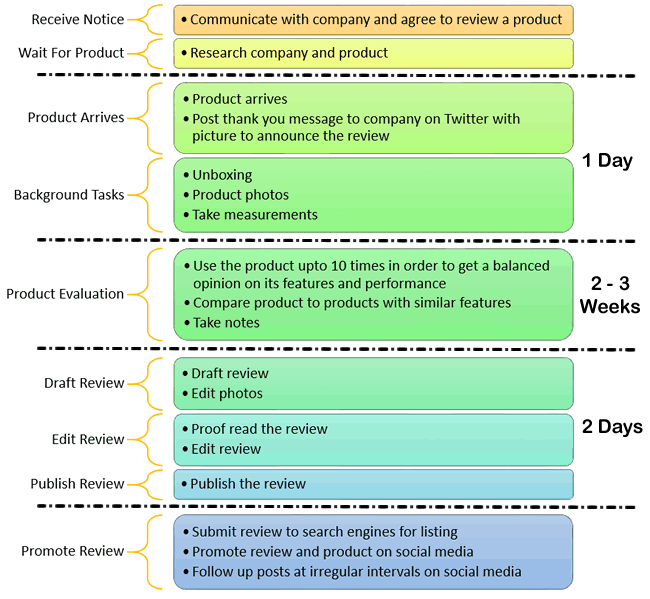 This is my reviewing process and it shows rough timelines
Reviewing policy
Read my policy on reviewing items here.
An honest review is not the same as promotional copywriting and if you are looking for 100% positive promotional copywriting then I also offer that service but it is not free of charge, contact me for details.
My Testimonials
Our Testimonials
$$
Peter
TheDodil.com
Joanne has been wonderfully sweet and supportive in her approach and dealings with us, a young company in a big new world. She reviewed our dodil in an accurate and passionate manner, and we wish her all the best in all her endeavors. Wish to meet Joanne in person one day. I am keeping a big hug for her.
Rachel
AdultShopIt.co.uk
I want to say a big thank you to Joanne Summers for her fantastic reviews. We at adultshopit.co.uk have sent various items to Joanne and we have always been very happy with the work she has provided. Dealing with her is always very easy as she very approachable and friendly to talk to. She describes the items we have sent from the way the product has arrived, how it is packaged and how the products work. She is very thorough and honest with her reviews and gives the customer a well informed description of our products. I wouldn't hesitate to use Joanne for our Product Reviews again and will definitely provide her with some more Adult Goodies to test out for us again in the near future, thanks again Joanne.
---
---
You May Find These Articles Interesting