The Centaur dildo really packs a punch and I have the small. There are three other eye watering sizes available for those of you who absolutely have to be filled to the very brim and stretched open like you have never been stretched before.
The small measures in at a whopping 27.3cm (10.75") of which a very filling 24.8cm (9.75") is insertable. Its circumference starts off as 14cm (5.5") at the head and stretching to a massive 21.6cm (8.5") near the base.
This toy is big, as if you couldn't already see that from the pictures and yes that is a can of coke in the pics just to give it some scale.
With four different sizes to choose from there is something for every size queen out there and the XXL is simply huge, measuring in at 40cm (15.75") in length and with a head circumference of 22.2cm (8.75") going up to a terrifying 32.4cm (12.75") in circumference near its base.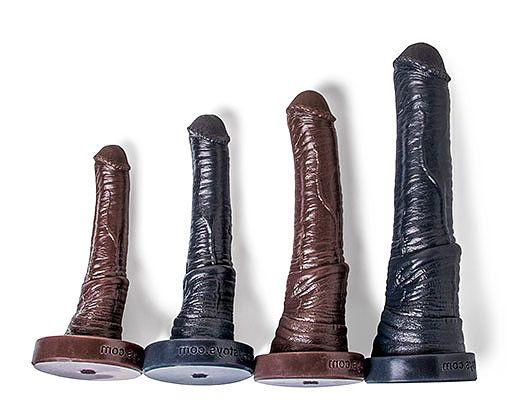 I was amazed at just how heavy this beast is when I took it out of its packaging and spent quite some time just staring at it and squeezing it gently, enjoying the way that the silicone moves when I apply pressure and thinking that I had bitten off more than I could chew.
The Centaur is available in two hardnesses and this one is the harder of the two - Medium Firm, it's also available in a softer silicone as well but as I had intentions of mounting this on a fucking machine I wanted to minimise the droop so I opted for the firmer choice.
Long heavy dildos tend to droop a lot when mounted on a fucking machine and that can make lining them up with a waiting orifice a problem so I always prefer a firmer sex toy for my machines.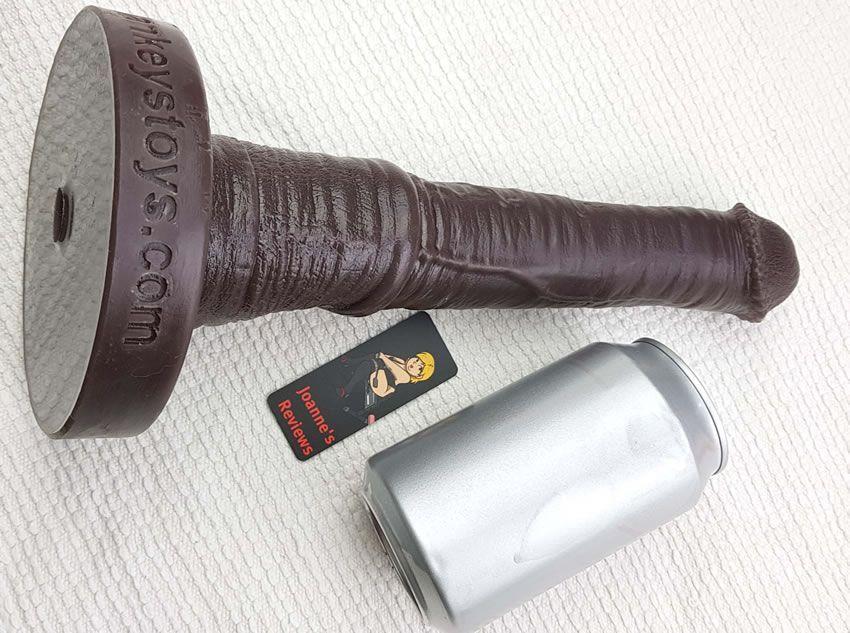 The dildo is made out of 100% platinum cure silicone making it body safe, non-porous and very easy to clean. Mr Hankey's Toys supplies the Centaur in three different colours, Natural Tan, Deep Brown and Black. This one is in Deep Brown and it looks stunning. You can get a Vac-u-lock hole in the base of the dildo for an added fee of $4.95 and I recommend that you go for one as it keeps your options open for the future.
The wide base on the toy makes it suitable for ring style strap on harnesses and if you have a Vac-u-lock one then I would recommend using a ring as well as this is one heavy beast.
The detailing on the dildo, its head and the shaft is simply stunning with lots of gentle textures and it has a head that gives a nice pop as it enters you. It leaves you in no doubt that you are being penetrated by something large.
I had no problem attaching and detaching this dildo from my Vac-u-lock harnesses and also my fucking machines The wide base makes it very easy to mount and remove. Put a little corn flour into the hole before fitting and that will make it even easier to remove without making it loose.
It's nice and flexible and has a bit of give which makes insertion easier. It has one of the nicest silicone blends that I have enjoyed in a sex toy and it feels so good as inch after inch of it slides inside you. Due to its design as it goes in it gets slowly wider and wider really making you work to get it all the way home.
I can only use it vaginally and even though I am not taking it up my tight bum I can only get it in as far as the preputial ring which is the pronounced ring you see two thirds of the way along the shaft in the pics. Thrusting the ring in and out of my vagina feels incredible and it really gives me a good work out.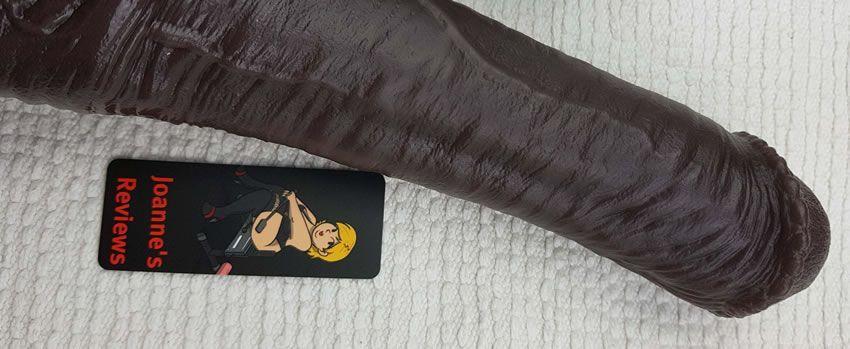 When laid on your back and thrusting with it by hand you can get sore wrists quite quickly due to its weight so it's a lot of fun to stand on its base and ride seeing how much you can take in this position, it is also a visual treat if you have a partner and he or she will no doubt love to see it slowly disappearing into you from behind.
It's when you fit it to a fucking machine though that it really comes to life and I have used it on my Shockspot and my F-Machine Pro.
Both machines are a bit slower than usual with it and that's purely because of the Centaur's weight as having to accelerate and decelerate so much silicone takes energy. If you're using it anally you will also notice a pronounced loss in speed due to friction because it's just so flipping big.
That said though, the lack of speed is definitely not as issue as the Centaur's girth makes up for that and you soon lose yourself in a blissful state where you can just lay back and enjoy the thrusting action between your legs.
You're definitely going to want to lube up and lube up well with this big boy and as it's a silicone dildo I wouldn't usually recommend silicone based lubes. However Mr Hankey's Toys are so sure of their materials they actually recommend using a good quality silicone based lube and I have used Sliquid Silver and benefitted from its longer lasting properties over a water based lube. I would suggest trying a bit of your lube on the base of the toy first though as it would be a shame to ruin its finish and texture.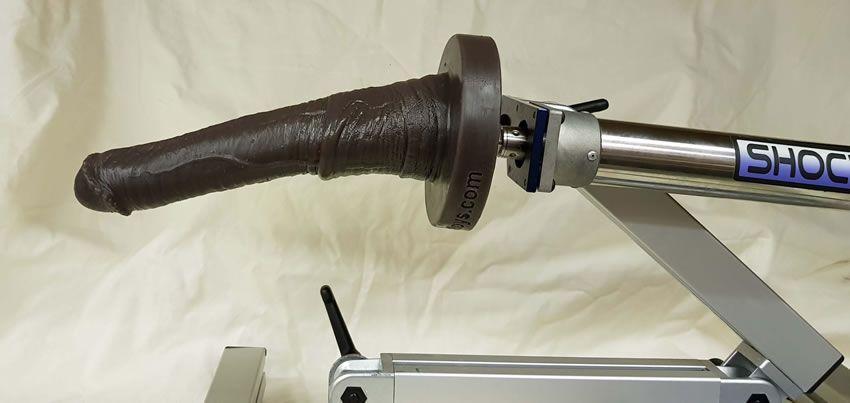 I have experienced some pretty mind blowing orgasms when being filled completely by the Centaur and I love both its texture and looks.
Yes it looks like a horses cock but so what, it feels very good and is extremely filling. If you want to lay there picturing a Centaur (half man, half horse) hammering his hard cock into you then what's wrong with that - absolutely nothing at all.
The last thing that I want to talk about on this review is the incredible detail on the Centaur dildo. Its beautifuly detailed but the way that the silicone gives even with the most pronounced details that you think is going to be uncomfortable in use is in fact enjoyable. This is one anatomically correct horses penis and the artist who created really did give it a lot of attention to detail. If you like fantasy sex toys then this one is a going to be a classic.
Key Features
Key features:
100% Platinum Cure Silicone
Vac-u-lock Compatible
Incredible Detailing
Three Colour Options
Two Hardness Choices
Four Huge Sizes
Final Thoughts
This is my first dildo from Mr Hankey's Toys and I have been delighted by the customer service shown to me and also the product itself. It has some great options including the Vac-u-lock hole and two firmness ratings coupled with three colour options and four sizes. This is a dildo to savour and enjoy and it will give you many years of pleasure. If you want to experience being totally and utterly filled then one of these dildos would be perfect for you. Oh and I take my hat off to you if you can take on anally and especially if that is the XXL size - wow.
I am very happy to recommend the Centaur to anyone especially if they like large fantasy dildos.
Joanne's rating
Where Can I Get One From?
I was sent the Centaur dildo by Mr Hankey at www.mrhankeystoys.com and it is one hell of a dildo that I am delighted to recommend to anyone looking for their next challenge. Go on, I know you are curious so check out the site and see what I mean about it being heaven for size queens.
You can grab one for yourself from just $124.95 for the small. to $159.95 for the XXL.
Check them out and don't forget to tell them that Joanne says "Hi".
Disclosure
This review does contain affiliate links, for more information about affiliate links check out my disclosure page.