This dildo like the others that I have reviewed come from the USA. So delivery will take a little longer than if you were ordering from a firm here in the UK. You may also have to pay VAT to the guys at HM Customs if the package gets stopped by them. Mr Hankey has his production facility in the US and the products that I have reviewed for him are flawless.
The Seahorse is made out of 100% body safe platinum cure silicone which is my favourite hypoallergenic sex toy material. It comes in two hardness ratings and this one is the Medium-Firm, and this has the hardness of an erect penis. The other grade is called 75% soft and that basically feels like a 3/4 erect penis. I opted for the stiffer blend as I like using big dildos on my fucking machines and this firmness helps to prevent too much droop from a dildo under its own weight.
Use a good water based lube with their dildo and believe me you will need to use lube due to its size. Mr Hankey states that you can use good quality silicone lubes with his toys but I suggest trying a small bit out on the base before doing so - just in case.
One thing that you get in abundance on all Mr Hankey dildos is incredible detail. You can spend hours admiring them in all their beauty.
This dildo actually takes that statement to the extreme, the detail on it is mind blowing. It's also very pronounced and so you will feel every bump and crevice as you pleasure yourself with it.
The Seahorse is an absolute delight for texture queens like myself.
This dildo looks as if it has scaffolding around its periphery but that's exactly how a Seahorse looks. Mr Hankey has done a fantastic job of recreating the look of a Seahorse and it's actually quite beautiful. It looks almost like a piece of HR Geiger art (the designer of the Alien in the film 'Alien') and that is high praise indeed.
This dildo must have been modeled on a huge Seahorse/stallion though, as it's another very large dildo. Massive dildos are the hall-mark of Mr Hankey's creations.
The first thing that I am going to comment on is the glans or tip of the dildo. Like the rest of the dildo it's incredibly detailed and the frenulum design on the underside is great. It features a textured edge that almost looks like teeth running around its rim. This texture feels great though and adds to alien strange look of this phallus.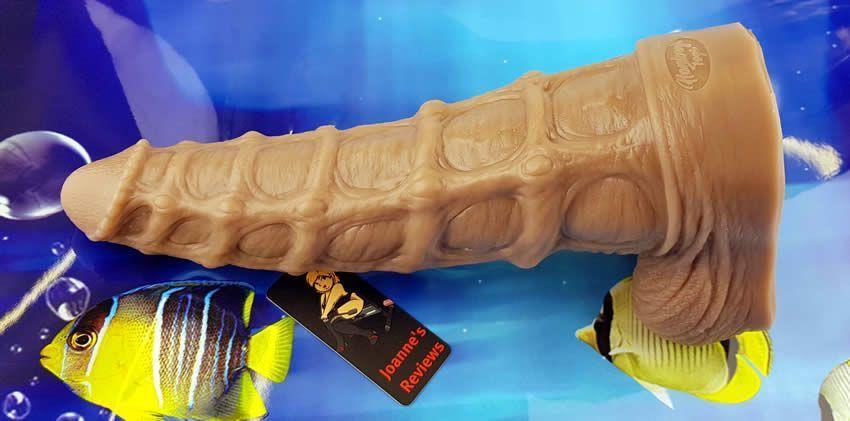 The glans is nice and pronounced and it feels great as it pops inside you. The biggest benefit of using this toy is that this sensation is repeated over and over again. Each section of the toys latticework gives you that amazing feeling as it penetrates you.
This is the toy to get if you like your texture and prefer to actually feel a toy moving in and out of your holes. Smooth toys don't give you that intense level of stimulation. You can feel and savour every bump, ridge and indentation as you thrust it in and out.
Whilst this is a long and thick dildo it's still very flexible as you can see in this picture. There's a good amount of give if you squeeze it too, so whilst the textures look very extreme they actually feel very nice indeed.
The latticework around the Seahorse Dildo gives you a lot of tactile stimulation. The shaft of the dildo broadens as you work it into your eager orifice. This gives you the very satisfying feeling of being stretched.
The small is great for vaginal play and for experienced anal lovers. The large and XXXL are for serious players who can take something that is as wide as an arm.
This one is the small. It's 25.4cm / 10" long and you can insert 22.4cm / 8.75" of it. Its circumference is a very filling 12cm/ 4.75" at the head, 17.8cm / 7" near its middle and 20.3cm / 8" near the base. All three dildos come with a thick and wide base that allows it to free stand.
The large is 12cm / 4" longer and much thicker with the XXXL being 17.8cm / 7" longer and an eye-watering girth. These two sizes would look amazing adorning any Pro-Domme's strap-on harness.
I have only enjoyed the Seahorse Dildo vaginally as I can't take anything this large up my behind. But, I know from experience that the textures on it would feel incredible if used anally. Sliding it through your sphincter and then on deep inside would be quite an experience.
I know a couple of guys who would give their left leg to be able to experience something as textured as this anally. Especially if it was on one of my fucking machines.
Using it by hand was a lot of fun. But as it's so heavy (1.2kg / 2.4lb), my wrists quickly got sore as I have mild arthritis in my wrists. So I prefer to use it on my Shockspot Fucking Machine. All that I can say about that experience is "WOW".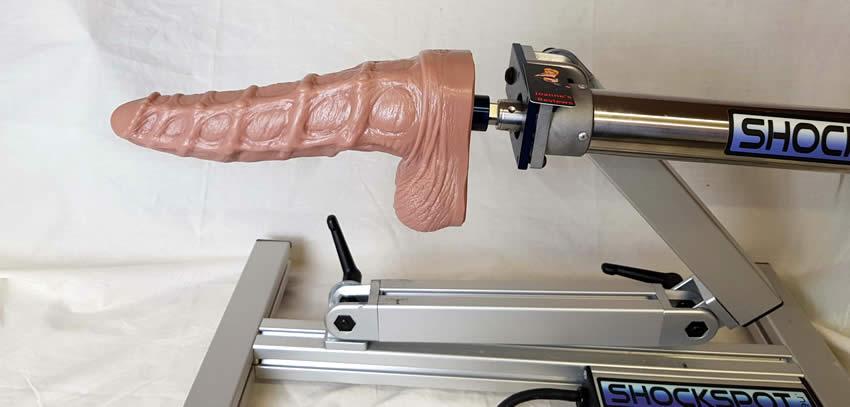 The textures really had me grasping the sheets and trying not to cry out loud as it felt so good. All the exaggerated surface textures can be felt and that feels so good. My first orgasm came very quickly with the Seahorse Dildo because of all that texture.
I enjoy long slow and deep thrusts with it so that I can enjoy this intense texture. I also relish the feeling of being stretched wider and wider as it fills me completely.
My Seahorse Dildo has a mounting hole in the wide base that is Vac-u-lock compatible and that's how I mount it on my fucking machines. You can also use ring style strap on harnesses with it and for that you will need a 6.3cm / 2.5" diameter ring for the small and a 7.6cm / 3" diameter ring for the large.
There is no ring size given for the XXXL which would probably need a custom harness making anyway. A vac-u-lock hole only costs an extra $5 and so it makes sense to get one to keep your options open in the future.
On the subject of harnesses, you can get one made by Affordable Leather in the UK for a very reasonable price.
That deep and rich texture though does come with one small disadvantage. This sex toy is an absolute vag-goo magnet! So you need to be very careful how you clean it after use. Making sure that you remove all traces of body fluids and this is especially important if you are using it for back door fun.
As it's a silicone sex toy simply wash in warm soapy water and then rinse it clean before using an anti-bacterial sex toy cleaner on it. Allow it to dry thoroughly before putting it away ready for use next time. You can even put it into a dishwasher on a sterilise cycle but make sure your Mother-in-law doesn't visit and try emptying the dishwasher for you (I'm talking from experience here).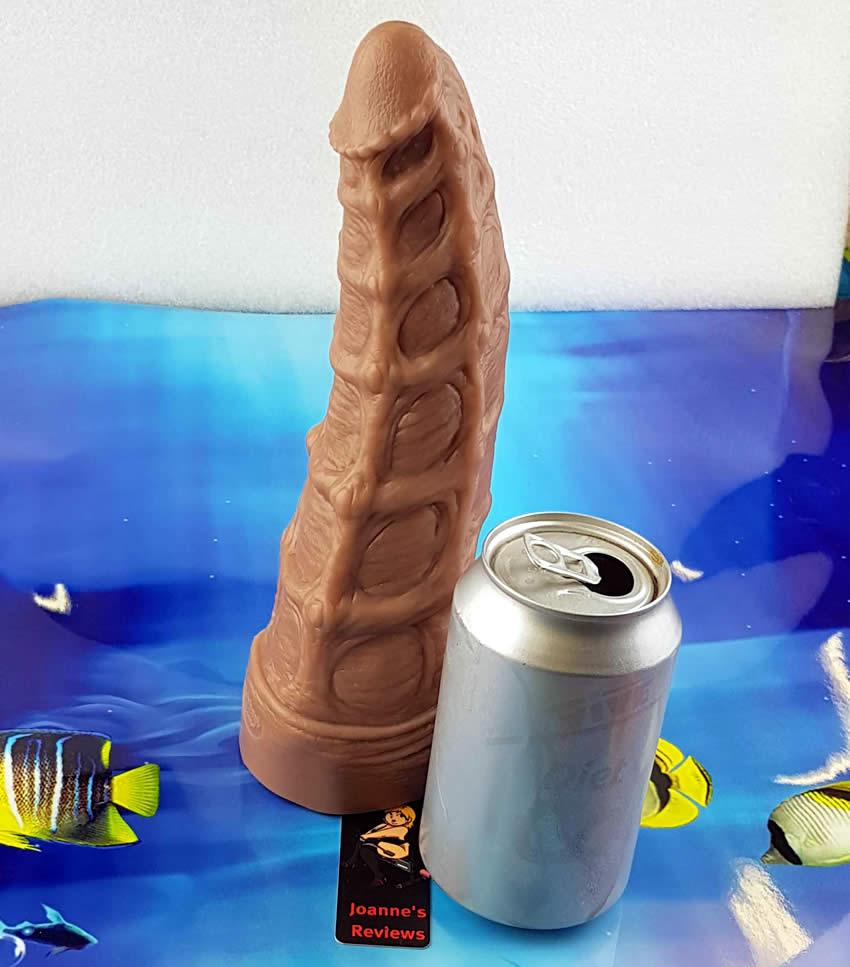 The Seahorse is a huge, unique and almost 'HR Geiger' looking dildo. It's a work of art. Click to Tweet
Key Features
Key features:
100% body safe silicone
Three colours and two hardness's to choose from
Vac-u-lock option available but the flared base makes it suitable for ring type strap-on harnesses.
Amazing textures
Good taper from tip to base
Huge sizes to please the size-queens out there
Final Thoughts
This is a size queen and texture lovers dream dildo. It' a totally unique design and I haven't seen anything like it before, I love my fantasy dildos and this one with its organic structure looks amazing and feels incredible. The small is great for vaginal play and anal too if you can take it and the other two larger sizes are the perfect toys for hardcore anal lovers and the Dommes that punish them. This is my fourth Mr Hankey Dildo and once again he has produced a toy that is unique and has some very good qualities out of the finest materials. With two hardness blends and three colours to choose from, there is something for everyone no matter what your tastes.
I was sent the Seahorse Dildo by Mr Hankeys Toys and I would like to thank him for giving me the opportunity to review it for him.
Joanne's rating
Where Can I Get One From?
Grab one of these incredibly textured dildos from Mr.Hankeys toys for just $129.95. This equates to about £96 at the time of writing this review. But it's a hefty piece of silicone and the detailing on it is quite simply sublime so it's well worth the money.
Check it out and don't forget to tell them that Joanne says "Hi".
Disclosure
This review does contain affiliate links, for more information about affiliate links check out my disclosure page.