As always this dildo was delivered swiftly and it was well packaged, arriving in first class condition. The packaging had no indication of the dangerous xenomorph held inside so neither my neighbour or my postie know that I am probably harbouring alien spawn inside me now.
The Alien Dildo comes shrink-wrapped, so you know that no-one has tampered with it on its journey from the manufacturer to you.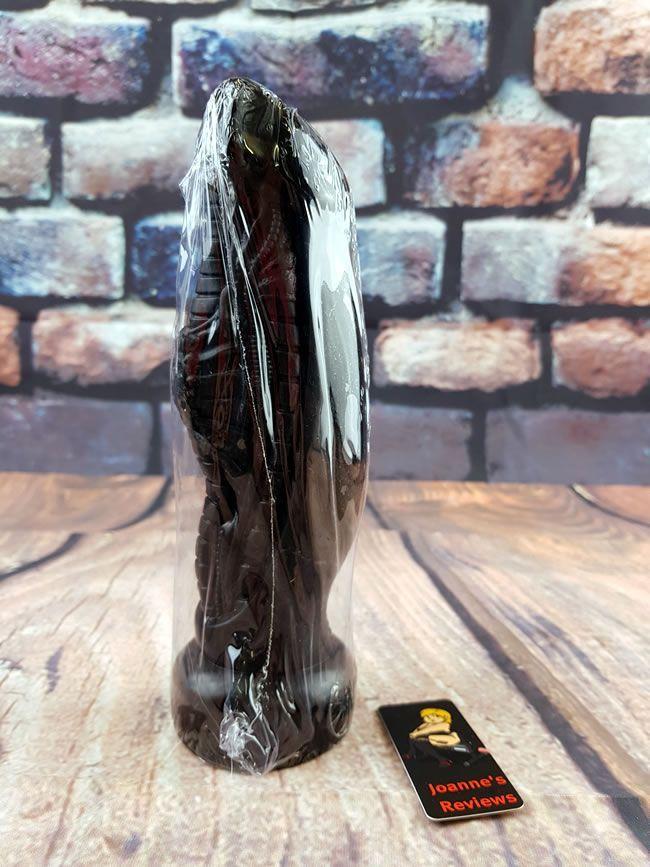 The dildo arrives well packaged with the dildo being shrink wrapped
I couldn't wait and ended up ripping the plastic film off the Alien dildo so that I could admire its 'beauty'. Yes, I know that this is one of those dildos that won't be for everyone but for any film geeks like myself, it is a rare treat.
The detail on it is stunning, and it bears more than just a fleeting resemblance to the Alien in the famous films, designed by H.R. Giger from his ever so kinky mind. He would be proud of this design and its intended use.
The detail is jaw-dropping, and the dildo has two very distinct sides to it. One side features the Aliens carapace, and it is totally smooth while the other side starts with the head and mouth with fantastic detail going down the side of the shaft of the dildo.
You can see ribs, tubes, chitinous flesh and lots of delicious texture. As a self-confessed texture queen, I just couldn't wait to get this fantastic creation between my legs.
First though, I had to take these pics which left me in a high state of arousal. Before I discuss what it is like to use it let me tell you a little bit more about the design of this creation.
Materials
It's made out of a very soft blend of 100% body safe platinum cure silicone this makes it non-porous and hypo-allergenic. There is lots of squish with this dildo when you squeeze it and with the high level of texture on it that it a great thing otherwise it may have been uncomfortable to use. The blend of silicone used is a bit of a dust and lint magnet but that is common to a lot of silicone dildos and it's nothing that a quick rinse under the tap before use won't take care of.
The base features a broader section that means it could be used for anal pleasure but in my opinion, it isn't quite wide enough for me to give it a strong recommendation to anal pleasure with it. Unless you fit it to a fucking machine of course.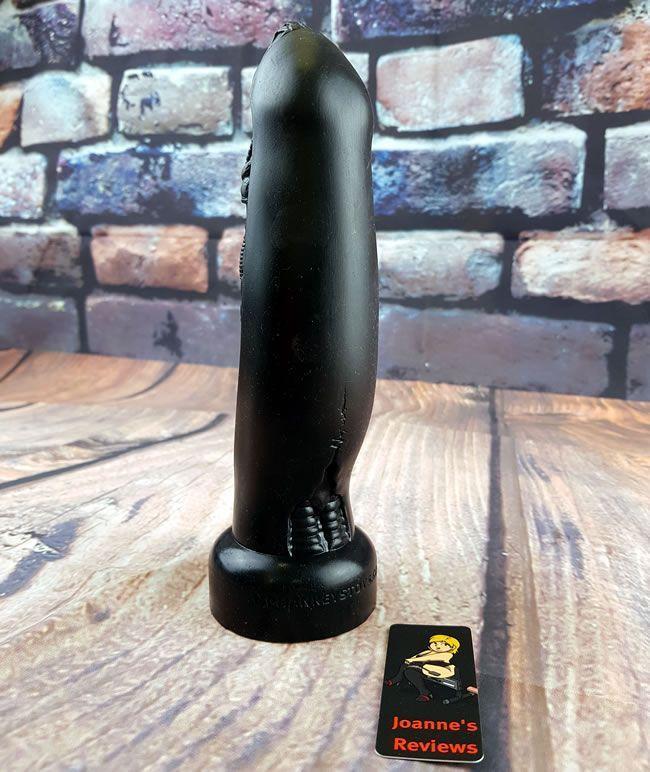 The dildo has one side that is smooth and the other side has some amazing texture
Features
This dildo features a Vac-u-lock compatible hole in the base that will allow you to fit it to any fucking machine equipped with a Vac-u-lock attachment or even a strap-on for some kinky fun.
When it finally came to experiencing it for the first time, I certainly didn't need any lube. On the subject of lubes though, as this is a silicone sex toy, you should use a good quality water-based lube such as Sliquid H2O or Secret Play Natural. If you want to use a hybrid lube and they can be useful for high-speed machine fucking, then I would suggest testing some out on a small area of the base to check for any reaction.
Fantasy Play
The Alien Dildo from Mr Hankey's toys is fantastic for fantasy play, thoughts of being abducted, restrained and pleasured relentlessly by aliens were coursing through my head as I used it for the first time.
I just love the product description from the website:
"From the depths of space to the depths of your body, the Alien Breeder toy will totally take you over, inch by uniquely textured inch. It'll fill you with a pleasure so out-of-this-world you'll be screaming, writhing and surrendering the planet earth to extra-terrestrial conquest in no time!

CloneZoneDirect.co.uk
Maybe I would be impregnated by this Alien, or perhaps he was just enjoying the pleasures of my pussy. Fantasy dildos are fantastic as you can really let your imagination run wild. That is one of the reasons my fantasy dildos are some of my favourites.
I mean dick shaped dildos are nice, but they can be pretty repetitive, now a fantasy dildo, they crank up the kink levels and help to keep things fresh and exciting.

The dildo has some amazing textures on the front with incredible detailing
Performance
I was in a very kinky mood the first time I used the Alien Dildo and set up a mirror so that I could watch myself as I used this Xenos Dildo.
Inserting the tip was easy as it has a nicely tapered design and the deeper that it goes, the more of a challenge that it becomes.
Circumference near head (rim): 4.75"/12cm
Circumference at centre bulge: 6.87"/17.5cm
Circumference near base: 5.37"/13.6cm
Overall length: 8.50"/21.6cm
Insertable length: 7.50"/19cmIt really gets wide around the middle of the dildo, and it feels incredible as it stretches you open, all of the textures make for some exquisite sensations. I orientated the dildo so that the textures were uppermost so that my G-spot could benefit from them the most and that was an excellent choice.
Once I had it all inside me I started thrusting and soon built up to a very satisfying orgasm, and due to the mirror, I could enjoy the sight of my Foof contracting around the dildo as the orgasm ripped through me.
After a short breather, it was onto the fucking machine test, and this is where it really rocked my world. The sensations feel incredible as you speed things up to the incredible speeds that these machines can deliver.
Trust me, having an Alien Dildo driving into you at four thrusts a second soon has your toes curling and you clutching the sheets as you come hard, and the machine doesn't stop, and so I love the multiple orgasms that I can achieve this way.
For me, this dildo is an instant classic, its fantasy design coupled with its incredible textures really flick my switch, and it is a dildo that I can easily orgasm with, and that makes it a winner in my books.
I must admit though that when I finished the dildo was in a right state. All that texture certainly picks up lots of vag-goo and so when you clean it you need to pay lots of attention to the textures on it to clean them properly.
Cleaning other than scrubbing the detail is easy, just wash in warm soapy water before giving it a wash with an anti-bacterial sex toy cleaner.
This Alien Dildo is available in three sizes which are fantastic for size queens out there, this one is the small so you can see that the large is definitely going to take your breath away in the nicest possible way.
The largest one is a staggering 15"/38.1cm long and a 12.50"/31.75cm circumference around the bulge in the middle. I salute anyone who can take that behemoth anally but alas even this one is too much for my back doors I'm afraid.

This is the small and measures in at 8.5"/21.6cm the soft drinks can gives it some scale
This Alien Dildo would have had Ripley on all fours instead of running. Check out this @hankeystoys dildo available from @clonezoneuk.
Click to Tweet
Key Features
Key features:
100% Body-safe Silicone
Amazing detailng and textures
Vac-u-lock hole in the base
Three sizes available
Final Thoughts
Mr Hankey has done it again with a fantastic fantasy dildo design and the range stocked by Sexmachines.co.uk is fantastic.
I love this quirky design inspired by one of my all time favourite movie series. I love the textures and the fantasy element, it allows me to live out some kinky fantasies.
It doesn't just look good, its performance matches its looks and having a Vac-u-lock hole in the base really plays to my love of fucking machine fun.
While its looks might put some people off for film geeks, it will be a winner. Why settle for a dildo that confirms to the norm, set your sights on something that is really out of this world.
I love the Alien Dildo and give it a solid recommendation. Go on, give your foof or ass a rare treat.
I was sent the Alien Dildo to review by sexmachines.co.uk and I would like to thank them for giving me the opportunity to review it for them.
Joanne's rating
Where Can I Get One From?

You can grab one of these fantastic Alien Dildos from CloneZoneDirect.co.uk with prices starting from £117.19 and that is good value as this is one heck of a large chunk of body safe silicone.
The rest of the Mr Hankey's dildos are well worth checking out too, they are fantastic and I am lucky to have reviewed five of them now. They really are show stoppers and feel incredible.
Check them out and don't forget to tell them that Joanne says "Hi".
Disclosure
This review does not contain affiliate links, for more information about affiliate links check out my disclosure page.