General Considerations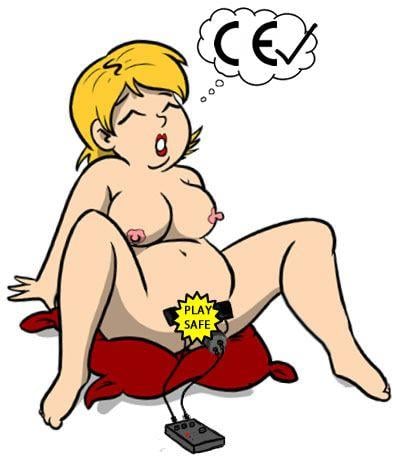 Always make sure that you are using a tested and certified control box design, when buying commercial boxes make sure that they have the relevant safety certification such as a CE approval mark. Make sure that your connections are secure and not loose. A loose cable or plug can cause painful spikes in sensations.
Electrodes should be smooth with no sharp edges, this can really help to prevent painful areas.
Electrodes should not prevent expansion or restrict blood supply. Think carefully about how you apply pad style electrodes to a flaccid penis as once an erection grows it can curtail the skins ability to stretch and that can be very painful.
It is a good idea to switch everything off and remove and re-apply pad electrodes on a penis after you get an erection to prevent painful restriction when the skin needs to stretch.
Pad Style Monopole Electrodes
These monopole electrodes are often supplied in beginner kits but don't be confused into thinking they are only for beginners. They are a fantastic type of electrode, they are cheap, and you can use them in lots of different ways. They come with a conductive glue on them that causes them to stick to your skin, and this glue can be very strong. I highly recommend shaving the area that you are attaching them to make removal a pain free process.
These electrodes come in lots of different sizes but and you can trim the corners on square ones to make them rounder, this will prevent any hot spots caused by sharp corners. Don't trim them any smaller than about 0.5"/12.5mm for square ones or about 0.6"/15mm in diameter for round pads. Smaller than this size will mean that the current from your control box will be concentrated and can cause sharp stinging or even burning.
Conductive Rubber Cock Loops
These electrodes are very popular as well, and they use rubber infused with carbon to make it conductive. When placed around the shaft of the penis, testicles or glans they allow current to be passed into the skin, but they have a minimal contact area, and this can cause stinging or burning, but the solution is really very simple. Use some electrogel when using this style of electrode, the electrogel expands the contact area and makes things much smoother helping to prevent stinging and burning.
A quick and easy way to increase the contact area is to double the loops, simply extend your cock loop to its largest size and twist it to make two loops. Then fit it to your penis with conductive lube before tightening in place. This widens the contact areas and helps smooth out the sensations.
As a side note, you can wrap electrical insulation tape around some areas of a conductive rubber cock look to insulate regions of it to target the electrical current to specific nerves to increase stimulation.
If you enjoy cock loop play you may find the article I wrote about how to effectively stimulate the nerves in the penis to better reach a hands free orgasm.
Insertable Bipolar Electrodes
Always use a good quality electrogel when using insertable bipolar electrodes especially if using them anally. Electrogel increases the conductivity between your flesh and the electrode. It also aids insertion, helping to make it easier and reduce any risk of tearing or friction problems. Always use an electrogel, at a push you can use a good quality water-based lube, and that will help with insertion, but they are less useful as conductors than electrogels.
The contact areas should never be less than 1"/25mm square to prevent any hot spots.
Insulators
Oils such as Coconut Oil are actually an insulator and shouldn't be used with e-stim.
Have another suggestion for ways of preventing painful or burning sensations? Leave a comment below, and I will add it to this article. I hope that you have found it useful.
---
Disclosure
This article does not contain affiliate links, for more information about affiliate links check out my disclosure page.