DIY Pussy Clamp Electrode
For BDSM clamping and stimming of the labia
After having so much fun creating my DIY Clitrode I decided that making DIY eletrodes is something that I want to explore and as I now own a 3D printer many more opportunities for doing so have just sprung up. My next electrode is a BDSM pussy lip clamp that can also be used for e-stimming.
It was inspired by the amazing creations of @_DeviantDesigns (Check out their Patreon Page and show them some love), in particular their pussy clamp EM60 mounting box. Check out some of their incredible creations here - There's no limit to the connected sex toys you can build at home.
So, as I am learning 3D design the hard way (trial and error), this was a huge leap forward for me and I decided to create a basic pussy lip clamp that uses two 6mm bolts. The center piece would have teeth to aid in grabbing the skin and preventing it slipping off due to lube and vag-goo. The outer sections are designed to hold two lengths of 6mm conductive rubber tubing.
This rubber tubing will have a wire threaded through it to remove any resistance issues with the rubber and to ensure there are no hot spots. In use it is deisgned to clamp the labia and then allow for you to attach the rubber tubing to your e-stim control box for some added 'stimulation'. It should be a lot of fun, especially in BDSM scenes.
This was the first prototype design, the little icons at the bottom of the pic show how many steps it took to sculpt in 3D using Fusion 360: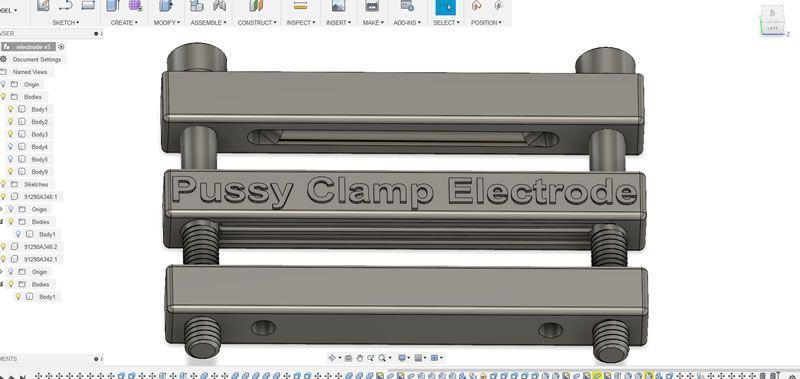 Here is a sneak peek at the design I have drawn in Fusion 360
This picture shows some of the details designed to hold it in place and to allow the 6mm conductive rubber tubing to be inserted and held in place.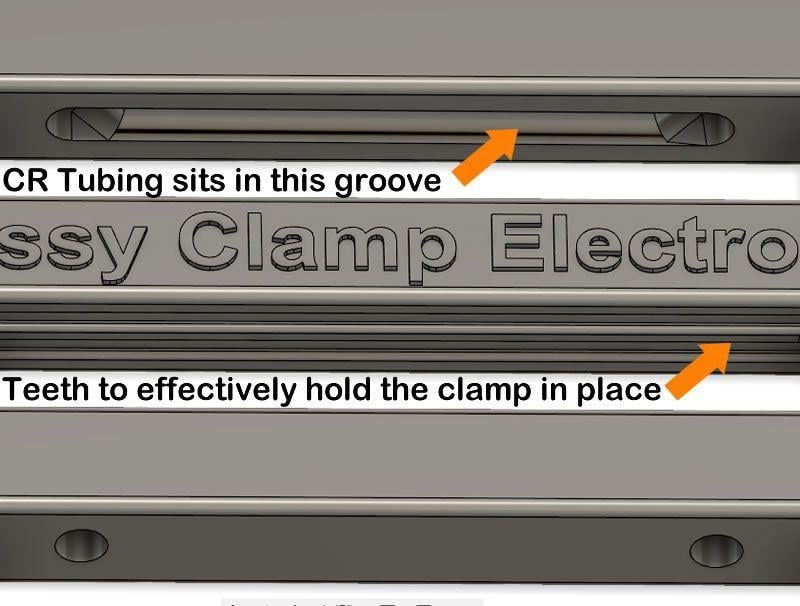 Here are some of the smaller details
Prototype
I have printed the prototype clamp out and it has highlighted a number of probelms with the design mainly due to clearances as I have decided to even print out the bolts. I am now going to tweak the design and print it out again so that I can assemble and use one. Enjoy this video of the 3D printer doing its thing over three and a half hours of printing. The results are very good.
---
---
Here is a pic of the finished prototype: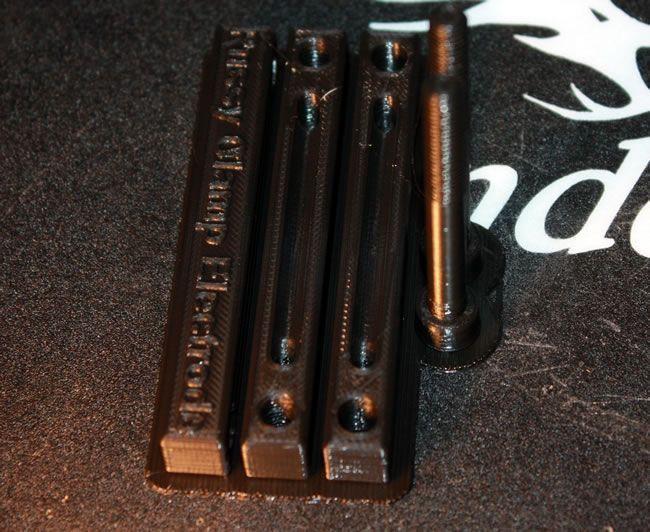 Here is the finished print
Version 2 with some updates
The final design is shown below and it has some improvements over the original design. Firstly the conductive rubber tubing now comes out of the top so that it is easier to isolate the connection and fit or remove plugs. The inner clamp face is better so it is more comfortable and also more effective at holding the pussy clamp in place. IT alos has more rounded edges for comfort.
I have also designed some knurled knobs to fit the bolts through so that it is easier to tighten and release the pussy clamp again without needing any tools. I have also sunk nuts into the back of one of the electrode plates for the bolts to go through and the plate holds them in place as you turn the knurled knobs.
The bright colours in this pic are used just to show the different components, the finished electrode will be printed out in black and yellow. I hope you like the design, I am keen to try the finished design out.
Here is a pic of the finished design: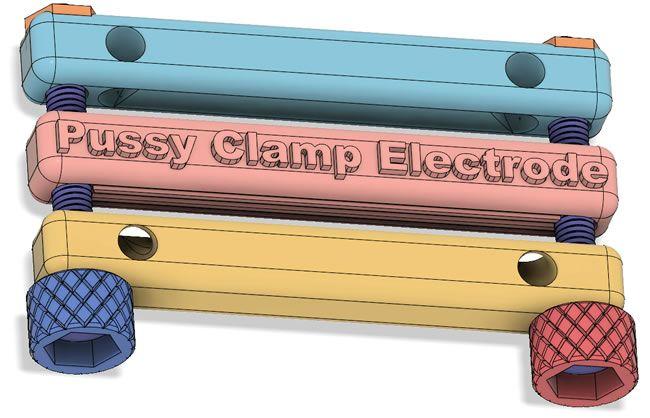 Here is the finished design
Introducing The Bumble Bee
Well here it is, the finished product, all in all it took hours and hours of pulling my hair out while learning how to use Fusion 360 in order to design it but I must say that I am absolutely delighted with the results. I opted for a black and yellow colour scheme and have called the electrode the "Bumble Bee" as it has a sting if you crank up the power.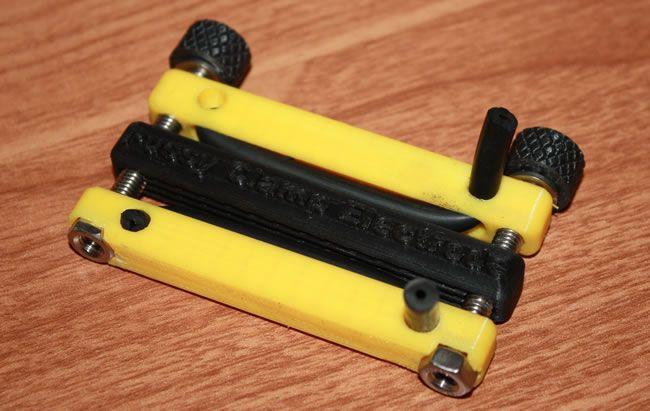 Here is my new pussy electrode, the Bumble Bee Bipolar Pussy Clamp
Assembly is easy but it is a little tricky feeding the conductive rubber tubing through the yellow plates as the hole twists and turns, some lube helps a lot. I could have made the holes wider but then they wouldn't grip the CR tubing to hold it in place. Once the tube is inserted into the hole on the other side you can pull it tight and it sits neatly in the channel that is designed for it so that only half of it is exposed.
To say I am delighted with the results is an understatement and the only thing I need are some longer bolts as the ones in this pic are just 50mm long, I will opt for 70mm bolts to make it easier to fit it to a waiting pair of pussy lips for some clamping fun. Then I can attach the plugs from the cable to my 2B E-stim Control Box before laying back for some kinky clamped pussy stimming.
I enjoyed making my DIY Clitrode but this electrode has been even more fun to design and make. I love it.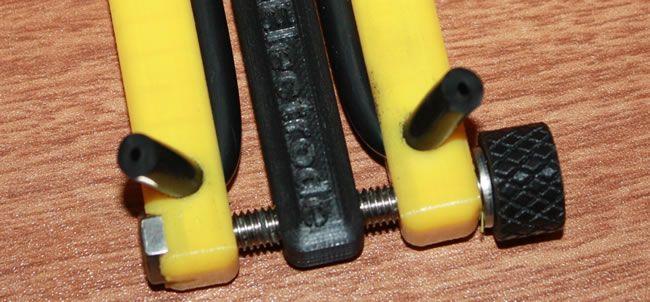 Here is a close up of the clamp and conductive rubber contacts on the Bumble Bee Bipolar Pussy Clamp
Update: 13/09/18
After an excellent suggestion by user Guuk over at smartstim.com I am turning this into a Tri-polar electrode by simply modifying the design and adding a third strip of conductive rubber along underside of the centre plate. This will give lots of other play combinations.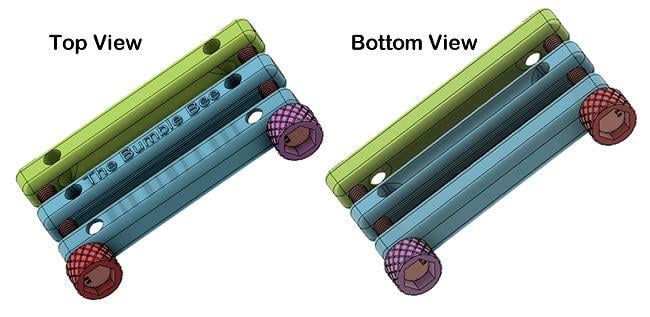 Here is a pic of the revised Bumble Bee Tri-polar Pussy Clamp Electrode.
Make Your Own
If you want to make your own Bumble Bee Tri-polar Pussy Clamp Electrode you can download the 3D printing STL file here.
If you want to edit and tweak the design yourself in Fusion 360, here is the Fusion360 File.
Here is the finished product and I was crafty, I used 6mm conductive rubber tubing with an inside diameter of 2mm for the outside plates and 4mm inner diameter for the centre plate. This means I can use 2mm plugs and get two into the centre piece of conductive rubber tubing so this electrode can be used for Tri-phase fun.


Here is a pic of the finshed Bumble Bee Tri-polar Pussy Clamp Electrode.
Materials Required:
One set of 3D printed components
Three lengths of 6mm conductive rubber tubing (2x2mm core and 1x4mm core recommended)
Two M6 x 70mm bolts
Two M6 washers
Two M6 nuts
In Use
I have posted a picture of it in use as part of the Sinful Sunday series of pictures so if you want to see a NSFW pic of it in action check out my Sinful Sunday Post - Week 388 features the The Bumble Bee
Let me know what you think of this E-Stim Electrode in the comments form below.
---
---
Additional Info
Brief Synopsis:

I build my own DIY clitoral e-stim electrode and this article shows you how to do it step by step.
You May Find These Articles Interesting
2 comments
Peter

Tuesday, 15 January 2019 12:24

Dear Joanna,

please test more E-Steam products. Even from different Brands. There are so many funny things.

Best regards
Peter

Joanne Summers

Wednesday, 16 January 2019 14:04

I am always looking for new e-stim products to review as I enjoy it so much. As you know though they aren't cheap so I don't get to review many that often but I hope to get many more e-stim reviews done in 2019.

Jo
Leave a comment