The Anaconda dildo really is a big boy indeed and not one for anyone new to dildo fun and games, I have the small. Just like the Centaur it's available in three other orifice stretching sizes, catering for anyone who really enjoys a challenge The XL is simply staggering in its girth and is certainly one that you'd never forget using.
The small measures in at a whopping 29.8cm (11.75") in length of which an enormous 27.3cm (10.75") is insertable. Its circumference starts off as 19cm (7.5") at the head which drops to a filling 17.7cm (7") along the shaft and all the way to the base.
As you can see from those dimensions this is a big toy, eye wateringly big in fact and yes that's a regular can of coke in the pic next to the Anaconda. Remember this is the small, the XL measure in at 36.8cm (14.5") in length.
Oh, did I mention that this is huge? The four sizes available start off with this one and gradually get bigger in terms of both length and girth and the largest is a wide as my forearm.
The XL has a massive circumference of 25.4cm (10"), I have seen videos of guys actually taking the XL anally and hats off to them as that must take some practice and warming up in order to squeeze that beast inside.
You really do get a lot of silicone with this dildo it is heavy and does have a tendency to give you a sore wrist if you are fucking yourself with it. I prefer to stand it up and enjoy it by either squatting over it or going down on all fours and enjoying it in that way. The latter being my preference if I'm not using it on one of my fucking machines.
It's available in two hardness ratings and I opted for the firmer of the two in order to try to prevent droop when it's fitted to a fucking machine. This blend still has a bit of squish in it when you squeeze it though. The dildo is still pretty flexible and as you can see from the picture below even the firmer blend bends under its own weight which is hardly surprising though.
Long heavy dildos always droop a lot when mounted on a fucking machine and that's not necessarily a bad thing as whilst it can make lining it up with a waiting orifice a bit of a problem it also means that you can move around a bit once it's inside you without its stiffness causing any problems.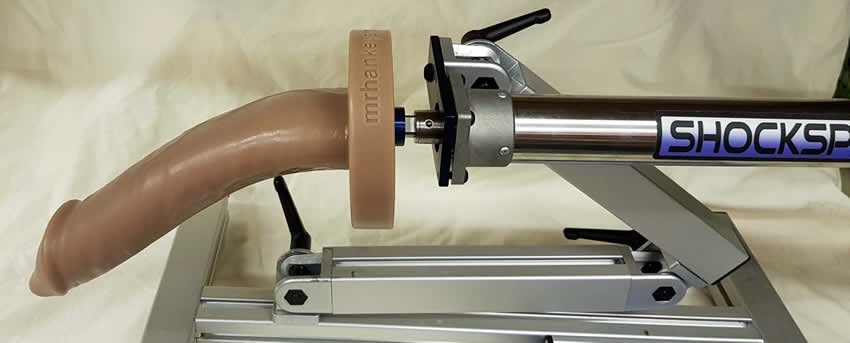 Right, lets talk about some of the features of this dildo that set it apart from others on the market. Most dildos have a pretty round cross section and that makes sense as most cocks are pretty much built that way. The Anaconda differs from this norm though and it is more elliptical in its cross section and by that I mean it's much wider one way than the other and this makes for some unique sensations when you get it inside you.
With this configuration you can twist it around a bit and it feels like a totally different sex toy and I like that, I like it a lot in fact. When using it on a fucking machine with the widest part going vertically it felt incredible and then when using it with the widest part horizontally it actually felt much wider which is weird - but oh so nice.
The tapered tip is exaggerated and this makes it much easier to insert than if it were blunter. This tip will make anal inserting much easier to begin with anyway, it's still too big for me to experiment with in that department but I know that others out there will relish the thought of taking this through their backdoors.
This dildo is made out of 100% platinum cure silicone making it body safe, non-porous and very easy to clean. Silicone is my go to material for dildos and I love its features. The Anaconda is available in three different colours, Natural Tan, Deep Brown and Black. This one is in Natural Tan and it's a rather nice shade. You can get a Vac-u-lock hole in the base of the dildo for an added fee of $4.95 and I recommend that you go for one as it keeps your options open in the future.
The Anaconda is strap-on compatible but due to its weight I would strongly suggest that you use a ring style retainer as well as the Vac-u-lock system and all fours sizes accept either a 2.5" or a 3" ring depending on which size you go for.
The Anaconda has a pretty straight shaft that is decorated with some nice vein details, the ridge on the head is a lot of fun and feels nice as it pops inside you.
I found that that Vac-u-lock hole in the base on mine was the perfect size and I had no problems fitting and removing it from my fucking machines. Make sure that you use some corn starch in the hole though as it makes removal a lot easier. If you do have problems simply insert a fingertip alongside the Vac-u-lock adaptor to break the suction.
The silicone blend used is very nice and whilst as with all Silicone sex toys it can be a bit of a dust magnet is feels very nice to the touch. Squeezing it is a very relaxing and enjoyable activity and I love how it gives but is still firm inside.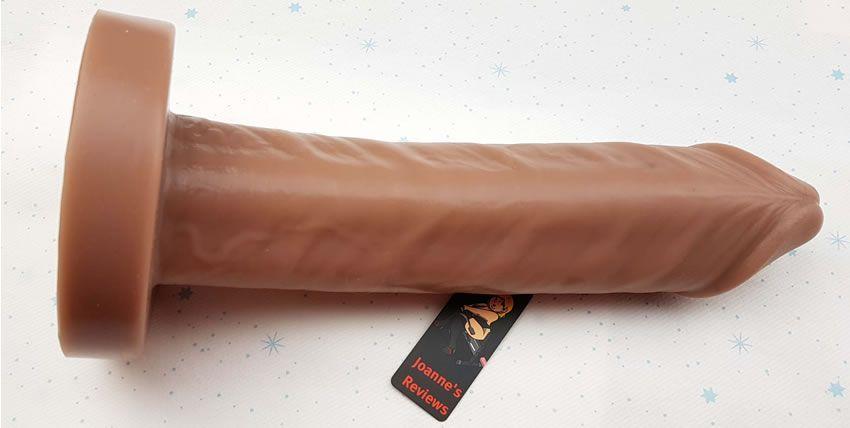 Fitting it to my Shockspot and my F-Machine Pro was a heck of a lot of fun and whilst I did notice a drop in speed due to the mass of the silicone having something this large thrusting away felt amazing.
Mr Hankey's Toys are so sure of their materials they actually recommend using a good quality silicone based lube and I have used Sliquid Silver and it lasts a lot longer than water based lubes which is great when dealing with big toys on a fucking machine.
I have really enjoyed some cracking orgasms and like to edge myself when using the Anaconda, there is something so sexy about feeling something this big relentlessly pounding away at your orifices. It's extremely filling and the larger sizes are perfect for anyone who loves a challenge and likes to feel full to the brim with cock.
Key Features
Key features:
100% Platinum Cure Silicone
Vac-u-lock Compatible
Unusual Cross Section
Three Colour Options
Two Hardness Choices
Four Huge Sizes
Final Thoughts
This is my second dildo from Mr Hankey's Toys and I am blown away by the product, some of the other dildos on his site look incredible and the CutlerX which is a life-cast dildo has definitely caught my attention and lets just say that I have a soft spot for it, I bet you can guess where that is.
With great options including the Vac-u-lock hole and two firmness ratings coupled with three colour options and four sizes this is a dildo with huge potential to be able to cater for anyones desires.
If you get a huge kick out of being stretched and filled then the Anaconda will tick both of those boxes for you and the unusual cross section area has to be experienced to be appreciated.
I am very happy to recommend the Anaconda to anyone looking for their next large silicone dildo.
Joanne's rating
Where Can I Get One From?
I was sent the Anaconda dildo by Mr Hankey at www.mrhankeystoys.com and it's a very nice dildo indeed and I am very happy to recommend to anyone looking for their next fill. Check out their site and see what I mean about it being full of amazing options for size queens.
You can grab one for yourself from just $129.95 for the small to $149.95 for the XL.
Check them out and don't forget to tell them that Joanne says "Hi".
Disclosure
This review does contain affiliate links, for more information about affiliate links check out my disclosure page.