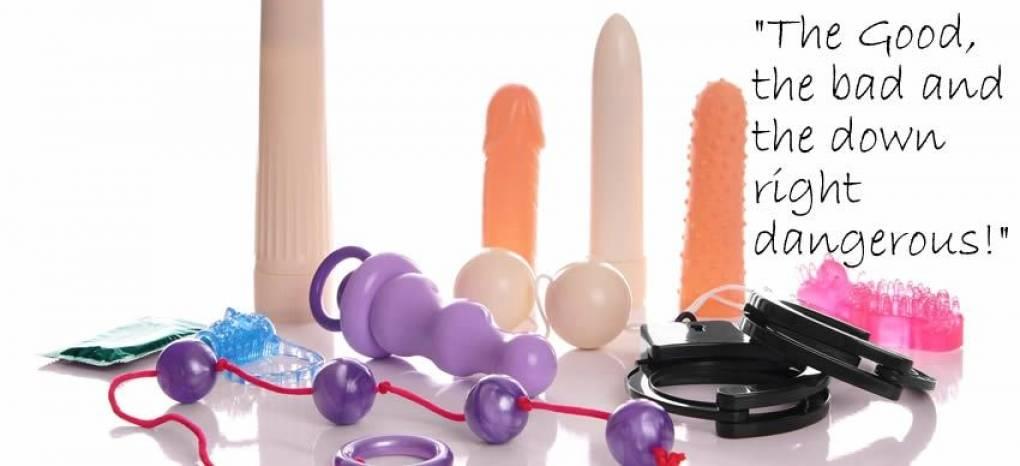 Sex Toy Material Guide
Which Sex Toy materials are best?
Your foremost consideration when selecting a sex toy, whether it be a vibrator, dildo or anything for that matter is what material it's made out of. Some materials are amazing for sex toys and some are outright dangerous, I hope to shed some light on the best and the very worst of them out there to hopefully help you make an informed decision as to your next purchase. So in other words I am going to highlight:
"Materials I think are good for the pink and materials I'd frown at even for the brown."
To start off then I will concentrate on the best materials for sex toys and these are:
Silicone
Glass
Stainless Steel
Ceramic
Wood
Hard Plastic
Aluminium
These are by far the best materials for sex toys and all of them are Phthalate free (more on this later in this article). All are non-porous which means that they don't have microscopic holes in them that are ideal breading grounds for bacteria and as such they can be safely shared if they are sterilised between users.
Remember that all of your sex toys should be non-porous, this makes them easy to clean and above all safe to use. Porous sex toys harbour bacteria that are very difficult to kill even with sex toy cleaners and these toys can easily give you bad yeast infections or worse.
Sex toys made of the above materials can be used both vaginally and anally with no problems at all, moving a toy from your vagina to your anus isn't an issue but you should never move a toy from your anus to your vagina without cleaning it beforehand as bacteria from your anus can again give you a bad infection if transferred into your vagina.
TOP TIP: If you want to start off with anal fun with a toy before moving on to vaginal pleasure then place a condom on the sex toy, when you are ready you can then whip it off and the toy will still be clean and ready for vaginal use.
Finally no matter what material your sex toy is made out of always wash it thoroughly prior to first use to get rid of lubricants and oils used during the manufacturing process.
Silicone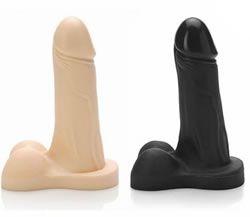 Silicone is quite simply the best material for sex toys in my opinion, it is soft and squishy (several different levels of stiffness and finish are available) and it is a great choice for your next sex toy. It's the only soft and flexible material in the safe list above.
A couple of excellent manufacturers of high quality silicone sex toys are Tantus, their range is excellent or if you are looking for something a little different then try the range of fantasy sex toys from Bad Dragon.
As I have already mentioned Silicone is Phthalate free and non-porous. Phthaltes are chemicals used to soften plastics and they are present in some sex toy materials such as PVC and jelly toys. Phthalates have been linked to organ failure and they are possibly carcinogenic, if those two are not good reason to avoid PVC sex toys then I don't know what is.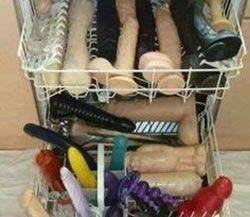 As silicone is non-porous it is very easy to sterilise and clean, it can be sterilised in a number of ways such as boiling for a few minutes or washing in a 10% bleach solution. You can even wash it in your dishwasher if it has a sanitise setting or simply wash with warm soapy water and your favourite anti-bacterial sex toy cleaner. If boiling make sure that the silicone doesn't touch the side of the pan and that if your toy contains a vibrator element that it is removed prior to boiling or placing in the dish washer.
Ideally you should use water based lubricants with silicone toys as silicone lubes can sometimes react with the surface of some toys. I have found that high quality silicone lubes can safely be used as long as you test them on a small part of your toy that isn't on the insertable section of it first. Simply apply a small amount of the lube to a test area and look for any surface reaction. If the silicone gets sticky then immediately scrape off the excess lube and wash your toy in warm soapy water to get rid of the rest of it.
It is best to store silicone sex toys separatley, ideally in their own bag if it comes with one. I use sealable freezer bags for mine (make sure your toy is clean and dry before storing this way as any moisture can lead to mould growth)
Some silicone surface finishes can be only what's described as dust and lint magnets and these toys should definitely be stored in a bag after cleaning.
Glass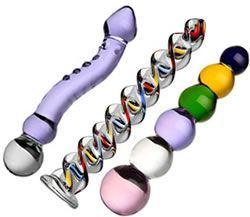 Glass is a great material for sex toys, it is both non-porous and phthalate free and due to its extremely smooth surface you need little if any lubrication. Cleaning is also a doddle, you can wash it in the dishwasher, use a bleach solution or even boil them. If you do decide to boil them then it's best to wrap the toy is a small hand towel to prevent the risk of it chipping if it hits the pan sides as you boil the water.
There are a number of small companies making specialised glass sex toys but most major retailers carry a nice range of them such as A Touch Of Glass, Bondara, SexShop365 or SexToys.
There are two types of glass used in sex toys, the first is soda-lime glass, this is used by some of the smaller manufacturers and it is not as heat resistant as the second type which is boroscilicate glass. Soda-lime glass toys should not be boiled at all.
Thankfully most glass toys are made out of the second type of glass and this is basically the stuff that Pyrex dishes are made out of and these can definitely be boiled to sterilise them between users. They are very durable and you needn't worry about one breaking inside of you, it isn't going to happen. You can chip a glass toy if you drop it onto a hard surface and if it gets chipped then stop using it for obvious reasons. Always give a glass sex toy a good look over before using it.
Glass sex toys are compatible with any type of lube and due to its very smooth surface you will not need much at all. One thing that can be a lot of fun with glass toys is to gently warm them prior to use in warm water for a very sensual feeling, you could always chill them as well if that's what flicks your switch. All in all glass toys are safe and a lot of fun to use, I'd highly recommend that you try one.
Stainless Steel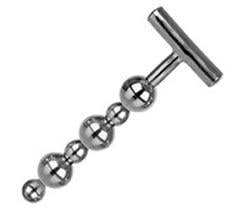 This is another great material for sex toys and stainless steel toys can also be warmed up or chilled prior to use. These are probably the most durable toys that you'll ever own, they are basically chunks of metal that don't rust. Their polished finish is a delight to look at and they are compatible with all lubes and again due to the smooth surface you won't need much lubrication.
Routine cleaning is easy, you can either boil them, put them through the dishwasher or use an anti-bacterial cleaner on them. One word of caution though never use anything abrasive on them as you will mar the finish.
Stainless steel toys should be made out of 316 Stainless Steel and manufacturers such as njoy do so. This grade of steel is the medical grade and is nickel free so you don't need to worry about any nickel allergies.
Ceramic & Wood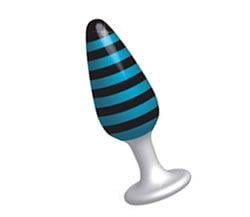 Ceramic is also a great material for dildos being nonporous and phthalate free. You shouldn't put ceramic toys in the dishwasher or boil them, to clean simply use warm soapy water and you prefered anti-bacterial sex toy cleaner or a 10% bleach solution.
Ceramic toys can be warmed or chilled and you can use any lube type with them. For a great line of ceramic toys check out Pipedreams Ceramix Range.
Wooden sex toys have grown in popularity over the years and there are some nice examples out there. Hard woods are used for wooden sex toys with woods such as Oak, Padauk, Ash and Walnut being commonly used. Wooden toys cannot be boiled or put through a dishwasher, use a bleach solution or anti-bacterial cleaner. Do not use any solvents as you will damage the protective coating on the sex toy.
Hard Plastic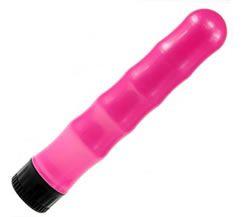 Hard plastic sex toys are cheap, nonporous, phthalate free and easy to clean. Simply clean with an anti-bacterial cleaner or a 10% bleach solution.
There are literally thousands of plastic sex toys out there and their only drawback is that they are rigid.
You can use any lube with hard plastic toys.
Due to their low cost a lot of online retailers offer plastic vibrators as free gifts when and order total passes a set mark. These low cost vibrators are often called finger vibes.
Aluminium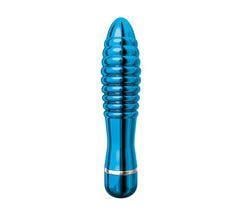 Aluminium sex toys are becoming more popular now as their main advantage over stainless steel is their lightweight nature.
They are nonporous and phthalate free and cleaning is the same as for stainless steel sex toys. Any lube can be used with aluminium.
---
Well done for making it this far, choosing a sex toy made out of the materials listed above makes a lot of sense. Look after your toys and observe safe sex toy practices and your purchases will last for a very long time. Listed below are the materials to stay away from. Some honest manufacturers will correctly label toys and give the necessary safety advice but others don't. It is best to play safe and just avoid them altogether. There is a lot of uncertainty with these materials and my advice would be to steer well clear of them all.
As we go down this list the materials get progressively less body safe and more dangerous. I am no chemist but have read enough information online to make me very wary of the following:
Elastomed
Non porous and phthalate free, this is the safest out of these materials.
Thermoplastic Rubber - TPR, TPE and Elastomer
Some toys made out of these materials are porous others are not. Generally phthalate free and a definite better choice than jelly rubber toys.
Silicone Blends TPR SIlicone, CyberSilicone
These toys are in my opinion a marketing ploy. They have various levels of silicone in them from none to a little, the manufacturers just like to use the word silicone on the packaging to confuse customers as to what the material really is. These toys are porous and probably phthalate free.
Skin or Realistic Materials
Cyberskin and Ultraskin are porous and likely contain phthaltes. Some people have bad reactions to other chemicals in them and a condom should definitely be worn over these toys when you use them. You can't even use soap on some of these materials and you often have to put a dusting of cornstarch powder on them to prevent them getting sticky.
PVC, Jelly, Rubber, Latex
All of these materials are porous and they all contain phthalates as well as other irritating chemicals that people have bad reaction to. Why are they available? Basically they are cheap. A barrier between your sensitive bits and these toys is recommended. You can use water based lubes with these materials and some are fine with silicone lubes but stay away from oil based lubes.
---
I hope you found this article interesting and useful, basically stay away form the cheap materials and if you can go for silicone every time. Thanks for reading this, I'd love to hear what you think about it so why not place a comment below.
---
Found Something Useful, Or Do You Just Like What I Do?
---
Additional Info
Brief Synopsis:

In this article I discuss which materials are body safe and best for your sex toys.
Related items
Latest from Joanne Summers