Here is a draft design of the finished projects front panel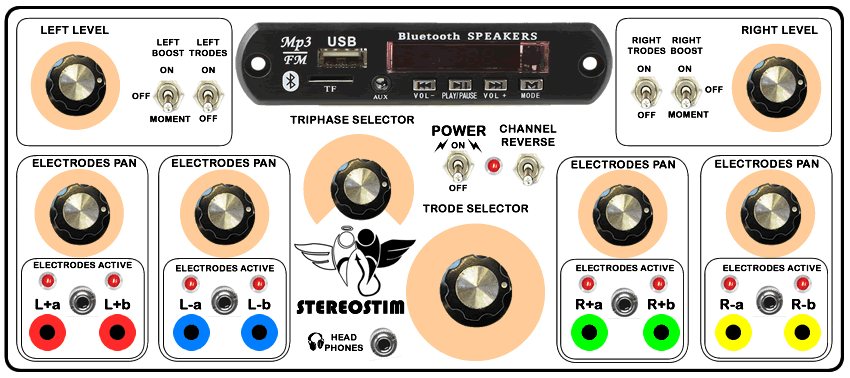 Now then, I'm certainly no electronic engineer (although I have dabbled in the world of arduino projects) but the plans are pretty straightforward, and it utilises a commercially available amplifier to do the complicated work. The rest is just wiring, switches and other necessary electronic components. I'm making it sound easy but I imagine it won't be and building one is a monumental task I am setting myself, but I am determined to give it a go in my quest for more orgasms.
I plan on blogging about the whole build process so that anyone else who follows in my footsteps can learn from my experiences and mistakes of course. My first plan is to do lots more reading on SmartStim.com and to start procuring all of the components. I will then build it in a modular form on the desk without worrying about a housing. That way I can construct something that works before breaking it down and putting it into its housing. I want to give the box a medical look as this machine will be great for medical roleplay scenes.
Here is a block diagram of the circuit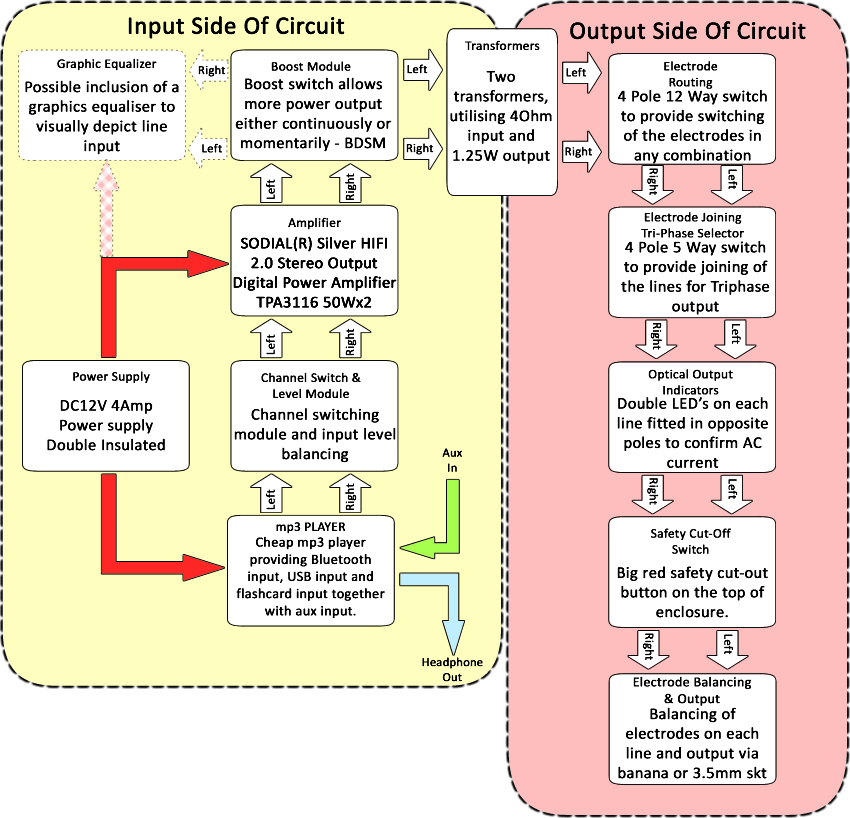 This is going to be a hell of a ride, and I hope to come out of it without setting my pubes on fire or frying my fanny lips. Fingers crossed on that one anyway. So wish me luck, and I will keep you posted.
UPDATE 25/1/18: Parts are now arriving and I am getting excited now to start the build.
So far I have received a four way five pole switch, various plugs and sockets, the LED's and their metal holders, some connectors and the 12V media player that the system will run around.
---
UPDATE 28/1/18: I have been playing around with some bits and bobs and have managed to build an Arduino based VU meter that is working well. I'm not sure if it will make it into the final build but it gives me something to do whilst waiting for the rest of the components to arrive.
The Build
My build is now underway slowly, you can follow the build on my build diary.