Joannes Desires
Sheets Of San Francisco Bedding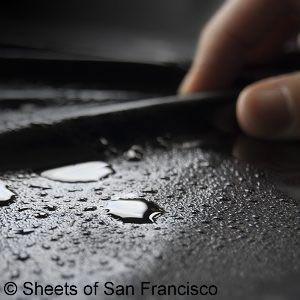 Whilst you might think - boring, hear me out on this one. Sheets of San Francisco make some amazing sheets and bedding that is fluid proof and oh so easy to clean. Lets face it, in my line of work I tend to do more laundry than a brothels launderette. The chance to review something like their sheets would be amazing, I have just got my hands on a SOSF Sybian cover to review and the material is even better than I had imagined.
Obviously that will come in handy for Sybian rides (coupled with a mop and bucket of course) I would love to be able to regularly use their sheets when I'm shall we just say "getting to know new products for review" or masturbating for short. Having felt the material I can only imagine how sensual it would be to be able to masturbate on a sheet of it without having to hold back when I orgasm.
Website: sheetsofsanfrancisco.co.uk
---
We Vibe Tango Vibrator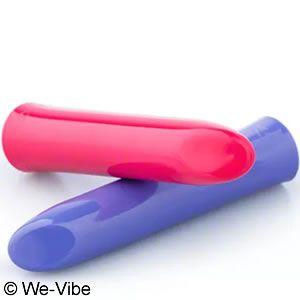 This slim little innocuous vibrator really packs a punch, it delivers deep rumbly vibrations by the bucket full so why wouldn't I want to experience it for myself. I love powerful vibes especially ones that are nicely designed and packed full of features and the Tango ticks all of these boxes.
I want to be able to use one to show my clitoris just who's the boss, I want to enjoy quick and powerful orgasms time and time again and I have heard that this little vibe is the one that will delivery all of that. If you are a retailer or of course the manufacturer and you want an in-depth review of one then just let me know. I will snatch your hand off LOL.
Website: we-vibe.com
---
Vacuum Bed or VacBed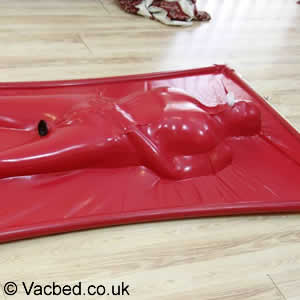 I don't know why but just the idea of sliding between two rubber sheets before being sealed inside and all the air is removed really flicks my switch. I love the idea of being helpless and looking like some form of kinky Han Solo frozen in carbonite for not saying "I love you back to Leia".
I am getting more and more into BDSM fun and games and Vacbeds are just so naughty and I guess a little dangerous if you don't know what you are doing. Anyway a Vacbed is definitely on my wishlist, it is something that I have been wanting to try out for a long time now.
Just imagine how much fun you can have with a submissive and a wand style vibrator with them stuck fast inside a Vacbed. Lots of kinky fun and games.
Website: www.vacbed.co.uk
---
| | |
| --- | --- |
| nJoy Pure Wand | Well, I just have a thing for shiny things I guess. |
| Doxy 3 | Can you believe that I have never had the pleasure of reviewing a Doxy? I need to rectify that. |
| Hot Octopuss Queen Bee | After loving usinging the Pulse III Duo I want to try this one from this amazing UK company. |
| Godemiche Ambit Galaxy | I love dildos, and sexy coloured ones are even better and they don't come more colourful that Godemiche dildos. |
| Fun Factory Bouncer Dildo | I erm, well I like dildos and I like texture and this one intruiges me. |
| A Gas Mask | Yes, I'm a bit kinky, what is there not to like though, the smell of rubber and kinky fun. |
| Persian Palm Dildo or Plug | Well who wouldn't want one of these works of art. |
| Split Peaches Unicorn Dildo (Pride colours) | It's a unicorrrnnnnnn. Who wouldn't want one in their foof? |
| Clone A Pussy Kit | I just fancy making a copy of my Foof for the whole word to see LOL. Done! |
| Tantus Vamp Super Soft | I love dildos and Tantus make some incredible ones and I haven;t reviewed any of them yet. |
| MEO Sex Shocker Wand | I love e-stim fun and games and the thought of e-stim coupled with a wand is amazing. |
| Stainless Steel Locking Collar | I love BDSM and steel locking collars really catch my interest. I'd enjoy trying some Gorean fun. |