Disclaimer - This post contains affiliate links and if you purchase something when you follow one of these links I may receive a small commission at no cost to you. For more information check out my disclosure page.
---
Joanne's Beginners Guide To Electrosex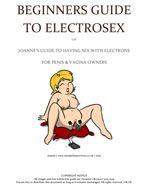 Check out my completely free Beginners Guide To Electrosex e-book, it's packed with help, advice and safety information for anyone looking to enjoy some e-stim play.
Check it out and let me know what you think of it.
View My Beginners Guide To Electrosex
E-Stim Suppliers
I have a large collection of estim equipment with lots of choices of control boxes and also of electrodes and other accesories. One of the problems with starting out experiemnting with electrosex is simply the cost of the equipment, it isn't a cheap activity but it is one that is well worth trying. I highly recommend that anyone looking to try it gets an entry level kit as these all contain everything that you need to get going. I can highly recommend the Bonus Packs from E-Stim Systems or the Flick EM60-M Stimulation Multi-pack from Electrastim.
So far I own electrosex products from two great comapnies and these are:
E-Stim Systems
These guys are amazing and they were the ones who introduced me to the whole kinky world of electrosex fun and games. They make all of their products in house in the UK and even offer a lifetime guarantee on their products. They are award winners and produce some incredible control boxes and electrodes. The majoroty of my e-stim equipment comes from them.
Website links:
Electrastim
Another great UK manufacturer of estim equipment, their control boxes are rechargeable and compact but full of features. They have a great range of electrodes and whilst I have a few of their products in my collection I would love to have more.
Website link: - www.electrastim.com
ProStim
I just have to mention this shop, it is run by Tronic from smartstim and he designs and creates some unique electrodes that not only look amazing but are also unlike any others on the market. If he ever needs any reviewing then he knows where to find me.
DE - ProStim, manufacturers of incredibly high-quality electrodes and the best of equipment.
Website link: - prostim.de/?lang=en English Version, prostim.de German Version
---
E-stim Electrode Placement Guide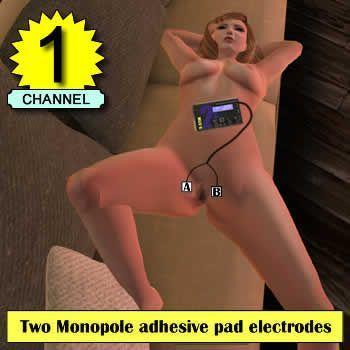 I am always getting asked where are the best places to place e-stim electrodes.
So I have made a guide for men and women so check out these positions for some inspiration (NSFW).
Position suggestions are shown in intimate detail with the logic behind them explained. It is a great resource for ideas and to expland your play options.
The guide also has information for tri-phase electrode configurations.
E-stim Session Diary
I always recommend keeping an e-stim session diary so that you can learn what works best for you. You will also be able to refer to the diary to recreate mind blowing session delivering hands free orgasms. Find out more about how I keep my E-stim Session Diary Here.
E-stim For Penis Play

I wrote an article about penis play with e-stim using cock loops and pads, this article focuses on the nervous system in the penis and in particular the Dorsal and Perineal Nerves and how to stim them effectivle for hands free orgasms. Check out the article - Electrosex Penis Play Guide For Hands Free Orgasms.
---
E-Stim Product Reviews
Click on the links below to quickly jump to the equipment that you are interested in:
---
Estim Control Box Reviews
The power box or control unit is the heart of an estim system and there is a lot of choice on the market. The links shown below take you to my reviews of each control box.
2B from E-Stim Systems

The 2B is my pride and joy, it is one hell of a good e-stim control unit. Its features and specifications are amazing and it can even be controlled over the internet.

With two output channels and a built in microphone you can have so much fun with this unit from E-Stim Systems. It's their top of the range unit and I can see why. This one can be mains operated with an adaptor.
New Remote from E-Stim Systems

The New ABox Mk2 from E-Stim Systems is takes one of their first control boxes and brings it right up to date with improvements to its power, controlability and features. I had a lot of fun getting to know this one and the pleasures that can be had from music or purpose made e-stim files is fabulous. I Compared it to the 2B to see how it compares to my favourite control box. Simple and easy to control, it belies a very clever design that makes a worthy addition to the new range of control boxes from E-Stim Systems.
New Remote from E-Stim Systems

The New Remote control box from E-Stim Systems is a huge improvement on the otherwise fantastic Series 1 Remote. It now features 10 modes, an internal microphone and a motion sensor. The new bespoke remote control fob also has four buttons and the control box has a lifeline display similar to the ElectroPebble. It is a fantastic e-stim control box.
ElectroPebble from E-Stim Systems

The Electropebble immediately won an award when it was released in 2016 and I was lucky enough to have been involved in the developement process for this extremely capable e-stim control unit.

With two output channels, nine operating modes and a built in microphone this is really a lot of fun. This was my go to unit until I got the 2B but it is still a very capable unit.

In a nutshell, I can honestly say that I am blown away with the performance of the ElectroPebble®, it is so much fun to use. My favourite modes are Audio, Pulse, Bounce and Squeeze and I love to cycle between them when playing. It's so much fun to be able to use pads and insertable electrodes together and to be able to fine tune them and have them doing different things to me at the same time.
ElectroHelix from E-Stim Systems

The electroHelix from E-Stim Systems is a feature packed entry level control box and bow did it impress me when I received one to review.

It is a direct replacement for the venerable Series 1 control unit and it lends on some of the features of the ElectroPebble and it sits between both in terms of features and capabilities.

It is so easy to use and has five operating modes which is two more than the Series 1. My favourite modes are definitely pulse and milk but I also use all of the others as well, but when playing I tend to use those two more than the rest. I love my Series 1 box but this one simply blows it away in terms of its features and power and I can see it quickly becoming a best seller for E-stim systems.
Series 1 from E-Stim Systems

Ah the Series 1 estim control box, this is the unit that I used when being introduced to this kinky world of electrosex. It is strong, reliable and very capable it was great for finding my feet with this activity.

My first experience of electrostim was preceded by a fair amount of nerves its fair to say. After all I was about to "electrocute" or "zap" my lady bits with electricity. We are all brought up to have a healthy respect for the dangers of electricity and it is drummed into us all at a very early age to never play with electricity and up until recently the thought of applying it directly to my pussy was ludicrous. I was unsure how this could possibly give all the sensations that the manufacturers claimed. Boy was I in for a wonderful shock (no pun intended LOL).

If I had to sum up the Intro2Electo kit in which I received a Series 1 in one word it would be "Mindblowing" it is the first sex toy that I have used with the range of sensations that it can give and I am still finding out more ways to enjoy it.
EM-60E from Electrastim

The EM60-E Flick is simple to use and packs a great punch. It can deliver sensations from very light tingly pins and needles up to intense cramps and every pleasurable sensation in-between. I found that I couldn't take more than around 50% of its output power when using the included pads or even a compatible insertable bi-polar electrode that I have used with it, this means it is ideal for anyone new to electrosex or even hardened players who are looking for a cheap stimulator for themselves or as a gift for someone.

The EM60-E Flick Stimulator is a great entry level e-stim control box that is ready to use straight out of the box. Mine even arrived charged so I could use it straight away, the pads will produce some great sensations and are a great way to get over the nerves often felt by newbies to the world of e-stim fun and games.

There is nothing to worry about with this kit, it is good quality and very safe, ElectraStim take a lot of time to make sure that their equipment is safe to use.
AXIS from Electrastim

The AXIS is a next-gen dual channel e-stim control box from Electrastim in the UK. It features an OLED screen coupled with some unique and interetsing features that make controlling it both simple and effective. Like the 2B is features firmware that can be updated making it a futureproof control box.

This kit is excellent quality and it comes with a carry bag that holds the control box and all of the accessories you need, ElectraStim take a lot of time to make sure that their equipment is safe to use.
KIX from Electrastim

The KIX is an entry level control box from Electrastim in the UK.

It features five modes of operation and comes with a set of monopole branded pad style electrodes. It's simple controls make it perfect for someone new to e-stim where its small form coupled with its modes of operation make it perfect as a beginners control box.

priced at only £69 it makes experimentation with er-stim affordable.
COYOTE from DG Labs

The COYOTE is another next-gen dual channel e-stim control box from DG Labs in China.

It is an app controlled e-stim control box which is controlled through an Apple or Android App on your phone. It has some fantastic features and is small, light and very portable. It even features the ability to be controlled over the internet.

Coming with four styles of electrode it gives you lots of play options right out of the box.
---
Check out these e-stim electrode reviews for penis, pussy and ass fun.
Click to Tweet
Pussy And Ass Electrodes
These Bi-polar electrodes are great ways to enjoy internal e-stim stimulations. The links shown below take you to my reviews of each bipolar electrode.
Electrastim Habanero Electro Prostate Massager

The Silicone Fusion Habanero Electro Prostate Massager from Electrastim is a biploar e-stim electrode designed to stimulate the prostate and provide a very full feeling. It is made from body-safe silicone and accepts 2mm plugs.

You get a storage bag and it feels as good as it looks.
Electrastim Komodo Electro Dildo

The Silicone Fusion Komodo Electro Dildo from Electrastim is a biploar e-stim electrode in the form of a stunning black and red dildo. It is made from body-safe silicone and accepts 2mm plugs.

You get a storage bag and suction cup cradle allowing you to fix it to a smooth surface and ride it.

If you want some electro-squimsticking or anal fun then this is a great dildo that feels fantastic.
E-WMCBP 2.0

The E-WMCBP 2.0 from E-Stim Systems is a collaboration biploar electrode between E-Stim Systems and Mr S Leather in the US.

It is a butt plug primarily but it is also a lot of fun to use vaginally. The large surface area makes it perfect for powerful e-stim control boxes and the thin neck keeps it in place nicely. Capable of delivering some very nice ghost fucking sensations, it is definitely worth checking out.
E-Bead 2.0

The E-Bead 2.0 from E-Stim Systems is a collaboration biploar electrode between E-Stim Systems and Mr S Leather in the US.

Its design is great for vaginal and also anal play and it delivers an exceptional ghost fuckign sensation especially if only half inserted anally The electrical pulses really make it move as your muscles contract and it feels sublime.
Large Flo

The Large Flo from E-Stim Systems is a fantastic electrode with a mirror finish that looks amazing. It comes in two sizes and I have reviewed the large which is brilliant.

Its hourglass shape gives lots of amazing sensations and when used vaginally I get a very nice ghost fucking sensation from it. It's a beautiful combination of function and form that is a real hit with my pussy.
Black Collection

The Black Collection from E-Stim Systems takes one of my favourite electrodes, the Bobble and supersizes it. There are four new sizes in this range and it looks fantastic with its luxurious satin finish and the black insulator. They are perfect for size queens everywhere, I can see these electrodes being in ever Mistress's aresnal.
Silicone Noir Ovid Electro G-Spot Estim Dildo

This silicone g-spot dildo is actually a gender free sex toy. Its features make it ideal for both g-spot and p-spot electrosex fun. It takes 2mm plugs and is coated in silicone. The conductive pads run down the sides and they conduct very well indeed giving excellent contact and estim sensations. It is a great dildo for thrusting and stimming.
ElectraStim Silicone Noir Rocker Butt Plug

This silicone butt plug bipolar electrode is comfortable, easy to insert and it packs a good punch. the silicone is very conductive and you feel the pulses along the whole length of the butt plug. The grooves along its side give some nice texture, especially if you twist it whilst inserting it.

I really enjoyed getting to know this one and I also enjoy using it in my pussy as well.
Moaner Bipolar Electrode from E-Stim Systems

This range of electrodes all share a ridged base that makes holding it with lube coated fingers a bit easier and two sockets in the base that accept 4mm plugs. There is a recessed allen headed bolt in the base that can be unscrewed it you want to strip this electrode for a deep clean.

It shares a lot of features with the Flange electrode which is its smaller cousin and it was designed for people who liked the features of the Flange but who wanted to be that little bit more full when using it and I must say it fulfills that criteria admirably. The MJ is its bigger brother and is for anyone who really wants to be filled.
Magnum Bipolar Electrode from E-Stim Systems

The best feature on the electrode is definitely the curved tip which resembles that of a rifle bullet and it makes it very, very easy to insert even anally. I have struggled with some of the blunter electrodes when wanting some backdoor fun but this one makes it so easy. The ballistic curves allow easy insertion and just feel great in use. The wide base makes it very safe as well for anal use.

I have to admit that I found this electrode to be amazing when used both vaginally and also anally.
Electro Eggs Bipolar Electrode from E-Stim Systems

You can get feelings as diverse as having a band of your vagina tighten in time to the electrical pulses to amazing clitoral stimulation if you slowly pull it out to the mouth of your vagina - that is mind blowing.

The weight of them especially with the medium and large makes them ideal for doing Kegel exercises and they're perfect for the task. I like to do some Kegel exercises before connecting the control box to give myself a treat after my "workout", it's the closest thing I get to a real workout LOL.
Bobble Bipolar Electrode from E-Stim Systems

I have to admit to having my first orgasm with the Bobble without even using it as an electrode, I simply fucked myself with it to orgasm. I love the way that the smooth surfaces stretch you open and then each ball sort of pops inside you and then you get to do it again with the next one. It is a very nice feeling and it didn't take me long to get myself off this way. As it is so smooth it can get a little slippery when used this way - just saying.

I found it to be a very effective electrode with no hot spots or dead spots for that matter either and the sensations on pulse mode were amazing and it felt like the Bobble was actually fucking me, gently at first and then much harder as I ramped up the power as I got closer to orgasm. I came really hard and actually pushed it out as my contractions were so strong and I experienced an amazing orgasm.

I have used it many times since then and find it really easy to edge myself with it before finally pushing myself over the edge into some amazing orgasms.
Deviant Bipolar Electrode from E-Stim Systems

The best feature of this electrode is its ridges. As each one slid into me I let out a small gasp, the ridges on this toy are incredible and I almost came just from sliding it home.

The medium is a bit wide for me to enjoy it anally but check out the sizes on the E-Stim Systems website to find the one that suits you. The medium is absolutely perfect for me to enjoy some serious e-stim pussy play though. I actually quite like just using it as a dildo and fucking myself with it, the ridges are very effective.
Flange Bipolar Electrode from E-Stim Systems

The wide base means that you have a larger area for contact, and therefore the sensations cover a wider area. The beauty of this design is that because it isn't a large toy, it's comfortable for both pussy and anal play.

The longer insertable section means that the sensations are spread out and create much more intense feelings. With the wide base covering your pussy lips and clit area, it means that the induced sensations also stimulate your pussy lips and clit. Fantastic in my point of view.
Large Torpedo Bipolar Electrode from E-Stim Systems

This is one big boy, similar in dimensions to a coke can and it is so filling. It shares its design with some of the other electrodes from the premium range and it is a great one to use if you enjoy being filled completely.

The wide base gives good contact around the anus or clitoris and pussy lips and so it doesn't give you any hot spots at all. It is too big for me to enjoy anally but it feels incredible when I use it for vaginal stimming.
Electro Speculum from E-Stim Systems

The Electro Speculum from E-Stim Systems allows you to stretch more than just your play opportunities. This bipolar estim electrode leaves you wide open for kinky play sessions.

Designed to be inserted into a vagina and then spread open wide to allow unrestricted access. But it also provides exquisite e-stim sensations which can be pleasurable or painful depending on how you like to play.
---
Penis Play Electrodes
If you fancy some penis electrosex play then these are the electrodes for you. From cock loops to penis plugs there are a lot of penis play options and these links go to the reviews I have done on penis play equipment.
Zeus Lightning Hood

The Lightning Hood is a bi-polar cock bipolar electrode from the Zeus electrode range.

It is a very snug fitting glans electrode that accepts 2 x 2mm plugs and it delivered mixed results for Lawman who wrote the review. Check out Lawman's guest review which details trials and errors with this penis play electrode.

Viper from Electrastim

The Viper is a bi-polar cock loop from Electrastim's Silicone Fusion range.

Just fit it around your cock and behind your balls to receive some fabulous stimulation to your Dorsal nerves which will generate some intense and delightful sensations in your glans. Check out Lawman's guest review which details his first ever multiple orgasm.

Opus E from Mystim

Mystim Gmbh have produced a fantastic bip[olar masturbator sleeve that not only looks and feels amazing as a sleeve, it is also an amazing bipolar electrode too.

Slipping your "Happy Chap" into one of these together with some electrogel will have you enjoying every stroke with renewed vigous as the electrical pulses tease and please your cock.

Python from E-Stim Systems

E-Stim Systems have produced a ball crusher that combines this kink with e-stim play. It is made out of 5mm acrylic and finished to a high standard. My stunt cock enjoyed getting to know it.

Your balls can be crushed or gently held in place against the two gold plated electrical contacts. Using a cable with 4mm bananna plugs you can then hook it up to your e-stim control box for some exquisite pleasure or pain play, the decision is yours.

Jack Socket from Electrastim

Electrastim have hit the nail on the head with this male masturbator. It's a cross between a masturbation sleeve and a bipolar electrods giving you the best of both worlds.

You lube up and slide your penis into it and stroke away. You can also attach it to your favourite e-stim control box to apply current directly through your penis for some truly mind blowing results. See what all the fuss is about with this unique masturbator.

Penis Plug Electrode from E-Stim Systems

E-Stim Systems produce a dazzling array of electrodes, control boxes and other electrosex paraphernalia and this is the latest electrode that I decide to get to know and review. It is a monopole electrode which for the newbies means that one wire goes from your control box to it and you need another electrode with the other wire attached to it to complete the circuit. You can use an adhesive pad type electrode, a plug style insertable electrode anally, a cock loop style electrode or even using an Electropinwheel to really spice things up a bit.

I know that most guys would cringe at the thought of inserting anything into their urethral opening (peehole) but think about this for one moment, why wouldn't it be enjoyable with something designed for the job? There are lots of men who enjoy sounding using all manner of objects. What e-stim systems have done is taken this a step further by designing a penis plug that is incredibly smooth and that allows you to also add Electrosex into the equation.
Conductive Rubber Cock Loops from E-Stim Systems

These cock loops are a lot of fun and you can definitely achieve a hands free orgasm with them. We have used them a number of times now and the results are the same - a sticky hands free orgasm. Whilst they would be a lot of fun to use on your own they are much more fun when used by a partner on you especially if you throw in a little tie tease or light BDSM.

Whilst it is a slightly scary thought to apply electricity to your little chap, it can actually be an extremely enjoyable activity and if you are toying with the idea of experiencing a little e-stim fun do it. These cock loops are available in packs of two from e-stim.co.uk and for newbies they are also available as part of the Intro2Electro For Him kit which I can highly recommend.
ElectroLoops Cock Loops from Electrastim

I really like this product, it's very good quality and would make an ideal present for a loved one. The advertising from ElectraStim claims that they are for the connoisseur and I heartily agree with that as with a price tag of €65 they the most expensive cock loops that I have seen so far, that said though the price is entirely justified as these cock loops are definitely beautiful to behold and they work very well indeed. Whilst there are cheaper options out there if you are looking for something with a touch of class then the ElectraLoops will be right up your street.

The rubber cock loops definitely work and they look and feel very classy due to the great finish on the anodised metal and the attention to detail with the socket and plug in either end of the rubber tubing. Using come water based lube or conductive gel definitely helps get a good connection but even when used dry we had no trouble with them at all.
Prestige Cock/Scrotal Ring from Electrastim

This is a very nice monopole electrode that is also a very stunning cock ring. It looks amazing when fitted, it's extremely effective as an electrode and it has the benefit of promoting harder and longer lasting erections. What isn't there to like about it?

Made out of very shiny 316 stainlesss steel it will look amazing for a long time to come. So if you're looking for a new penis play electrode then this one has added benefits as it's a very nice cock ring and it is available in five different sizes.
Serious Kit SPT Push To Fit Second Electrode

Another fantastic guest review from RubberStimmer, a long time stimmer and rubber fetishist. It builds on his last review of Serious Kit receivers suitable for both V2K and Tremblr e-stim play.
Serious Kit Electro SPT And V2K Conversion Kit (Or Pimp My Tremblr)

I am delighted to bring you a guest review from RubberStimmer, a long time stimmer and rubber fetishist. I love hearing about new pieces of sex tech and the SPT, and V2K conversion kit has me experiencing a little bit of penis envy. I can only imagine how good they must feel.
---
Other Electrosex Equipment
These reviews are of e-stim products that don't fall into one of the categories above.
Tickling Truman From MyStim

My submissive has reviewed the fantastic e-stim vibe from MyStim called the Tickling Truman and she can't put it down LOL. I am amazed that she managed to keep her hands off it long enough to write this review of it for me. In a nutshell combining a classic g-spot vibe shape with e-stim capability is a real winner. Check out her full review.
ElectroWhisker From E-Stim Systems

I have had a lot of fun reviewing this skin play electrode.
It delivers delightful sensations on wet skin. Use it on dry skin for pain play. It has really opened my eyes to how much fun e-stim skin play can play.
Micro-Pad Electrodes From E-Stim Systems

I love these smaller self-adhesive monopole pad style electrodes from E-Stim Systems.

They give you a perceived power boost due to their smaller surface area and not having corners means no hot-spots and that makes for a smoother ride.
Neon/Violet Wand from Kinklab

I was terrified at the thought of putting between 30,000V and 40,000V through my nipples and vulva but I needn't have been concerned. Apart from one mishap which had me cussinf like a trooper my fanny lips have through it with flying colours. In fat I love this little electrosex product.

It is not only fun to use but it looks amazing too, the neon purple colour is fascinating and watching the sparks dance across my skin in fascinating. You can delivery pleasure or pain with this product so it is ideal for BDSM play.
Double Electro Pinwheel from E-Stim Systems

I was unsure as to whether or not this electrode would win me over as it looks so menacing and the pins are just soooo sharp but I love it. I now realise that e-stim is more than just insertable electrodes and pads, it really has opened my eyes and it has me wanting to try other unusual electrodes such as the Electro Speculum.

If you enjoy electrosex fun and games then this electrode will add something very different in your play whether you are using it on your own or on a partner either for pleasure or punishment. It is very versatile and produces some very intense sensations and it is something that I will be using again. Especially as some of my control boxes have dual channels so I can use it in conjunction with an insertable electrode for some really kinky sessions.
ElectroGel from E-Stim Systems

As a lube I really like it due to its consistency and long lasting properties, it is water based which makes cleaning up really easy and has minimal ingredients. As an conductive gel it is great, I had no hotspots when using it as it coats everything well and creates an excellent contact.