To start off then I will cover the basic types of sex machines available:
Fucking Machines
Sybian - this machine deserves its own section
Monkey Rockers
Power Tool Sex Machines
Home Made Sex Machines
Electro Stimulation Machines
These are the most common types of sex machines available, and prices vary from about £100 to over £2000 for a top of the range unit.
One consideration you should think about is the materials used in any penetrating attachment. Check out my Sex Toy Material Guide for some great advice on material selection and more importantly, what to avoid.
The following sections of the article are based on my own experiences and are my opinion on the matter, you will decide whether or not it's good advice and I would love to hear about your experiences or thoughts about these types of machines.
Fucking Machines
I absolutely adore fucking machines and can spend hours just enjoying the feeling of being pleasured by something that won't tire out and will just keep on going until I'm the one worn out. A fucking machine is one that penetrates you either vaginally or anally and simulates intercourse by thrusting a dildo in and out at a speed and depth that you can control.
Most machines use a flywheel to translate rotational movement from a motor into linear motion of a thrust rod to which a dildo is then attached. By altering the radius of the linkage arm on the flywheel, different depths of thrust can be set up, and the speed can be easily controlled to control the pace. Thrusting of up to four thrusts a second are not uncommon at faster settings and believe me that is enough to make your toes curl.
Machines such as my F-Machine Pro and my Blue Balls XL 2.0 use this principle to good effect. The most significant factor in how powerful these machines are is the torque output of the motors used. It takes a surprising amount of force to drive a dildo in and out of an orifice especially if that orifice is in mid-orgasm and contracting like crazy. It's definitely worth buying a machine with a strong motor as you'll regret getting one with a weak one. To give you an example, I can't stop the F-Machine Pro by clamping down on the dildo with my PC muscles but I can stall the Willy Wanka if I do the same and that is purely due to the torque difference in the motors used.
The F-Machine Pro is a great entry-level machine, but I have heard stories or people using it anally with huge dildos which have been able to stall the machine due to anal penetration requiring more force than vaginal penetration.
So lots of Torque is useful in a fucking machine but it does have one drawback. A very powerful motor is excellent, but if your machine is light and you are using it with a large toy you can actually cause the machine to move back and forth instead of the dildo.
This is due to the torque overcoming the resistance it comes across by moving the machine as opposed to the dildo. Some people clamp their machine down to prevent this, I merely place my feet on the feet of the machine and have found this to be an excellent way of overcoming this problem.
Some of the more expensive machines on the market such as the Shockspot and the Tango use linear motors, these have no flywheels meaning that the machine can be more streamlined and smaller.
A quick note on some of the cheap 'machine gun' type sex machines. They are much less expensive than a regular fucking machine but lack power and break relatively easily so only go for one of them if you cannot afford something better.
The Sybian
This machine is a legend in its own right and is an internet star, appearing on live shows like the Howard Stern show. It is basically a ride on vibrator, while that sounds a bit dull, believe me, the Sybian is anything but dull, it is a raging powerhouse that is designed to be able to rip orgasms out of you. It's quite simply the most powerful vibrator that I have ever used and features some neat tricks up its sleeve.
An attachment is placed on top of the Sybian, and there are numerous ones available that offer the choice of penetration or non-penetrative fun. Many different sized sleeves are also available to alter the circumference of the attachments to suit everyone's tastes.
You straddle the Sybian and insert the attachment into your vagina, your clitoris rests against a nubbed portion of the attachment, and these nubbs are designed to transmit the vibrations directly to your clit.
The machine just has two controls on a corded remote, and these are rotation and vibration, each function has its own on/off switch. The rotation feature makes the attachment move around inside of you applying pressure to your g-spot while the vibration control alters the speed of the vibrations from amazing to OMG.
I can highly recommend the Sybian and using one actually caused me to squirt for the first time in my life, try one you will not be disappointed.
ABCO Research, themanufacturer of the Sybian have recently brought out an amazing range of silicone body-safe attachments for the Sybian, check out my review of three of them, The Egg, The Orb and the Triple Delight.
The Sybian is a costly piece of equipment, but luckily some companies rent them out so you can try one before buying one. I have used the services of www.fmachinefun.co.uk to try out the Sybian, they provide a new attachment that you get to keep at the end of a booking. Whichever company you use if you go down the rental route make sure that you insist on a new attachment and not something that has been "cleaned". Renting is a great way to experience the Sybian without the massive outlay of money.
The only drawback to the Sybian is with the noise it makes, it's loud, really loud. I wouldn't recommend it to anyone living in a flat or with parents as there is no way that no-one is going to notice it in operation.
Recently, there has been a huge increase in the number of Sybian clones available on the marketplace after the expiry of the original patent. With machines such as the Cowgirl and MotorBunny being a good option for anyone on a tight budget. I have reviewed the MotorBunny and loved it, and it is a more BDSM focussed sex machine.
Monkey Rocker
A monkey rocker is a human-powered fucking machine where you sit on a seat that has a dildo attached to it. You rock the chair back and forth, and this moves the dildo up and down allowing you to control the speed of thrusting.
These machines are almost entirely silent with the only drawback being that your thighs can soon tire, that said it's a great way to have fun while working out.
Power Tool Sex Machines
I mention these machines just to satisfy your curiosity, I would never recommend that anyone tries using them as power tools are designed for anything other than sex, and so safety is a big concern with these.
I am talking about the Drill-do and Fuck-saw here, you can buy adaptors to fit on a drill or reciprocating saw to allow you to install a dildo onto them. Yes, you heard that right a dildo on a power tool.
The most significant with these machines is through electrocution and friction burns (ouch), the human body is not designed to have things moving inside it with the speeds that these machines are capable of doing. That said though, if they do tickle your fancy, please use lots and lots of lube as you are going to need it.
Use a proper adaptor to mount a dildo, don't just stick a dildo on the end of a saw blade as anyone with a modicum of common sense can see what is going to happen if you use it and severe injury or god forbid death could result from doing so. Use at your own risk.
Home Made Sex Machines
Lots of people make their own sex machines, and there are plans available on the net to build basic machines and a monkey rocker clone. If you do make one yourself get someone qualified to do the electrics and think about waterproofing them as body fluids do transmit electricity. Think safety first with every step of the build.
A lot of people use car windscreen wiper motors for their builds, one bonus with doing so is that it will be a 12V system which is safer, and you can get a lot of torque out of a windscreen motor, but the top speed will probably be restricted to about 120RPM.
While building a sex machine might appear to be a cheap option when you consider the safety implications of something going wrong it would probably be best to buy a machine designed as a sex toy rather than to cobble one together yourself unless you are very technically and safety minded.
Electro Stimulation Machines
In a nutshell, E-Stim or electrostimulation, (also known as 'estim', 'electroplay' or 'electrosex'), is the use of electricity to provide extremely pleasurable sensations in your body. The strength of these sensations can be varied to produce unique experiences, e-stim is great for play on your own, but it's even better with a partner as you can surrender yourself to them and let them tease you to orgasm.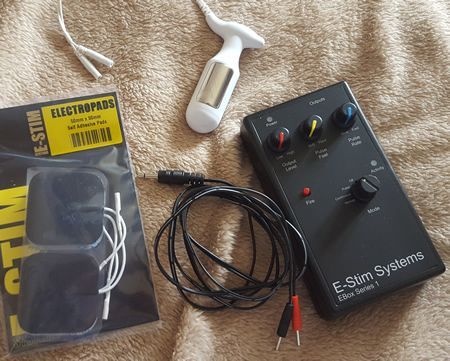 A lot of e-stim units available are based on TENS units, these are pain relief machines that function in the same way as an e-stim however they lack the power and range of features of a true e-stim.
E-stim systems work by passing a current through a set of electrodes. These electrodes can either be monopole (such as the sticky adhesive pads available for tens units) or bipolar (such as the Veriprobe or Flange electrodes). If you are using monopole electrodes, then you need two of them to form a circuit using the skin between the pads. Monopole electrodes have a cable going to each electrode. Bi-polar electrodes have both wires going to one unit that has two separate electrodes on it, as with the veriprobe when it is inserted into your pussy or ass your tissue makes the circuit between the two electrodes.
E-stim units can provide a multitude of sensations from the fluttering of butterfly wings against your skin to full-blown muscle cramps and everything in between. I'd highly recommend that beginners start with something like the Intro2Electro kit from www.e-stim.co.uk
Check out my e-stim resources page for all of my reviews and advice articles about electrosex.
For anyone curious about where you place the e-stim electrodes, I have written an Electrosex And E-stim Electrode Positions Guide.
Check out Joanne's beginners guide to sex machines, for some kinky advice. Click to Tweet
Why Not Try Before You Buy
As sex machines are such expensive pieces of kit, especially when you consider the more advanced and capable ones it makes sense to think about trying one before parting with your hard-earned cash. That is where the service provided by Ian over at www.fmachinefun.co.uk is so good. You can rent either a Sybian, an F-Machine Pro 2 or a Venus Male Masturbator from him to see if they work for you before settling on buying one.
If you then go on to buy one from there, they will give you half of what you paid in the rental fee as a discount which is great. They send out new dildos or attachments with every booking, and you get to keep those at the end of the booking as for obvious reasons they don't recycle penetrables. I have used their service on many occasions and can heartily recommend them. Check out www.fmachinefun.co.uk
---
I hope you found this article interesting and useful, basically take your time when selecting the right machine for you, do your homework and consider renting a machine before buying one to see if it is for you. Thanks for reading this, I'd love to hear what you think about it so why not place a comment below.