For lots of guys though some of the information contained in this article will be quite interesting as I am going to delve inside the penis to show you why certain things work very well and why others don't.
I am going to give everyone a crash course in the nerves of the penis and ballsack; these are the Dorsal Nerve and the Perineal Nerve and why they are crucial to a fantastic cock stimming session.
So without further ado, here we go. Cock stimming 101.
Orgasms
Firstly, remember that an estim orgasm isn't generated in our sex organs it is generated within the brain, so the first thing to think about is getting into the right mindset. Focussing on that elusive hands-free orgasm (HFO) is probably not going to help. You need to relax and enjoy the journey, get stimming right and the orgasm should follow.
If you masturbate watching a certain kind of porn or with certain songs playing in the background then makes sure you replicate that for your e-stim sessions. You need to be as relaxed as possible so that you can enjoy yourself more.
Our brains interpret signals that we receive through our nervous system and this leads to arousal and eventually orgasm. We use e-stim to directly stimulate the nerves in our genitals, and these signals are processed by the brain just as if you were masturbating or having sex. This can lead to enjoyable and powerful orgasms. It sounds so easy, doesn't it? But in practice, lots of things can get in the way.
Electrodes
I can orgasm readily using external pad style electrodes or my prefered method which is using an internal bi-polar electrode.
This second type of electrode is a fantastic choice for penis owners as well becasue we all have somewhere to accommodate them. Penis owners, of course, have a prostate gland which I do not possess (I wouldn't trade my g-spot for one though) which I may devote another article to, but in this one, I intend to cover electrostimulation of the penis using cock rings and self-adhesive pad style electrodes.
Nerves of the penis
Now, I hope that these images don't upset anyone, but it is important to know how your nervous system works especially with the two nerves that I will be talking about.
This simplified drawing shows the two nerves that we are interested in for cock play when it comes to e-stim. These are the Dorsal Nerve and the Perineal Nerve.
Dorsal Nerve
The dorsal nerve runs along the top of the penis on the outer sides of the dorsal arteries and dorsal vein. This nerve serves to transmit sensations from the glans of the penis to the brain. It is how the sweet sensations of masturbation and the friction of fucking are felt and enjoyed.
Stimulating this nerve will cause sensations that feel like they are focussed in the glans of the penis.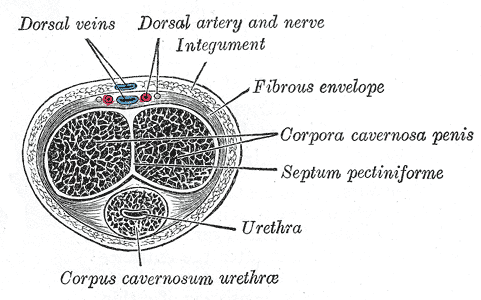 Perineal Nerve
The superficial and deep perineal nerves run behind your ballsack basically between your anus and up into your scrotum. This is another nerve that you will want to focus on as it produces very nice sensations.
E-stim Cock Play
If you try to stimulate both of these nerves at the same time, you will often see the sensation will be focussed in the glans of the penis. But your perineal nerve will also be sending signals to your brain, and while they may be drowned out by the dorsal nerve message, your mind will interpret them to help you along the way to an orgasm.
There are a number of ways to wire up your penis in an e-stim circuit; you could use self-adhesive sticky mono-pole electrodes, a penis plug which goes into your pee tube (the urethra) or cock rings. These cock rings are usually made out of metal or conductive rubber.
A conventional method of stimming a cock is to use two adhesive pads or cock loops. One placed at the tip of the penis just under the glans and one placed at the base of the penis or around the penis and testicles.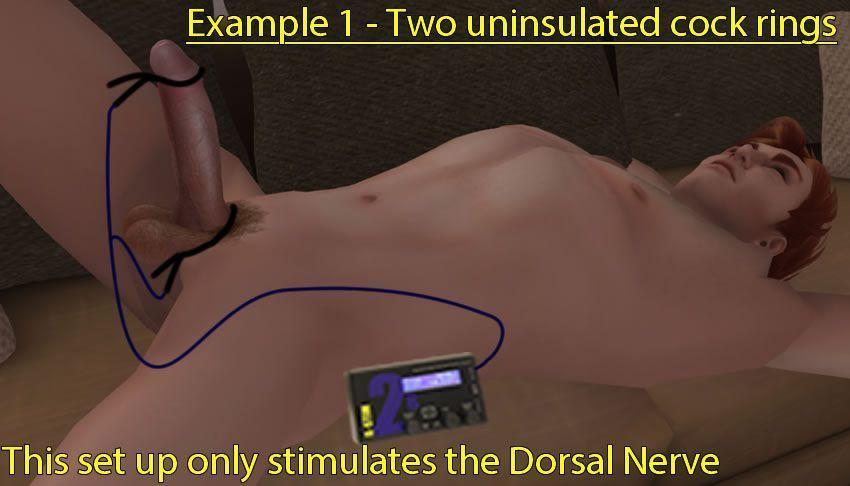 This image shows a standard two cock ring set up for stimultaing the Dorsal Nerve
This method only stims the dorsal nerve ignoring the perineal nerve completely as the current will pass along the top of the penis from one electrode to the other.
It is far better to have the current stimulate both nerves. This can be achieved by movng one self-adhesive pad electrode to over the perineal nerve or if using two cock rings insulate the top half of the one that goes around the cock and balls. This top insulation of the lower cock ring will cause the current to flow down and through the perineal nerves to the lower side of the cock ring at the base of your scrotum.
You can get away with just insulating the top quarter of the lower cock ring as you just want to insulate the dorsal nerve, however my Stunt Cock prefers half insulated, so try both.
Why stimulate both nerves? Well, why not, you get twice the level of stimulation and both of these nerves are wired into the pleasure centre of the brain. Stimming both at the same time gives much better results than just focusing on the dorsal nerve.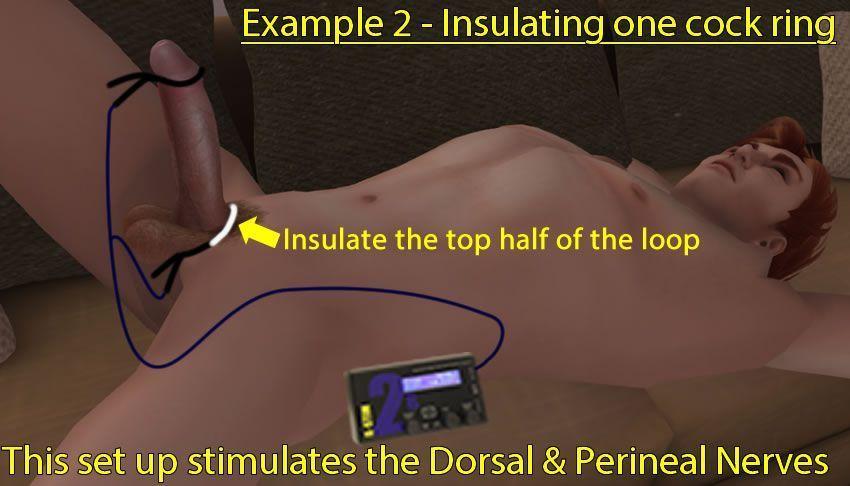 This image shows how modifying one cock ring can allow you to stimulate both Dorsal and Perineal Nerves
So the best way, in my opinion, is to have one electrode over the dorsal nerve at the top of the penis and one electrode over the perineal nerve. Try it and see what I mean.
If you find that you get a stinging sensation under the tip of your cock where the top cock ring sits you can insulate the underside of this ring. It can happen if you have a very sensitive urethra (pee tube). Insulating the bottom of this cock ring isolates this part of the penis from the circuit while still applying current through your dorsal nerve.
Always remember to use a good quality electrogel on your cock rings to aid their ability to spread the e-stim signals and this helps to prevent any hot spots.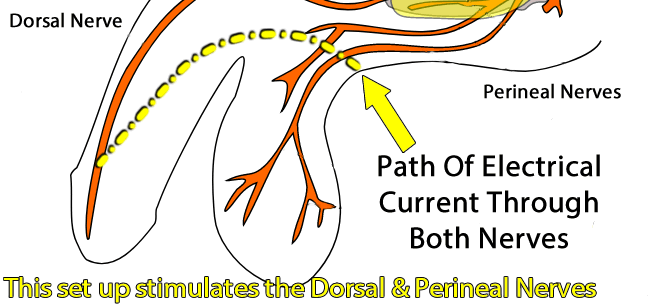 This image shows the current path when using a modified loop at the base of the penis just behind the testicles
3D Printable Cockring Insulator

I have designed some 3D printable insulators and guides for 4mm and 6mm Conductive Rubber Cock Loops (the ones that take 4mm banana plugs or 2mm tens plugs). The designs are done and tested with great results.
I am offering the 3D designs for free for anyone who wants to print them out at home to make insulating the top of a cock loop easy. Another benefit of it is that you get no pinching when tightening the loop. I have so far produced two designs.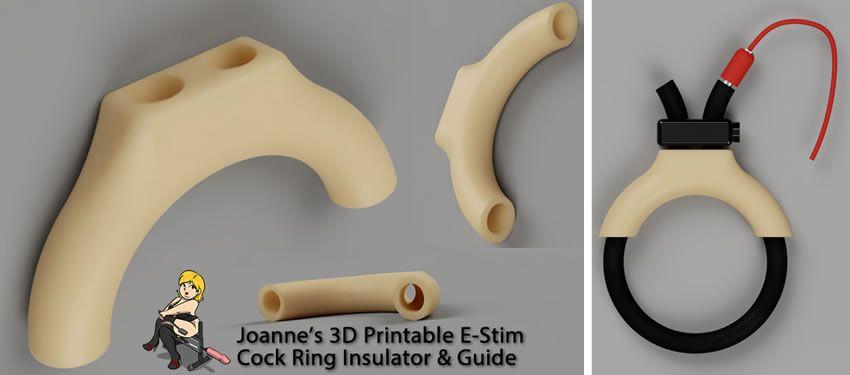 They are available to download from here for free or if you prefer I can print one out for you and these are available in my shop. If you like the idea or use one then you can always buy me a coffee.

Everyone talks about tri-phase and again these two electrode positions work like a dream for anyone enjoying tri-phase fun in conjunction with a third electrode which is often an anal plug style electrode.
In essence tri-phase play is using two channels through three electrodes. One electrode takes two cables and this is where the sensations are likely to be felt the most. It is useful as the two channels work to interact and create unique sensations caused by the interference between the 2 channel signals
This type of set up requires two channels that don't share a common base so you will need to check the specifications of your control box.
Tri-Phase Method 1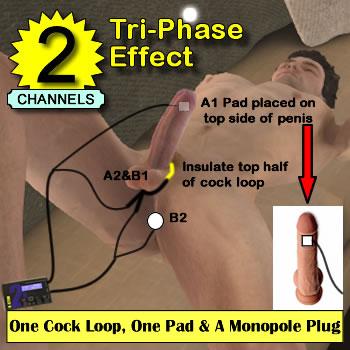 This is a Tri-Phase setup suggested by x65125 on Smartstim.com (thank you for sharing it with us).
As you can see from the picture cables are joined at the loop of conductive rubber around the balls and base of the penis. This may require you to hack your e-stim electrode cable or you can buy adaptors to link the cables for you. At the glans end of the penis you can use a TENS pad cut to 3/4" square with rounded corners placed on the top face of the glans or just under it, a conductive rubber (CR) loop, metal ring or a urethral electrode 1.5" or less in the urethra. This stimulates the Dorsal Nerve.
The top half of the conductive loop around the balls and penis is insulated so that you get full contact through the perinial area. You can use masking tape or a strip of card to insulte the top half of the loop.
Tri-Phase Method 2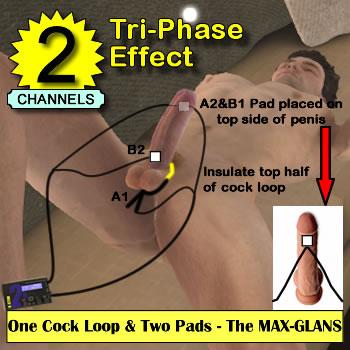 This is a Tri-Phase setup suggested by strimmmer on Smartstim.com.
As you can see from the picture, cables are joined at the adhesive pad placed on or just under the glans on the upper face (TENS pad cut to 3/4" square with rounded corners placed on the top face of the glans or just under it). This stimulates the Dorsal Nerve. This may require you to hack your e-stim electrode cable or you can buy adaptors to link the cables for you. At the base of the penis you can use a TENS pad cut to 3/4" square with rounded corners placed on the underside face just above the balls.
The top half of the conductive loop around the balls and penis is insulated so that you get full contact through the perinial area. You can use masking tape or a strip of card to insulte the top half of the loop. The CR ball loop at A1 can also be exchanged for a TENS pad if preferred, positioned at the back of the ball sack (the same area where the CR ball loop would stim). This alternative makes for a quick n' easy 3-pad setup.
Other Tips
There are so many variables that can affect your e-stim play, here are a few pointers and tips for you to think about.
Make sure that you hydrate, as being well hydrated makes electricity flow much easier through your tissue and nerves. This makes e-stim that much more pleasurable.
Remember to use conductive lube on cock rings no matter what material they are made out of.
Relax and take your time, with e-stim the journey is as much fun as the destination.
Keep a session diary to note down settings and electrode positions. It will help you recreate amazing ones even months or years later and help you to avoid mistakes you made in the past. I have one you can download for free here. - E-Stim Session Diary
Ensure self-adhesive pad electrodes are firmly fixed in place. I often shave areas I am going to attach them to and sometimes tape them in place.
Bigger is not necessarily better when it comes to e-stim. Big electrodes may feel great stretching you open, but their large surface area means they will make the e-stim signal much weaker. Smaller electrodes provide more power because of their small surface area.
If something didn't work for you, try it again on another day as stress, hydration and other things can affect play.
Don't fixate on the hands-free orgasm, e-stim can be a fantastic way to give and receive pleasure even if it doesn't result in an orgasm.
Don't get upset if you don't reach a hands-free orgasm the first time that you stim. These things take experimentation and time, but when you eventually get there, you will be hooked.
Remember that you can always increase stimulation with other toys. I can recommend a wand style vibrator if you are having problems getting over the edge.
Further Reading
If you enjoyed this article then here are some others that I suggest you may find interesting:
Summary
I hope that this article fills in any blanks you have about the nerves in the penis and how they can be effectively stimmed to lead to satisfying orgasms.
Thank you for taking the time to read it.
I hope it helps you on your e-stim journey and please feel free to leave comments using the form below. I would be interested to hear if you have any suggestions for adding to this article to help others out.
If you are a penis owner chasing the hands free e-stim orgasm, check out Joanne's guide to e-stim penis play.
Click to Tweet
If you have found it useful then why not consider buying me a coffee using the link below to say "Thanks Joanne, you electron loving little minx xxx".
Disclosure
This article does not contain affiliate links, for more information about affiliate links check out my disclosure page.