When I received this bottle of lube, I couldn't wait to put it to the test. I decided that my first session with it would be a deliciously lip-smacking 69.
So after sending some saucy boner inducing text messages to my Stunt Cock to tease him about what would be happening when he got home, I got busy taking pics and getting to grip with this lube.
Product Packaging
This bottle contains 60ml / 2 fl oz of lube. The bottle comes hygienically sealed for peace of mind, and it features a flip up lid.
The lid seals well when not in use and allows you to quickly and easily dispense just the right amount of lube onto a fingertip or toy.
I love the design of the packaging of this lube
The product branding is beautiful, and I love the candy used on the front of the bottle. It highlights the sweet nature of what is inside.
The pop-up lid makes it easy to dispense small amounts of lube. This is not a thick lube by any stretch of the imagination, and I really wished that is was.
You see, I like my lubes to be thick and creamy, so they don't drip all over the bedding, and it arrives where I want it.
This lube does sit on your finger, but as it warms it quickly becomes runny.
Ingredients
The back of the bottle carries lots of product information and a full ingredients list. This lube contains:
Water (Aqua), Glycerin, Hydroxyethylcellulose, Potassium Sorbate, Flavour, Sodium Chloride, Sucralose and Citric Acid.
All ingredients are fully declared and the instructions are clear and easy to read
The only really problematic ingredient there is the Glycerin. It is a sugar, and as such, can raise the risk of getting yeast infections. So, if you have problems with these, it may be worth bearing in mind and not using it on your vulva/vagina.
A point to note is that it is safe to use with all types of condoms, but it has no spermicidal ingredients. Therefore it has no contraceptive properties, which is common with most lubes.
Performance
Dispensing a small amount the first thing I did was play with the drop on my fingertip. I usually stretch lubes between my finger and thumb to see how it behaves.
Dispensing the lube is easy but it is a runny lube so dispense it slowly
This is a thin lube, and it spreads out very well indeed. A little goes a very long way, and it feels luxuriously soft as you spread it out. Once spread out it is of course delightfully slippery as lube should be.
The first thing that you notice is the smell, this lube does indeed smell like Butterscotch, and it smells divine. I couldn't resist licking some fo the lube there and then and I was rewarded with a rich flavour.
I must have looked weird, sitting there smiling as I licked lube off my own fingers, welcome to my world. I was almost purring like a cat as I sat there enjoying the smell and taste, wondering how good it would be while pleasuring my Stunt Cock with my mouth.
It is sweet but not sickly, and the smell is not overpowering as some flavoured lubes can be. It has a delicate balance of sweetness and flavour. You can readily identify the smell and taste as Butterscotch as it is well defined.
If I had to describe the taste, I would say it tastes just like sugarfree Butterscotch sweets. It has a slight aftertaste, but that is common with lots of flavoured lubes, it doesn't last long though.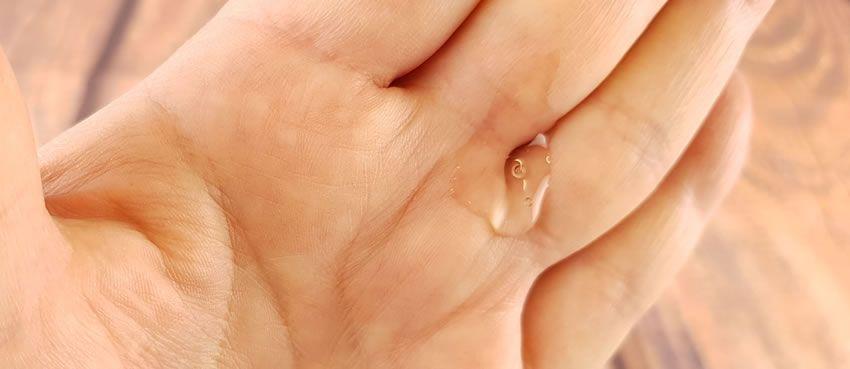 As it warms the lube gets even thinner and easy to spread out
There are two other flavours in the JO H2O Candy Shop range, and these are Bubble Gum and Cotton Candy. If these both taste as good as this one then System JO have come up with some classic flavoured lubes.
As far as its lubricating properties, System Jo Candy Shop lubes are very good indeed. It isn't the longest lasting water-based lube that I have tried, but it is also not the shortest either. It sits in the middle of the pack.
It is a lube that is easy to spread out, and it feels luxuriously soft and slippery in use. Couple that with the delightful aroma and taste of Butterscotch and your mouth will be watering at the thought of what you will be getting up to with it.
Let's face it, if you are using a flavoured lube, it is because you want to spice up your oral sex fun and games. While it is suitable for penetrative fun, it really comes into its own when you use it for foreplay and oral pleasure. When using it this way you can really enjoy the blend and its features.
So, a classic 69 was the perfect way to put it to the test, and I relished doing so. In use, it didn't disappoint.

As it is a thin lube, it doesn't string between your fingers
I really enjoyed the Butterscotch taste while pleasuring my Stunt Cock with my mouth. The taste and smell complimented the excitement of the moment, and I found it very pleasant indeed.
A little drop of lube goes a long way, and while you can top it up, I didn't need to do so.
As it dries out, it does get stickier, but after it is rubbed in completely, it leaves the skin soft and subtle with no tackiness.
It is easy to clean off toys or your skin with warm water and a cloth.
In use, I loved the flavour as I performed oral sex and my partner commented on how nice it was to experience it as well while pleasuring me.
It is ideal for foreplay where its smell and flavour can be put to best use and genuinely appreciated. To use it for penetrative sex is a waste, in my opinion, this is the ideal oral sex lubricant.
As a lube it spreads well but it is the smell and taste that is what makes it so good
Looking for a way to spice up your oral sessions? Check out the @System_JO Candy Shop Butterscotch Lubricant from @harmonystoreuk, it has a delightful taste that you and your partner can enjoy.
Click to Tweet
Key Features
Key features:
Excellent flavour and smell
Water-based lubricant
Spreads out easily
Condom safe
I would recommend it to:
Anyone wanting to spice up their oral sex
Anyone who loves Butterscotch
Anyone who wants a lube with a twist
I wouldn't recommend it to:
Anyone who has problems with lubes ocntaining Glycerin
Anyone who likes their lubes to be thick
Final Thoughts
System JO Candy Shop Lube is a great lube to have in your play bag, primarily to spice up some oral sex and/or foreplay.
I was left with my skin feeling soft and moisturised after using it. I was delighted with this lube so, if you are looking for a flavoured lube that won't overpower you, then this is the one.
The taste and smell are delicious, and its performance is excellent too. System JO has come up with a winner, and this is one of the nicest flavoured lubes I have ever reviewed. It will be getting more use in the future, and that says a lot about it. I am curious as to how good the other two flavours are now.
I would recommend it to anyone looking to spice up their oral sex activities. You can grab a bottle of it from The Harmony Store.
I was sent this bottle of Jo H2O Candy Shop Butterscotch Lubricant by Harmony and I am really grateful to have been able to review it.
Joanne's rating
Where Can I Get One From?
Grab one of these fantastic little flavoured lubes from Harmony for just £9.99, check out the other flavours available too.
Check them out and don't forget to tell them that Joanne says "Hi".
Disclosure
Disclaimer - I was sent the Jo H2O Candy Shop Butterscotch Lubricant to review free of charge and this has in no way affected the outcome of this review. This post contains affiliate links and if you purchase something when you follow one of these links I may receive a small commission at no cost to you. For more information check out my disclosure page.