Exciting News From Hot Octopuss - Introducing The DiGiT Finger Vibrator
I am really excited to let everyone know about this new vibe
One of my favourite vibesmiths has just released a new vibrator. Hot Octopuss has been producing groundbreaking sex aids such as the Pocket Pulse, Queen Bee and the incredible JETT.
When I received a press release from them with this as the first paragraph, I was immediately intrigued.
"Welcome to the real Digital Revolution… British sex toy company Hot Octopuss unveils DiGiT, it's first wearable finger vibe that puts orgasms at your fingertips."
The DiGiT looks very exciting, and if its performance in anything like the JETT we recently tested, it will be a surefire winner.
Finger vibes can be a lot of fun if the designers have got it right. It is a trade-off between stimulating with the vibe and making the fingers of the wearer feel like they are about to drop off.
With a catch phrase like "Show Bad Sex The Finger" it looks like it will be a lot of fun. I am going to ask them to send me one to review for them, and I will let you all know just how good it really is, but I have high hopes for it.
Designed to feel like part of you, DiGiT curves seamlessly around your fingers to become an extension of your body. Elegantly sculpted, DiGiT's sweeping curves adorn your fingers like a custom piece of jewellery. Subtle, unobtrusive yet incredibly powerful, DiGiT's large rumbly motor will give your fingers superpowers!
More from the Press Release:
Hot Octopuss Chief Operating Officer Julia Margo commented:

"At Hot Octopuss, we believe in everyone's fundamental right to sexual pleasure and expression. Too often we remain silent, unable to seek out the sex – including masturbation – that's most enjoyable for us without fear of judgement.

"With that, we are proud to debut DiGiT – a sleek and wearable finger vibe that looks more like a custom piece of jewellery than a sex toy. Great solo or you can let your partner take control. DiGiT is set to supercharge your solo or partnered sessions. Coming in at 69 USD, 69 Euros and 59 GBP, DiGiT, as with all Hot Octopuss products, is set to change people's perceptions of how sex toys should look and function."

Hot Octopuss exists to reinvent pleasure for the 21st Century. The masterminds behind The Changing Room, the world's first orgasm pop-up, and NYC's 'GuyFi' public 'stress relief' booth, Hot Octopuss delivers the most cutting-edge toys to the adult industry. Recent products include the ATOM PLUS cock ring, PULSE III and the Pocket PULSE Remote.
Conclusion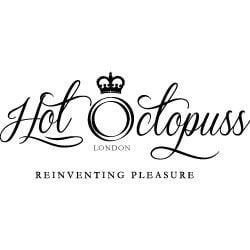 This is an exciting new sex toy that sounds like it will be so much fun. Just imagine playing with yourself or your partner and feeling your fingertips vibrating and sending waves of pleasure just where you want it to go.
It's coated in body-safe silicone so no need to worry about latex and phthalates. Just add some quality water-based lube and let your fingers do the talking.
You can grab a DiGiT from Hot Octopuss for only £59, $69 or 69 Euros.
---
Found Something Useful, Or Do You Just Like What I Do?
---
You May Find These Articles Interesting