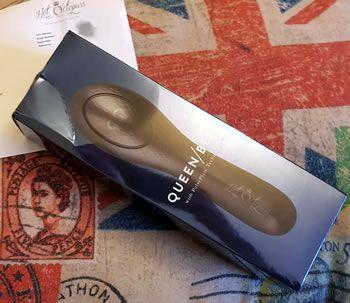 It arrives in a beautiful retail display box that is very shiny indeed. This makes a very good first impression and I couldn't wait to get inside to see what was included.
You get the Queen Bee (no surprise there I guess), a magnetic USB charging cable, a storage bag and a set of instructions. I was surprised at just how light the Queen Bee actually is when I removed it from its packaging. This helps a lot as you need to hold it in place against you in use.
I immediately put it on charge as I got to grips with the well-written instructions. The magnetic charging cable is brilliant and simply snaps into place on the two metal strips on the back of the Queen Bee. It stays in place securely which is an improvement over other charging systems on some of my sex toys.
The charging head has an LED light that illuminates red as it's charging and then changes to green once it's fully charged. A full charge takes in the region of four hours.
You can charge it from any USB socket so you could use your computer, mobile charger or anything else handy. It doesn't come with a mains adaptor for charging and so you'll need to plug it into something you already have at home.
The Queen Bee, is a beautiful sex toy, its finish is second to none. I just love the way that the Hot Octopuss logo is just visibly emblazoned on the handle together with a crown on the Pulseplate. It features two flattish sides, the back side features the simple controls on the handle and a curved surface that vibrates when in use. The front of the toy has the pulse plate in the centre of its face.
The internal components are housed in an ABS body that is coated in TPR. Now I know that some people have strong feelings about TPR as it's porous. But as this is an external sex toy not meant for insertion this isn't a problem for me in this instance.
Here are the facts and figures about the Queen Bee. It's 9"/22.9cm long and the business end of it is 2.5"/6.4cm wide with a circumference of 7"/17.8cm.TPR was selected for its properties and it's a medical grade that is used. Hot Octopuss actually put out a press release about their material choice to calm anyone's fears which shows what a reputable company they are.
The TPR coating gives is a soft draggy surface that initially I was worried about damaging with my nails. It seems to be hard wearing though and I have had no problems with it at all.
One great feature about the Queen Bee is that is it totally sealed and is waterproof. This is achieved by using a magnetic charger rather than a plug that pierces the outer skin. Using it in the bath is a lot of fun.
The controls on the handle are intuitive and very easy to use especially when it is held against your vulva as you can't see them.
The Queen Bee like the Pulse Duo uses a pulse plate. So instead of the toy vibrating the plate actually oscillates, using a piston to move it up and down in use. This has the effect of tapping on your genitals and these sensations go quite deep. To my knowledge, it's the only make of toys with this sex-tech and its great.
It uses a piston to drive the plate and the soft TPR coating allows it to move within the ABS body. The edge of the toy has a solid ABS rim that you will need to keep an eye on when cleaning. The area around the pulse plate and the edge are where vag-goo can accumulate. I clean mine with warm soapy water followed by an anti-bacterial sex toy cleaner.
The back of the toy has some texture and it vibrates in use so you could use it to warm up with before moving on to the main event. In use though, I found the vibrations on the back plate were pretty weak. It may suit others but my style of play is pretty full on with vibes and so the back did little for me.
The front, on the other hand, was an entirely different matter. The manner that the pulse plate oscillates is really quite fascinating. The Queen Bee comes with five patterns of oscillation as well as a constant mode. This gives you the choice of six settings to choose from. My favourite was the constant one though as I am not one for patterns very much.
This is where I tell you the downsides of the Queen Bee. Firstly there is the noise, it's a noisy beast so you won't be able to discreetly bang one out with others in the house. My house in quiet mode is 27dbs whilst with the Queen Bee on full tilt the noise measures in at 65dbs and 57dbs on its lowest setting. Whilst not in the same league as the Sybian as that sounds like a 747 taxi-ing on a runway it's still noisy. I can forgive that though but it means I have to wait for an empty house to use it.
Here is a video showing its operation:
---
The other problem came about due to my body and my disabilities. If like me you have fuller or 'fat' labia you may have to work to get the most out of your Queen Bee. The pulse plate ideally needs to be close to or touching your clitoris for maximum effect and with my build that was just not going to happen easily.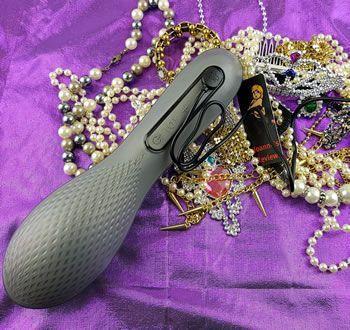 I tried spreading my labia before pushing the Queen Bee against them but it just didn't seem to work for me and that was so frustrating. I could feel the constant tapping on my clitoris but it was never enough to actually get me off. The sensations were spread out rather than focused on my clit. I tried using the edge of the toy between my lips but you only get strong vibes on the front and back plate.
At one point I was so desperate to orgasm I asked my stunt cock to assist me. He jumped at the chance and held my labia open whilst I positioned the Queen Bee.
Holy Crap, I nearly came there and then. The pulsing sensations felt incredible on my clitoris and they are hard to describe. It sort of feels like a finger tapping your clit very, very fast and it blew me away. My stunt cock just grinned like a Cheshire cat whilst enjoying my reaction to the Queen Bee.
The Queen Bee has a unique way of tapping your clitoris to deep rumbly orgasms.
Click to Tweet
It also left me a little frustrated afterwards as I wanted to try it again and I knew after faffing about earlier that I would struggle.
But all is not lost, I have since then perfected a technique that works for me. I don't use lube and I use one hand to open one side of my labia and then I use the edge of the Queen Bee to open the other side. By simply pressing the Queen Bee down and moving it sideways. I can then rest the pulse plate almost touching my clitoris and this feels amazing.
The key to that last sentence is rest. You don't have to push or grind this toy into your clit, just let it rest there and the tapping pulses will do the work for you. It really is a nice way of masturbating once you get used to it and adjust your play style. This is where its lightweight construction really pays off. It's comfortable to use for extended periods of time.
I took things up a notch (as I often do) and used it in conjunction with one of my fucking machines. Let's just say that I really do need to invest in some Sheets of SanFrancisco bedding if you know what I mean.
This problem is entirely down to my own body and my limitations of movement due to my disabilities. I am sure that it won't be common for most users of the Queen Bee.
Positioned over your clit this thing feels amazing and on full power, it's a real toe curler. But it's a sex toy that you will have to learn to appreciate. Where there's a will, there's a way and I totally love the Queen bee now that I have found a way of using it that works for me.
The future?
I can see in the future either Hot Octopuss or a silicone sex toy manufacturer making a sleeve for the Queen Bee with a raised ridge running down the middle.
This could be a solution for anyone who struggles with getting it to their clit. The ridge could sit between your labia transmitting the taps to your clit. It's just a thought but if something like that was on the market then I would grab one in a heartbeat.
Here is a crappy pic of what I mean - if you can understand it.
I am no vibe engineer so I've no idea what effect it would have on the inner workings of the Queen Bee but if you do see it in the future you saw it here first. We'll call it the Jo Sleeve (Jack Off).
What started off as a rocky start has turned into something beautiful and I love my Queen Bee.
Key Features
Key features:
Pulseplate technology, it oscillates rather than vibrating and that feels intense
Waterproof
Magnetic charging cable
Waterproof
Six operating modes
Final Thoughts
I had a rocky start with the Queen Bee but it is a vibe that I have grown to love. It is one of those marmite toys where you are either going to love it or hate it. If you find that you are one of the latter then please give it a few more tries as once you find the right spot it really is an impressive piece of sex-tech. I love the pulsing tapping sensations from it and they are unlike anything I have experienced before. Orgasms with it are very strong leaving me breathless but wanting to go again.
Hot Octopuss have truly made me a happy woman. After reviewing the Pulse Duo I longed to feel those pulseplate sensation myself and now I have and I love them. The Queen Bee gives me all the honey I could want.
I was sent the Queen Bee by Hot Octpuss free of charge in exchange for a fair and honest review and I would like to thank them for giving me the opportunity to review it for them.
Joanne's rating
Where Can I Get One From?

Grab yourself a Queen Bee from Hot Octopuss for only £119. It is a unique way of masturbating that rocks your world when you hit the sweet spot with it. Even though it took time to get used to its style of pleasure I am glad that I did so as it's a bed shaker when you experience the orgasms that it can deliver.
Check them out and don't forget to tell them that Joanne says "Hi".
---

If you enjoyed reading this review then check out my other reviews of Hot Octopuss products:
Gender Neutral Vibrators
Couples Vibrators
Penis Play
---
Disclosure
Disclaimer - I was sent the Queen Bee to review free of charge and this has in no way affected the outcome of this review. This post contains affiliate links and if you purchase something when you follow one of these links I may receive a small commission at no cost to you. For more information check out my disclosure page.