Delivery and packaging
I can always rely on Hot Octopuss delivering their products to me quickly, efficiently and above all discreetly. The JETT Guybrator™ arrived under plain packaging and incredibly well packaged inside an outer box.
The product packaging was in perfect condition when it arrived, and it is a thing of beauty. Hot Octopuss are renowned for their stunning packaging designs. The box for the JETT continues their award-winning past designs.
With their signature metallic cardboard, the box looks stunning, carrying lots of product information and of course a picture of the JETT on the front of the box.

I always love the packaging of Hot Octopuss products, it looks amazing
I love the JETT logo with its surrounding bars making it look like a pilots badge. It gives it a retro look that I quite enjoy. The JETT is for penis pioneers who love to push their masturbation to the limit.
To keep costs down, the internal packaging is a much simpler affair though. Inside you get the two JETT engines (motors) attached to their cables, the controller, a branded storage bag and a set of instructions. I love the fact that you get a storage bag and this one is rather nice.
Discovering the JETT
The JETT system consists of three main elements. First, you get a contoured control box that takes four AA batteries (not included). These are inserted after sliding off a hatch cover on the underside of the box.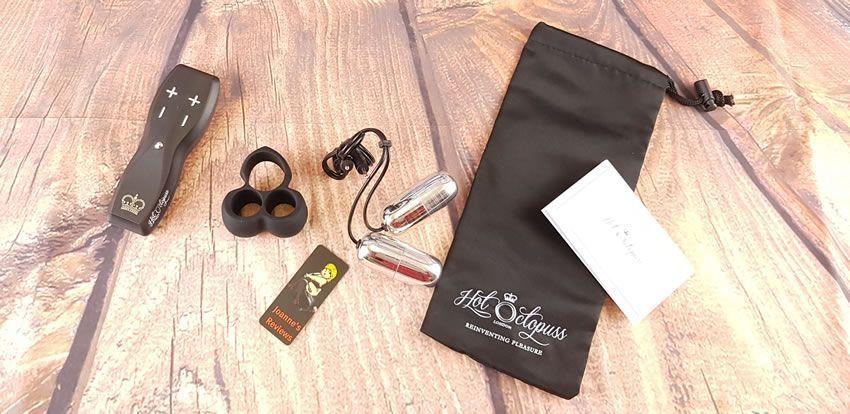 You get a control box, the cock ring, two bullet vibes, a branded storage bag and a set of instructions
The controls consist of two separate sides, each having a plus '+' and a minus '-' button for raising or lowering the power of each vibrating motor. Each side controls one of the vibrating motors of the JETT.
Placed centrally under them is a small silver button that is used to cycle through the steady and the four vibration patterns. The bottom end of the control box carries the Hot Octopuss iconic crown logo and branding giving it a stylish look. It's very comfortable to hold and the buttons are easy to use.


The control box is stylish and very easy to use
The top end of the control box has two sockets where the plugs on the twin motors cables are inserted. Make sure that these are inserted fully to ensure a good contact.
The two motors are housed in a chrome effect plastic housing that looks 3D printed due to the striations around them. Unfortunately, they are not waterproof so be careful when cleaning them. I guess they are not waterproof like the control box in an effort to keep costs down.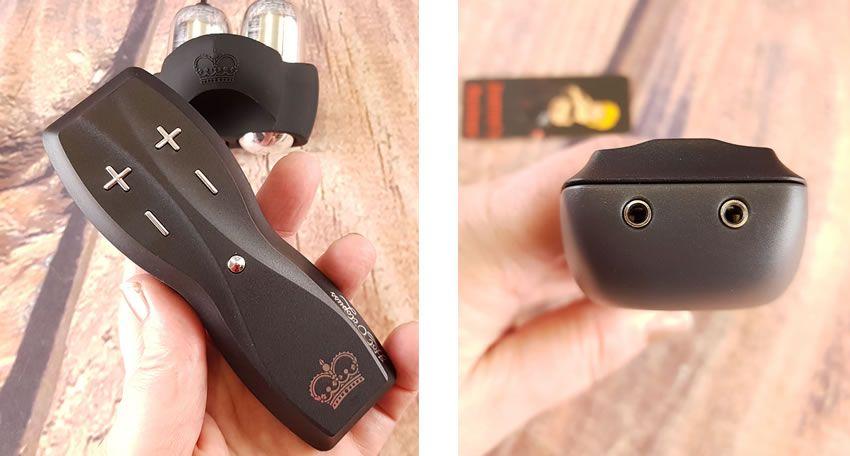 The control box has two sockets at the top end for the motor cables
Priced at £49.99 it sounds like an expensive toy, but it isn't when you consider just how effective it is at driving hands free orgasms. More on that later though. It's actually cheaper than a Fleshlight and they can be a lot of work.
The final part of the system is a cock ring that accommodates both motors and of course your penis. It's made out of body-safe silicone and stretches to accommodate your penis as you go from flaccid to erect.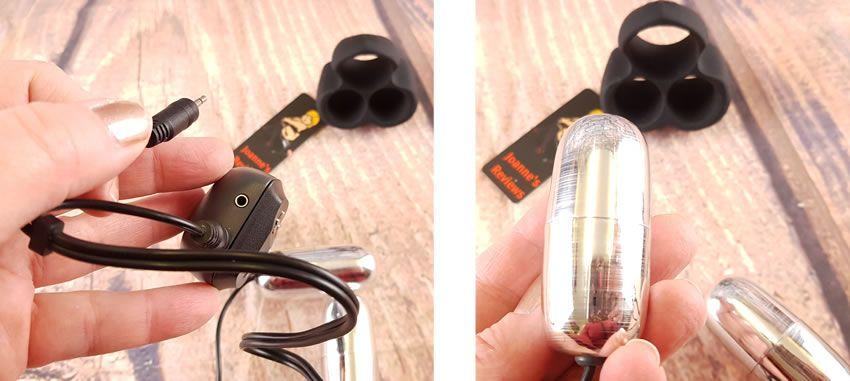 The twin motors are connected to the control box using jack plugs
The cock ring of the JETT can be placed in two places. The first is as the manual suggests, just under the glans of the penis over the frenulum. The second option is to reverse the way the motors are fitted and then slide it down your cock. This way the motors rest against your testicles as well as stimulating the shaft so you can still enjoy penetrative sex.
Performance
Hot Octopuss claim that the JETT Guybrator™ can deliver hands-free orgasms.
I am pleased to announce, no, make that shout to the world that it does indeed provide amazing hands-free orgasms!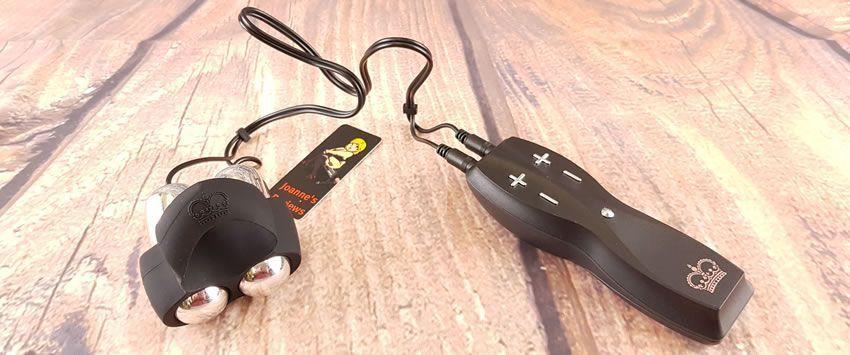 The JETT is easy to assemble ready for use
I was blown away by how good it is and it's safe to say so was my Stunt Cock. It isn't often that I get to sit back and watch a sex toy being evaluated and reviewed. I have to say I could get used to it though.
My stunt cock fitted the JETT to his flaccid cock, and then he switched it on. Immediately a smile swept over his face, and I looked on as his cock swelled and came to life.
I love the hashtag that Hot Octopuss came up with, #FindYourFrequency. They are so right about that.
The JETT features two motors, and each delivers a totally different sensation, Bass and Treble as it were. It is worth taking your time to experiment with different combinations of power settings to find the ones that really get you off. Vary the vibration strengths independently, don't just raise both power levels together. To get the best out of the JETT, definitely experiment with different settings.
Using the controls you can create the perfect vibration for you, it really is a case of finding your own frequency.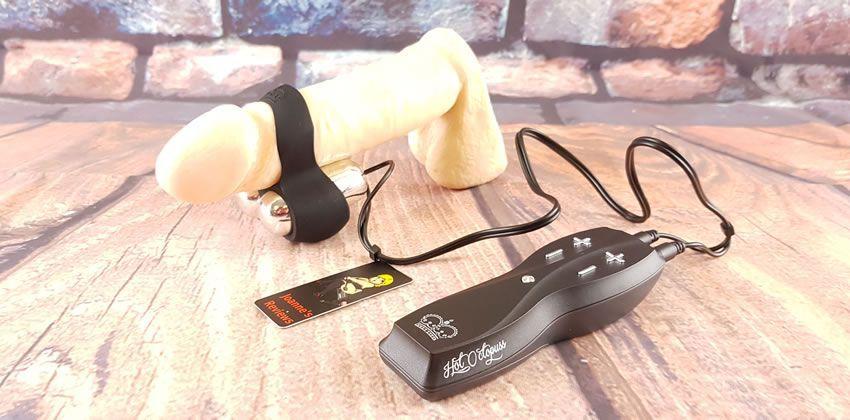 The JETT is comfortable to wear and the cock ring expands as your erection grows
I enjoyed watching my Stunt Cock playing with the controls and seeing his cock get harder and harder before starting to twitch.
It wasn't long before he was groaning and then bang, a massive orgasm hit him. A delightful spurt of cum shot out of his cock almost hitting him in the face. I was blown away by the sight of that. I actually gave him a round of applause as it was a pretty fantastic cumshot.
He lay there panting with cum trickling out of the end of his cock as he switched off the controls. He had a hands free orgasm on his first try of the JETT. He just laid back and let it do the work. The most surprising thing was he went from flaccid to almost cumming on his own face in around five minutes. To say that I was impressed would be an understatement, and I know he was impressed too.
That first session paved the way for many more hands-free orgasms. While questioning him about how it felt we had to play with the motors as he said it felt like only the Trebble one was working. By pulling the wires out one at a time, we confirmed that the Bass was working, but it tends to blend with the buzzier vibes from the Trebble engine so you can't really feel it.
Holding them in my hands, it is impressive at just how different the vibrations from each motor are. When blended together you get almost infinite control of the vibrations that your penis experiences.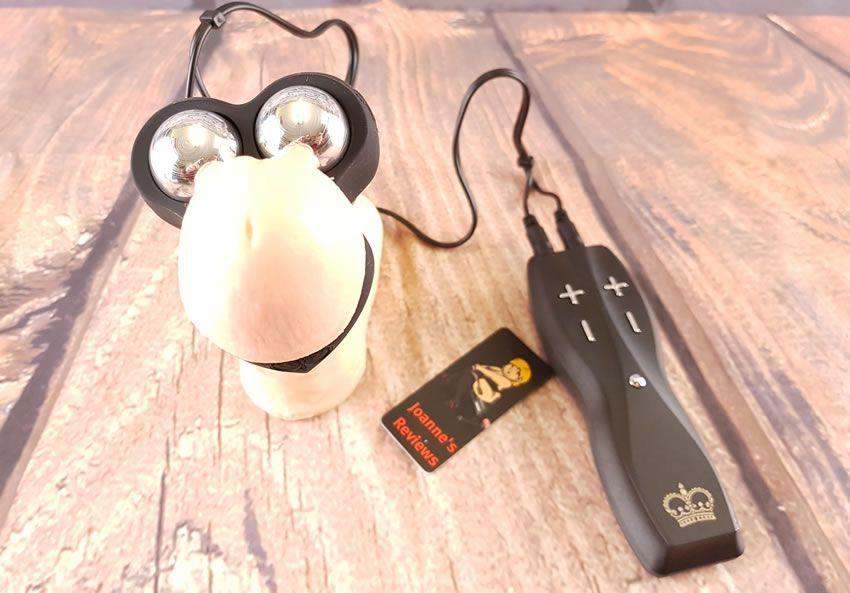 The JETT allows you to create unique vibration sensations for you to enjoy
Having these strong vibrations stimulating the frenulum is very pleasurable. The JETT can be used standing, sitting or laid down to give you the maximum flexibility as to how you use it.
My Stunt Cock has used it many times now, and the results are always the same, hard hands-free orgasms. I love seeing him use it. The only other time that he has enjoyed hands-free orgasms is when using e-stim equipment to masturbate. That generally takes much longer than when using the JETT.
On the higher settings the JETT cannot be described as quiet though but in a room with a TV on it wouldn't really be noticeable through a closed door.
The patterns provide some variation to the otherwise constant vibrations of the JETT. These are a welcome break and very enjoyable. Each pattern is different and using them you can quickly build up to an orgasm or actually edge yourself.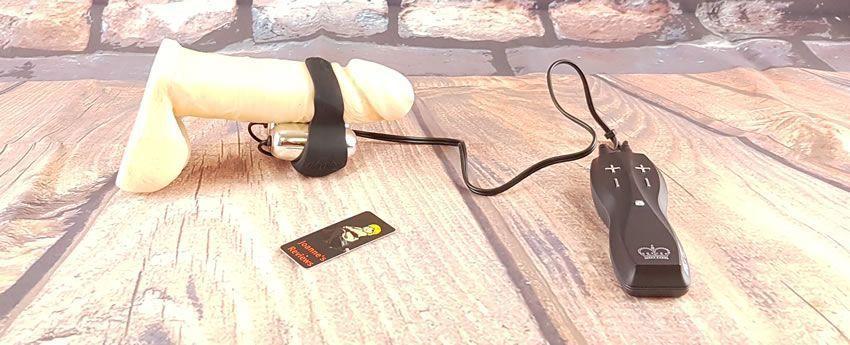 The JETT is a fantastic way for penis owners to enjoy hands-free orgasms
Once again Hot Octopuss have come up with a unique and extremely functional sex toy that is a joy to use. Whether you use it on your own or part of a play session with a partner, you will have a heck of a lot of fun with it.
Throw in some restraints, and you have a very effective way of teasing and pleasing a partner. The JETT is a fantastic way for penis owners to get off and I am still blown away by how effective it is in use.
The JETT Guybrator™ from @HotOctopuss delivers some amazing hands-free orgasms. You can tune the Bass and Treble vibrations, blending them into the perfect ball draining combination.
Click to Tweet
Key Features
Key features:
Two vibrating bullets delivering Bass and Treble vibrations
Silicone cock ring to carry the bullets and hold them against your penis
Five patterns of vibration to choose from
Infinite choices of vibration combinations allowing you to fine tune it to your own desires
Final Thoughts
I was blown away by just how good the JETT is, from the first time that we played with it we knew that it was something special. It is unusual to find a penis orientated sex toy that actually delivers on the claims of providing hands-free orgasms.
Every time my Stunt Cock has used it he has enjoyed powerful and hands-free orgasms.
I will never tire of watching a hard cock ejaculating, the JETT delivers reliable pleasure, and we love it.
If you are a penis owner or want to get something that really does deliver for a friend then grab a JETT from Hot Octopuss. Once again they have pushed by bar out again. Their competitors are going to have trouble matching the effectiveness of the JETT.
I was sent the JETT by Hot Octopuss and I would like to thank them for giving me the opportunity to review it for them.
Joanne's rating
Where Can I Get One From?

Grab one of these fantastic JETT guybrators driect from Hot Octopuss for just £49.99 and start enjoying hands-free orgasms.
Check them out and don't forget to tell them that Joanne says "Hi".
---

If you enjoyed reading this review then check out my other reviews of Hot Octopuss products:
G-Spot Vibrators
Gender Neutral Vibrators
Couples Vibrators
Penis Play
---
Disclosure
Disclaimer - I was sent the Hot Octopuss JETT to review free of charge and this has in no way affected the outcome of this review. This post contains affiliate links and if you purchase something when you follow one of these links I may receive a small commission at no cost to you. For more information check out my disclosure page.