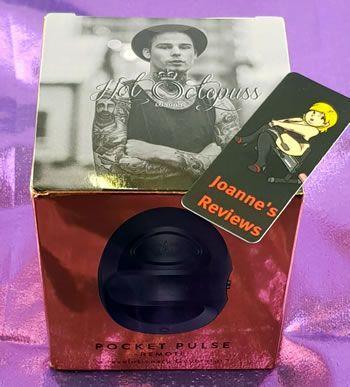 The first thing that I have to comment on is the packaging that the Pocket Pulse arrives in. It looks pretty damn fine if I do say so. The box has a metallic copper look to it that is contrasted by the black text and images, and these give it a very classyand stylish look.
The box itself carries some useful information about the product inside.
Upon opening the box, you will find the Pocket Pulse nestled in a plastic moulded tray; you also get a USB charging cable, the remote control unit (complete with a battery - CR2032 Lithium Cell), a set of instructions and a handy silk Hot Octopuss branded storage pouch.
The Pulse III Duo used what is called a pulse plate which uses pistons to create an up and down movement which transmits its sensations deep into your tissue, and that is an amazing thing. It feels like very fast tapping. I was hoping that the Pocket Pulse would use this tech as well but unfortunately it doesn't due to its much smaller form.
The Pocket Pulse uses two regular vibrating motors to power its vibrations and these sensations are focussed underneath the raised pad with a crown logo on it. This is where it stimulates your frenulum (banjo string). Now even though this isn't the same tech as used in the Pulse III Duo it feels pretty similar and the vibrations feel fantastic against your manhood.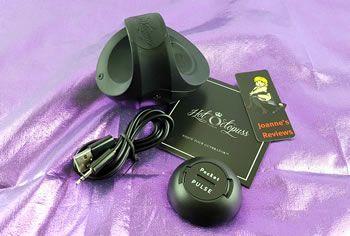 The Pocket Pulse is much smaller than its bigger brother, measuring in at only 4.6"/11.7cm by 2.6"/6.7cm by 2.8"/7.2cm and it only weighs 200g/7oz. This makes it very easy and comfortable to hold and use and that is important for longer session of use.
When you receive your Pocket Pulse, you should give it a full charge, and the instructions recommend four hours for its first charge and then it takes three hours to recharge after that. A full charge will give you around an hour of play time depending on the power settings that you use.
To charge just insert the plug into the socket at the base of the toy, the socket has a circle of raised silicone to help you find it.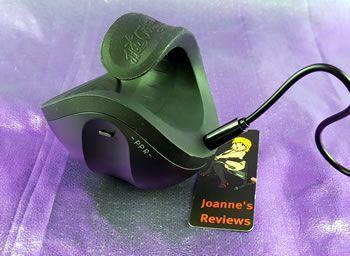 A red light comes on near the charging socket while it is charging and this indicator turns blue when it holds a full charge, or you have it switched on.
The body features a curved cradle to rub against your penis, and this has a curved springy arm that wraps around your manhood. Both the body and arm carry the Hot Octopuss logo, and this looks good on it. Its ergonomic design means that it sits in your hand well with the controls being easy to use.
It features two control buttons, and these are shaped like a plus and minus symbol. To turn the Pocket Pulse on just hold the plus button in for two seconds, you turn it off again by pressing and holding the minus button. These buttons are very tactile and easy to use even with lubed up fingers.
In use these two buttons allow you to cycle through the seven power levels. The instructions say that there are nine, but I can only identify seven distinct levels. The location of the plus button favours left-handed masturbators, but it's still easy to use if you are a righty.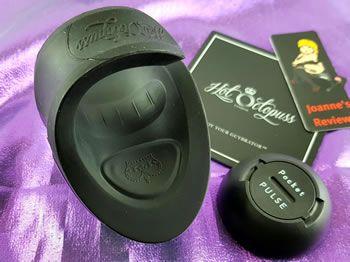 I have the Pocket Pulse Remote version, and it comes with a remote that can be used by yourself or by your partner for some teasing fun. Teasing can be lots of fun and Joanne has a habit of pinching the remote and edging me by turning down the power just as I am about to come (insert your own expletive here).
I prefer using the remote to control the pocket Pulse rather than using its own buttons. While you can't turn it on and off using the remote, you can cycle through the seven power settings with it.
The remote is manufactured out of ABS, and the Pocket Pulse has an ABS core that is coated with a ncie blend of black silicone making it body safe, phthalate & latex free which is excellent.
The silicone like most other silicone sex toys can be a lint and dust magnet though as you can see in the picture below, so once you clean and dry it then use the storage bag to minimise this problem.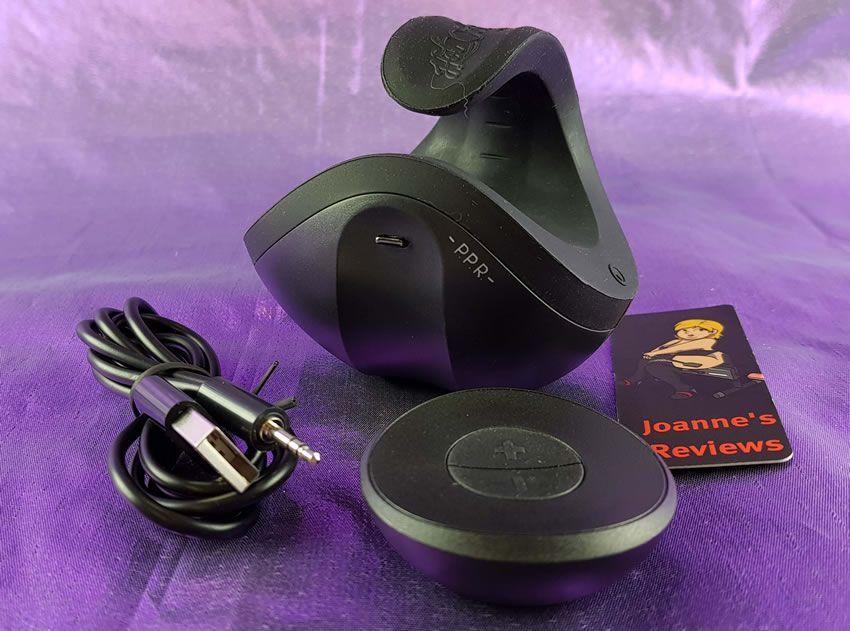 Cleaning is simple as it's also waterproof, so just wash it with warm soapy water before using an anti-bacterial sex toy cleaner. As it's waterproof try using it in the bath or shower for some great fun (plus it makes cleaning it much quicker).
So, how do you use it?
Well, the Pocket Pulse is an ideal sex toy for everyone even if you have erection problems as you can use it while erect or flaccid. Just apply some water-based lube to your happy chap as the silicone can be a little draggy.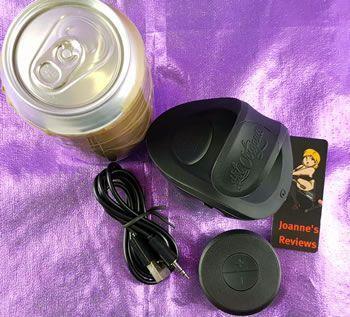 Then slide into it and rest your frenulum against the pulse plate before switching it on. You can just enjoy the deep vibrations or stroke with it as the vibrations penetrate deeply through your penis.
The flexible arm makes good contact easy, and it's fun to stroke with as you can vary the sensations. Guybrators may feel a little strange if it's the first time you have tried one but their effect is mind-blowing, and I never have a problem coming hard with either the Pulse III Duo or the Pocket Pulse. I even prefer the Pocket Pulse over its bigger brother as it's much easier to use.
Start on the lower power settings and then slowly build up the power as your erection and excitement grows, this works a treat for me and always ends in a good orgasm.
It has bags of power and I usually just use the middle range of settings as the high end just makes me come too quickly (it is good for a quickie though).
You will find that the vibrations also travel right through your hand, I tend to just change hands if that's a problem.
The Pocket Pulse only has one drawback as far as I can tell, and that is the noise. On the lower levels it's okay, but at the high end, it is very loud indeed.
You would be able to hear it on the other side of a closed door for instance, and this may be a problem for anyone in shared accommodation. That said though, the power you get from this masturbator couldn't be kept quiet, if they did, then it would lower its performance so it's something that I can live with.
Your todger will definitely thank you after trying a Pocket Pulse from @HotOctopuss, it's the little brother of the amazing Pulse III.
Click to Tweet
Key Features
Key features:
Two powerful motors
ABS and body safe silicone construction
Remote control for the speed setting (on the remote model)
USB rechargeable
Seven power settings
100% waterproof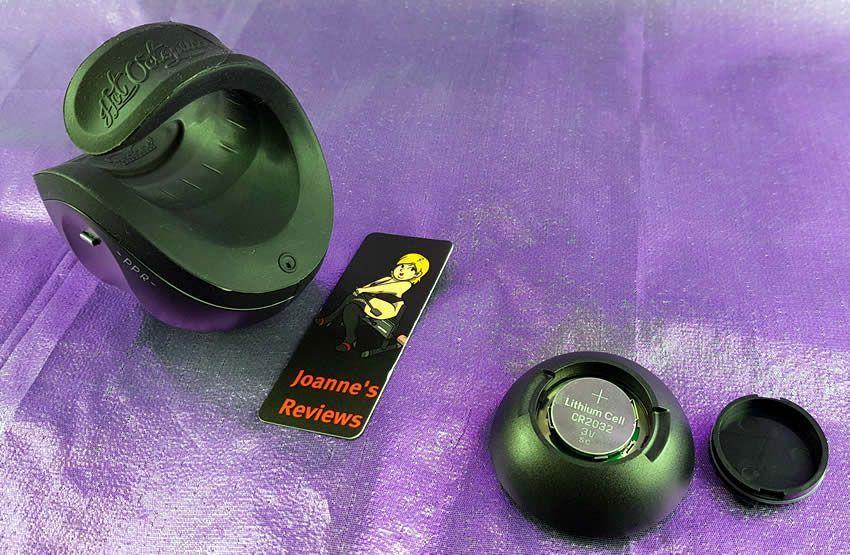 Final Thoughts
The Pocket Pulse has given me many very satisfying orgasms both on my own and with Jo. She loves to tease me with it, and that can be a lot of fun especially if you throw in a blindfold and some rope.
It lives up to the reputation of its big brother and is a masturbator that I can wholeheartedly recommend to anyone, especially if they haven't tried a vibrating masturbator before.
The Pocket Pulse is available in its basic version without the remote for just £69, and the remote version costs £75. If you can afford it, then the remote is definitely the better option as it makes controlling it much easier in use.
I was sent the Pocket Pulse Remote by Hot Octopuss and I would like to thank them for giving me the opportunity to review it for them.
Where Can I Get One From?

Grab one of these incredible masturbators from Hot Octopuss for just £69 for the basic model, but I recommend getting the remote version which costs £75 as it is much easier to use.
Check them out and don't forget to tell them that Joanne & Stunt Cock say "Hi".
---

If you enjoyed reading this review then check out my other reviews of Hot Octopuss products:
G-Spot Vibrators
Gender Neutral Vibrators
Couples Vibrators
Penis Play
---
Disclosure
Disclaimer - I was sent the Pocket Pulse to review free of charge and this has in no way affected the outcome of this review. This post contains affiliate links and if you purchase something when you follow one of these links I may receive a small commission at no cost to you. For more information check out my disclosure page.