Delivery and packaging
As always Hot Octopuss can be relied upon to package your purchases discreetly. The DiGiT arrived in very plain packaging, and again my postie has no idea how much of a kinky lass I am. He does know that I do receive a lot of deliveries though, poor lad.
The branding of the DiGiT's box is instantly recognisable as from Hot Octopuss. With its shiny red metallic colours and logo together with the Union Flag on the side of the box. It screams Rule Britannia at you, and I love their branding.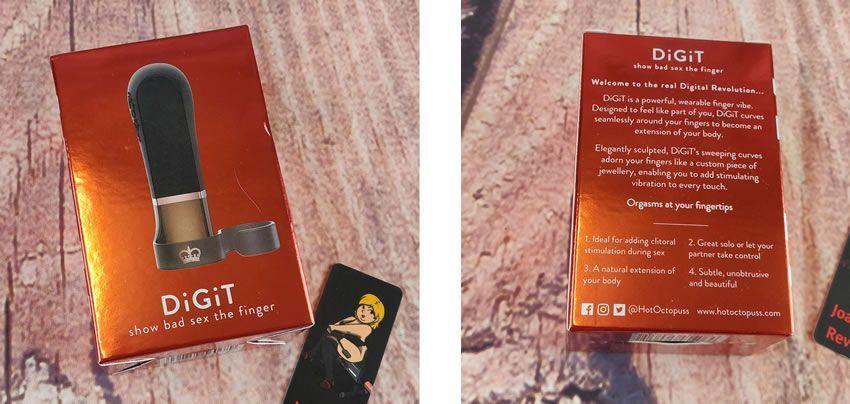 I love the packaging style of Hot Octopuss products
I love the thought and research that Hot Octopuss put into when they produce a toy. They have produced classics such as the JETT, Atom Plus, Pulse III Duo and a favourite of mine the Queen Bee.
They actively research their customer base and the wants and needs of them. Hot Octopuss is the first company that I know of allows you to select Binary or non-Binary text on their website - excellent.
I had high hopes for the DiGiT with its pedigree and background, I could hardly wait to get it out of the box to put it through its paces.
Inside the packaging, you will find, the DiGiT, charging cable, branded storage bag, infographic instructions and multilingual instruction too. They have done an excellent job catering to everyone.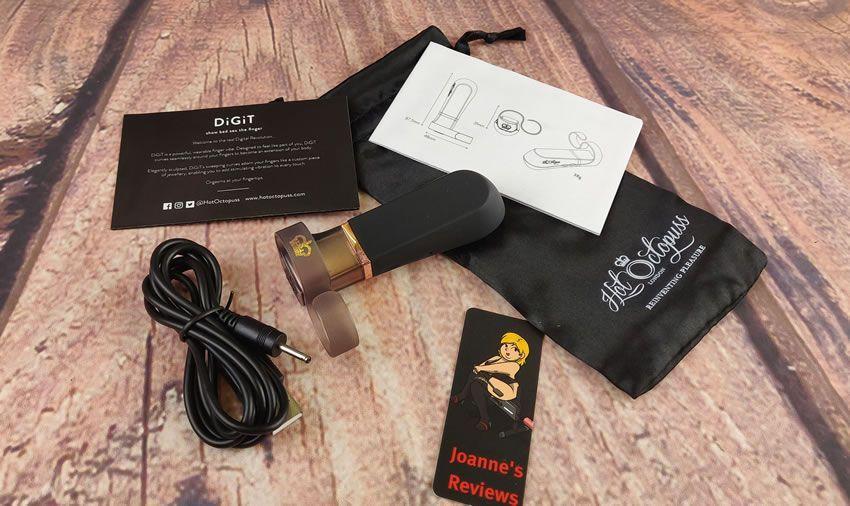 You get the DiGiT, a charging cable and a lovely branded storage bag
Concept
The DiGiT is a superb example of thinking outside of the box. One of the most significant drawbacks with using bullet vibes is the fact that they get slippery and difficult to hold with lubed up fingers.
The DiGiT alleviates this problem while also allowing the other fingers of the hand to which it is fitted to be free to stroke and caress. It is so lovely just to have to not hold onto the vibrator. I have arthritis issues in my hands, and the DiGiT allows me to play for extended periods. It is fantastic for anyone with limited hand or finger mobility.
Design and materials
The DiGiT is beautiful to behold as are all Hot Octopuss products. The most strikingly apparent feature on it is the branded translucent curved finger holster.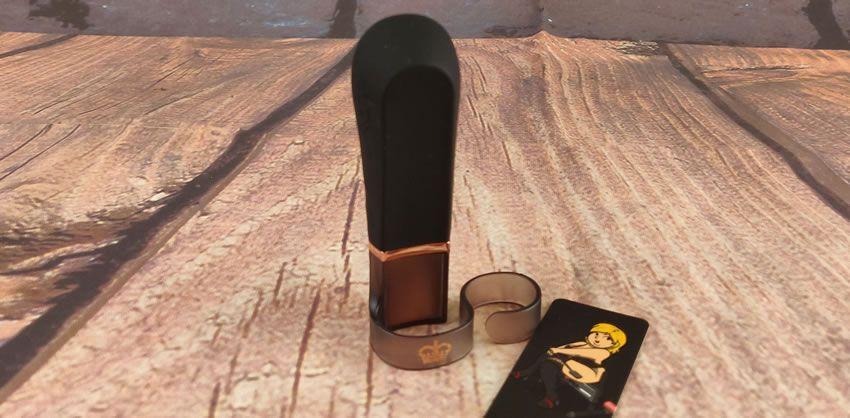 The DiGiT is an interesting and well thought out shape
This is an ingenious design as it caters for all different sizes of fingers. Let's face it even on our own hands; our fingers are slightly different. The beauty of this finger holster is that it allows for ambidextrous play. It, therefore, doesn't matter if you are left or right-handed, you can use the DiGiT.
The plastic that is used on the finger holster is flexible enough to allow you to bend it open to fit even the biggest of fingers. The two-finger design will enable you to wear the DiGiT on your index or middle finger depending on how you like to play.
The main body of the DiGiT reminds me of a lipstick tube, but it has a unique profile. The top side is slightly concave where your finger sits while the bottom surface is convex. This allows more skin contact and reduces sharp edges.
The front end is bulbous and almost shaped like a thumb. The play end of the DiGiT is coated in a lovely blend of body-safe silicone. This means that it is both latex and phthalate-free, and that is important. The surface is also non-porous, and so bacteria can't live in it.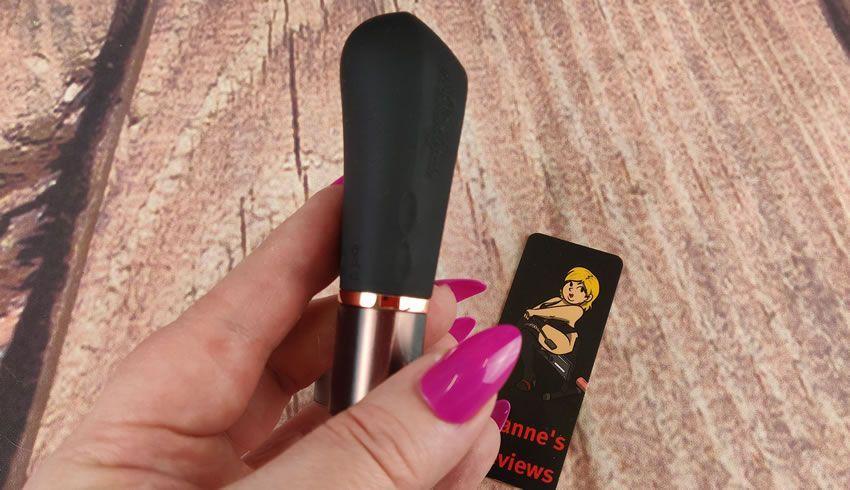 The DiGiT has a bulbous tip where the vibrations are concentrated
The other bonus of using silicone sex toys is they are so easy to clean. Just wash with warm soapy water and then rinse. You can, of course, use an anti-bacterial sex toy cleaner but you don't need to.
The DiGiT is also waterproof so you can enjoy it in the bath or shower. It also means you don't have to worry about getting water in it when you clean it.
Charging
As usual, I gave the DiGiT a full charge before its first use. It is essential to do so as that will prolong the life of your battery. So, try to resist the urge to immediately drop your panties and get going once to take it out of the box.
Just insert the plugin the little hole on the right side of the DiGiT and then plug the other end into a convenient 5V USB power source.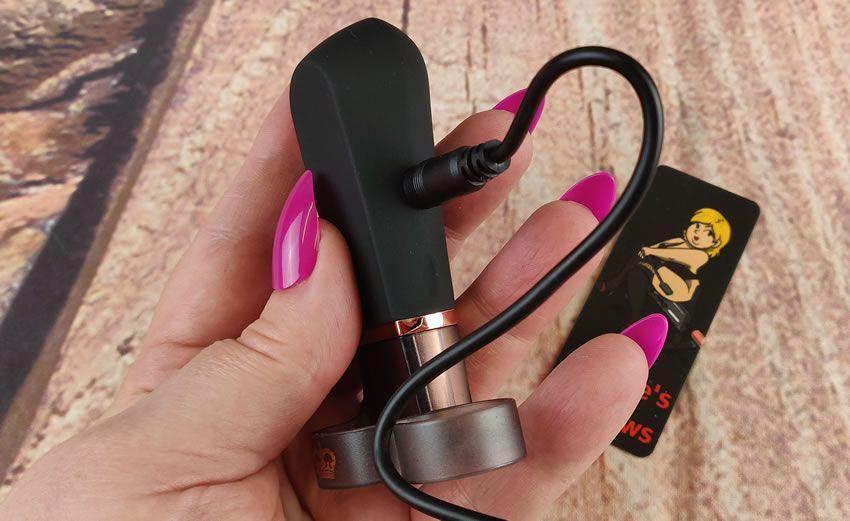 Charging the DiGiT is a simple task, just insert the cable and plug it into a power source
A full charge takes around two to three hours, and that gives you about 40 minutes of playtime depending on your power settings on the DiGiT.
The power button will flash red as it is charging and light up a steady green once fully charged.
Controls
The DiGiT has three buttons with one on the right and two on the left.
The right button is the power button, just hold it in for a few seconds to turn the DiGiT on and off again. It is also used to cycle through the five available vibration patterns.

The DiGiT fits easily to your hand and is easy to use
The two buttons on the left act as up and down buttons. These control the power levels, of which you get five to choose from.
These buttons are recessed so you can easily find then while in use and they are responsive. When the DiGiT is fitted to your fingers, you can use your other hand or your thumb if wearing it on the right hand to change the settings easily .
Performance
This is where it matters. The DiGiT looks fantastic but does its performance match its good looks?
It is marketed as a rumbly vibe, and I can attest to this fact. The vibrations are rumbly but not mind-blowing in their depth and power. Hardly surprising though with its small form.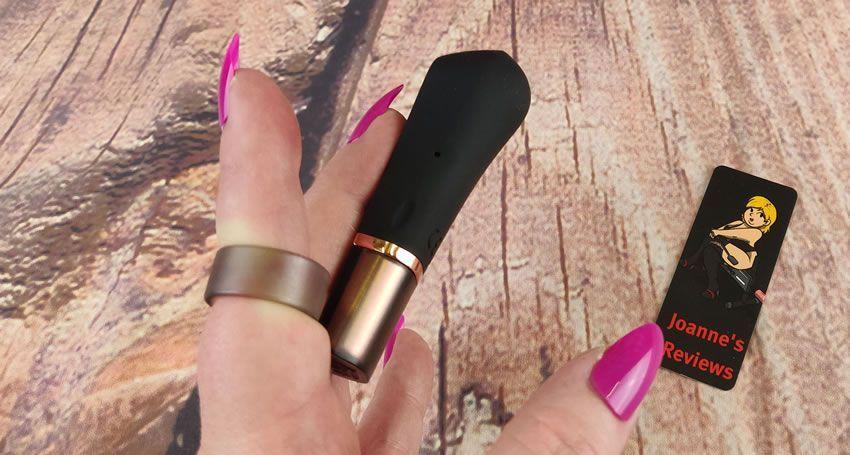 The DiGiT allows you to still move your others fingers
If you are looking for incredible power, then I'm afraid you won't get it with the DiGiT. But that isn't a problem as the DiGiT was never, ever going to deliver wand levels of vibrations. It just isn't designed for that purpose.
The DiGiT fills its design role perfectly, it snuggly attaches to your finger, almost becoming, an extension of your own body. You can glide it over yourself or your partner, relishing the rumbly vibrations that it delivers.
Unlike a wand vibrator that sort of carpet bombs your nether regions, the DiGiT allows pinpoint precision when it comes to what you want to stimulate. I found it so easy to use and also I was mesmerised by the sensations it delivers when gliding my hands over my vulva and breasts.
I enjoyed using it on my nipples, but it was when sliding it between my labia over my clitoris that I really enjoyed it. The DiGiT is a vibe that I can enjoy for long drawn out edging sessions where I can easily keep myself on the very crisp of orgasm while denying myself the pleasure of one until I am ready.
You can either use it with or without lube. The draggy nature of the silicone feels nice dry on your skin, but a drop of lube on your clit really makes it glide.
When I do allow myself to cum this way it is earthmoving, and I love long slow sessions with the DiGiT for this very reason. Throw in a dildo or a butt plug, and you have the makings of a trip to orgasmville on the clitoral express train.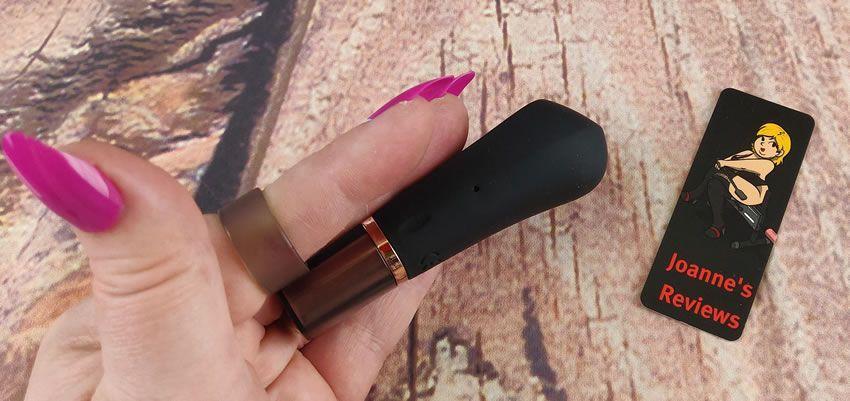 The DiGiT is comfortable and easy to use
The DiGiT is a well thought out vibrator that is unique in its ability to fit anyone. It opens up a whole new level of play if you have difficulties holding things and I love it.
It would make an ideal gift for a loved one or for yourself. Go on give bad sex the finger.
Give bad sex the finger with the DiGiT vibe from @HotOctopuss, a vibrator that puts control at your very fingertips.
Click to Tweet
Key Features
Key features:
Finger tip vibrator
Can be used left or right handed
Rechargeable
Rumbly vibrations
Five patterns and five power levels
Body-safe materials
Waterproof
I would recommend it to:
Anyone with trouble gripping things
Anyone looking for an easy way to hold a vibrator
Anyone who enjoys pin-point precisions
Anyone who like rumbly vibrations
I wouldn't recommend it to:
Anyone expecting a pint-sized wand vibrator


The DiGiT is a fantastic finger vibe and a great addition to anyones sex toy colelction
Final Thoughts
I really like the DiGiT, its small form and unique method of use make it a very flexible sex toy. Use it on yourself or your partner for some very pleasurable sessions.
I love using it for long slow lady-wanks and can edge myself with it easily before allowing myself to crash over the edge into a toe-curling orgasm.
The body-safe materials and design are exactly what you would expect from a world leader like Hot Octopuss, and they have another classic on their hands, or should I say on your hand.
The DiGiT is a fantastic addition to their product line and its small size, and rumbly power will appeal to lots of people. This is the ideal travel vibe or one that you can just slip into a pocket or bag when going to visit a friend for some playtime.
I was sent the DiGiT by Hot Octopuss and I would like to thank them for giving me the opportunity to review it for them.
Joanne's rating
Where Can I Get One From?
Grab one of these fine DiGiT vibrators direct from Hot Ocopuss for just £59.00 plus P&P. The DiGiT is a fantastic little finger vibe that allows you to masturbate in style.
Check them out and don't forget to tell them that Joanne says "Hi".
---
If you enjoyed reading this review then check out my other reviews of Hot Octopuss products:
G-Spot Vibrators
Gender Neutral Vibrators
Couples Vibrators
Penis Play
---
Disclosure
Disclaimer - I was sent the Hot Octopuss DiGiT vibrator to review free of charge and this has in no way affected the outcome of this review. This post contains affiliate links and if you purchase something when you follow one of these links I may receive a small commission at no cost to you. For more information check out my disclosure page.