Delivery & Packaging
The Magic Bunny arrived from Satisfyer inside very plain packaging. This is a good thing, and it corresponds to the statement on their website that they do "Anonymous Packaging". I loved that my magic bunny came in a very discreet box, so no-one knew what was inside.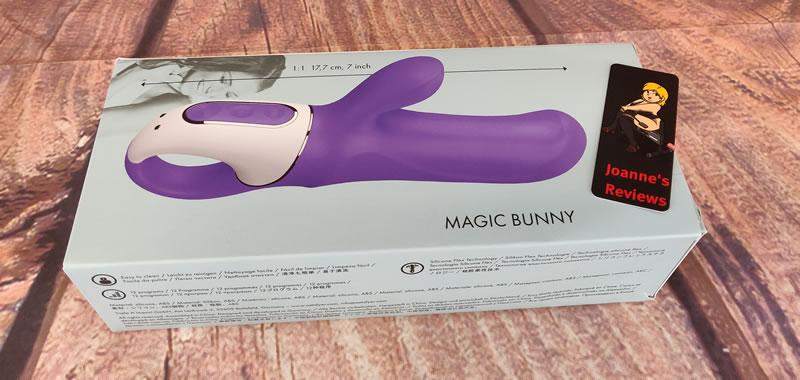 I love the design of the Magic Bunny box from Satisfyer, it is bright and cheerful
One of the things I love the most about the Magic Bunny packaging is how colourful, and how fun and fresh it looks. The box also has a lot of useful information on the side. I found it very hard to read though as I have eyesight problems, so I had to get someone to read it for me winch I found a little embarrassing.
The box is sealed with a hygiene seal to give you peace of mind that your bunny is 100% clean and unused.
The Magic Bunny comes with a charging cable and a very basic information leaflet. This information booklet includes pretty standard guidelines and regulatory disclaimers.
The instruction booklet sticks to mostly wordless diagrams for use, which made them easy to understand.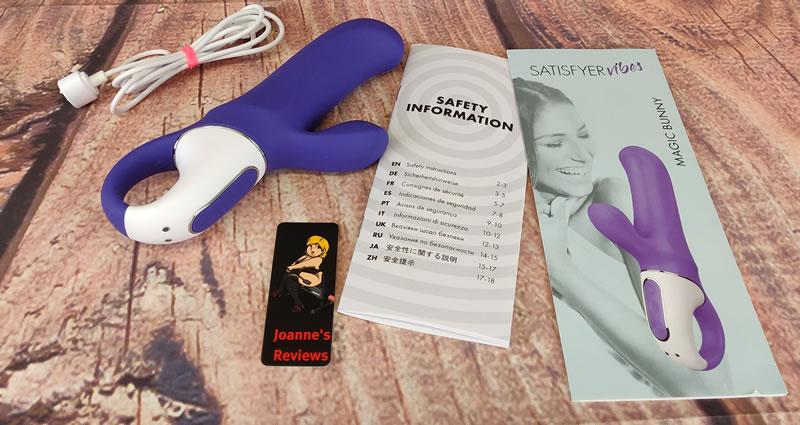 You get the Magic Bunny, a charging cable, instructions and a safety booklet
Materials and design
My first impression of the Magic Bunny, a toy, built primarily for clitoral stimulation, was mixed.
Weight:207g
Length: 178 mm
Breadth: 82 mm
Height: 39 mm
Battery: Rechargeable Li-ion BatteryFirst of all, I found the Magic Bunny a little too small to stimulate my g-spot. I also found that as I have large labia majora, I enjoy stimulation in only a small area around my clitoris (just the rim of the hood).
This means that vibrators with more significant surface area, such as Hitachi or Doxy, can be difficult for me to get the most out of. The wide clitoral stimulator meant it was a little fiddly for me to get in just the right spot.
I love that the Magic Bunny is made out of 100 per cent pure and soft silicone. Silicone is my go-to material for insertable sex toys. It is both latex and phthalate-free so good for anyone with allergies.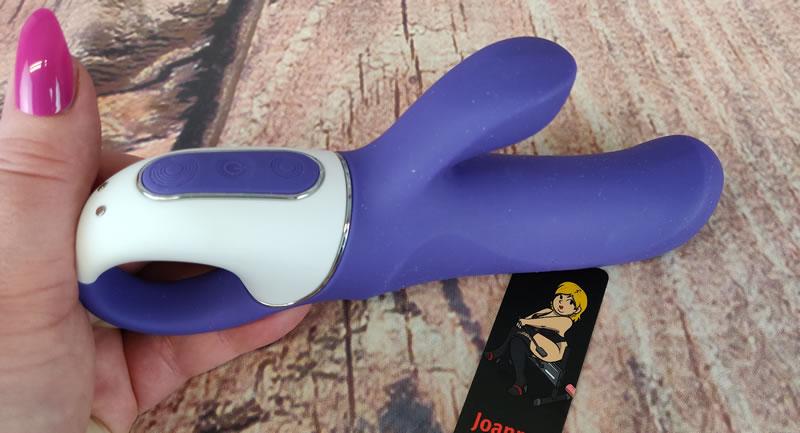 The Magic Bunny is a small but well proportioned sex toy
I also love how small and compact the Magic Bunny is, measuring in at 17.7cm. Unlike the Satisfyer Master and the Flower Power, this vibrator is much easier to hold for long periods. This is due to the handle having a hole through it that makes gripping it easy.
So I would highly recommend the Magic Bunny for anyone who has problems gripping a toy or if you can only use light toys.
I also loved that the Magic Bunny has two very strong motors and 12 vibration programs! They provide powerful rumbly vibrations in use.
Holding down the power button for 1-2 seconds, causes the toy to automatically start on mode 3, which feels fantastic on my clit and would feel good on my g-spot too, if only it reached it. It was the setting I preferred to use, although the others felt good as well.
The Magic Bunny is also firm and not super flexible (there's a little give), so the sensations are significant no matter what you're using it for. The bunnies silky smooth surface felt terrific on my skin and down in my vagina.
The booklet advises 3.5 hours to charge fully, and 45 minutes of continuous use, which I can confirm. Although that 3.5 hours felt like 50 years when all you want to do is play.
The USB magnetic charging cable is easy to use, but the magnets aren't too strong, so you need to check they are still connected when you place your toy on a surface to charge.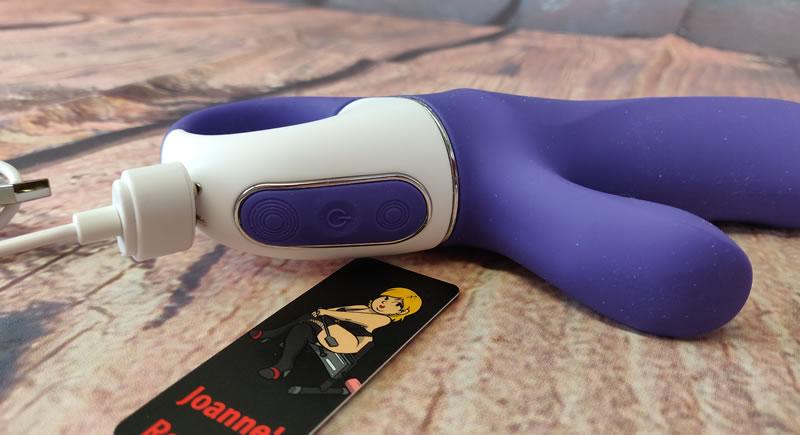 The Magic Bunny comes with an easy to use magnetic charging cable
I do wish it had a little more usage time as I was halfway to orgasm on one occasion when the batteries died. I had to finish myself off with other means, winch, when you are in the mood, can be quite off-putting.
I would always recommend using your Magic Bunny with only water-based lubrication as this makes it even more enjoyable. It makes it a lot easier to get into my vagina when lubed up. I can highly recommend Sliquid H2O or Secret Play Natural as body-safe lubes.
As it's non-porous, it's straightforward to clean, and you needn't worry about any lingering smells. Just wash with warm soapy water at the end of a play session. Making sure it's thoroughly dry though before putting it away.
This toy is switched on and off by holding down the power button for two seconds. Either side of it are up and down buttons to cycle through the modes, which makes it very easy to use. So you can just get on with playing. The controls are easy to find and use when playing with the Magic Bunny.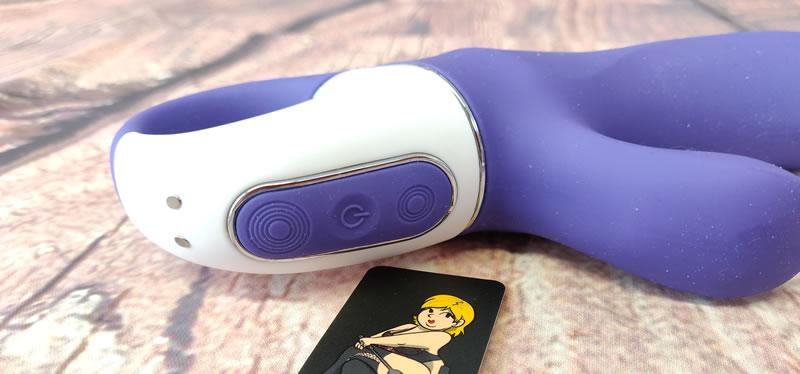 The Magic Bunny has easy to use and simple control buttons
Performance
I started the vibrations off on low and quickly found that the first and second settings didn't really do much of anything for me, although it did warm me up.
If you like your vibes to give you the feeling of fullness, then the magic bunny from Satisfyer my not be for you due to its short length. But I did love the Magic Bunny's simple but very effective design.
If you like your dick on the large size, then the Magic Bunny probably will not fill your features as bigger toys do. But, if you are a young woman looking for her first rabbet style vibe, this will probably will be the right toy for you. This is because of its small design and how fun and colourful the bunny is.
The Magic Bunnies small and compact design makes it highly recommend for travelling or if you what to keep it in your handbag for when you get the urge to play.
The girth alone is enough for a great feeling of fullness, but its short length left me wanting more. I could get the entire length in without trying just with the naturally occurring lubrication of my vagina.
I stuck mostly to the strongest steady vibration, with some variations with the slower and the faster wave patterns. The pulses didn't really do much for me; they were too frenzied and distracting. However, they might work for others if that is what you enjoy.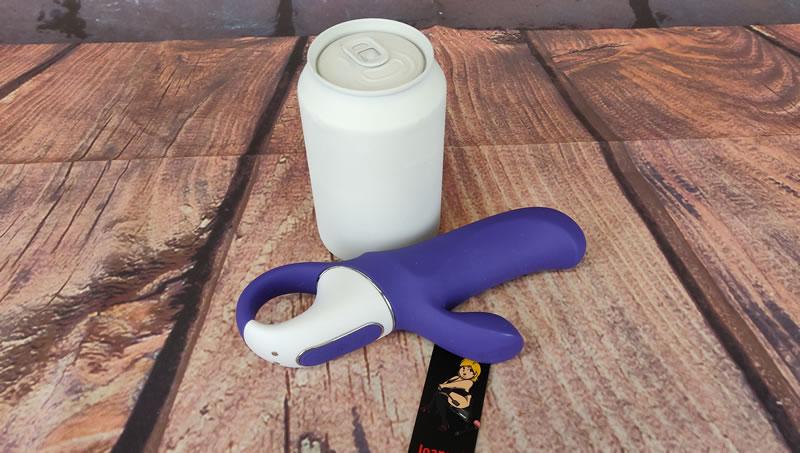 The Magic Bunny is small as you can see with it next to a soft drinks can
The vibrations I stuck to felt amazing and intense, on my clitoris. And I found even though I ran out of charge before I came the first time, orgasming with the non-vibrating dildo and a separate vibrator on my clitoris was still powerful and really enjoyable.
As long as you remember to charge it before use, the Satisfyer Magic Bunny is a great investment and a lot of bang for your buck… literally.
I also had the urge to diddle when I was in the shower so I got my Magic Bunny and used it to test its waterproofing. I found that it made the rubbly vibrations much stronger than they are out of the water.
I've found it to be fun and ideal for when I'm seeking something a little different from my usual ways of masturbating or sex. Of the 12 modes, six are standard steady vibrations, varying in intensity. The most powerful packs a fair punch but isn't as loud as some toys can be, while the least powerful is quite quiet. The lower setting lacks any sort of punch, and can only really be used for the softest teasing.
The other six modes are a range of wave and pulsing patterns. Using it was pleasurable and fun in some spots, but it was challenging to keep it focussed on one spot, and it took me a while to orgasm.
I had a lot on my mind that day, don't we all, so I tried it for clitoral stimulation on another occasion, wondering if it had merely been my mental state causing the issue. But once again it required constant readjustment and concentration to use, so I ended up switching to another toy to get off. So please keep this in mind when considering the Magic Bunny.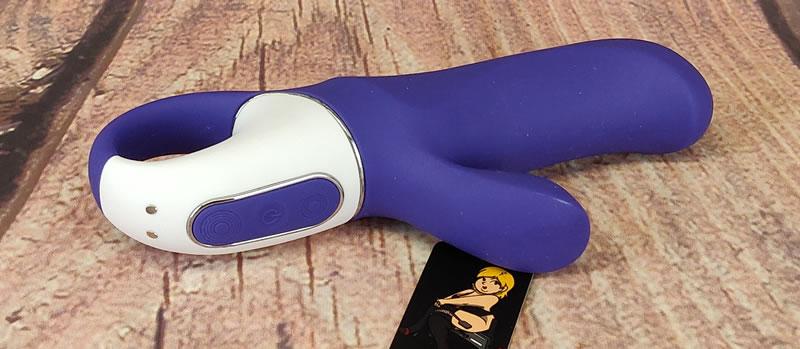 The Magic Bunny is small and easy to hold and use
The Magic Bunny from @SatisfyerCOM is a rabbit vibe that is small but powerful check out this review of it to see if it will hit the spot for you.
Click to Tweet
Key Features
Key features:
Silicone and ABS construction
USB Rechargeable with magnetic charging lead (included)
Twelve power and vibration settings
Loop handle for a more secure grip
Waterproof
100% body-safe platinum cure silicone
Discreet travel vibrator
Super-strong deep vibrations
Discreet packaging
Flexible body & waterproof
I would recommend it to:
Anyone looking to try something different
Anyone looking for a silicone rechargeable waterproof vibrator
Anyone who enjoys generalised vibrations over an area rather than precise vibrations
Anyone who likes girthier vibrators
I wouldn't recommend it to:
Anyone who doesn't like girthier sex toys
Anyone looking for precise stimulation
Final Thoughts
It just doesn't work for me. Perhaps it will work for others with varying size and shape anatomy, but it's just not for me.
I found it too short, and the head was just too broad for my style fo masturbation. While the motors are powerful, the constant adjustments I had to make to it were distracting.
If you like rumbly vibes and are looking for a short, discreet vibe, then it may be perfect for you, but my pussy just didn't get along with it.
Even though the magic bunny wasn't for me, it could be amazing for somebody else, like women how to have a lower cervix or a smaller vagina than me.
But I would recommend the magic bunny for younger women how are looking for there first rabbit-style vibe. This is because of the Magic Bunny's minimal and compact design.
I was sent the Magic Bunny by Satisfyer and I would like to thank them for giving me the opportunity to review it for them.
sub'r's rating
Where Can I Get One From?
Grab one of these small but functional bunny vibes direct from Satisfyer for £44.95 or from my affiliate Nice'n'Naughty.
Check them out and don't forget to tell them that Joanne says "Hi".
Disclosure
Disclaimer - I was sent the Magic Bunny to review free of charge and this has in no way affected the outcome of this review. This post contains affiliate links and if you purchase something when you follow one of these links I may receive a small commission at no cost to you. For more information check out my disclosure page.