I am fascinated by the thought of personally being locked into chastity, and I know that it is something that also appeals to sub'r'. But it is hard to find suppliers of female chastity belts for the fuller figure. I hope to eventually find one so that I can personally experience what it is like to be locked into one.

An excellent example of a modern female chastity belt from dottyaftermidnight.co.uk
Chastity is the physical prevention of masturbation and sex. Women wear chastity belts that prevent access to the clitoris, and also they prevent penetration. Penis owners can also have chastity belts, but cock cages are much more readily available and accessible.
Why would you want to subject yourself to this though? Well, chastity is a form of power exchange, and so it readily falls within the realm of BDSM. When you are placed into chastity someone else controls your body, and this dynamic can be a heady mix of frustration and excitement.
Some practitioners will lock themselves into chastity and then send the key to a key holder to look after it for them. Often these keyholders are dominant personalities such a Dominatrixes or Doms.
Wearing a chastity device creates problems regarding personal hygiene that can be overcome, but they reinforce the fact that you are being subjected to your chaste state. I am not going into details about personal hygiene but it is possible to remain in chastity for long periods without letting your hygiene suffer, and it is essential that you pay even more attention than usual to this.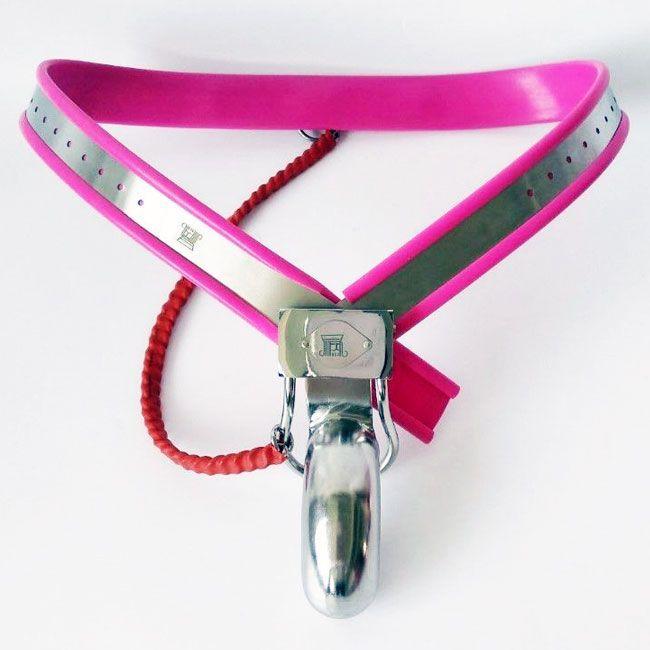 An good example of a modern male chastity belt from dottyaftermidnight.co.uk
What Are The Benefits Of Chastity?
There are some benefits for both the person in chastity and even their partner.
When you are locked in chastity, you can devote all of your attention to the sexual pleasure of your partner. It can even make for a more loving caring relationship.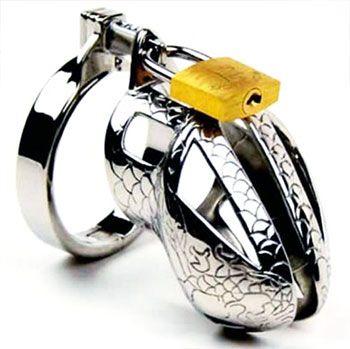 An example of a modern male cock cage from dottyaftermidnight.co.uk The fact that you are being denied the ability to pleasure yourself can be incredibly arousing. Your arousal and inability to take care of it can also turn a partner on, and both parties can enjoy this aspect of orgasm denial.
Being deprived regular masturbation sessions can make your genitals more sensitive and so when you are finally released the ensuing orgasms can be mind-blowing.
The inability to cheat on a partner when in chastity is one of the oldest reasons for doing it and even in this day and age it can increase trust and communication between partners. However medieval chastity belts and stories of knights locking up their wives before going off on a crusade have been proven to be false.
Modern chastity belts exist purely for people to explore the power play of using them either on their own or with a partner.
Female chastity belts all follow a pretty predictable design, a metal panty like structure designed to prevent penetration while allowing body waste to pass through. Male chastity belts and cock cages, on the other hand, are available in a myriad of designs, some of them are incredibly beautiful and intricate. All of which though are frustrating but enjoyable for the wearer.
Thoughts On Chastity
I interviewed one male practitioner who uses a male chastity belt and here was what he had to say about being locked in chastity:
"I enjoy the submission that goes with being locked into my belt and handing over the key to a Dominant woman. When the lock gets snapped shut and the security tab is fitted I get extremely anxious at the start, and I feel an erection forming but it is unable to grow and that in itself is a sweet agony.

The first few days are the hardest with the urge to masturbate often triggered by the slightest thing, and again the frustration of not being able to do so is intoxicating almost like a drug. After a few days I settle down, and the urge subsides, I have to spend more time on personal hygiene and have to plan my days around toilet breaks as I can no longer whip it out in a bush at the side of the road if I am caught short for instance. Being in chastity makes you more aware of your body functions and it also I believe makes me a better lover.

My partner supports this kink of mine, and when I am in chastity, she loves to make me eat her out or use toys on her, and I love doing this, all of my efforts ate focussed on her pleasure, and that has brought us closer together. When I am released from my chastity I first shower, and when I emerge I usually have the biggest and hardest erections of my life, and I have to take care of business.

The release when it quickly cums leaves me delirious and breathless, almost dizzy in my euphoria; there is nothing like an orgasm after a period of chastity, I love it."

Tim, Liverpool
I can understand everything that he said and long to be able to experience it for myself. Hopefully one day I will find my chastity belt, and then I will be able to write an article about my own experiences. In the meantime though, accounts like the one told to me by Tim have me even keener to try it for myself.
I would love to hear from anyone who enjoys chastity play in the comments form below. Let me know what your experiences are, and if you have any supplier recommendations, then that would be amazing.
Where Can You Get A Chastity Device From?
If you are interested in looking at some more chastity devices or maybe even buying yourself or your partner one then check out these links:
Disclaimer - This post contains affiliate links and if you purchase something when you follow one of these links I may receive a small commission at no cost to you. For more information check out my disclosure page.