Packaging
The I Run My Duckie vibes come in a clear plastic box so you can see which colour and design is inside. I love to be able to see sex toys in their packaging, and this packaging is rather lovely.
It carries the usual advice and warnings as you would expect to see on a novelty sex toy like this one in seven languages. I couldn't wait to get it open to play with my Duckie.


I love the packaging and the way you can see the sex toy inisde
Design and materials
Manufactured and marketed by Big Tease Toys the I Rub My Duckie range looks fantastic. I mean, who wouldn't like the idea of a kinky rubber duck to play with in the bath?
The Rub My Duckie has some give to it, and it is phthalate-free, which is excellent news. However, the manufacturer doesn't state what material it is made from in any of their articles.
This fun novelty vibrator takes just one AAA battery (not included), and it delivers some surprising power for a vibe with such a limited power supply.

The AAA battery is inserted through a hole in the base
It comes in two sizes, a large regular Rub My Duckie and this one the Travel Sized Rub My Duckie.
Removing it from its packaging proved to be quite a challenge for me as I decided to go in through the top of it. That was a mistake as I then needed to go in through the bottom anyway to release it.
The Duckie is fixed firmly onto a base plate with some serious glue. This glue had been applied over the battery cover and proved quite challenging to remove altogether. But, I eventually got it all off.
The glue does a great job in holding the Duckie in the packaging, but it does it a little too well when it comes to removing it.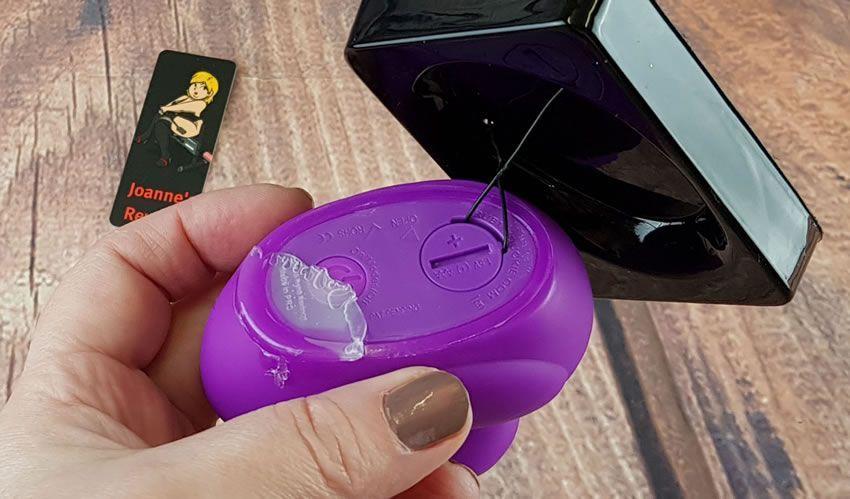 The glue used to secure the Duckie to its base was a real pain to remove
On the base of the toy, you will see a power button and a screw cover over the battery compartment. Make sure this is fitted correctly after fitting a battery as this is a water-proof toy. The seal on the battery cover keeps any moisture out and the toy watertight.
The single button is used to switch the vibrating motor on and off again. It also is used to cycle through the seven vibration and intensity modes.
But as this is a reasonably flexible toy, I found that pressing elsewhere on the base also operates the switch, so just be careful how you hold it in use.
When in use the whole Duckie vibrates which gives you lots of flexibility as to which part of it you use. My preference was to use the duck's bill for pinpoint stimulation when in the bath.

The button on the base is easy to operate but pressing anywhere on the base affects the button
What I love about the I Rub My Duckie range is the quirky nature of them all. This is one of the basic ducks, but they also do Bondage Ducks featuring Swarovski crystals, the Paris edition with features a feather boa, and the Pirate special edition with a removable hat. You also can get a Kitty Hoodie edition with detachable hoodies that are just so cute.
The I Rub My Duckie range is just pure kink, crossed with a massive dollop of cuteness, roasted and glazed in sugar-coated charm. I love it, and on the side of a bath, the classic range is all but invisible to prying eyes. It just looks like a rubber duck. I rather like the kinky bondage rubber duckies though.

The bondage Rub My Duckies look fantastic
The small size of the travel version of the I Rub My Buckie does indeed make it an ideal traveling companion and if airport security were to go through your bags then no problem, it's a rubber duckie. However, make sure you remove the battery before you travel as there is no travel lock and push on the base and he may spring into life.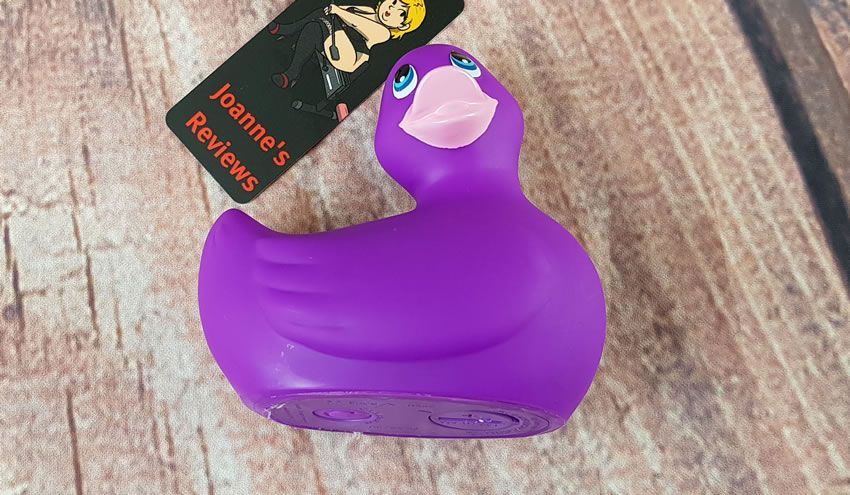 The size of this version of the I Rub My Duckie makes it great for traveling
Performance
I obviously had to give this cute vibe its first introduction to my clit in the bath, and I am glad that I did. This is a vibe that had me grinning like a little schoolgirl as I watched it bob around on the surface of my bath while I washed.
It is so cute and so much fun. After washing, I lay back and switched him on (or should that be turned him on LOL). I parted my legs and started to explore how my Duckie felt on my labia and clitoris.
The vibrations are not groundbreaking as you would imagine for a vibe powered by a single battery, but they are most pleasant.
I enjoyed experimenting with different parts of the Duckie on my sensitive bits, enjoying the feeling of the top of the head on my clit.
I used the bill for pinpoint stimulation, but for me, it was the top of the head and the tail that I enjoyed the most.
I almost felt sorry for the Duckie when I pushed his head into my vagina, and I nearly wet myself with laughter as I imagined hearing a "Nom, Nom, Nom" sound from him.
It was so nice to be laid back in the warm water using the Duckie on my pussy while playing with my nipples with my other hand. Eyes closed and imagining the kinkiest thoughts I found reaching an orgasm pretty easy.

Make sure you fit the battery cap correctly if you plan on using it in the bath
The vibrations are not very strong and a little buzzy, not my usual preference of deep rumbly vibrations but it did feel good, and the proof of the pudding was in the orgasm I received from him in the bath.
The duck's whole body vibrates so you can find your favourite spot and surface to hold against you. Using it on my nipples was also lovely, but for me, I like to get off with clitoral vibrations or vigorous thrusting with dildos.
Version two of the Duckie range features a quieter motor and stronger vibrations over the original. It is really quiet, and so you can use it in the bath with no-one outside the bathroom door being able to hear what is going on.
You get seven vibration and intensity modes to enjoy, and I found the pulsing patterns worked best on my clitoris. The steady vibrations just numbed my clit after a while, but that is just me, we are all different so you may like them more than me.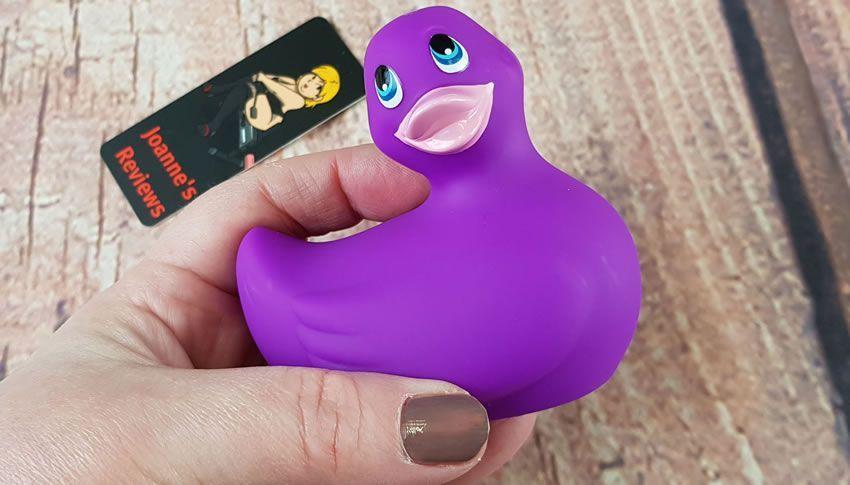 The I Rub My Duckie vibrator is a lot of fun in the bath
The I Rub My Duckie range from @bigteazetoys is a quirky way to spice up your bathtime fun with this little cute clandestine vibrator.
Click to Tweet
Key Features
Key features:
Cute and available in two sizes
Four different designs and numerous colour options
Seven speed and patterns
Quiet operation
Waterproof
Powered by 1xAAA battery (not included)
I would recommend it to:
Anyone who loves quirky vibrator designs
Anyone who likes to play in the bath
Anyone looking for a vibrator that is easy to hide
I wouldn't recommend it to:
Anyone who needs strong powerful vibrations
Anyone who doesn't like buzzy vibrations
Final Thoughts
What the Duckie lacks in raw power it more than makes up for with its cute and clandestine form. This is the ideal vibe to have in a busy household or dorm as no-one will know your kinky plans as you carry it to the bathroom.
Obviously, it can be used out of the bathroom too, and if someone sees it, they will just smile thinking you just like rubber duckies. Only you will know of your intimate attachment to your little duckbilled vibrating friend.
Big Teaze Toys also make some other charming vibes, including a rocket ship that I so want to try as it looks incredible. You should also check out their I Rub My Kitty range too as they also look incredibly cute.
Overall, I like the I Rub My Duckie, it'll never replace my Doxy, but it was never designed to do so. It is a fun, and quirky vibrator that can be left out and no-one will ever know its kinky secret.
I was given the I Rub My Duckie vibrator to review and this has not affected my opinion of it in any way.
Joanne's rating
Where Can I Get One From?
Grab one of these cute little vibrators direct from Big Teaze Toys and spice up your bathtime fun.
Check them out and don't forget to tell them that Joanne says "Hi".
Disclosure
This review does not contain affiliate links, for more information about affiliate links check out my disclosure page.