This toy is made out of ABS plastic and Silicone, both of these materials can be easily sterilised, and as such, I am happy to use it (after cleaning it myself first). I wish that more sex toys were made out of these materials as you can safely share silicone and ABS sex toys after proper cleaning. Their non-porous surface also stops mould and bacteria from growing in them; they are also phthalate and latex free which is another bonus.
The manufacturer recommends only using good quality water based lubes with the Zumio, now while I think a good quality silicone lube would be okay who am I to contradict the manufacturer, so go with water-based lubes. This is an external sex toy, and so you won't need much in the way of lubrication although it does make the sensations better if you use some.
Unfortunately, as this is a second-hand toy, I don't have the box, and so I have to use a picture from the manufacturer's website. You get a lovely box and inside you will find the Zumio itself together with a USB charging cable and a fancy inductive charging cradle. You also get a beautiful drawstring storage bag and a set of instructions.

The Zumio comes in attractive packaging and you get a storage bag too - I love toys that come with storage bags as I am easily pleased I guess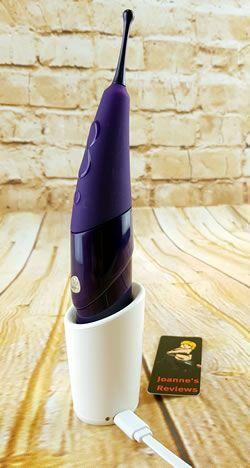 Charging is simplicity itself, you drop the Zumio into the inductive charging cradle which is also a beautiful stand, and it will start charging when the USB cable is connected to a power source. A light on the cradle flashes as it is charging and goes out once full charge is achieved.
Zumio features some fancy tech which means that a full charge gives you between 75 minutes and four hours of playtime. You can top it up as and when you feel like it. There is no need to go for a full overnight charge every time you have used it. Feedback has been good about battery life; most users will get a few months of play between charges which is excellent.
The Zumio is like no other sex toy that I have reviewed. It is unique in the fact that it doesn't look like a sex toy, in my opinion, it looks a bit like an electric toothbrush less the bristles. It wouldn't look out of place in a toothbrush holder in your bathroom.
It has a very smart trick up its sleeve when you use it. The SpiroTIP which is the silicone ball like nib on the end of the toy moves and oscillates up to 2mm on its highest setting. This gives very deep sensations that are easy to pinpoint, and it is there that the Zumio excels.
You get Doxy levels of vibration in a small and lightweight sex toy that doesn't need ear defender to operate. I was very surprised by just how quiet it is in use on its lower settings it is just a whisper. This noise gradually increases through the eight power levels but it still ends up as a very discreet sex toy I am pleased to say.
The Zumio doesn't have patterns of vibrations you just get steady vibrations that you can move and flow around your clitoris. I recommend starting the toy away from your clit and circling it gradually getting closer and closer to it until you are ready for blast off. Orgasms come quickly and easily with the Zumio at least that is my experience of it. As we are all different others may find the build-up to an orgasm slower, but for me, it is a lightning-quick way to get off.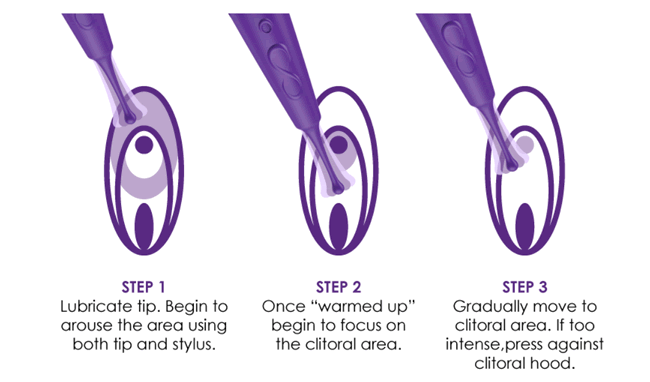 The Zumio is a lot of fun to experiment with and to learn how to masturbate with it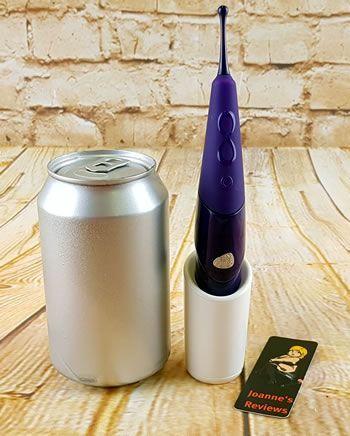 I never get tired of the deep vibrations and how they are concentrated on one spot allowing me to move the SpiroTIP around to tease and please. This is an external sex toy, but I couldn't resist slipping it inside, and I was surprised at how good it felt against my g-spot on lower power settings, on the higher settings it is too strong for use internally.
For me, orgasms with the Zumio always leaves me smiling and breathless while looking at the ceiling and chastising myself inwardly along the lines of "Damn girl, you have no staying power at all". It makes me cum so quickly I have to force myself to slow down with it teasing myself before moving in for the final act.
I like the fact that the vibrations are steady as I find it easier to control this way and I never really like patterns, always going for the steady vibes after some experimentation.
It gets better though, while the Zumio is the perfect bedside drawer companion for use when the mood strikes, but it is also great for play with a partner. It's so small and comfortable to hold. It's excellent for applying to your clitoris just before your partner comes to ensure that your boat rocks at the same time as his or hers.
It's so easy to use and so powerful that even a complete novice of a partner could use it on you. No matter how clumsy or biologically misinformed they are about where and what the clitoris is there is a damn fine chance that they are going to get you off in no time at all with a Zumio. It's akin to a set of training wheels for a new partner, just give them the Zumio and watch their face as they bring you off in no time at all. A big ego and confidence booster for all involved.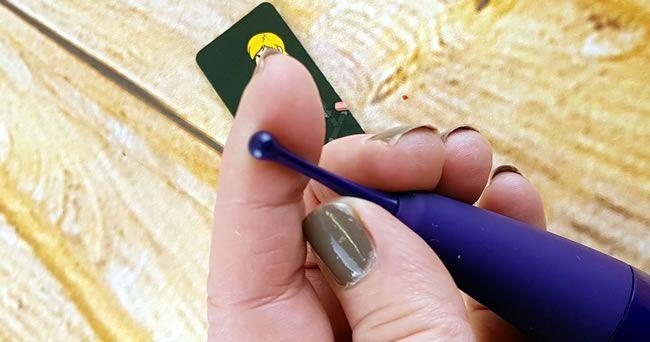 The SpiroTIP on the Zumio oscillates by about 2mm when you use it and that feels incredibly intense
I was more than a little surprised by the Zumio, and I wanted to believe that the claims about the toy were all hype so that I could shred it in a review but as it turns out it is one of the best vibes I have ever played with. Earlier I compared it to a Doxy, and that is high praise indeed, up until now it has only been the Sybian and the Doxy that have made me squirt, and they both have gotten me off faster than I could have ever believed. The Zumio is right up there with those two legendary sex toys, and the best thing about it is that it is so small it fits into my purse.
Joanne loved the @MyZumio saying "It's like having training wheels on a partner when you let them use it on you". Check out her review.
Click to Tweet

The Zumio is a small well formed clitoral vibrator that really packs a punch and it delivers knockout orgasms
Key Features
Key features:
Intense targeted clitoral stimulations
USB Rechargeable sex toy
Quiet operation
Eight power levels
Inductive charging system
Waterproof
Final Thoughts
The Zumio is a real eye opener, the way that it works is unusual, and the fact that it is just so good is very unusual indeed. This one is a keeper, I love using it on myself, and it is so much fun to use on a restrained sub 'r', she can squirm but not get away from its magical caresses.
Orgasms are incredibly strong and lightning fast with the Zumio; it is my new go-to choice for a quickie. It is perfect for those times when you want to give yourself the quickest and hardest orgasm of your life, but it all seems like too much hard work. Bring out the Zumio and bang; it's "clean up required in aisles 3,4 & 6".
If you like intense sensations and are looking for something small, comfortable and powerful, then the Zumio is something to check out. Grab one and see just what I have been talking about - happy orgasms.
Joanne's rating
Where Can I Get One From?
The Zumio is a must have in everyones sex toy collection and it is great for those times when you need to cum now and cum hard. Grab one of these amazing clitoral vibrators from Bondara.co.uk for £129.99. Bondara is one of the few online sex toy shops where I regularly shop and their customer service and range of products is exceptional.
Check them out and don't forget to tell them that Joanne says "Hi".
Disclaimer - I bought a Zumio to review and this has in no way affected the outcome of this review. This post contains affiliate links and if you purchase something when you follow one of these links I may receive a small commission at no cost to you. For more information check out my disclosure page.