It is fun but can get to be an expensive hobby-hold that thought for a bit while I continue. I am always keeping an eye out for new and interesting estim related products. You will need to read my Electrastim Viper review to know what I think is the difference between "new" and "different" products, my opinion.
So that is out of the way and on with the review. Oh, once again, I must thank the marvellous Joanne for allowing me to do this and providing space on her site for my ramblings. What a remarkable and lovely person.
One day I was cruising down the ole information superhighway, and something caught my eye that made me pull off to the curb and have a look.
It was something I had not seen before. Could it be a "new" estim gadget?
The item that caught my eye was a product from Zeus Electro called the "Lightning Hood" (herein referred to as just "hood"). This is an electrode (I like saying that word "electrode", sounds ominous) that goes over the cock head (this is a sex toy review) and stimulates it.
I quickly zoomed over (no cops on the information superhighway so you can drive as fast as you want) to the Zeus site to have a look.
This product falls somewhere between "new" and "different" with a slight edge towards new. There is a manufacturer that makes a device that goes over the cockhead, but it's mono-pole (requires a second contact) and uses a condom to hold it in place.
I have a couple, and they are just unhandy to use.
Back to the review. This looked very interesting, and I was intrigued, especially with the $30 price point. I have looked at products by Zeus in the past, but nothing really reached out and grabbed me. Being honest, the quality of Zeus products seemed a bit suspect, and around the community, there is not much praise BUT, I had to have one.
The thought of lighting up the ole dick-head was just too much of a temptation. Now the problems start. I could not find one. They were on back-order everywhere I looked.
Timeout here; just like the Viper I purchased this myself and was not gifted it by Zeus for review. This could be a good thing. Remember, I said to hold on to that thought.
Estim gear is expensive. Most of the manufacturers state it's because of low volume, low demand and a niche market. I tend to disagree a bit; there are more stimmers out there than what the manufacturers think, my opinion. So, in the case of the Hood, Zeus either made a minimal production run to see how it would sell, and it sold out quickly, or they underestimated the size of the estim community, both of course again, my opinion.
Continuing down the information superhighway looking for this I stopped at eBay, my last resort. The man there stated they were on back-order but did provide a date. I told him I would take one and ship it when he gets it.
SHIPPING AND PACKAGING
I need to say that it was July of last year that I ordered this, and in early August it arrived. It was shipped via US Postal Service in a plain white wrapper that did not indicate the contents. I opened it, and my item was wrapped in a second plain white wrapper, nice.
So, if the outside wrapper was accidentally torn, I still had "protection." Once I got the item out, the box that contained it was clearly marked as to its contents.
Actually, the package looked kinda cool. Contained on the inside were an instruction sheet and the Hood sealed in a plastic bag together with a cable sealed in another plastic bag.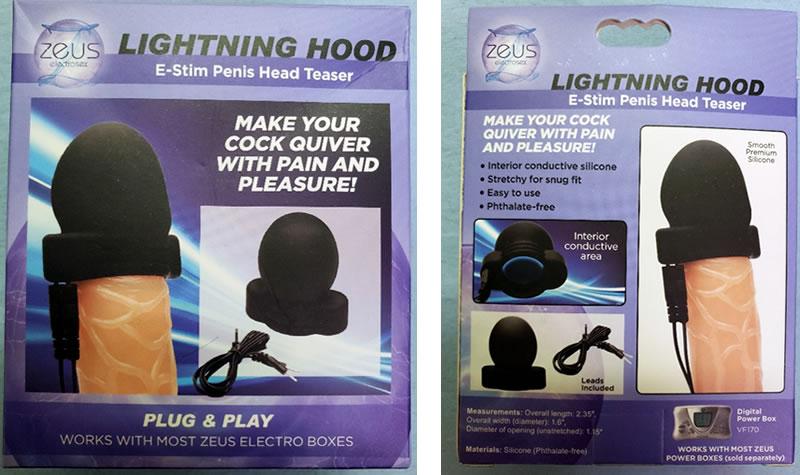 The packaging of the Lightning Hood from Zeus is rather nice
The cable had the 2.5mm plug designed to connect to a Zeus power box and 2mm pin connectors on the other end to connect to the Hood. To use it with a majority of the more popular boxes you need an adapter. This is a Mono cable (2 wire) and not a Stereo (3 wire) so be sure you get the correct adapter. I have several of these so no problem.
This is a bi-polar electrode meaning that it does not require a second contact in order to stimulate the cockhead. The contents of the box arrived in good condition. Moving on.
DESCRIPTION
The website, the box and the instruction say this is made of non-porous and phthalate-free silicone. This material is safe for the body and, as the instructions say, cleans with soap and water.
As far as size goes, Zeus states it is 2.35 inches in length, 1.6 inches in width. The width provided is in the round part where the head goes. Across the bottom at the two semi-round "wings" measuring in at 2.16 inches approximately.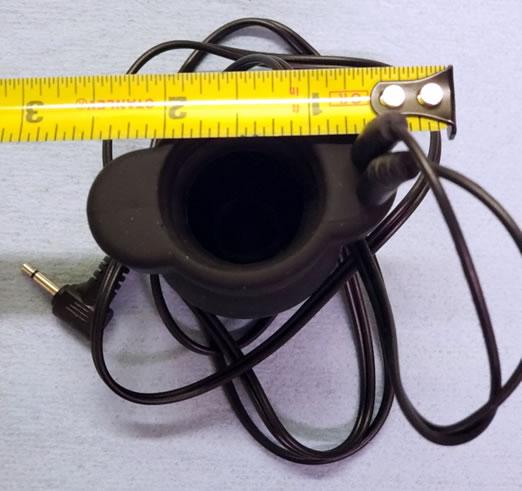 The opening measures about 1.1 inches and the…wait a minute, did I just say 1.1 inch opening?
Finally, a toy made for the normal size man. Don't worry porn stars, it will stretch to about 1.75 inches, but I would not go any further.
Here are where the problems lie. The ribbed portion at the opening will stretch easily enough, but once you get past that it does not stretch so easily. I think it was made like this so that part goes behind the head and would hold it in place.
That's a good thought, but I think the porn stars would have difficulty getting this one on. You would have to be fully erect, use a lot of conductive jell, which you should anyway, and the twist and turn and you might get it on.
If not fully erect, good luck. I am seldom erect when I start a stim session; that's the whole idea. I had trouble getting this on flaccid, but I managed. Continuing on.
Since I am a curious sort, I used an ohm-meter to try to figure out how the current flowed. There seemed to be a bit of conductivity down both sides of the Hood no matter which of the connectors you measure from. I did notice at both sides where those half-circle wings are; there was no connectivity at all.
I surmised that the top connection powered the top half and vice-versa. Then I noticed something else a bit curious.
Down inside at the end was a disc sort of a piece that would compress. There was no connectivity to this, so I am not really sure as to its purpose. I guess it could provide snugness, just not sure. Moving on again.
FUNCTIONAL TEST
I was really looking forward to trying this out. As I stated previously, this was a bit unhandy to get on, but I put a bunch of conductive lube down in there and made it happen.
My ole PES power box was the closest one to me, so I got it out, connected everything turned the dials and was greatly underwhelmed at the sensations.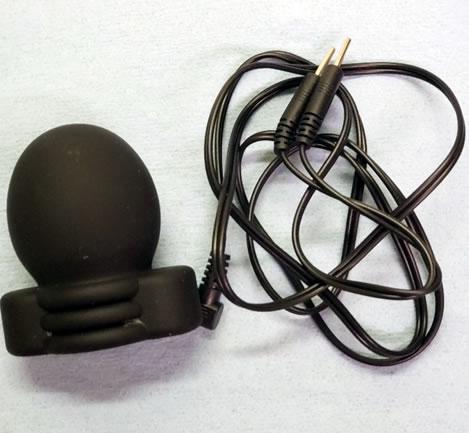 They were stingy and edge, not at all what I hoped for.
I fooled around with this a bit, but it never got any better. I thought eh, $30 so I am not out a lot of money.
In all fairness I really did not give it much of a chance, I think my expectations were a bit too high.
Sometime later I was messing with the MK312BT and got it out again. With just one channel it was much the same as with the PES BUT, when I added a loop at the base and in a tri-phase setup, it sprang to life.
I was not overwhelmed with the sensations, but it felt very nice and got the job done.
Now a few more months pass, and we are on stay at home. I get this Viper thing from ElectraStim and enjoyed it. Soooo I began to think what if I combine the base electrode with a head electrode.
Well, let me tell you! I decided I would keep the Hood and not toss it and that it has its uses after all. It is not my favorite, but it does get used.
Another great guest review by Lawman over at @JoannesReviews, check out his thoughts on the Zeus Lightning Rod Penis Play Electrode.
Click to Tweet
Key Features
Key features:
Bi-polar glans electrode
Made from silicone and conductive silicone
Comes with cable with 2.5mm jack and 2x2mm pins
Requires electrogel or water-based lube
I would recommend it to:
Average sized guys
Anyone looking for an unusual penis play electrode
Anyone looking for a conductive bi-polar silicone electrode
I wouldn't recommend it to:
Anyone with a large glans
Final Thoughts
From my experimentation with this device, I think it needs a second electrode to really have nice sensations and have a hands-free orgasm.
For the cost, it is worth taking a chance on though.
I would love to hear for some of the bigger guys if they have tried this and how they got on with it.
Did they experience the same edgy unpleasant sensations? Was it difficult to get on? Did it stretch enough?
I think overall it's a great idea that possibly could be better with a bit of refinement.
Lawman's rating
It only got an 8 for functionality as it does need a second electrode to really feel nice.
Where Can I Get One From?

Grab one of these from Uberkinky in the UK for just £26.99 or over at the Zeus website if you are US based.
Check them out and don't forget to tell them that Joanne says "Hi".
---

If you enjoyed reading this review then check out my other reviews of Uberkinky products:
Website links:
---
Disclosure
Disclaimer - Lawman bought this product and that in no way affected the outcome of this review. This post contains affiliate links and if you purchase something when you follow one of these links I may receive a small commission at no cost to you. For more information check out my disclosure page.