Delivery and packaging
Discretion is always a concern for me when being sent things through the mail and sexmachines.co.uk understand this and never let me down. Everything that has ever arrived from them has been very discreetly packaged with no indication on the outside of the box as to its kinky contents.
This machine arrived by courier in a plain cardboard box and when you open that you will find a second plain cardboard box inside. So this machine is double boxed in case anything happens in transit and one box 'accidentally' opens.
If you are concerned with ordering online you needn't worry with sexmachines.co.uk, they are definitely on my 'trusted companies' list.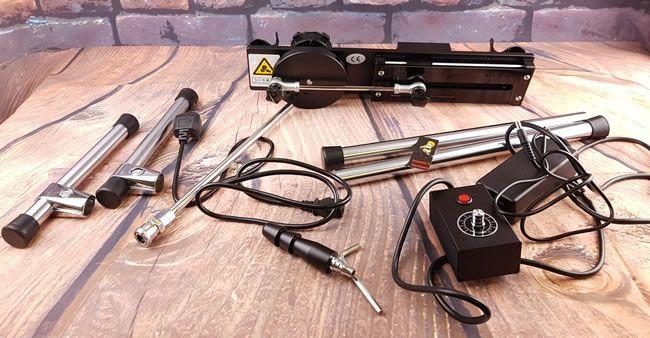 All of the parts of the Yubo F1 fucking machine laid out ready for assembly
This is what you will find in the box:
1 X Main Machine Body
2 X Solid T Shape Rod (Frame Support)
1 X Rod with "Quick Connector"
1 X Power Supplier Set
1 X Speed Controller
1 X Allen Key
1x FREE BONUS Vac-u-lock Adaptor
What is the Yubo F1?
The Yubo F1 is a classic fucking machine that uses a motor to rotate a flywheel, this flywheel is linked to a thrust rod by a link arm. The link arm translates the rotational movement of the flywheel into the linear movement of the thrust rod.
This arrangement is very common on fucking machines as it is very efficient and reliable. The faster the flywheel rotates, the quicker the dildo on the end of the thrust rod moves in and out.

The Yubo F1 fucking machine uses a well proven design
The length of thrust is not adjustable which is a shame.
Assembly
The Yubo F1 comes with instructions in the box that are easy to follow but you probably won't need them as putting it together is simplicity itself.
The only tool required is an Allen key to assemble the legs, and this is supplied.
The first thing that you do is unlock the leg clamps and insert the legs through the clamps before tightening them up again. This mechanism is adjustable and it's fantastic, much better than the knob type of clamps on other machines.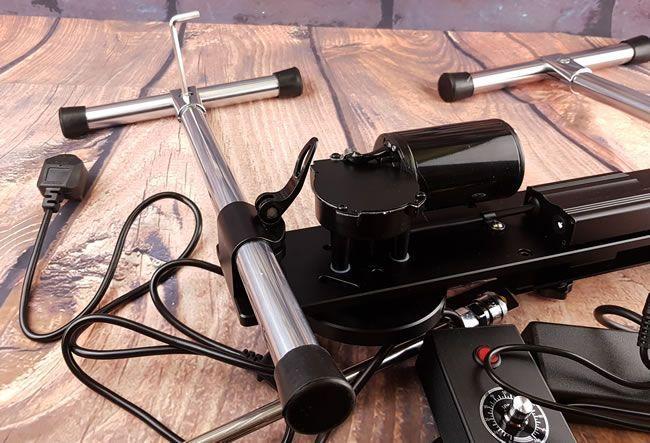 The legs and feet are easy to assemble with just an Allen key
You then fit the feet bars to each leg using the Allen key to tighten up the bolts clamping them in place, make sure that the legs are central before tightening. You can now flip the machine over and stand it on its legs.
The legs are made out of a solid metal bar, and this is fantastic, fucking machines need weight to hold them in place when fucking. The legs and feet of the Yubo F1 have rubber end caps, and their weight helps to keep the machine steady when thrusting. This machine weighs 10.5kg when assembled.
Next, you fit the thrust rod in place and tighten the knob that holds it there. It is then onto the power cable and controller.
Screw in the four pin plug from the controller into the black control box mounted on the body of the fucking machine and then fit the power plug into the other side of the control box.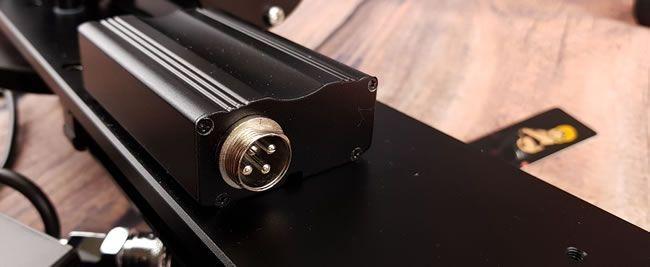 The cable sockets are easy to use and you can't get them wrong
You are then ready to fit a dildo to the Vac-u-lock attachment and then fit the attachment to the thrust rod. Then plug the machine into a power socket, so you are ready to go.
When assembled it measures 50cm/20" x 25cm/10" x 45 cm/18". It can be stored back in its non-descript box after use if you strip it down again or just fold the legs flat, and you can slide it under the bed.
This machine doesn't come with a dildo so you will need to have a Vac-u-lock compatible dildo already or grab one from sexmachines.co.uk as they carry a massive range of fantastic dildos to choose from.
Adjustment
It is easy to set the height of the dildo and the angel of thrust by altering the length of each leg. This allows for lots of different positions from missionary to sitting on the edge of a bed or chair and even doggy style fucking.
The legs are easy to adjust and hold the machine solidly in place when locked. You can set an angle of -35 degrees to +45 degrees which gives you lots of choices when setting it up.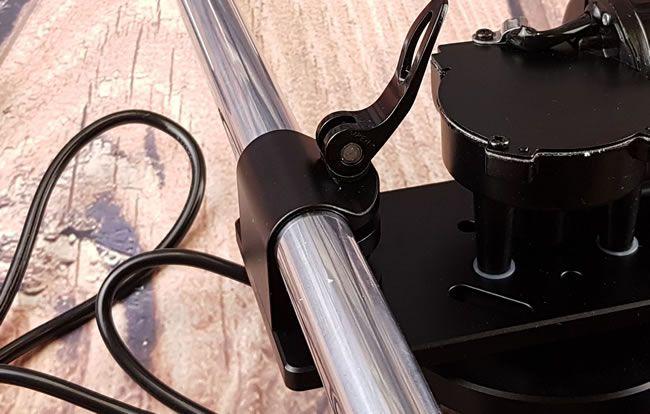 The leg clamps are easy to use and very secure
Another great feature of this machine is that on the end of the thrust rod rather than having a screw thread for a Vac-u-lock adaptor it ends in a female 3/8" quick release airline socket.
This allows for rapid changes in attachments, you get a Vac-u-lock adaptor fitted with the male quick release adaptor and connecting it to the thrust rod is simple.
Just retract the knurled collar on the socket and slide the male plug home. Releasing the knurled collar locks everything in place. This is the first fucking machine that I have used with this type of attachment mechanism, and I really like its elegant simplicity.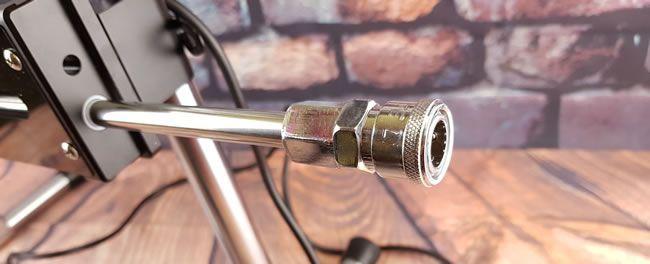 The quick release mechanism on the thrust rod is easy to use
sexmachines.co.uk carry a range of adaptors for the Yubo machines that all have the male plug fitted. You can get a flat plate adaptor that is used to secure suction cup dildos, and you can use cohesive bandages to actually install any regular dildo to this plate, and it is a great option.
You can also get double Vac-u-lock attachments that allow the fitting of two dildos for some kinky double vaginal or double penetration fun. Your imagination, I am sure will enable you to think of the possibilities of using that one.
There is even an extension rod available for the thrust rod and something that looks so much fun for penis owners. You can get a masturbator with a male plug on the end, just lube up and insert your happy chap to have the masturbator glide up and down its length getting you off.
The Yubo quick release system is a great idea, and I love it.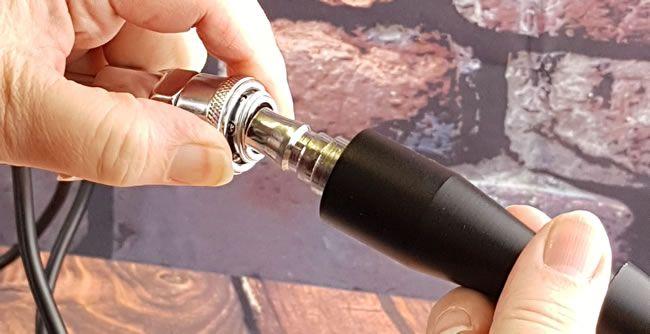 The quick release mechanism allows for quick and easy attachment swaps
Once you have set the angle of thrust, you can then control the speed of thrusting to send you on a mind-blowing journey of hardcore fucking fun.
Safety
Just a quick note on safety. When using a fucking machine always cycle the flywheel by hand to check that you can take the length of thrust that it can give. There is nothing worse than having a dildo trying to punch through your cervix or colon. Trust me I found that out the hard way.
Use a good quality water-based or hybrid lube when using a fucking machine as the human body isn't designed for the high-speed action you can enjoy with one. Trust me, lube up when using a fucking machine and your orifice will thank you as it is getting hammered. On its fastest setting, you could be experiencing up to 4-5 strokes per second.
---
Performance
This is the part of the review that matters, does the Yubo F1 have the performance to match its 'F1' name?
Well firstly let me tell you it is no noisier than any other fucking machine I have used. The faster it thrusts, the noisier it becomes as you would expect, but you will not hear it through a house wall or even downstairs if using it upstairs, you probably wouldn't even hear it through a bedroom door. So if you are worried about noise you needn't be.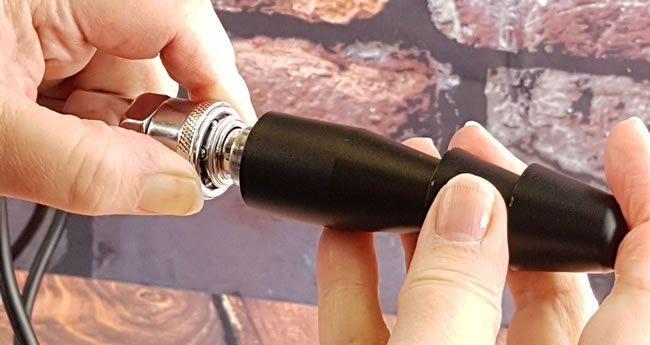 The quick release mechanism is easy to uses
At the lower speeds, it is incredibly discreet.
One problem you get with lighter machines and bigger dildos or anal fun is the dildo stalling and the machine moving back and forth - yes this is a thing and yes it is funny to see, but it isn't funny if all you want is a hard fucking.
The weight of the legs coupled with the rubber feet meant that I could not stall this fucking machine at all, even when clamping down on the dildo mid-orgasm. It just keeps on going, driving through your orgasm and on to the next one. The motor has a rated torque output of 30kgcm / 3Nm which is plenty for vaginal fun and also anal fun with modestly sized dildos.
The controls are responsive, and you also have a button on the hand-held controller that starts and stops the machine.
Once you have set the angle of thrust, you can just place the tip of the dildo in whichever orifice you want to be pleasured and then start the action.
I love using a fucking machine in the missionary position as it allows me to play with my breasts and clitoris, sub'r' on the other hand prefers the doggy position and restraints. Both of us though love to start off slow and then build up the speed as our excitement grows before writhing around as the dildo pounds us sending us over the edge into some incredible orgasms.
Fucking machines never tire, they never complain, and you can trust them not to wipe their cock on your pillow after fucking you (don't ask LOL).

The red button starts and stops the machine and the knob controls the speed
At the lower speeds, it is incredibly discreet.
I was impressed by the torque of the motor on the Yubo F1, it is capable of handling big toys vaginally and will be fine with mid-sized toys anally. You may want a stronger machine though if you enjoy huge anal toys as the friction and forces generated trying to accelerate and decelerate a large toy puts a lot of fo strain on a motor.
I love being pleasured by a fucking machine, and the Yubo F1 has given me some good hard fucking sessions. It is a bit of a dark horse. It looks very simple, but its performance matches more expensive machines. The quick release system is genius, and I love the fact that sexmachines.co.uk have lots of different adaptors for you to choose from.
Joanne has reviewed another cracking fucking machine from @buysexmachines and she really likes the Yubo F1.
Click to Tweet
Key Features
Key features:
Simple to set up and use
Quick release adaptor makes changes effortless
Good torque and speed
Quiet and discreet especially at lower speeds
110V/230V power adaptor
Vac-u-lock adaptor makes dildo changes easy
Solid legs giving great stability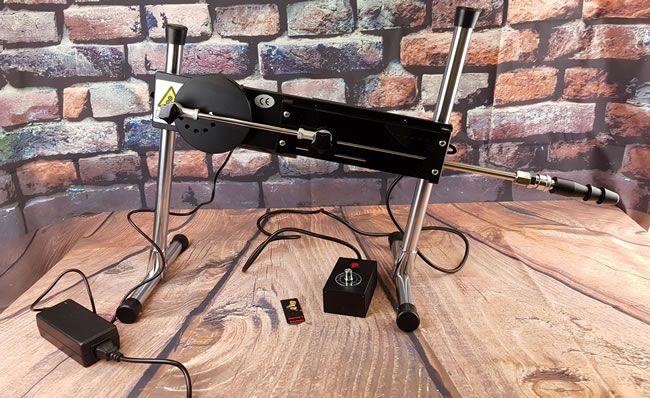 The Yubo F1 is easy to assemble and is now just ready for a dildo to be attached
Final Thoughts
There are three things in particular that I like about the Yubo F1 fucking machine. Firstly I love the quick change system on the end of the thrust rod, if you own multiple ends you can quickly swap them out. If not then the Vac-u-lock system is still there for you.
I love the legs, their weight is perfect for keeping this machine stable even at high speeds and the torque of the motor is perfect for my style of play.
Finally, I love the leg clamps, they are much more secure than the knob types on other machines. All of these things add up to a stable machine with good torque that is easy to adjust and use.
I like the Yubo F1 and think itis the perfect first machine for someone.
I was sent the Yubo F1 by the nice people over at sexmachines.co.uk and I would like to thank them for giving me the opportunity to review it for them.
Joanne's rating
Where Can I Get One From?
Grab one of these fun fucking machines from sexmachines.co.uk for £340 (MSRP £499.00) which is an absolute bargain price for a machine that is as much fun to use as this one.
Sexmachines.co.uk have an amazing selection of fucking and sex machines for sale and all are available for immediate dispatch.
Check them out and don't forget to tell them that Joanne says "Hi".
Disclosure
This review does not contain affiliate links, for more information about affiliate links check out my disclosure page.