Located at Warmoesstraat 141 - 1012 JB Amsterdam, their shop is a fascinating look into just how many condoms there are available, and they carry specialist condoms in every shape and size imaginable. Open seven days a week, and if you visit Amsterdam, it is somewhere that you have to visit.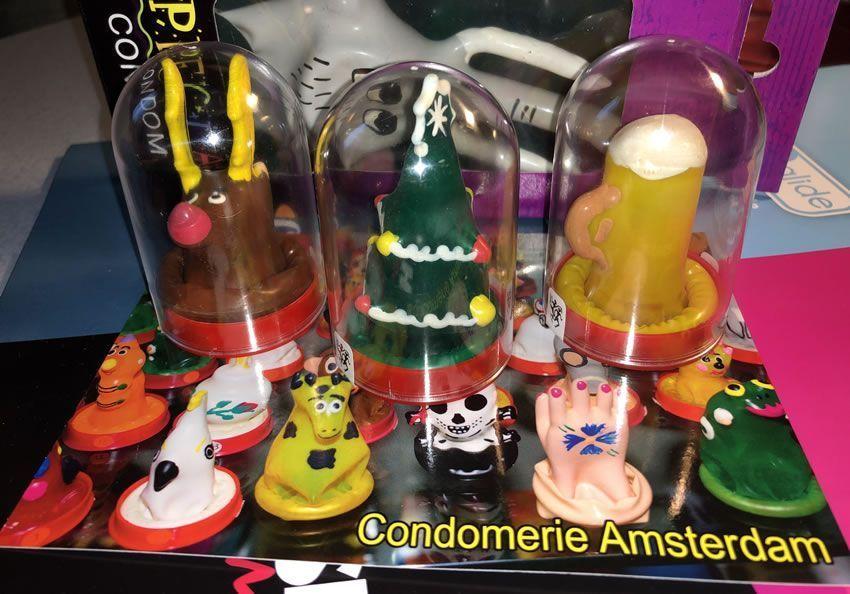 Condomerie gave us some incredible novelty condoms at Erofame
We were blown away by some of the novelty condoms that they brought with them to Erofame, and the sheer variety of them was incredible. They are just so much fun, the Mel Minion one was the favourite of sub'r', and she fell in love with it.
These novelty condoms are a sight to behold and would make the perfect gift for someone you know who has a sense of humour. I will include a few pictures of the ones we saw within this post.
I never knew just how many different brands and sizes of condoms are available and a look around their site will show you just how many that they stock.
I was very interested to read the fantastic condom history articles on the site, and it really is a wealth of condom information.
If you are looking for custom fitting condoms, then they can help you out. They also list their condoms using numerous sizing systems which is fantastic. The best I think is the CAS (Condomerie Amsterdam Standard index) system. This uses two circumference measurements, the length measurement and also quotes the material thickness. Knowing this information means that you can get a condom with a perfect fit.

These novelty condoms look amazing and would make an ideal gift for someone
An excellent fitting condom is essential to make them a more efficient barrier method of birth control, but also it improves the protection from an STD. A loose condom will move while a tight one will be uncomfortable and more prone to splitting.
The way that they market condoms is fantastic, and they ship around the world. One that caught my eye was the Wingman Condom, which is a condom that comes with an applicator to make rolling it over a hard penis an easy and straightforward task. Very clever.
It is great to see them offering other forms of contraception, such as the female condom and sponges. They also carry a vast line of lubricants from all around the globe.
So, if you need lube, condoms or just some plain old advice then check out https://condomerie.com/
Need a custom fit condom or a funny novelty condom? Check out @Condomerie for a truly amazing range and lots of advice too.
Click to Tweet