About Grateful Pain
Grateful Pain was formed in 2010 when the owners got fed up with poorly made, ill-fitting BDSM products that were available on the market at the time.
They set out to create BDSM products that not only performed there role beautifully but looked as good as they felt. After many years of perfecting their trade they now have a delightful range of paddles, restraints, clamps and fetish products.
As a small independent company, they find it hard to compete with big international companies. Where they excel is in their customer service, and the quality of their hand made products.
I love championing small independent companies and Graftefull Pain deserve some exposure as their kit is fantastic. I implore you to check out their site.
Delivery & Packaging
This paddle arrived very quickly, and it was wrapped in buddle wrap. The outer packaging had no indication as to what lay within.
Grateful Pain is looking into different packaging solutions, but this paddle arrived in plain and simple packaging. That means not much wastage or landfill rubbish, and that is a good thing.
Design and Materials
Looking at this paddle that I have called Paul, you might think, it's just another wooden paddle.

This delightful paddle comes from Grateful Pain in the UK
Well, you would be sort of right. It carries features common to lots of other paddles but what sets Paul apart from other paddles is the craftsmanship and the range of materials available.
This one is made out of a solid piece of Birch for the paddles main faces with two pieces of Laburnum bonded to it to create the handle portion of this paddle.
You can also get other woods in your paddles handle, such as:
Alder
Cherry
Olive Ash
Yew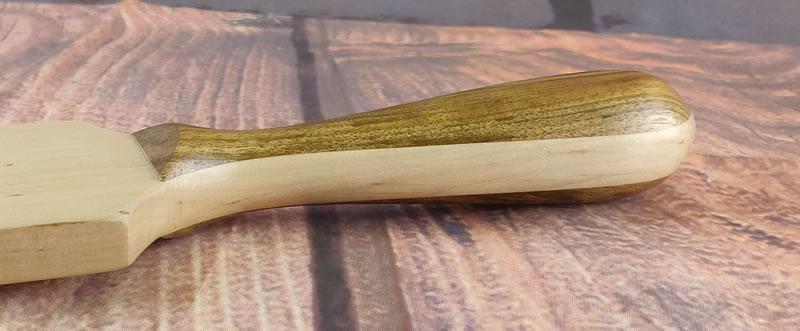 Two different types of wood are laminated to make the handle
Width - 60mm
Length - 440mm
Thickness - 12mm
Handle Length - 130mm
Handle Thickness - 30mm (thickest point )
Colour - Natural
Handle - Your choice
Paddle - AshYou also have two paddle designs to choose from. You can get a rounded end at the bottom of your paddle or a rectangular end like on this one.
This gives you control of just how your paddle will look. I must admit to being somewhat taken with the Birch and Laburnam combination, it looks incredible. The contrasting colours and grains of these two kinds of wood look and feel fabulous.
The handle doesn't have a hole in it for a wrist strap. I like these as I often use the straps to hang up paddles between uses. The end of the handle carries a beautiful Grateful Pain logo on the end, and this finishes the handle nicely.
The whole paddle is sanded smooth and then oiled to give it a high shine.
Cleaning is simple, wipe it down with an anti-bacterial wipe, and you are done. After use, there will be skin cells, sweat and even blood if you like it hardcore and a wipe will remove it all.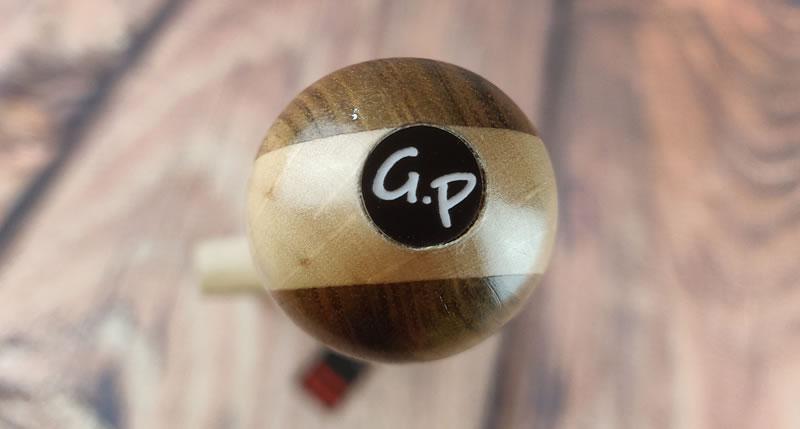 A Grateful Pain logo can be found on the end of the easy to hold handle
Wood is not entirely non-porous, but the treatment it has been given seals it well, and the simple cleaning regime makes it easy to use and care for. Grateful Pain recommends lightly oiling the paddle with butcher's block oil to keep the wood hydrated.
Grateful Pain has a useful wooden toy and spanking paddle cleaning information article that is worth checking out.
Performance and use
Impact play is so much fun, whichever end of the paddle you prefer to be on. Impact play can mean different things to different people. For me, it allows me to Dominate sub'r' and enjoy taking her on a journey into subspace.
I like to use lots of different impact toys as each delivers different sensations and levels of pain/pleasure.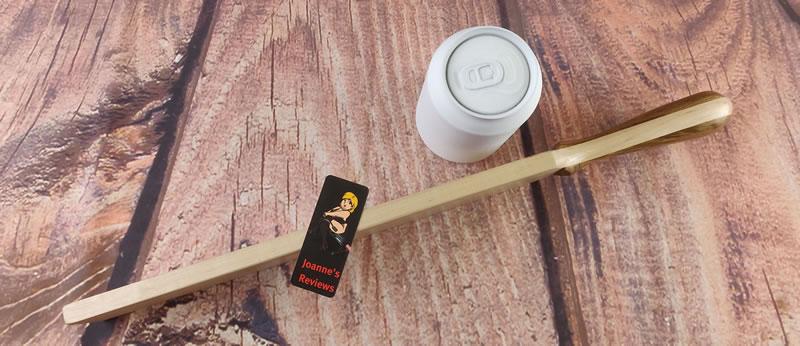 This nicely proportioned paddle is 12mm thick
Wooden paddles are great fun to use. Their robust nature means that all of the energy in a stroke is transferred directly into the point of impact. Longer paddles can allow you to apply the effects to both buttocks at the same time. This is a paddle that will enable you to do that easily, and that makes it very versatile.
It is comfortable to hold and swinging it is easy due to its weight and firm nature.
Impacts from it are moderate to severe, you definitely know you have had a good paddling after a session with Paul the paddle. I love the sounds that it makes when it comes into contact with an upturned bottom.
You definitely don't have to swing it hard or fast to generate some delightful sounds and squeals from your submissive. The firm nature of hardwood is very good at delivering strokes that are felt deep within the tissue.


The paddle has a long thin impact surface that can hit both buttocks at the same time
You will soon find the backside of the receiver glowing a bright red and further administrations feel even more intense when in this state of stimulation.
This is a beginner-friendly paddle that is easy to get to grips with, but one word of caution. It does generate powerful sensations, so be sure to build up the strokes very slowly. Ensure that you rely on a safe word and observation of your submissive to keep them safe.
Wood is such a warm and tactile material, and this paddle feels nice in your hands, and the results speak for themselves when using it.
If you are looking for a Wooden Paddle, then check out the one Joanne reviewed from @GratefulPain.
Click to Tweet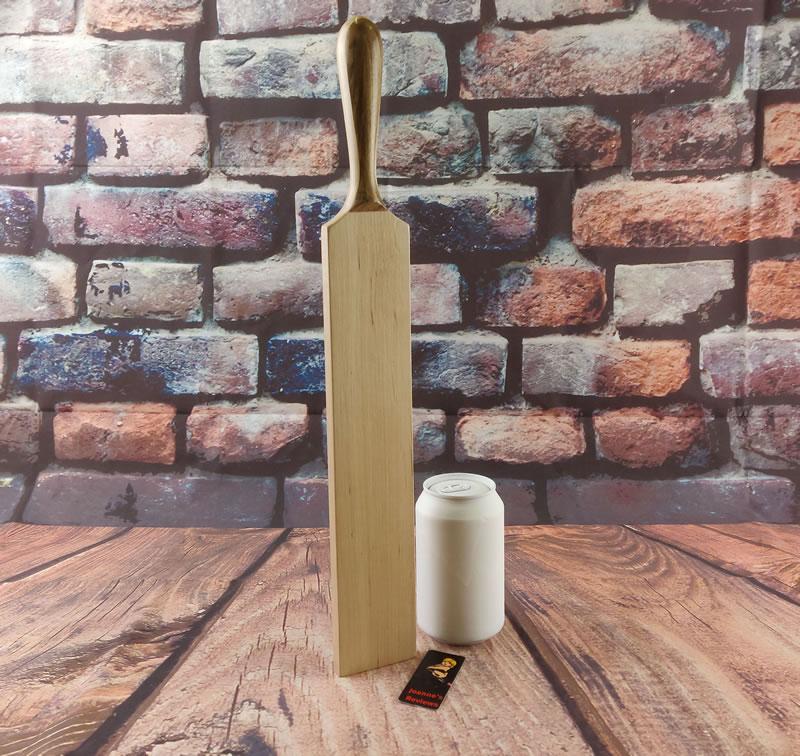 This paddle is very nicely designed and hand made to a high finish
---
Willy Wanka Fucking Machine
I enjoyed reviewing this paddle and here is a short video of me chatting about it. Please note, sicne this was filmed I learned that Grateful Pain do have an option where you can have a hole for a loop through the handle which is great news.
---
Key Features
Key features:
Two different woods with Birch being the base
Luburnam for the handles
Long thin crosee section means you can paddle both ass cheeks
Hand made
I would recommend it to:
Anyone looking for a nice wooden paddle for impact play
Anyone looking for a hand-made piece of equipment
Anyone who appreciates natural materials in their toys
ANyone who enjoy moderate to severe impact play
I wouldn't recommend it to:
Anyone who doesn't like impact play
Anyone looking for a broad paddle (those are available from Grateful pain though)
Final Thoughts
We had a lot of fun getting to grips with this delightful wooden paddle from Grateful Pain.
Please do check out their other wares on their website and if you are looking for a wooden paddle then definitely consider this one.
Grateful Pain produces some really lovely products, all of them hand made by an artisan. I look forward to seeing their business grow and grow.
I was sent this Wooden Paddle by Grateful Pain to review, and I would like to thank them for giving me the opportunity to review it for them.
Joanne's rating
Where Can I Get One From?
Grab one of these fantastic paddles from Grateful Pain for just £22.00 which is a bargain for a hand made paddle liek this one.
Check them out and don't forget to tell them that Joanne says "Hi".
Disclosure
This review does not contain affiliate links, for more information about affiliate links check out my disclosure page.