About HardWood4Fun
Hardwood4Fun are based in Switzerland, a country long renowned for its stunning wooden creations and they continue this tradition in their sex toy business as well as producing other works of art. Petra is in charge of the sex toys and each wooden dildo is produced from natural local woods from sustainable sources. They select their wood based on colouration and aesthetics and each dildo is turned on a wood lathe before being repeatedly sanded and finished.
They only use body safe lacquers which comply with the requirements of § 35 Foodstuffs and Commodities Act (formerly DIN 53160 resistances to saliva and perspiration) which means they are non-porous and safe to use.
Check out their site to see the full range of dildos and butt plugs that they make. There is going to be something for everyone there from lovers of lots of texture to incredibly smooth and streamline ones. If you have any questions then get in touch with Petra as she is lovely, very approachable and knowledgeable about her wares.
Delivery
A slight hick-up with Royal Mail saw the package returned to Hardwood4fun on it first attempt to reach me but that was no fault of Hardwood4fun and I only mention it because they immediately turned it round and sent it out again, this time it reached me in perfect condition and in good time. Great service and the package was very discreet, upon opening it I was blown away by the attention to detail with the inner packaging, they really do go the extra mile.
Features
This stunning dildo is turned on a wood lathe from a piece of hand selected Cherry hardwood and its colourations and grains look amazing. The finish is very smooth indeed and I love the textures and differences in diameter between each section of the toy.
It is approximately 7.25 inches (18.5cm) long and the head is a very nice 5.1 inches (13cm) in circumference dropping to just 4.2 inches (10.7cm) in circumference near the base. This means that you really can feel the ridges very well as they enter and leave your vagina or anus when thrusting the toy in and out.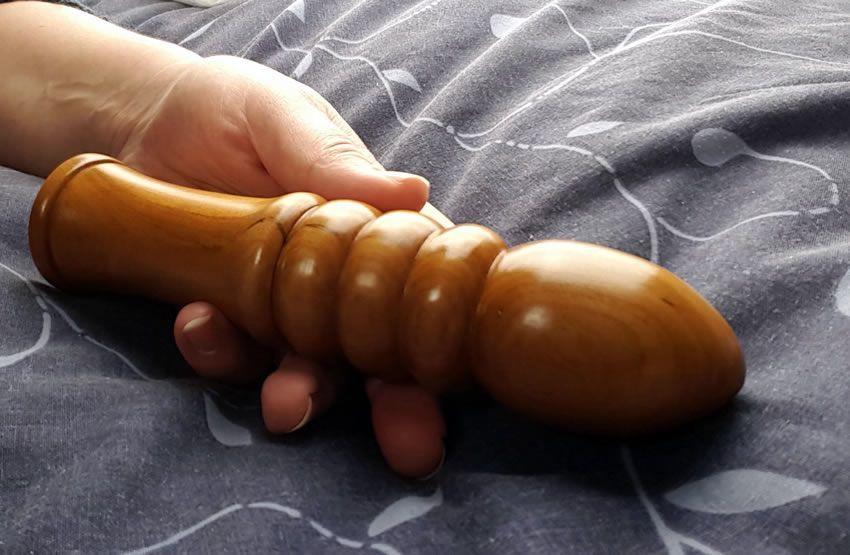 It features a very nicely tapered tip for easy insertion and three ridges around its shaft for added stimulation and they deliver it by the bucket full. It looks stunning but it's only when you start to use it that you realise just how functional and well designed it really is.
Use
I have used this toy numerous times now and love the texture on its shaft. The three ridges feel incredible especially if you angle it so that they rub over your clitoris as you insert it and pull it out again.
The tapered shaft easily parts your labia and allows for almost effortless insertion and it feels great as it slowly dilates you. Once the bulbous head enters you, you really feel each of the ridges doing the same and that is pretty intense. I found that I got a lot of stimulation with the shaft of the dildo and soon set up a steady rhythm with it.
It reminds me of the end of a bed in a hotel I stayed in once many years ago. When I got really horny I actually used the top of one of the bed posts to masturbate with by squatting onto it and it was a lot of fun ('Blush' - I can't believe I am telling you this) but this is much more comfortable to use which makes it so much better.
The wooden dildo is very hard which means that you conform to it and not the other way round. I personally love this feeling and the lacquer used is so smooth that it almost glides in and out so you concentrate on the dilations and contractions in your vagina and this always quickly send me over the edge as I am a self confessed texture queen.
Use a good quality water based lube such as Sliquid Naturals H2O to get the most out of it but don't use any oil or silicone based lubes as a water based lube is much better for the surface treatment on this toy.
Performance
I can get myself off very easily with this toy and so I can highly recommend it. I find that the ridges feel amazing, giving me a lot of pleasure and I absolutely love the rigidity of this wooden sex toy. It is the perfect size for me but you can find lots of different sized toys on the HardWood4Fun website if you would like something smaller or indeed larger.
The smooth finish ensures that it glides smoothly into a wet pussy, or anus depending on how you want to play, although personally I would use a condom for anal play to ensure that you protect the finish but also to allow it to quickly be used vaginally when you are ready to orgasm by simply removing the condom.
Cleaning
Cleaning is very easy, just use baby wipes to remove any heavy soiling before cleaning the dildo with a soft cotton flannel soaked in warm soapy water. Do not use any abrasives or harsh chemicals that can damage the surface finish and dry thoroughly with a soft towel prior to storage. You can polish it with a small amount of almond oil but that's it. This is a really easy toy to take care of. You get full care instructions with your dildo if you purchase one from Hardwood4Fun.
Key Features
Key features:
Natural eco friendly material
Very smooth sealed surface
Highly textured
Hand made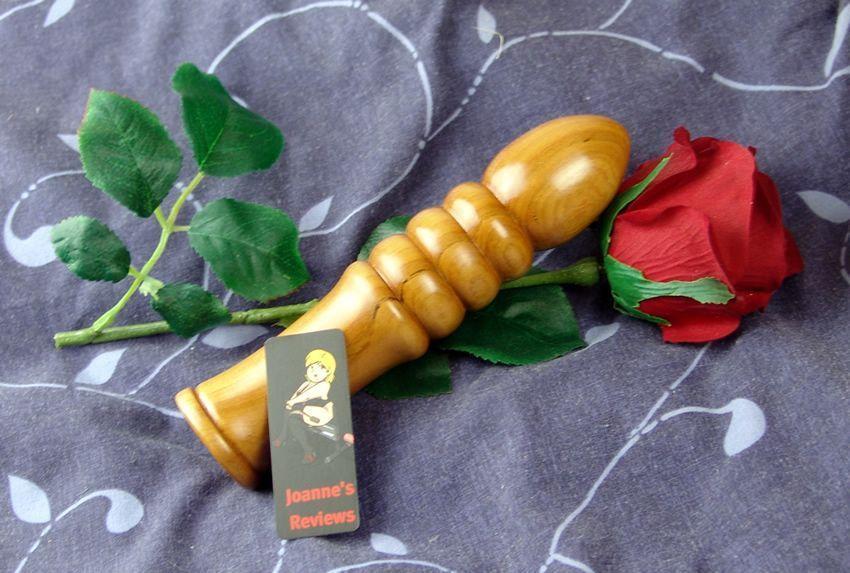 Final Thoughts
If you have never tried a wooden dildo then you should definitely do so. They are lovingly created works of art that are very functional. Hardwood4Fun have an amazing selection to choose from and have excellent customer care and service so what are you waiting for? There is a whole new world of dildo fun waiting to be explored.
Recommendations
I would recommend this sex toy to:
Anyone looking for a unique sex toy that is a work of art.
Anyone looking for lots of texture in their sex toys.
Anyone looking for an eco friendly dildo.
I wouldn't recommend it to anyone who:
Doesn't like lots of texture (check out their other designs for one that could suit you).
Where Can I Get One From?
You can get this Wooden Dildo from HardWood4Fun.ch for approximately £77.55 (prices will vary due to exchange rate fluctuations), these bespoke sex toys are amazing and are truly things of beauty.
I was sent this toy in order to review it and this review doesn't contain any affiliate links.
I would love to hear what you thought of this review. What can I do better, what did you like? Let me know in the comments form below. Thank you for taking the time to read it. Joanne xx