For anyone who isn't aware of just how good clitoral air pulse sex toys can be here is a little bit of information about how they work.
Background
In essence, they oscillate an internal diaphragm to move air backwards and forwards within the toy. The toy has a soft silicone opening, and you place that over your clit with some lube to help it seal properly. Now the amazing thing is these toys aren't designed to vibrate (they do a bit through their operation though), and they don't actually touch the clitoris. The air moving back and forth actually pushes down on the clit and then releases that pressure.
The sensations that they deliver could be described as a tapping sensation, but it is very powerful. Do it under water, and it's an even stronger sensation. This stimulation leads to very quick orgasms in most vagina owners which is why this style of sex toy has become so popular.
Indeed my fastest orgasm with the Womanizer Liberty was 27 seconds from cold, and that took my breath away I can assure you.
That's the background covered, now onto the specifics of the Womanizer Liberty. This is a sex toy designed with performance and portability in mind. It is the perfect holiday companion as well as being a great toy to just slip into your handbag. It makes cheeky opportune orgasms a real thing, and it's surprising how fast women can orgasm using this style of toy.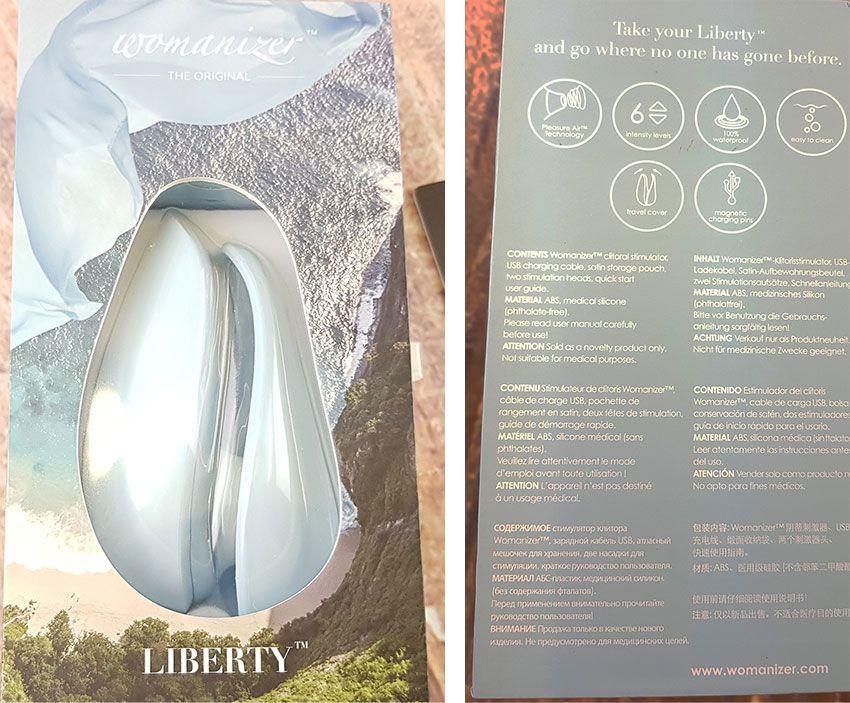 I love the packaging of the Womanizer Liberty
Packaging
The Womanizer Liberty comes in a very nicely designed retail box with a pullout tray. The Liberty is held securely inside the tray together with a magnetic USB charging lead, instructions and a second stimulation nozzle with a larger hole running through it to cater for different body shapes.
I love it when I open up a new sex toys box, and I find a storage bag included with the toy. I get very disappointed when expensive sex toys don't come with one, and I am happy to say that you do get a very nice one included with the Liberty. It will help to keep it discreet in your luggage if travelling with it as well as keeping dust and lint off the silicone stimulation head.
The fact that the Liberty comes with a second larger stimulation head means that Womanizer has done their homework. They realise that we aren't all built the same way and it's nice to see the two size options. After all, no two clits are precisely the same (trust me I have seen a few).
I love the fact that you get a storage bag and a different size of nozzle
These heads are made out of body-safe hypoallergenic silicone, they are both latex and phthalate free making them non-porous and very easy to clean.
The silicone nozzles allow you to place the Womanizer Liberty over your clitoris so that your clit nestles within the opening. The silicone ring with the aid of some good water based lube forms an excellent seal around the clitoris. This allows the air pulse technology to work its magic on you.
The Womanizer Liberty is 100% waterproof, and the sensations if used underwater are much more intense. They are magnified to toe-curling levels of performance and are genuinely incredible. I highly recommend some bathtime "me time" with the Liberty - you can thank me later for that bit of advice.
The Womanizer Liberty is an ideal travelling companion due to its small form. It features a cover that is held in place magnetically. Designed to both protect the stimulation head and also to keep things clean between uses. The other good thing about it is that it completely disguises what the Liberty is, so anyone checking through your luggage will have no idea what it is.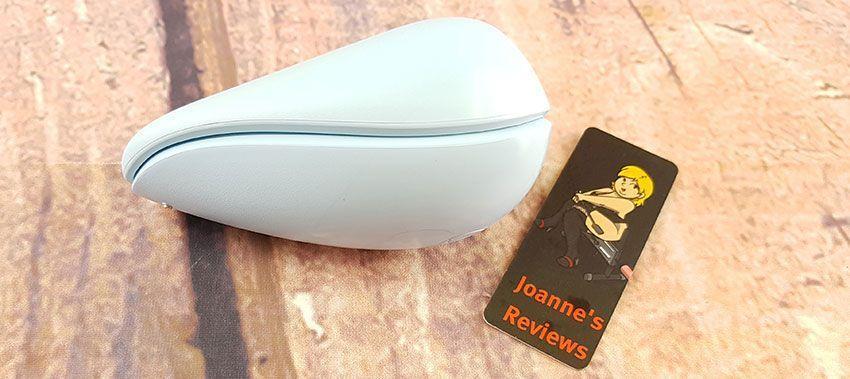 The Womanizer Liberty has an almost organic look when its cover is fitted
One of the only gripes that I have about the Womanizer Liberty is that the magnets that hold this cover in place are not that strong and if knocked the cover will fall off. They really aren't up to the job so you will need to keep it in its storage bag or it will come apart when travelling. I actually use an elastic band around mine to keep the cover in place. Maybe the one I am reviewing is a one-off, but that may not be the case.
The body and cover are made out of pale blue ABS plastic, which is lightly textured in places to aid grip. The wide shape of the body makes it very easy to hold in place against your clitoris. However moving it around when in use can be a little fiddly.
I have the Powder Blue model but it is also available in these colour options, Pink Rose, Red Wine and Lilac.
Due to the flat nature of the body and the ABS construction, if you get lube on your fingers, it can get a little slippery.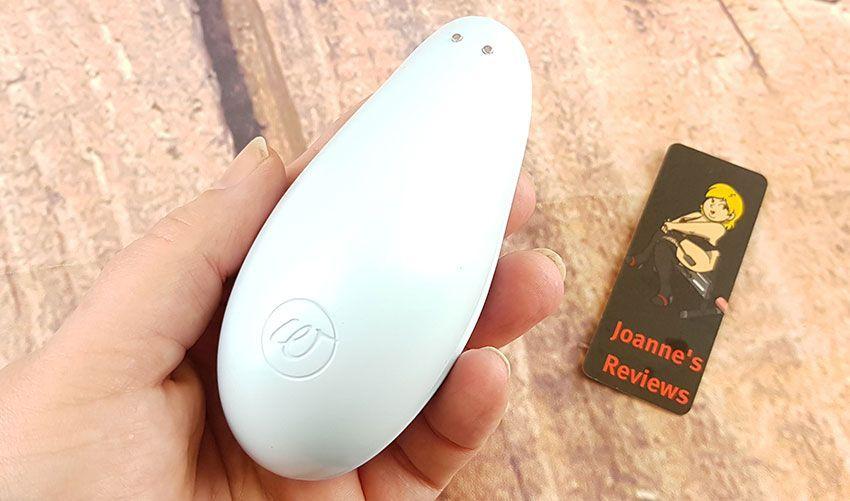 The Womanizer Liberty is pretty wide and flat but comfortable to hold in use
I had no problem with the magnetic charging cable, the magnets in it are very strong and they hold the cable securely in place while charging. You can charge it with or without the cover fitted.
This magnetic USB charging cable snaps onto two metal studs on the back of the Liberty. When charging and when switched on there is a light on the inside of the head (when you look inside the stimulation head). While this is helpful when charging, I can't see the use for it when playing.
A full charge provides around two hours of playtime depending on what settings you use on the Liberty.
The charging cable connects with magnets to the Womanizer Liberty
Performance
It is very quiet on its lower power levels, but the noise ramps up a bit when you climb through the power settings. It is not whisper quiet when on full power but it is still a discreet sex toy.
With six power levels to play with, it has a setting for everyone. I never need to go over the third setting as the higher ones are just too much for my foof.
The lowest setting is very nice and great for warming up with, it is also good for getting the position right over your clitoris. The sensations get much more intense with each press of the + button. The third setting has my toes curling and me clawing at the sheets to keep me anchored down. The higher settings are just mind blowing but way too powerful for me to enjoy.
The first time that you use the Womanizer Liberty, you will surprise yourself with just how quickly you can reach an orgasm. This is most definitely not a sex toy for lazy, long edging sessions, this is a toy for someone who wants to cum and wants to cum now!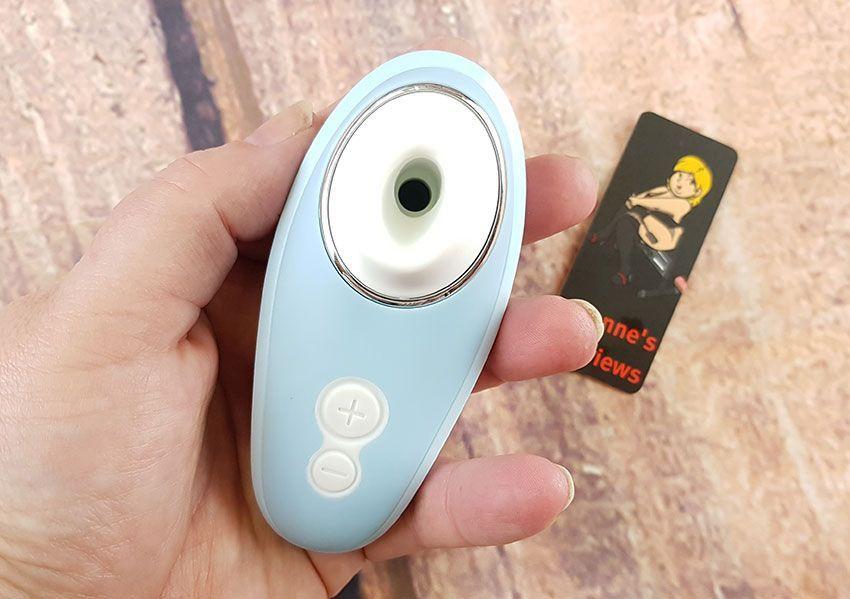 I found that the nozzle fitted was perfect for my body form and sealed well around my clitoris
I can cum hard in under 30 seconds from cold with this type of sex toy, and it's refreshing to be able to give myself quickies whenever I want to.
If I use the lowest setting, I can drag things out a little, but the temptation when you use it is just to keep climbing the power ladder to orgasmville. When you do cum, it is hard, and you are left thinking "Damn that was one hell of a ride".
I love the fact that not only is the silicone nozzle removable for easy cleaning but it also comes with a spare replacement. The silicone blend used in the cover is reasonably stiff, but still soft enough to be comfortable in use. Lube definitely helps it seal around your clitoris.
Cleaning is simple, just clean the silicone head with warm soapy water followed by an anti-bacterial sex toy cleaner.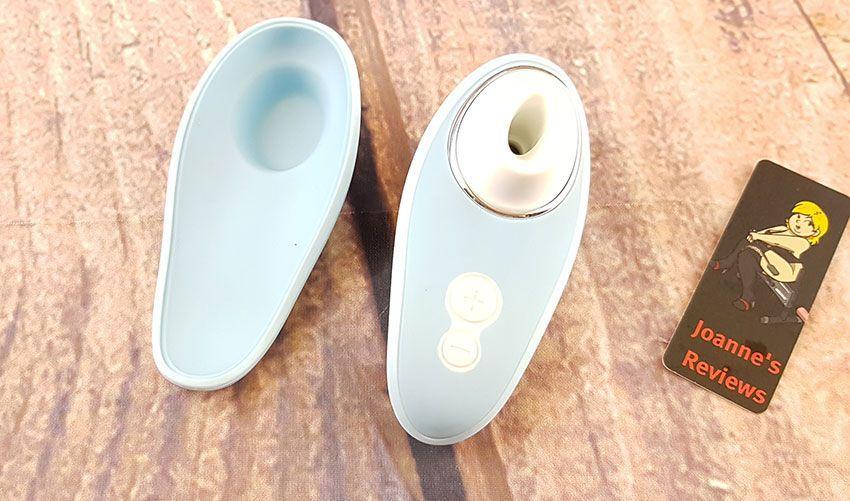 The controls and nozzle of the Womanizer Liberty are well placed and easy to use
The size difference between the buttons makes their use easy when playing. You do need to feel for them, but once you get the hang of it, you can change the power settings quickly and easily. It is switched on and off by holding the plus button for a few seconds.
When you switch it on you can hear it purr like a little kitten stood in front of a bowl of fresh milk.
I had so much fun reviewing this clitoral stmulating sex toy and it reliably gets me off everytime. I just have to explore more of the Womanizer range now as I think I am hooked.
When you just want and orgasm and you want it now, you can't beat a @womanizerglobal Liberty Rechargeable Clitoral Stimulator from @Lovehoney.
Click to Tweet
The Womanizer Liberty is small but very functional
Key features:
Air pulse technology stimulates the clitoris without actually touching it
Six intensity levels
Waterproof
Two different sizes of stimulator head
USB chargning
Cover makes it very discreet if anyone sees it
Drawstring storage bag included
Final Thoughts
This is an excellent sex toy, and I can highly recommend it for travel or just to have in your bedside drawer for a quickie when the mood strikes.
The sensations that it delivers are incredible, and if you have never experienced pulsed air tech sex toys, you are in for a real treat with the Womanizer Liberty.
It is great for those quickie orgasms where you just want to get off quickly and reliably. It also comes into its own as a traveling companion.
Joanne's rating
Where Can I Get One From?
This Womanizer Liberty is from Lovehoney in the UK. You can grab one of these fantastic little sex toys for just £89.99, yes it is expensive but it has the performance to match its price.
In the EU you can get a Womanizer Liberty is from Lovehoney in the EU.
In the US you can get a Womanizer Liberty is from Lovehoney in the US.
Check them out and don't forget to tell them that Joanne says "Hi".
Disclosure
Disclaimer - I was sent the Womanizer Liberty Rechargeable Travel Clitoral Stimulator to review free of charge and this has in no way affected the outcome of this review. This post contains affiliate links and if you purchase something when you follow one of these links I may receive a small commission at no cost to you. For more information check out my disclosure page.