Delivery & Packaging
I am delighted to confirm that Fran sends out her wares in very discreet packaging. This Wölfing arrived quickly and very discreetly.
That package carried no indication as to its kinky contents, which is good news for anyone living with parents or nosey flatmates.

Unboxing Wölfing was an absolute delight.
Inside the box, the dildo was nestled on a bed of packing peanuts. When I say nestled, I mean totally immersed; it was exceptionally well packaged. The Wölfing was sealed in an environmentally friendly biodegradable bag.
I was delighted to find care instructions (amazing design Fran) together with some lovely stickers, minis and some sweets. My submissive, the lovely sub'r', told me she would take care of the stickers, mini's and sweets for me, LOL.
After taking some unboxing pics, she was a woman of her word and definitely enjoyed them. The minis are adorning her desk, but there's no sign of the sweets anymore.
Wölfing is beautiful and looks fantastic, but before I tell you more about it, let me first tell you all about Fran and Tentickle Toys.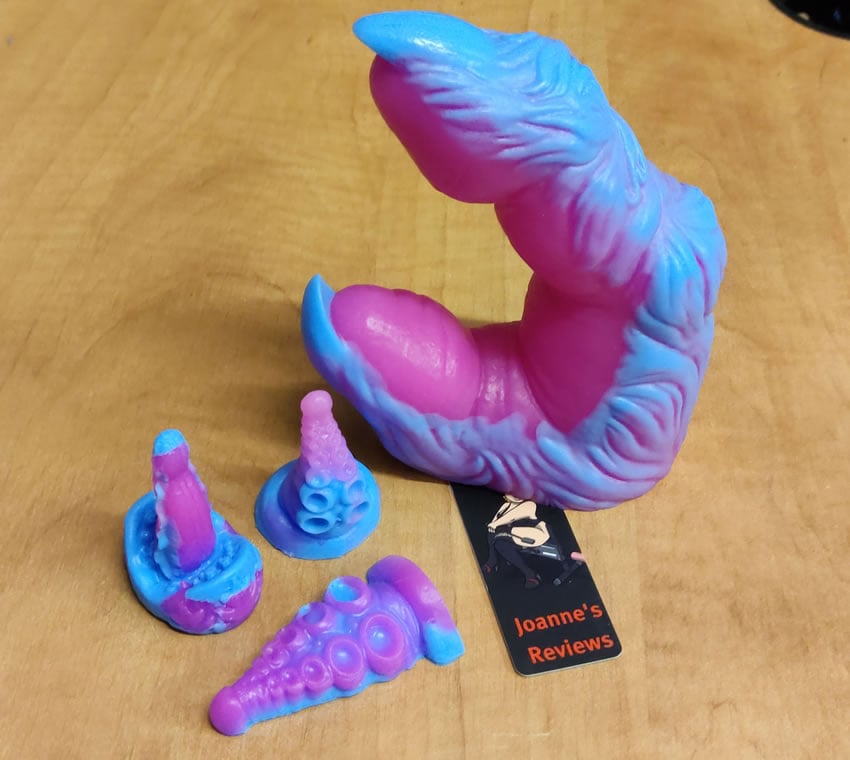 Wölfing looks fabulous, as do the minis that I received with it.
Tentickle Toys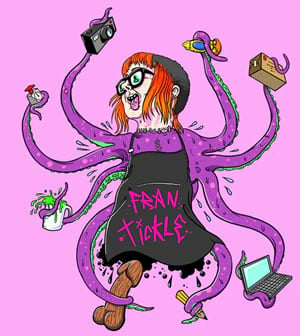 Fran owns and runs Tentickle Toys, and from what I can see, she does an amazing job doing so. With a background of 10+ years in film and theatre, doing special effects, she has brought those skill sets to her new passion - Tentickle Toys.
During the Covid pandemic, Fran turned her skills to designing her creations after the enormous impact felt within her and other industries.
Platinum cure silicone is used for prosthetics as it is body-safe and soft, and Fran uses those attributes to her advantage in her designs. She has created some incredible fantasy dildos in a fabulous range of sizes and colours.
I can highly recommend her products, and her site is definitely worth checking out - https://tentickletoys.com
Like me, she trades at the Birmingham Bizarre Bazaar, so if you are local, drop in and check out her range of products.
Materials and Design
Right, back to the job in hand (literally). Wölfing is a fantasy silicone dildo of a werewolf's fingers and claws.
It features two digits and has the most amazing textures and bulges along its length that tease and please.
Made from platinum cure silicone, it will last a long time if cared for well. Fran sells very reasonably priced branded draw-string storage bags in two sizes that look fantastic. As silicone can be a bit of a dust and lint magnet, I recommend getting one for your Wölfing to keep it clean and out of sight.
There is a fantastic range of options when you order a Wölfing. There are three different sizes (Mini, Small and Medium) together with three softness ratings (Soft, Medium and Hard), and these have their shore numbers shown which is excellent.


Wölfing is available in three sizes and even the Mini is a filling prospect.
You also have four colour styles to choose from and up to three colours in each. It is truly staggering how you can customise every detail about your dildo to make it truly unique and one of a kind.
Wölfing is also very reasonably priced for a dildo with this number of options with the mini being just £49, the small is £64, and the medium is £78.
I opted for the small, and I can tell you it contains a lot of silicone, making these prices even better.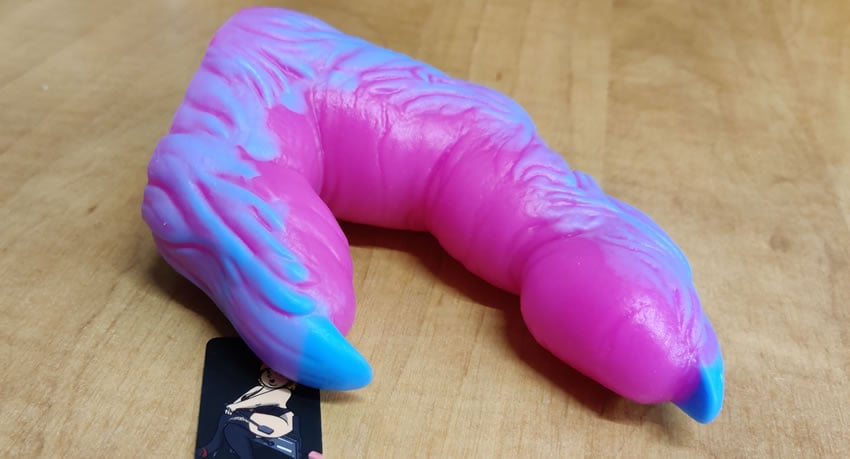 Fran chose some fabulous colours for this pour.
Now Fran's site has lots of clear illustrations showing colour options and, more importantly, the sizes. Wölfing is a big boy. I received the Small, and let's just say, he is very filling.
Fran also does an excellent job of highlighting the relevant measurements for each size so you can decide which would suit you best.
The design of Wölfing is really nice. The claws, which I admit look intimidating, actually feel great in use. The hair textures give lots of pleasant sensations and are an excellent lube trap.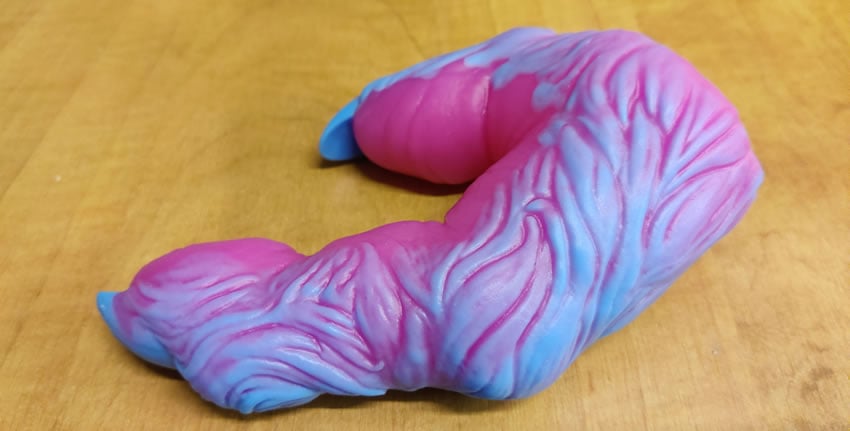 The hair details look really good and add some nice surface textures.
I love the back story on Tenticlke Toys:
"Midnight strikes. The moon is full and bright in the sky. You hear dead leaves crunching underfoot nearby, and the sound of low growling breathing approaches. Under the soft glow of moonlight, you can make out a large animal silhouette, sniffing the air and moving carefully towards its prey: you.

You freeze in fear and fascination as the looming canine creature approaches, now standing tall above you on its hind legs. You close your eyes as you feel the breathing snout brush your forehead, your ear, your neck. A furry clawed hand traces its way delicately down your arm, before closing firmly around your wrist. As you are led into the forest behind, you feel oddly safe in the presence of such a powerful and frightening beast..."

Fran - Tentickle Toys
The medium blend of silicone used in this one allows the claws to flex well and is not hard at all. The fingers have the perfect level of "squish". I like that as I love clamping down on a toy as I orgasm, so I prefer firmer toys due to this fact, and the medium blend feels excellent.
The fingers are exquisitely detailed, providing a lot of sensations when you use them. The changes in girth feel pretty damn fantastic too.

The firmness is perfect for me but it still retains lots of flexibility.
Post-play cleanup is easy with silicone dildos; wash in warm soapy water, cleaning all the nooks and crannies. Wölfing is not the worst dildo I have for small details but make sure you clean it well. Ensure it is thoroughly dry before putting it away, ready for your next session with it.
I told Fran that I love bright colours on sex toys, but I left the colour choices up to her, and she chose very well.
This Wölfing looks fantastic, with the pink and blue colours working well together. Each Wölfing is a handmade work of art; Fran certainly knows her stuff.
I could look at it all day, but there are definitely more fun things to do with it, and I will get onto how it feels next.
Performance
Well, what can I say except that Wölfing satisfied my animal needs.
The small is very well proportioned, and a good quality water-based lube comes in handy. The textures on the fingers designed to look like hair do an excellent job of holding lube, so it gets to where you need it.
While intimidating, the claws feel incredible when dragged over my clitoris. The one on the fingertip brushing against my cervix creates an intense sensation that I love.

The small was perfectly sized for me to enjoy some great thrusting fun.
Thrusting is where it's at with Wölfing, though. The changes in girth as you take more and more of the finger really do feel great.
As you take it all, the thumb comes into contact with and caresses my clitoris, delivering even more incredible sensations. I really enjoy inserting it and grinding the thumb against my clit as the fingertip teases my cervix. The fingertip is also perfectly positioned to stimulate my g-spot while thrusting.
I enjoy playing with Wölfing, both on my own and with my partner. Having it used on me by someone else feels incredible, especially with some role play thrown in for good measure.
Check out Joanne's review of Wölfing, a silicone fantasy dildo from @tentickletoys in the UK.
Click to Tweet
Key Features
Key features:
Made from platinum cure body safe silicone.
Three sizes available.
Three firmness ratings available.
Four colour style options and a myriad of colours to choose from in each.
Lots of terxtures and a really nice look.
Fantasy dildo with a were-wolf theme.
I would recommend it to:
Anyone looking for a fantasy dildo.
Anyone looking for a dildo that is highly customisable.
Anyone who enjoys body-safe sex toys.
Anyone into fantasy dildos.
Anyone who likes lots of texture and changes in girth.
I wouldn't recommend it to:
Anyone not into fantasy dildos.
Anyone who doesn't like textures on their sex toys.

Wölfing is a fantasy silicone dildo that I can highly recommend to anyone.
Final Thoughts
Wölfing is a fantasy dildo with so much going for it. The reasonable pricing and fantastic range of options make it an obvious choice for anyone looking for a fantasy silicone dildo.
Being able to control both the firmness and colours of your toy makes it an exciting prospect to order and wait for its delivery. The attention to detail with the packaging and whole ordering process needs mentioning again. I was very impressed.
But, it is its performance where it counts (between my legs, to be precise), and Wölfing doesn't disappoint in any way at all. I love the textures, the firmness and its features.
Wölfing is definitely a keeper, and I don't think I will be waiting for the next full moon to be ravaged by him again.
Give in to your primal instincts and check Wölfing out at Tenticlke Toys.
I was sent Wölfing by Tentickle Toys and I would like to thank them for giving me the opportunity to review it for them.
Joanne's rating
Where Can I Get One From?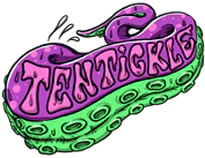 Grab one of these fantastic fantasy silicone dildos from Tentickle Toys with prices starting at just £49.
Check them out and grab one for yourself.
Check them out and don't forget to tell Fran that Joanne says "Hi".
Disclosure
This review does not contain affiliate links, for more information about affiliate links check out my disclosure page.