Delivery and packaging
Once again this package from E-Stim systems arrived incredibly quickly (next day, which is impressive service while we are in a lockdown).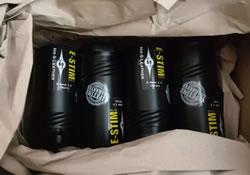 The postie had no idea what manner of kink he was delivering to me as the boxes that E-Stim Systems use are plain and carry no indication at all on the outside about the delights that lay within.
I am happy to report that they take customer privacy and discretion very seriously, and I am always delighted with the delivery service from them.
Upon opening up the box, I was thrilled to find both sizes of E-WMCBP 2.0 together with both of their new E-Bead 2.0 electrodes which I have reviewed separately.
All of them were nestled amongst plenty of brown packaging paper to keep them safe on their way to me together with a lovely note from Caz at E-Stim Systems (thanks Caz xx).
Like most electrodes from E-Stim Systems, the E-WMCBP 2.0 comes in one of their signature tool storage cases, and these are fantastic. They are a great way to store your electrode safely out of sight, and they look so good. A change to the norm with these electrodes is the new label on the cases.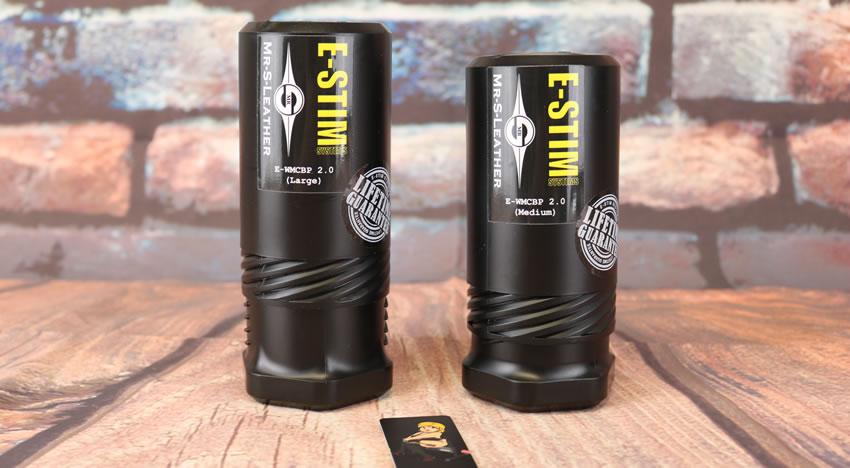 I love the E-Stim Systems Electrode storage cases they look good and are so functional
This new label proudly announces that this electrode is a collaboration between E-Stim Systems and Mr S Leather in the US, and I love the design of it.
Inside these cases you will find the electrode sealed in heat-shrink wrapping, so you know it hasn't been messed with since being manufactured at the E-Stim Systems HQ in Watford.
You also get a set of instructions that covers safety, use and cleaning of these electrodes.

The Electrodes come sealed and with a set of handy instructions
Design and materials
Firstly, let me tell you about the name E-WMCBP 2.0, it is an acronym for Electrified Worlds Most Comfortable Butt Plug 2. That is quite a mouthful I know, and I am happy to tell you it fills any hole it is placed into very well indeed.
It's a collaboration between E-Stim Systems and Mr S Leather in the US. Mr S Leather designed the original WMCBP as a butt plug with a flexible neck, and they asked the kinky minds over at E-Stim Systems to do their magic by electrifying it.
After tweaking and mulling over the design, E-Stim Systems came up with the E-WMCBP 2.0, they turned the same profile and shape of the original into a fantastic butt plug with a thin solid insulation section between the two electrode faces.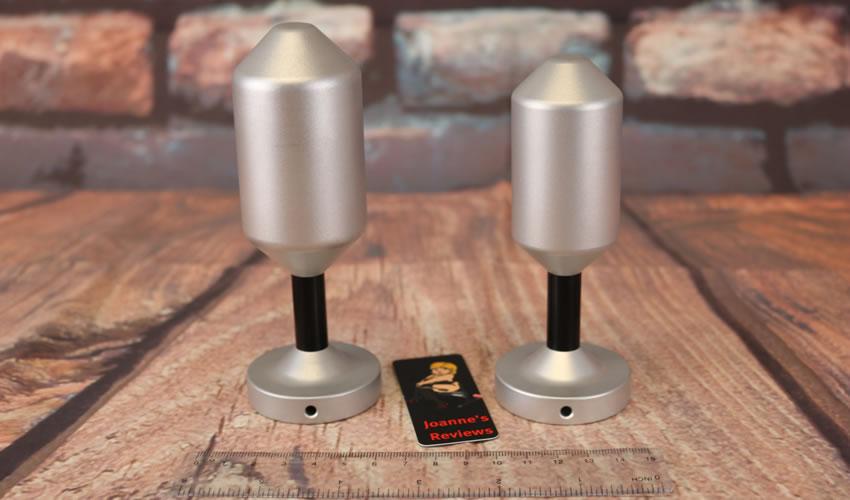 The E-WMCBP 2.0 not only looks good, but it's also a cracking hole filler too
This design means it can be electrified and also stripped down using an Allen Key Wrench to enable a deep clean, while still staying true to the original shape.
Made from aircraft-grade aluminium (aluminum for my friends over the pond) it comes in two sizes and has an exquisite satin finish that looks fantastic.
E-Stim systems are so confident in their manufacturing processes, quality control and the design that this electrode comes with a lifetime guarantee. This is fantastic, and knowing how they make their electrodes, I can see why. They have complete control over the quality of their products as they make them on site in Watford.
This design is an end to end bipolar electrode, which is my favourite configuration as it provides lots of lovely sensations.
The E-WMCBP 2.0 is available in two sizes, and these are the Medium and Large. Here are the specifications for each:
| * | Overall Length: | Circumference: | Diameter: | Weight: | Price: |
| --- | --- | --- | --- | --- | --- |
| MEDIUM | 4.9" / 12.6cm | 4.1" / 10.9cm | 1.5" / 3.8cm | 11oz / 0.275kg | £104.95 / $109.95 |
| LARGE | 5.4" / 13.9cm | 4.6" / 11.8cm | 1.7" / 4.4cm | 14oz /0.38kg | £114.95 / $119.95 |
The relatively thin base has a gentle slope to it. One socket is drilled into the side of the base as there is nowhere else to put it given its slim profile, but this actually works well with this design.
The socket for the end electrode is in the centre of the base, and I recommend using a low profile plug for comfort on this electrode, but you can use any cable with 4mm banana plugs on it.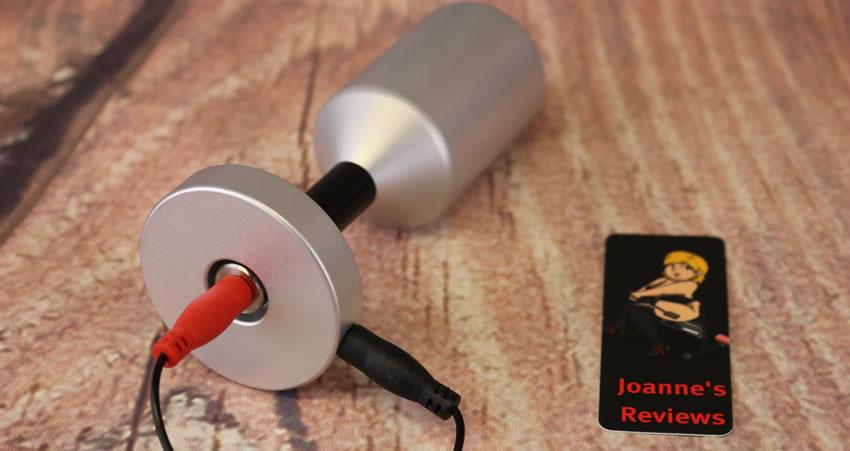 The E-WMCBP 2.0 accepts a cable with two 4mm banana plugs on the end
The tip has a flat centre section and a deeply chamfered edge, and this makes it fun to insert. You build up a bit of pressure until you start to dilate and then the chamfered edge helps you to open to accommodate it. The thin insulator section allows you to close around it, holding the electrode securely in place.
In use it is comfortable but make sure you use lots of water-based electrogel or lube, never use silicone or oil-based lubes as they are both insulators.
Cleaning is easy, wipe it down and clean with warm soapy water or an anti-bacterial sex toy cleaner, but don't immerse it in water. You can strip it down for a deep clean, and you will need to do just that if it has been used anally and you want to switch to vaginal use. Make sure it is thoroughly dry before storing it away in its case again and never use harsh chemicals or abrasives to clean it as they may damage the surface.
But enough about what it looks like and what it's made of, this is a bipolar electrode, not just another butt plug. So, how does it perform as an electrode?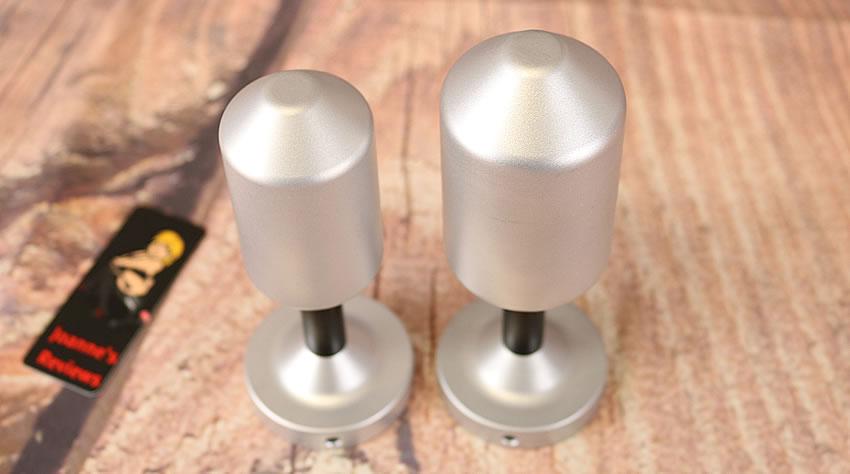 The E-WMCBP 2.0 is a lot of fun to insert with this chamfered top
Performance
I used the E-WMCBP 2.0 vaginally, and my lovely submissive, sub'r' was on hand to take one for the team anally - good girl.
My thoughts on the E-WMCBP 2.0
I love metal electrodes; there's something so tantalising about lubing up a large chunk of metal and pushing it into my pussy. The cold hard nature of the electrode feels so good as I dilate to take it. I love how they go in cold and come out nice and warm after an excellent stimming session.
The design of this electrode is rather lovely, the blunt nose means I have to build up a bit of pressure before it pushes inside stretching me wide open. Once inside the base rests nicely against my labia, covering my clit.
I always use lots of electrogel when I stim with internal electrodes. It helps to insert them, and it always means a good contact externally with the base.
Once fully home I connected the cable to my trusty E-Stim Systems 2B and switched it on, selecting Pulse. Turning up the dial, I managed to almost max it out on low power (battery) with the large one due to the very large surface area on this electrode.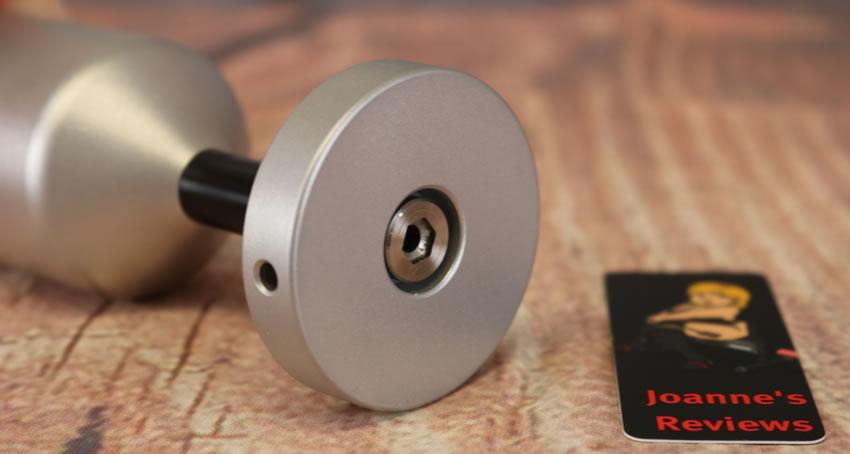 The E-WMCBP 2.0 can be stripped down for a deep clean easily with an Allen Key
In use, it delivers some genuinely delicious sensations vaginally, with soft tingles moving up through light clamping and then onto almost cramps if I turn it up high.
I prefer my pleasure over pain and laid back just relished the feeling of being so full together with the delightful pulsing sensations in time with the current flow from the 2B.
The shape of the E-WMCBP 2.0 meant that I could enjoy light ghost fucking sensations which felt nice. I can enjoy long slow stimming sessions as well as quickies with this electrode and have experienced many fantastic orgasms with it. It is an electrode that is lots of fun to play with vaginally.
But what is it like anally, for that I will hand you over to sub'r' for that information.
Anal pleasure
When I found out I would be the guinea pig for Joanne with these electrodes anally, I was delighted as I love a bit of bum fun, especially in the e-stim ghost fucking department.
Both are fun to insert, but I did have to take my time with the large one. I did get there in the end though using lots of lube.
It's an excellent shape for a butt plug; I prefer my butt plugs to have a thin base rather than a round one though (personal preference) as they tend to fit between my bum cheeks better for long term use. I found this one became uncomfortable after a couple of hours of wearing (yes, I enjoy being plugged all day LOL). Short term use was no problem at all.
I do like this as a butt plug but connecting it to a control box takes the fun to a whole (or should that be "hole") new level. Just like with the E-Bead 2.0 I enjoyed some serious ghost fucking, with it rocking back and forth in my bum. The tingling and sensations internally were pleasant, but it was the rocking action of getting my bum fucked by electrons that got me off. I love electrodes that give this style of stimming effect.
Removal was a case of gently pulling on the base until I dilated and it popped out again. I do like the fact that the insulation section is so thin, it means my sphincter returns to its normal size once I have taken the other end and that does make it comfortable for long or short term use.
I love the surface, it holds lube well, and that helps with both insertion and it also makes a good electrical contact with your body.
I really enjoyed playing with the anally.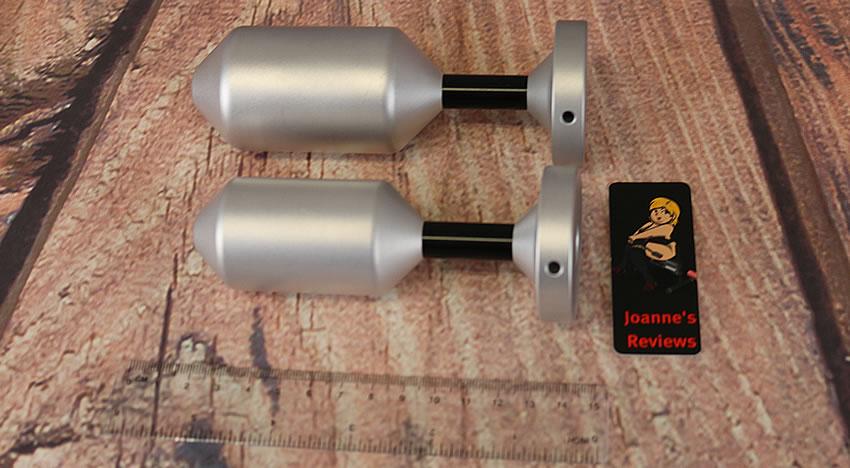 The E-WMCBP 2.0 is available in two sizes, with girth being the big difference between the two
Looking for some butt plug play or a new vaginal #estim electrode? Check out Joanne's review of the E-WMCBP 2.0 from @EstimSystems and @MrSLeather.
Click to Tweet
Key Features
Key features:
Made from aircraft grade aluminium
Bi-polar insertable electrode
Good for anal or vaginal play
Low profile insulation section separates electrode faces
Lifetime guarantee
Made in the UK
I would recommend it to:
Anyone looking for an insertable bipolar electrode
Anyone wanting to try deep penetration
Anyone looking for a vaginal or anal bipolar electrode
Anyone who enjoys end to end electrode designs
I wouldn't recommend it to:
Anyone who doesn't like metal electrodes
Anyone looking for just a surface electrode
Anyone who prefers side to side style electrodes


The E-WMCBP 2.0 is a fantastic collaboration between two great companies, E-Stim Systems and Mr S Leather
Final Thoughts
The E-WMCBP 2.0 is a great butt plug electrode, but it's also fun to insert and play with vaginally too. The broad base provides lots of skin contact, making sensations very smooth and I like having the socket on the side rather than the bottom.
The large has a lot of surface contact area small cheap TENS machines may not be able to get the most out of this electrode, but my 2B is more than adequate to drive these solid pieces of electro-pleasure.
The shape makes them easy to insert while also providing the full feeling I enjoy, throw in some e-stim play, and you are definitely onto a winner with the E-WMCBP 2.0.
I have enjoyed reviewing both of the new collaboration electrodes from E-Stim Systems and Mr S Leather.
I look forward to seeing what E-Stim Systems come up with next. Now, I just need to get then to produce a "Joanne Electrode" next (insert evil cackle) LOL.
I was sent the E-WMCBP 2.0 to review by E-Stim Systems and I would like to thank them for giving me the opportunity to review it for them.
UPDATE: I decided to model a new neck for this electrode and it feels sublime, you can get one here - E-Stim Systems E-WMCBP 2.0 Electrode Modified Neck.
Joanne's rating
Where Can I Get One From?
You can get the E-WMCBP 2.0 from e-stim.co.uk from £104.95, I am delighted to be able to recommend it to anyone looking for a very comfortable and functional butt plug style electrode.
Website links:
Check them out and don't forget to tell them that Joanne says "Hi".
---
If you enjoyed reading this review then check out my other reviews of E-Stim Systems products:
CONTROL BOXES
PUSSY & ASS ELECTRODES
PENIS/BALL PLAY
OTHER
Website links:
---
Disclosure
Disclaimer - I was sent the E-WMCBP 2.0 to review free of charge and this has in no way affected the outcome of this review. This post contains affiliate links and if you purchase something when you follow one of these links I may receive a small commission at no cost to you. For more information check out my disclosure page.