Delivery
The Willie Wanka Mk 2 fucking machine arrived very quickly in plain packaging. I am sure my postie wonders what all these packages are - if only he knew. Sexmachines.co.uk offer free UK delivery, and they also deliver worldwide as long as sex machines are legal in your location.
Inside the plain outer box is the machine itself in its retail packaging and I couldn't wait to open it and to put it together.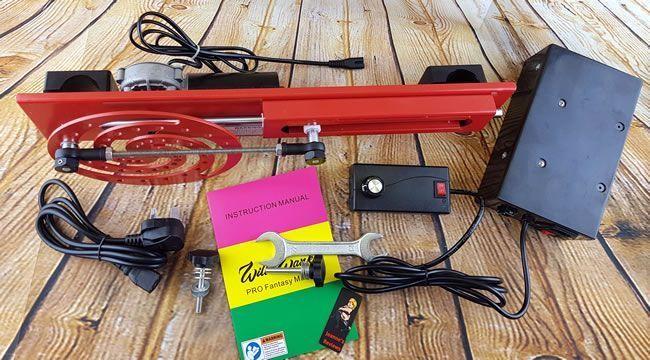 The Willie Wanka Fantasy Fucking Machine come with everything you need to quickly assemble it
Assembly
Before I talk about how easy it is to assemble, I just want to mention the fact that this machine costs only £268.80, and it has an RRP of £499. This is a lot of money, but with regards to sex machines, it is exceptional value for money.
To give you an example, I have an F-Machine Pro 2 which I consider to be an excellent entry-level machine regarding performance but that costs £549. The Willie Wanka is less than half that price.
Therefore, to be honest, didn't have high hopes regarding the performance of the Willy Wanka Mk 2 but I'm happy to say that apart from a couple of niggles I was proved entirely wrong in that respect. Right, let's get on with the review.
The instructions supplied are clear and concise making assembly a pretty straightforward procedure. This is where I met my first problem though. The legs are really heavy, consisting of a solid base with a vertical tube welded to it.
These leg tubes have a plastic plug inserted into their top end, but these are actually slightly wider than the tube itself. This interferes with inserting the legs into their clamps. The plugs on this machines legs were also not fitted correctly by the manufacturer who had damaged them while hammering them in.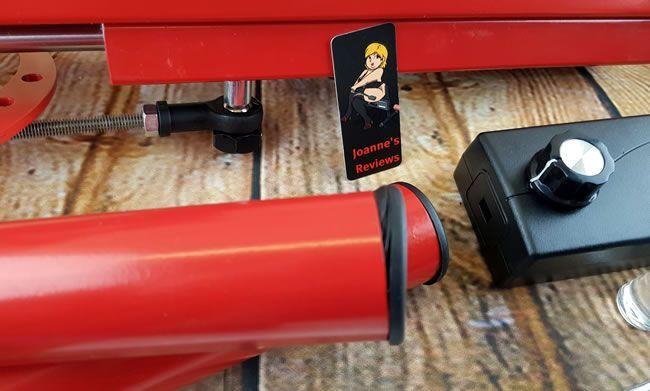 The plastic plugs in the legs are damaged on my machine and they are also slightly too wide
This is only a cosmetic problem, but the added girth makes them difficult to insert through the leg clamps. I had to remove the leg clamp screws to insert and remove the legs. I also had to remove these plugs to get the legs out again once they were inserted through the leg clamps.
Unfortunately, this makes assembly and dis-assembly harder than it should be. But I keep reminding myself how cheap this machine is and it isn't a big problem in the grand scheme of things, but it is something worth mentioning.
---
Update 20/04/18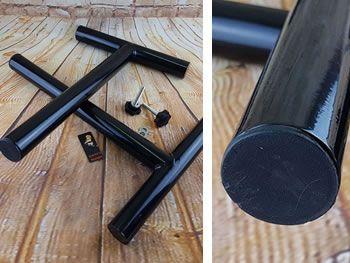 I have been sent a new set of legs for the machine in order to update this review. Sexmachines.co.uk have changed the manufacturer of them and these ones are so much better in every way.
They are still really heavy and this really does aid in machine stability but the finish is so much better on the new ones and the end caps are just the right size making assembly an absolute doddle.
They have addressed my main concern with this machine and I am really happy to now give it a strong recommendation for anyone looking for a fantastic entry level machine.
---
Once you have the machine on its legs though you get to admire its looks. It is a beautiful machine, and I love the spiral designs on the flywheel. It used to be available in three colours, and these were black, red or pink, but at the moment only the black one is available.
It arrives with the thrust rod fitted unlike some of my other machines which is great. You then need to screw the Vac-u-lock adaptor onto the end of the thrust rod. It has a 7"/18cm extension on it to give the machine more reach.
This machine doesn't arrive with a dildo, and that keeps the price down. You will, therefore, need a Vac-u-lock compatible dildo on hand to use this machine straight out of the box. There are lots of different dildos available on the sexmachines.co.uk website to choose from so make sure you add one to your order if you don't own one. You are not stuck just with Doc Johnson dildos as you can get lots of other dildos online that are Vac-u-lock compatible.
I always recommend that people buy fucking machines with Vac-u-lock adaptors as it gives you the freedom to quickly change dildos and the vast range available means that there is something for size queens through to beginners who like sextoys with a smaller circumference.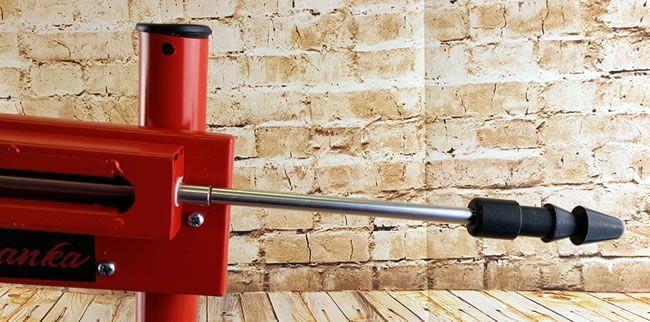 The Vac-u-lock dildo mounting system is the best I have found for fucking machines
Top Tip, put some release powder or cornstarch into the hole in the base of your dildo before inserting the Vac-u-lock adaptor as it will make removal a much more straightforward process. If your dildo feels stuck just insert the tip of your finger alongside the adaptor to break the air seal and it will come off easily.
You then need to connect the cable from the machines motor to the power supply. It has a simple two pin plug that you insert into the relevant socket on the power supply box, and you can't get it wrong.
The remote control box has a knob which controls the speed, and it's permanently wired to the power supply box. It also features a simple on/off switch. Make sure that it is switched off before plugging the power cable into the power box and connecting it to your walls power socket.
Top Tip, always rotate a fucking machines flywheel by hand before switching on the power. This allows you to check that everything is set up correctly and that nothing will bind. It will also show you the depth of thrust that the machine is set to. If you are with a partner, get into position with the dildo inside you and have your partner rotate the flywheel by hand to make sure you are comfortable with the length of thrust.
The length of thrust is critical, and you want to set it to a length that you can comfortably take. You don't want a dildo slamming into your cervix or conversely dropping out of you on every stroke.
If you need to adjust the length of thrust (how deeply the machine thrusts into you), you will need to undo the nut on the back of the flywheel where the link arm connects to it. The depth of thrust is just twice the radius between the shaft that the flywheel rotates around and where you connect to it.

You change which hole the link arm is attached to in order to control the thrust length
You can fit the link arms bolt to any of the drilled holes in the flywheel. I suggest you start with one about 2"/5cm from the centre of the flywheel as that will give you a thrust length of 4"/10cm. This is a good length to start with; you can then lengthen it later if you need to. You can set this machine up to thrust from 1"/2.5cm to 8"/20.3cm.
A spanner is supplied to undo this nut, but I found that I also needed a set of pliers to hold the other end while loosening and tightening this nut. This adjustment isn't something you will regularly do, once you find the right thrust length that suits you just leave it there.
The only thing left to do is to adjust the legs to set the desired angle of thrust that you want. You can raise or lower the machine or set angles upwards or downward just by changing the height of the front and rear legs.
While that all might sound a bit laborious and a pain it isn't really, and it takes no time at all. In fact you will have it up and running in less than five minutes. It's all part of the fun of mechanical sex; you need to think about angles, thrust lengths and speed. Speed brings me to the next section of this review.
Controls
This fucking machine is controlled by a simple speed knob and power switch on a corded controller. To start the machine off make sure that the dial is turned all the way to the left before switching on the power. This new controller is a big improvement over the first version. It allows for slow starts whereas the original one just jumped into action.
Slowly turn the knob to start the thrust arm moving and to increase or decrease the speed. The controls are straightforward and easy to use even while it is hammering away at you.
Both the control box and the power box are made out of plastic, and they don't look like they will stand up to much damage so make sure that you don't knock them or drop them.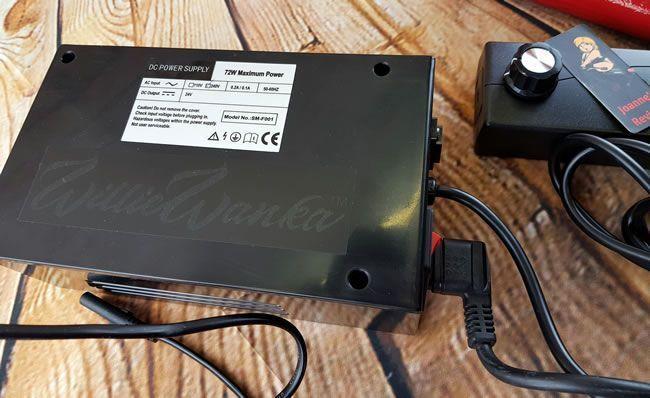 The control box and power supply box are very plasticky
This machine is capable of soft starts, that is starting and stopping the machine with a dildo buried inside you. It takes a lot of torque to overcome the resistance of a buried dildo and this machines copes with that in its stride. The Pro version is much better at doing that with its added 20 in-lbs of torque.
Performance
This machine is capable of some real high-speed fucking using its 72-watt 24V industrial motor that delivers 40 in-lbs torque or 1/12 horsepower. The manufacturer claims it can thrust at up to 200 RPM, and I have no reason to doubt that. But one thing that needs to be pointed out is that the larger and heavier a dildo is then the slower a fucking machine can move it.
This is all down to simple physics, and the machine has to accelerate and decelerate the dildo from stationary on every stroke. The more substantial it is or, the bigger it is (meaning more friction from your body) the slower it will thrust.
I'm more than satisfied with the performance of the Willy Wanka though, and it is comparable to my F-Machine Pro 2. It delivers a good hard pounding and one that certainly puts a smile on this reviewers face.
The colour is a beautiful shade of red and the flywheel with its spiral shapes is truly hypnotic when you watch it spinning around.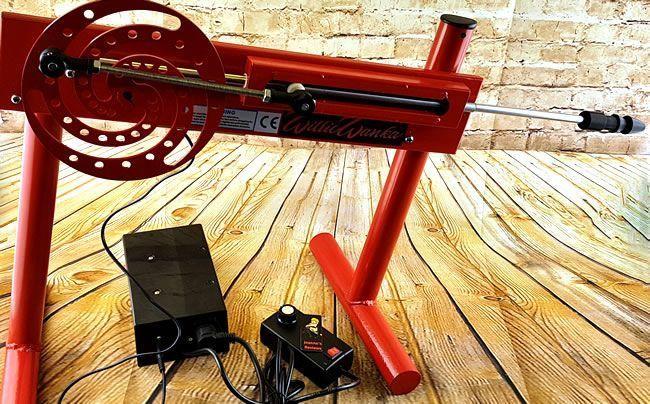 This is quite a striking looking sex machine
The heavy legs mean that it is nice and stable, but one drawback is that as they are so smooth, they tend to slide if you are not careful especially with bigger dildos. One solution is to place your feet on the front legs to control them or to use an anchor to hold it in place. On a bed, this isn't as much as a problem as on carpet or another flat surface. This isn't a problem with just this machine though as all light fucking machines suffer from this to some extent, but again it is something that needs mentioning.
I was also amazed at how quiet this fucking machine is. You get the regular motor sounds that I expect but on some machines, the bearings can be rattly or noisy, but on the Willy Wanka they are very quiet which is a definite plus point if you are looking for a discreet fucking machine.
Speed & Noise Levels
I enjoyed reviewing the Willie Wanka Fucking Machine and here is a demonstration of it in action showing its speed and noise levels.
---
The Willie Wanka Fucking Machine puts performance within the reach of most sex machine fans.
Click to Tweet
Key Features
Key features:
Stroke Speed: 0-200RPM
Stroke Length: 1"/2.5cm to 8"/20.3cm (adjustable)
72 watt 24V industrial motor
40 in-lbs of torque
1/12th Horse Power
Vac-u-lock dildo compatable (no dildo supplied)
Super slow start speed controller
CE Certified and ROHS compliant
Final Thoughts
I am very impressed with the Willie Wanka fucking machine, for the price it is exceptional value for money. It's a reliable and capable machine with a quirky look that delivers precisely what you need. A relentlessly hard shag for as long as you can take it. Let's face it that is what fucking machines are designed to do.
When you place an order at sexmachines.co.uk, you can add additional options such as a three year extended warranty for £46.80 as well as thrust rod extenders or fleshlight adaptors.
As an entry-level machine, this one is great; it's also available in a Pro version which is quieter, faster, more stable and has even more torque.
Check out the sexmachines.co.uk website and look at the huge array or sex machines available. This one gets a thumbs up from me though, and it has opened my eyes to the capability of some of these cheaper machines.
I was sent the Willie Wanka mk II Fantasy Fucking Machine by sexmachines.co.uk and I would like to thank them for giving me the opportunity to review it for them.
Joanne's rating
Where Can I Get One From?

Grab one of these cracking little fucking machines from sexmachines.co.uk for just £268.80 which is a bargain for a fucking machine like this one.
Check them out and don't forget to tell them that Joanne says "Hi".
Disclosure
This review does not contain affiliate links, for more information about affiliate links check out my disclosure page.