Before I go on, if you are not entirely sure what E-Stim or Electrosex is then have a quick read of my Beginners Guide To E-stim article which goes into detail about this activity from a female perspective.
I was lucky enough to have been offered a beginners electrosex kit to review in the form of the Intro2Electro Kit For Her from E-Stim Systems. This totally and utterly blew me away once I had overcome my initial nerves and reservations about allowing electricity to course through my delicate lady bits. I am so happy that I decided to bite the bullet and try it out though. Last year the Series 1 control box was phased out with the introduction of the ElectroHelix and it is a huge step forward in performance and capability.
The Series 1 control unit is still the one that I judge all others against though and I still use it to this day but I now have more capable and infinitely superior control boxes I still have a soft spot for my Series 1 box. They are no longer being produced but I believe you can still buy them whilst stocks last and I can highly recommend it as a dependable and capable beginners unit.
That is just a little background information but it still doesn't answer the question as to why I enjoy it so much. That answer to that question is a very complicated one in terms of feelings, sensations and situations but in essence it's because it just feels do damn good, that's why.
When I decide upon using some of my E-stim equipment to masturbate it does take a little setting up but for me that is where I start to really get turned on. When I decide which control box to use and which electrode or style of play I find myself getting more and more aroused as I put it all together and contemplate the enjoyment that is to come. The sensations I get from skin play is totally different to vaginal or anal play. Even when opting for skin play the sensations from pads is totally different from my Double Electro Pinwheel.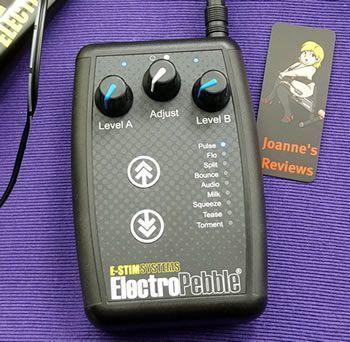 Using one of my dual channel control boxes like my ElectroPebble or 2B means that I can opt for skin play and vaginal or anal play at the same time and that's where this sort of play really lends itself to a BDSM setting or scene. The options for play and combinations of play are pretty limitless. I am lucky enough to have a large collection of insertable electrodes that I have reviewed and each feels different and come into their own depending on my mood.
Skin Play
This is really enjoyable and I use this term to cover when I am using adhesive pad style electrodes, my Double Electro Pinwheel and also when I use cock rings to tease and pleasure my Stunt Cock during one of our BDSM play sessions.
The sensations generated with these types of electrodes are external with the current coursing through your skin and on low power settings it feels a bit like someone blowing on the hair on your neck or pins and needles. On higher settings you feel muscles pulsing and tensing in time with the pulses generated by the control box. On really high settings it can be used apply pain and cramps but that isn't my usual play style.
These external electrodes use two pads or cock rings to form the circuit, the pinwheel has a positive and negative wheel so it is also two electrodes. Now you can really spice things up by just using one cock loop or pad and an insertable electrode to start enjoying internal stimulations as well as skin play.
Insertable Electrode Play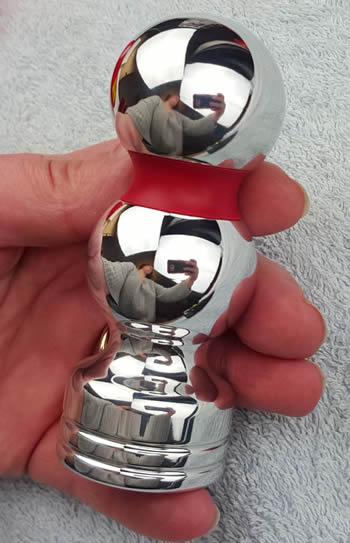 I can categorically say that I use insertable electrodes probably 90% of the time that I masturbate using E-stim equipment and that's simply because the sensations generated are much more intense. As they tend to concentrate on my pelvic floor muscles it actually feels like I am being fucked which is a very nice way to experience a hands free orgasm as a woman. Guys can also enjoy this sort of play anally. I also use electrodes anally but not as often as I enjoy them vaginally as it is much easier and more comfortable for me to get off that way.
I always use a good quality water based lube or Electrogel and apply it to both myself and the electrode before inserting it. Top Tip: Always remember to attach the cable to the control box and electrode before lubing up and it's a pain to do so with slippery fingers.
Hydration is very important with electroplay so make sure you have had plenty to drink and the lube helps your body make a good contact with the insertable electrode.
I usually start of very gently before turning up the power. At low levels it actually feels like I have butterflies fluttering their wings inside me and as I turn up the power my kegel muscles come into play and it honestly feels like I am being rodgered hard which is amazing. Most good control boxes have programmes on them to really tease you and if you own any E-Stim Systems control boxes I love the Waterfall, Squeeze and Throb settings the most and just their names should describe to you how they feel internally.
These programmes are amazing as they are not just power on, power off they intelligently ramp up the juice whilst doing some pretty incredible things to your body.
I can use my E-stim equipment to edge myself very effectively for long periods of time or I can just get myself off quickly enjoying what I like to call being 'Ghost Fucked' as I lay there playing with the controls. It also keeps your hands free for breast of clitoral play as well.
BDSM Play
I love a little tie tease play and when I'm immobilised and blindfolded with my partner at the controls I quite often totally lose it and just orgasm over and over again. As this really turns him on, these sort of sessions always degenerate into a hard fucking - after I have enjoyed my ghost fucking that is.
Having my partner helpless is also a lot of fun and I can tease him with skin play, cock play, anal play or combinations thereof. I love seeing him orgasm from e-stim play and he loves it as much as I do but he tends to take longer to come from electro stimulation than I do.
So why do I enjoy electrosex so much? Well it is the flexibility of it combined with the sensations that I cannot get from any other form of masturbation that makes it a must for me. If you have never tried it out then I strongly recommend that you do so. Check out both of these great UK based companies and don't forget to tell them that Joanne says Hi...
Most of my e-stim reviews have been about products from E-Stim systems and they have some real pearls plus a lifetime guarantee.
I have reviewed two items from Electrastim and they were very good indeed.
Disclosure: This article contains links to some of my reviews and some affiliate links, these are links where at no cost to you I get a small commission on any sale and this money is used to buy more sex toys to review.