About Mens Toys Hub
Mens Toys Hub is the brainchild of John James a self-confessed synthetic vagina officionado. Many years ago John noticed that you couldn't easily find accurate and informative reviews of male sex toys and so he set about changing that by writing his own.
In his own words:
"[he] is a peculiar guy who may very well have been put on this planet to serve the important purpose of ushering men to the best sexual experience – one sex toy review at a time"

John James
He devotes his time to reviewing sex toys that he can stick his happy chap into and has now amassed a fantastic array of reviews on every type of male orientated sex toy that you can think of. He also donates some of his time to worthy charities which makes him one of the good guys in my books.
One of the things that I like about his review site is his fantastic writing style. He speaks straight to you and reading his reviews almost feels like you are sharing a sofa with him with a beer while he recounts how well a particular sex toy pleasured his manhood.
I love this writing style, and his informal reviews are both easy to read and also very informative. A fantastic example of this is his review of the Hydromax series of Penis Pumps where his list of pro's and con's had tears of laughter rolling down my face as they are so funny. It also has this classic line:
"The chamber can be ordered in the colors red, white, or blue, because, apparently, big dicks are patriotic."

John James
Types of Reviews
John James has pretty much reviewed it all, basically if you can think of something that he can stick his dick in or that can wrap around it and get him off then he has probably reviewed it or is planning on doing so.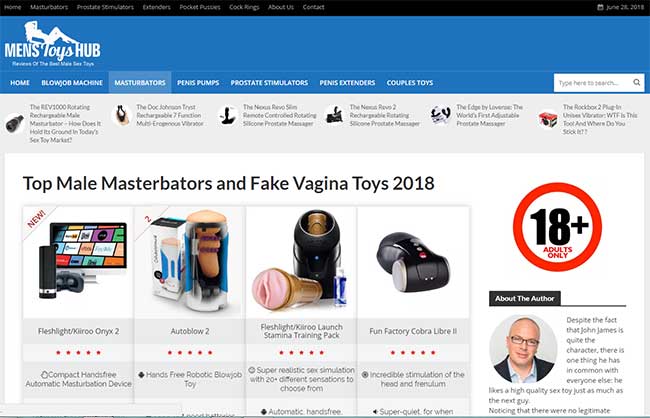 Some great masturbators are reviewed on John's' Top Male Masterbators and Fake Vagina Toys 2018 roundup page
I can quite honestly say that I have never seen so many exciting and informative penis sex toy reviews in one place.
As you can imagine, he has reviewed a fair few male masturbators in the past, and his Top Male Masturbators and Fake Vagina Toys 2018 article has eighteen, yes you read that right eighteen reviews of some of the best male masturbators, all on one page with links to their in-depth reviews. It's a great place to start viewing his site, and you will quickly realise just how much of an asset it could be for someone looking for something comfortable to slip their cock into.
Blowjob machines are a thing chaps, and John has reviewed a few with the Kiiroo Onyx 2 being one that stood out for me. This is about as high tech as things get with male masturbators and this warts and all review is spot on. It is a great toy but not without its problems. I have heard lots of good things about the Kiiroo Onyx, so it is nice to see that it has downsides too with frequent updates being one of them. One day I would love to review it also in conjunction with the Kiiroo Pearl as they can be used together over the internet for some long distance high tech kink making them ideal for anyone in a long distance relationship (LDR).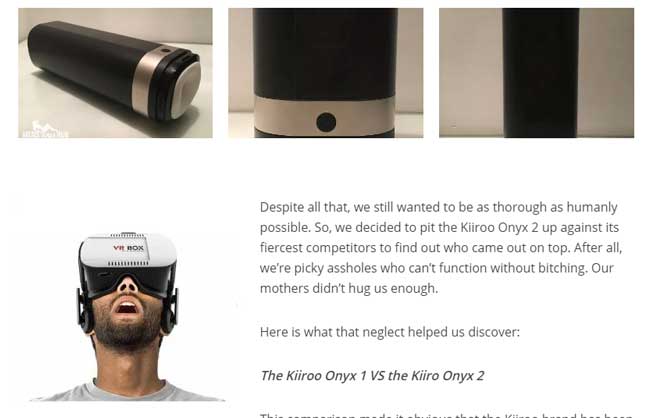 I really enjoyed the Kiiroo Onyx review and want to get my own hands on one to review now
Another type of sex aid for penis owners are penis extenders, and it is hard to find unbiased reviews of these developers. John explains one of the reasons that they are so expensive is because of their classification as a medical device as well as a cosmetic device. It was nice to read some well-balanced reviews of some of the most popular ones on the market, check out Top 3 Penis Extenders For 2018 article to see what I mean. These are often costly products so it is good to have somewhere to go to get some sound advice on the ones available and where you would be best spending your hard earned money.
Reviews are only useful if you trust the person writing them and you will quickly come to the conclusion that John James knows what he is talking about. His no-nonsense frank and funny reviews lay out all of the information about a sex toy or adult product for you to quickly and easily assimilate.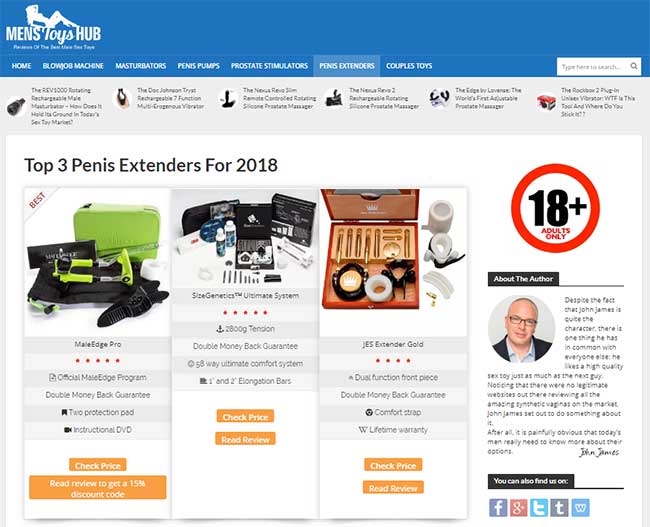 I was fascinated by his reviews of several penis extenders
Mens Toys Hub is a site that I am going to keep my eyes on to see what John James reviews next. Whatever it is you can be sure that the review will be both informative and also very funny, which is a great combination.
So, you see, there are some fantastic places available online where you can get good honest reviews on sex toys for penis owners, and of course, you always have my site for everything else vagina and vulva related.
This is a post sponsored by the very talented John James at Mens Toys Hub which is a site that is worth checking out if you want the lowdown on the best sex toys available for penis owners.