TENS
There are lots of TENS (Transcutaneous electrical nerve stimulation) control boxes on the market. They are made for pain relief and are used extensively in medical rehabilitation and just for general pain relief from joint and back pain in particular.
They mainly work by targeting the nervous system and overriding pain signals. They use Bi-phasic waveforms to do this, and people often discover e-stim through the use of TENS units.
Lots of people when they feel the tingling sensations wonder what it would feel like down below and some TENS units make an excellent introduction to e-stim.
TENS units lack the power of made for play control boxes and are not designed to handle large or insertable electrodes, although some can do to a limited extent.
EMS
There are also a lot of EMS (Electrical muscle stimulation) systems on the market. They differ from TENS machines as they actually target muscles rather than nerve endings.
Their use causes muscle contractions, and so they are often used by physiotherapists to exercise muscles after surgery or an accident.
Their use actually causes muscles to tighten as if signals had been sent by the brain, and sometimes athletes may use them for extra training to help give them an edge over competitors.
Often marketed as muscle developers or ways of making your abs hard, these machines have some use for erotic electrostimulation. Primarily when used on the kegel or sphincter muscles.
Cheaper units often lack control over the sensations though, making them feel harsh and spiky when used for electrostimulation.
E-Stim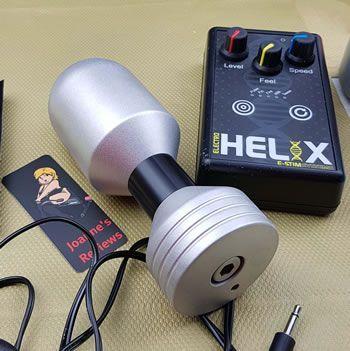 Made for play boxes are the best option for sexual stimulations, but they tend to be more expensive.
This high price is down to the small niche marketplace and sales volumes coupled with the technical nature of the equipment.
Made for play boxes win hands down over TENS and EMS control boxes though, and their versatility allows them to be used in both other modes as well as being the perfect options of sexual stimulation.
They produce much more power than a TENS unit and are capable of driving bigger insertable electrodes where the large surface area means that energy is dissipated over a wider area.
With models for all price ranges and with options such as remote control over the internet also available, you can really get creative with an E-stim control box.
I also want to mention Steroestim boxes briefly. Some commercial boxes such as the 2B or ET312B can handle Stereo audio files to produce waveforms and frequencies using sound files.
There are also plans available on sites such as Smartstim that allow you to make a homemade dedicated stereostim unit very cost-effectively.
As long as DIY builds are constructed to recognised safe plans and safe power supplies are used, then they are safe. But they carry more risk than commercial units available that have passed stringent safety controls.
Conclusion
I hope that helps you understand the difference between TENS, EMS, and E-stim control boxes. They are all electrical power sources, but they each have different aims. My advice is that if you want to really enjoy what E-stim can do to the full then invest in a made to play control box.
On the other hand, a good cheap TENS unit is a great way to experiment to see if E-stim is for you before investing in something with more power.
Have fun.