What a DDLG relationship isn't
First I want to tell you what a DDLG relationship isn't. It isn't any of the following at all:
It isn't for and shouldn't involve anyone under 18 (or 21 if that is the legal age in your location).
It isn't just calling your boyfriend "Daddy" in bed.
It isn't a reason to persecute or discriminate against any age, race, sexuality or race.
It isn't a form of paedophilia or incest in any way.
What is DDLG?
Firstly while the acronym DDLG refers to little girls, it also covers little boys and Mummys as well as Daddys. So you can get MDLB (Mummy Domme Little Boy) or even MDLG (Mummy Domme Little Girl). It is gender flexible, and you can get any combination of people involved in this style of play.
A DDLG relationship might seem gross or perverse to outsiders or someone without any knowledge of this type of relationship and it is these people who I think will benefit most from this post.
You can think of a DDLG relationship as being a more gentle nurturing form of BDSM relationship. Both are based on a Dominant and a submissive but in a DDLG relationship the Dominant assumes a more nurturing and loving role for their submissive. The submissive submits to their dominant and is cared for and nurtured by him or her.
A submissive in a DDLG relationship often enjoys age play; this is where they act and experience things that a little person would enjoy such as playtime, colouring, painting, watching cartoons, the list goes on and on. The Dominant ensure the little's safety and nurtures them, allowing them room to play and regress into their little state.
Like any form of BDSM relationship, it is based on honesty, trust, consent and mutual respect between consenting adults.
One surprising thing that you may like to know is DDLG is no more obscure or kinky than anything else that you could introduce into the bedroom. It differs from most kinks though in that is isn't based around sex. In fact, lots of DDLG practitioners never have sex. That is one of the funny things about it, lots of opponents are always up in arms about how 'vile it is' but what is so vile about a trusting and nurturing relationship.
In a DDLG relationship, one side focusses on the caregiving side and nurtures the other while the other party plays a more childlike and submissive role in the relationship. The caregiver becomes the authority figure in the relationship and in this respect, it is a Dom/sub relationship.
Like all BDSM relationships, both parties agree and set the rules of their play; this is essential so that everyone understands their role and what the other party wants to get out of the arrange or be punished for their actions.
The authority figure as well as nurturing their little can punish the little for bad behaviour. The little is expected to obey their carer being punished or rewarded depending on their behaviour.
What is ageplay?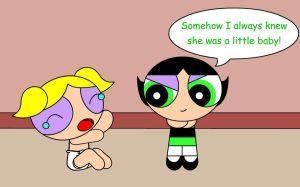 A lot of people confuse ageplay with paedophilia which it certainly is not.
Ageplay is where one party likes to regress to think and act like a baby/toddler/child, and they are called 'littles'. They often have a prefered age range in which they play, and when they enter this mindset, it can be very liberating for them. This mindset is called 'littlespace', and it is a very comfortable and carefree state to be in.
They can forget their daily troubles of adult life and enjoy playing with a cleaner and more enquiring outlook on life and their surroundings.
Age play isn't an essential aspect of a DDLG relationship, and lots of people don't have an 'age' they enjoy the dynamic between two people of different mental ages.
NOTE: Keep in mind that all DDLG play is consensual play between adults. The little and their Caregiver/Mommy/Daddy need to discuss and agree on what punishments/rewards are acceptable together with what is not. You also need to consider the aims you both have for your relationship. NEVER let anyone do something to you that you do not consent to and conversely NEVER do anything to anyone else unless you have their full and unwavering consent.
Privacy
A lot of littles are scared of revealing their enjoyment of this type of relationship because of the misconceptions I have already covered. Indeed I have a friend who was drummed out of her job when her colleagues found out she enjoyed DDLG play, and this is unacceptable.
If you enjoy this style of play the only people entitled to have an opinion about it is you. It is no-ones business, as with any other aspects of your private life, it is precisely that - private. I hate to say this but be careful who you open up to.
If your friends and family do find out about it you can use these points to reply to them:
It is just another dimension of your relationship.
One person is just acting younger and enjoying the things young people do, and the other person looks after them in a non-sexual way.
All parties consent and can stop or slow activities at any point.
Can you still have other kinks?
Of course, you can. Often littles enjoy other forms of BDSM play considering their DDLG relationship as just one facet of a broader relationship between consenting adults.
Take our very own sub'r', she is a hardcore 24/7 submissive who loves nothing more than to be tied up with leather, rope and chains in a dungeon but she also loves ageplay and can spend hours colouring books and enjoying cartoons.
DDLG forms part of your life, and it shouldn't dominate it, DDLG is just another facet of what littles enjoy doing, and we all have regular lives as well.
Conclusion
Well, I hope that I have managed to dispell some of the myths surrounding this form of BDSM play. You will notice that throughout this article one thing is constant and that is that I keep mentioning CONSENT and this is the cornerstone of any BDSM relationship. Both parties must consent, respect and trust each other.
DDLG play can be very rewarding and enjoyable to both parties and like forms of play each will be unique to those enjoying it, and as long as you adhere to consent, respect and trust each other, you will develop your own style of play.
Thank you for reading this article, I would love to hear your comments down below.
ABDL & DDLG Product Reviews
I am now reviewing ABDL & DDLG related products with the help of my Little Rae who has been enjoying the scene the whole of her adult life.
Further Reading
You may find this article by the lovely Kristen Jade about her thoughts on DDLG interesting in her article - DDLG & Ageplay