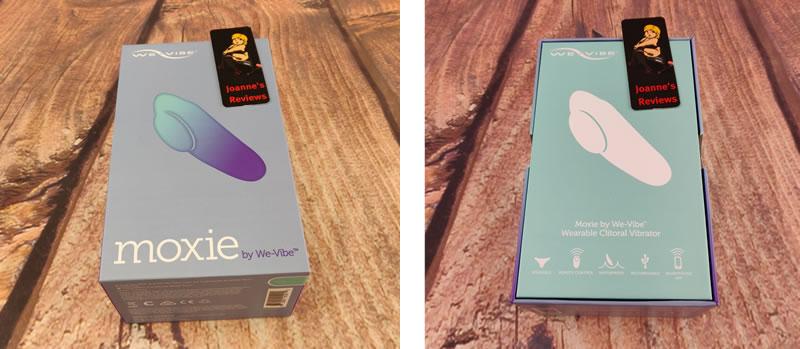 The plain packaging of the Moxie looks very good
Packaging
Having been given the We-Vibe Moxie to review at EroFame 2019, I can't talk about how it would ship to you as we received it by hand. I like the simple, sturdy design of the box, it keeps the contents safe, with just enough information on the back to make you want to learn more about the contents.
On removing the outer sleeve, you are presented with an internal box with further information on the back and a printed image on the front. After opening it up, you are shown the Moxie behind a plastic cover looking very elegant in its design.
What's in the box
You get the Moxie Panty Vibe complete with two strong magnets. Ideally one is a spare, however, depending on what you are wearing and doing, you can use the two together for extra strength. You also receive a small silky bag to keep this little vibe safe when not in use. A reasonable length magnetic USB charger, instructions and a small sachet of water-based lube. And of course, let us not forget the essential remote control.


You get the Moxie panty vibe, two magnets, a charging cable, storage bag, lube and instructions
Design and Materials
The Moxie is covered with a beautiful body-safe silicone that feels very silky. This coating is also on both of the magnets.
The silicone is lovely aqua colour and is free from phthalates and BPA and made without latex, making it hypoallergenic and body-safe.
The We-vibe Moxie is rechargeable with a magnetic charging cable, the fact it is waterproof means that it's extremely easy to clean.

The magnetic charging cable snaps securely to the Moxie during charging
Material - Body-safe Silicone
Rechargable
Charge Time - 90 mins
Run Time - Up to 2 hrs
Dimensions - 92 x 64.3 x 35.75mmThe remote is small, made of ABS plastic with a rubberised oval shape button on the top. Perfectly shaped to sit comfortably across your fingers, with your thumb fitting perfectly over the button. It also has a small hole for you to attach a wrist strap or similar item.
We-Vibe have given you a choice of using either the button on the vibe itself, the remote or the We-Connect App. Having a selection of options on how to control your the Moxie is fantastic as it gives you so many ways of playing with it. You can share the fun with your partner by allowing them full control while you are wearing it even over a long distance if using the app.
I love the freedom of the magnets, which are much more comfortable to use than other types of panty vibrators that have straps. You do need to have tightly fitting panties though; a g-string would probably work best (think of a camel toe look to give you a tight fit against your clit). The smooth, sleek design ensures that it won't catch and damage even lacy panties.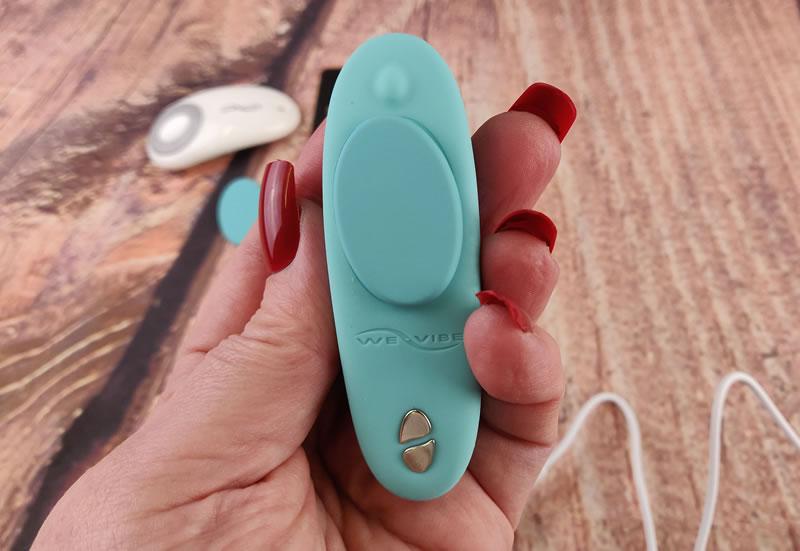 The Moxie is nicely proportioned and is designed to sit between your labia
Small enough to fit in the palm of your hand the Moxie is thin, smooth and sleek with a slightly bulbous underside which presses against your clit and slightly curved to fit snuggly. Enabling it to fit comfortably between your lips and against your clit, while you move around or sit down.
Performance
As with all rechargeable vibrators, the first thing you should do is fully charge it then wash it in warm soapy water. (Do not boil or place the Moxie in a dishwasher to clean it.) You will know when it is fully charged as the light changes from flashing to a steady glow.
Read through the instructions and pair the remote to your We-Vibe Moxie. To do this press the power button on the Moxie for 5 seconds or slightly longer until it vibrates twice, then press the right button on the remote. Once paired, you can use the remote to switch on and off, control the speed and the patterns.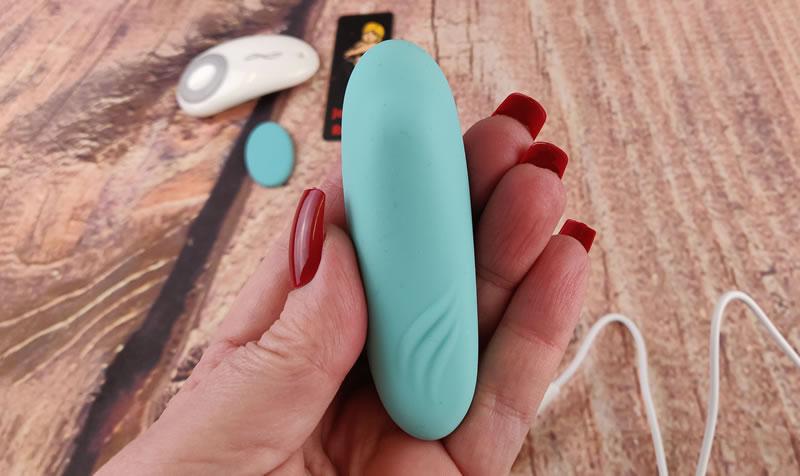 The Moxie is nicely proportioned and is designed to sit between your labia
You can also use the small button on the Moxie itself to change speeds and patterns, but this is extremely difficult when wearing it.
Another option is to connect the We-Connect App on your mobile to your We-Vibe Moxie. The app not only allows you to cycle through the different standard patterns and speeds but to also to create personalised patterns. The app does not allow screenshots, so I have taken screenshots from the Google Play Store to show you. You can check out more details about the app here https://we-vibe.com/app

The We-Connect App is a lot of fun and allows secure remote play with a partner
I like to have a clit stim pressed tightly against my clit. I did struggle to keep this sat tightly where I would prefer it, possibly because I do not have any panties that are a tight enough fit. If you prefer a vibrator not to have direct access against your clit, you may enjoy this more. However, after saying that, the vibrations are a lovely deep rumbly type, which can be felt even off your clit.
Compared to most vibrators, this really is whisper quiet. However, as this is something designed for you to go about your typical day enjoying, it could be considered too loud for that. It can definitely be heard if you are in a quiet room or with people in close proximity.
Although I was a little disappointed not to be able to keep it pressed tightly against my clit. I did still enjoy the tease of feeling the vibrations as I did the housework or grocery shopping. When out I would either turn it down or pause the vibrations when someone stood close by, although once or twice I pretended it was my phone vibrating :-). I did find a sneaky way of adding pressure was to sit on a padded chair and tilt my pelvis to be able to push myself against the padding Mmmmm.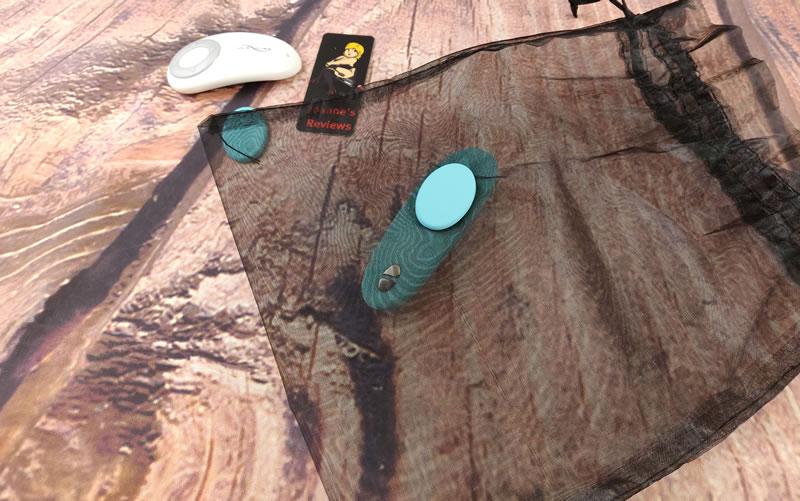 The drawstring storage bag is very generously proportioned, you can store lots of toys in it
Of course, Stunt Cock enjoyed teasing me when I was home alone, by controlling it from a distance giving me strict instructions to not touch it. He would get me nice and wet ready for when he got home.
So what did I think? Well, I love the idea, the flexibility the magnets give and the deep rumbly vibrations feel amazing. My main struggle was my panties fit, if only I felt comfortable wearing G-strings as I think they would make the difference.
I would recommend this to ladies who like to being teased while doing mundane things, and who wear tight-fitting panties or g-strings.
I would not recommend it to those who want or need direct pressure against their clit to get off though. It is excellent for teasing and for warming up before more intimate play or just as a way to brighten up mundane tasks. For that reason I like it.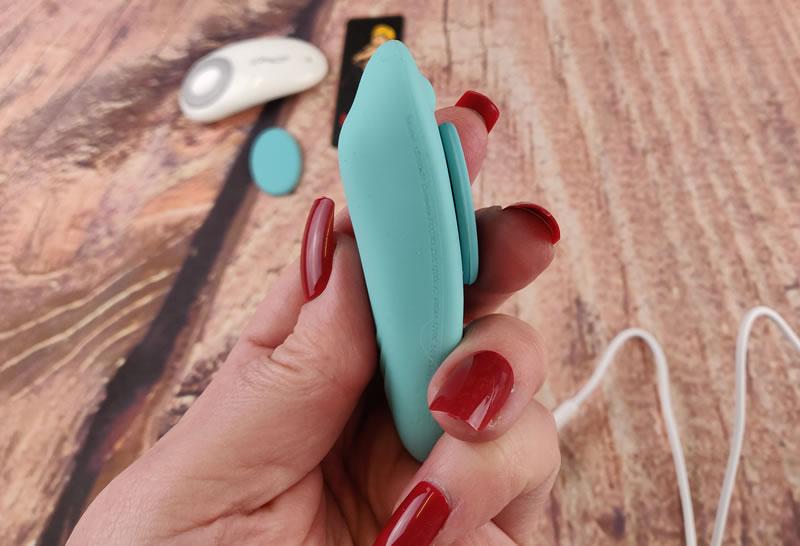 The Moxie is a very nice vibrator from We-Vibe and I have had lots of fun with it
Check out Joanne's review of the We-Vibe Moxie wearable panty vibrator which is available from @wevibe.
Click to Tweet
Key Features
Key features:
Coated in body-safe silicone
Rumbly and quiet panty vibe with 10 modes of operation
Magnets hold it in place through your panties
Remote has a range of 3 metres
Use We-Connect app to be controlled from anywhere over the internet
Includes satin drawstring bag and We-Vibe lube sample
Rechargeable
I would recommend it to:
Anyone looking for a panty vibe
Anyone with small labia and tight panties
Anyone who enjoys remote controlled sex toys
Anyone who is looking for a body-safe panty vibe
I wouldn't recommend it to:
Anyone who needs direct hard clitoral contact from their vibrators
Anyone who is looking for a whisper quiet vibe
Final Thoughts
I like the Moxie, for me though it teases and is great for really getting me turned on when wearing it. The shape of it means I don't get direct clitoral stimulation (large labia) but with tight panties that may be different.
If you enjoy rumbly vibrations and being teased, then you can certainly have a lot of fun with the Moxie. It is especially good fun with a partner where you can surrender yourself to their mercy as they take control and tease you.
Using the We-Connect App is easy, and it means if you are in a long-distance relationship, you can still tease and please each other.
All in all, I found this a fun vibrator to use on myself when out and about. However, you will need to keep it on the lower settings if you are near anyone else. Unless of course if you want them to know what you are wearing.
I was given the Moxie by We-Vibe to review and I would like to thank them for giving me the opportunity to do so for them.
Joanne's rating
Where Can I Get One From?
Grab one of these fun little remote controlled panty vibes direct from We-Vibe for just €129.00.
Or, grab one from my affiliate Lovehoney.
Lovehoney UK | Lovehoney EU | Lovehoney US | Lovehoney CA
Check them out and don't forget to tell them that Joanne says "Hi".
Disclosure
Disclaimer - I was given the Moxie by We-Vibe to review free of charge and this has in no way affected the outcome of this review. This post contains affiliate links and if you purchase something when you follow one of these links I may receive a small commission at no cost to you. For more information check out my disclosure page.