Delivery
My Svakom Keri arrived quickly from Amazon very well packaged as most things are when sent through Amazon. When I opened up the Amazon packaging I got to appreciate the Svakom packaging of the Keri.
It comes in a very stylish retail box that carries a very clear image of the vibrator on its front and lots of information on the back of the box.
The quality of the packaging matches my previous experience with the Svakom brand. The box contains the Keri vibrator , a charger unit, warranty card, instructions and a satin storage pouch.
It's nice to see a storage pouch included as it will definitely help to keep the Keri in top condition when in storage. I am amazed that more companies don't include them with silicone sex toys.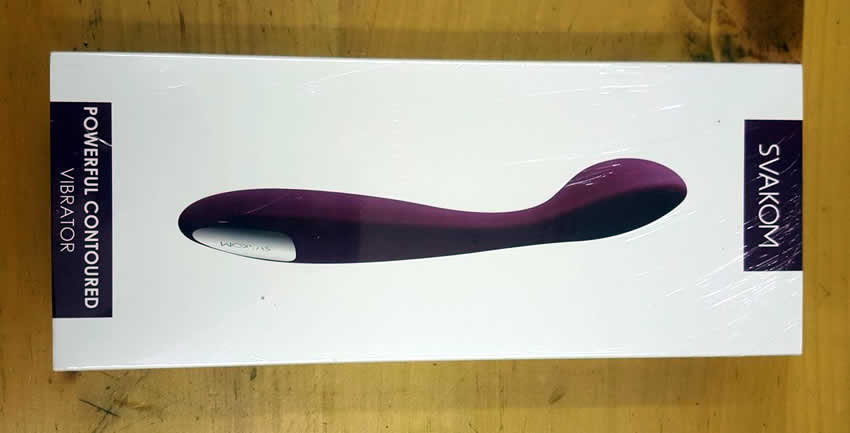 Features
The Keri is available in two colour choices and these are Pale Pink and Violet, I have the Violet edition. I would have liked to see other options as well but Svakom are only doing these two choices at the moment.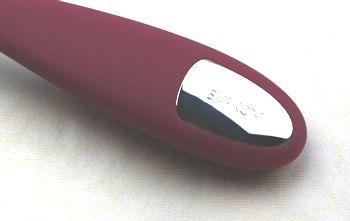 The first thing that strikes you when you open the box for the first time is the stunning curvy design of the Keri it looks very inviting. Once you remove it from the packaging you will find that it is surprisingly light and very easy to hold.
The Keri is coated in a very nice blend of Silicome which means that it is body safe and contains no Phthalates at all. The blend of Silicone used is not draggy at all when you slide the vibrator over your skin and it doesn't collect lint and dust like some other toys do. The storage bag that is included is a nice touch as it means that once you have cleaned the toy you can store it discreetly ready for use next time.
The back of the toy features a stainless steel plate which adds to the luxury feel and look of this vibrator.
As with all Silicone sex toys you should never use Silicone based lubricants as they can damage the coating of the toy by breaking it down. I recommend using a good quality water based lube with this toy such as Sliquid H2O.
Before using it for the first time you will need to give it a full charge. I simply put mine on charge over night so it would be ready for some early morning fun and games. A USB cable is included but there is no power adaptor so you will need to have a spare USB socket available to use to charge the Keri.
The power light blinks when it is receiving a charge and a one hour charge will give your roughly two hours of playtime.
The Keri has a long slender design with sleek curves, it has a bulbous tip that mimics the form of a fingertip and this tip is great for G-spot play and its rounded tip makes it easy to insert.
Keri has 5 vibration modes, including Normal, Caressing, Joyous, Passionate and Climax mode. Each mode has five intensities giving a total of 25 different setting to explore.
The Keri is completely waterproof so you can enjoy it in the bathroom.
A quick note on warranties and guarantees, Svakon offer a 1 year warranty on their products that is valid from the date or purchase, this covers materials and the vibrator itself but it excludes damage caused by misuse. After this one year warranty Svakom offer a 10 year guarantee, basically if you have a problem after the first year they will give you 50% off if you buy a replacement. That is great customer service and is one of the things that makes Svakom stand out from the crowd.
Performance
The most important part of any review is how did it perform? Well I can attest to the great performance of this small sized vibrator. It carries quite a punch for something this small and light. The battery life is great and the controls are very easy to operate in use without having to withdraw the toy.
The Keri has just one button, simply hold it in to switch the vibrator on and holding it in again will switch it off again. To change intensities just press the button in briefly and release it again. The Keri will cycle through its five power settings this way and to change mode just double tap the button.
In use, this control system is really easy to use and it leaves you to just enjoy the experience without worrying about complicated controls. The location of the button means that they toy can be used and operated with just one hand leaving your other hand free to tease yourself in other ways.
In use this isn't a totally quiet vibrator but it is very quiet. I tested it by putting it on full power and leaving it under a duvet on the bed and leaving the room, closing the door behind me. No matter how I strained I could not hear anything through the door and so this vibrator is safe to use in a busy household. The manufacturer claims that the noise produced by the Keri is less than 50db (or a ticking clock), that must be a noisy clock as my Keri is noisier than my alarm clock on it higher settings but as I said you can't hear it though a door.
The Keri is a lot of fun in the bath or shower and is quiet enough to be able to confidently be used this way to give yourself some intimate "me time" when bathing.
I found the vibrations produced by the Keri to be very strong and nice a deep. It was a lot of fun to use both clitoraly and also on my G-spot. It feels especially good to move from one to the other and the operating modes give you lots of variety to explore just what suits you best.
The strong vibrations had no problem getting me off, it doesn't make me squirt but it does get me "almost there" and it feels great, no doubt as I get to know it more it will eventually get me there.
Cleaning
The Keri is really easy to clean as it is coated in body safe Silicone, simply wash in warm soapy water and use an antibacterial sex toy cleaner or a 10% bleach solution to clean it. Make sure that you get all body fluid residue off the toy and then ensure that it is completely dry before you put it into its storage bag. Don't boil or put in the dishwasher to clean it just clean it with warm water and a sex toy cleaner, it really is quick and simple.
Key Features
Key features:
Quality product
Body Safe Silicone
Rechargeable
Waterproof
Five modes with five power settings
Great for Clitoral or G-spot stimulation
Quiet in use
Video Review
Final Thoughts
In summary this is a very nicely sized vibrator that is great for both clitoral and g-spot stimulation. It's 25 different modes and power outputs means that there will be something there for everyones needs. It is relatively quiet and ideal for use on your own or indeed with a partner to spice up your play together. Try it on your clitoris whilst your partner penetrates you in the missionary position for truly explosive fun. For its price it really is a very good toy and one that I am very happy to recommend.
I can highly recommend the Keri which is my second Svakom toy (I have also reviewed the Siime) and would love to review more of their luxury vibrators in the future.
Toodle pip
I was sent my Svakom Keri by Zemalan on Amazon in conjunction with Svakom in exchange for a fair and honest review and I hope that you have enjoyed reading this review and that is has hopefully left you curious to try one out for yourself.
Where Can I Get One From?
Grab a Keri for yourself from Zemalan on Amazon for only $41.95 and for US readers you can use discount code JOANNESS on Amazon to save 10$ if you agree to leave an honest review yourself on Amazon for the seller within 10 days of receipt of your Keri. UK readers can grab one from Amazon.co.uk.