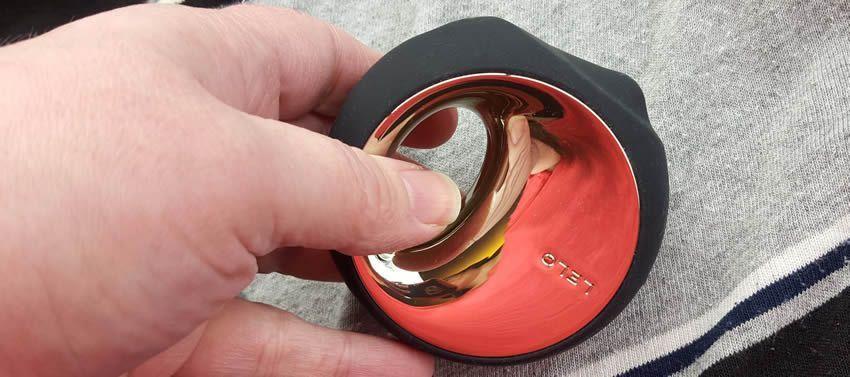 Features
The Lelo Ora 2 is a very stylish and attractive looking toy, designed for external clitoral stimulation. It tries to mimic the action of a tongue on your clitoris when receiving oral sex through the action of a rotating nub that moves around or over your clit.
The original Ora won best product design at the Cannes Lions Festival and it was the first sex toy ever to achieve this feat.
This is the new and improved model. Lelo listened to customer feedback on the original and changes the size of the rotating nub making it larger and also increasing the batteries power.
It is circular in shape and has a cut away in the center which makes it very easy to position and hold when in use. Its outer section is coated in a draggy but very soft silicone making it hypoallergenic and body safe. The center section is made out of ABS which is another nonporous material and both are phthalate free.
I like the sweeping curves of the Lelo Ora 2, it looks sumptuous and the gold ABS center of mine is a nice offset to the black silicone outer ring making it look very stylish indeed, it is the sort of sex toy you could leave out and you wouldn't be shy showing it to a new partner.
The silicone section is nice and smooth but it's a bit af a dust magnet though, it is however very easy to clean. It's 100% waterproof which surprised me as there is no bung to fill the charging socket so make sure that it is completely dry before charing again after using it in the shower or bath.
It comes in a rather attractive retail display box which includes a manual, a sample of lube, a storage bag and charging cable. The Ora 2 comes with a 1 year warranty from Lelo and a 10 year Lelo quality guarantee. As it is USB rechargeable, you can use a wall socket to charge it, your computer or any other USB charger making it pretty easy to charge. Its controls flash whilst under charge and a two hour charge will give approximately one hour of use.
A neat function on it is that you can lock it for travel so that it won't start buzzing away unexpectedly in your suitcase and it has a standby function that can last for up to 90 days.
The Ora 2 is switched on & off again by pressing and holding both the '+' and '-' buttons for three seconds, the lights come on when it is switched on.
The Ora 2 features 10 stimulation modes and has the 'Sensetouch™ Technology' that I like, Lelo features this tech on some of its newer vibrators. You cycle through the stimulation modes by using the '()' button and you can raise or lower the intensity by using the '+' and '-' buttons. I loved the different modes, some feature full rotations of the clit stimulating nub whilst others have swirling and flicking sensations, great for teasing.
The image below shows the different vibration and rotation patterns of the Lelo Ora 2.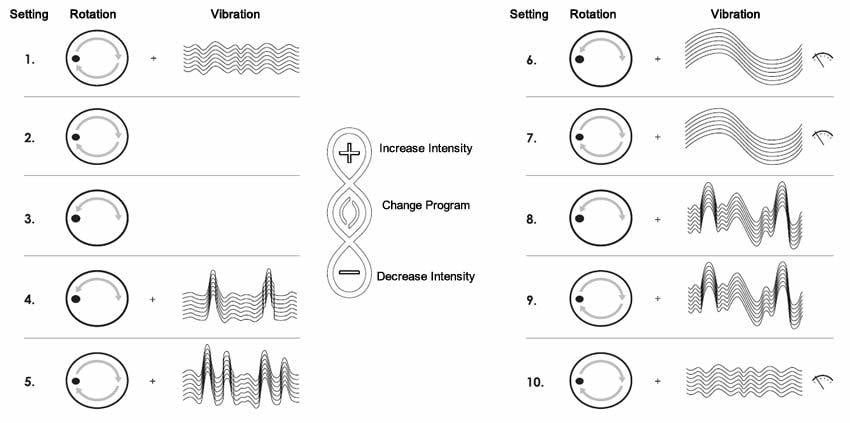 The thing I like most about the 'Sensetouch™ Technology' is that if you increase the pressure of the Ora 2 on your clit it automatically ramps up the power and this is a great way to alter the sensations from the toy without having to mess with its controls.
It isn't as quiet as the Lelo Smart Wand, but it's not an overly noisy toy either. So about average on the noise front, getting louder as you speed it up.(It is still quieter than my electric toothbrush though, the manufacturer claims that its noise output is less than 50dB)
Use
The cordless design makes it extremely easy to use and hold, and allows you to use an internal toy at the same time, making it a lot of fun indeed.
To get the best benefit of the vibrations and movement of the nub you need to nestle the Ora 2 between your labia and it is quite a wide toy so that may be a problem for some. With a bit of messing around I got it into the right place and after a bit of testing and adjustment I had it just where I wanted it.
I must say that I enjoyed the feeling of the nub circling or moving back and forth over my clit, it's a great feature. It doesn't feel like a tongue does though as it is too hard for that but it is pleasant and unique none the less.
It is a reasonably powerful toy and it produces rumbly vibrations that I enjoy but I just wish there were a bit more to them. The strongest point for the vibrations though is a bit higher than the nub, I presume that the mechanics of moving the nub back and forth dampens some of them but they are still strong enough to be enjoyable. One distinct feature that is lacking in the 10 programs though is a setting where the nub stays still and the vibrator works in case you want some pin point precision.
I enjoyed experimenting with the programs and there must be something for everyone there. My favourite was setting 8 with the nub moving back and forth over my clit, that feels amazing and I always end up selecting this setting when I am ready to orgasm.
If you are a power queen then you may find that there just isn't enough power in the Ora 2 for you but I had no problems orgasming with it. I actually find it quite refreshing to have a vibrator that will actually move its focus area in use and the nub feels good gliding over my clitoris. I found I could clamp my legs together with it in place and actually hump slightly to add some extra pressure. Once you have found the perfect spot you can just lay back and enjoy this toy.
The controls were easy to use but I found that it can get a bit slippery in play but I guess that is par for the course.
Performance
I enjoyed reviewing this toy, it took a little trial and error to find just the right spot, but once you find it you can really enjoy it. It isn't too noisy and has a good amount of power, the biggest selling point of the Lelo Ora 2 though is definitely the moving nub and it is unique in this respect.
Having a vibrator that circles or rubs your clitoris in use is a real eye opener and a lot of fun. I don't have any trouble getting myself off with the Lelo Ora 2. I can highly recommend using it with a dildo deep inside you for added stimulation.
Key Features
Key features:
Moving nub for clitoral stimulation
10 stimulation modes
Body safe material - Silicone and ABS
Cordless with USB charging
Sensetouch™ Technology
Waterproof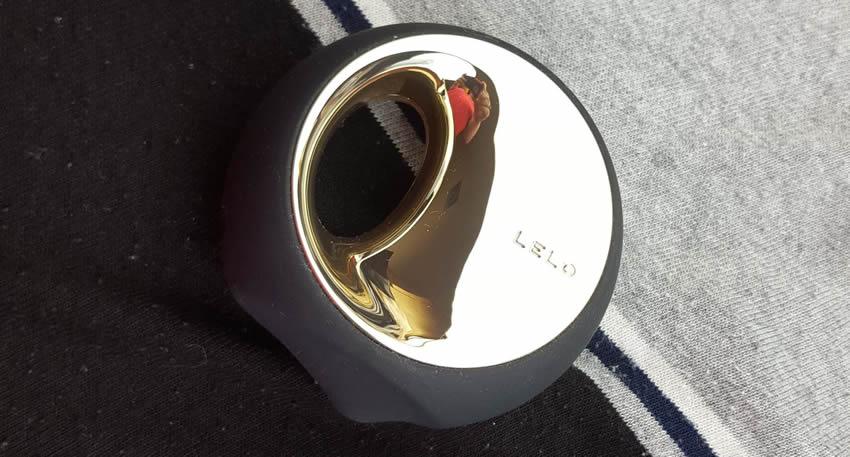 Final Thoughts
Whilst not the most powerful vibrator in the world, the Lelo Ora 2 is unique in respect of its moving clitoral stimulator, it feels very nice in use and it has some great stimulation modes. The cordless design makes it extremely easy to use and hold, and allows you to use an internal toy at the same time if you want. I like it and really enjoyed the feeling of movement around and over my clitoris, it gave me some amazing orgasms.
Recommendations
I would recommend this sex toy to:
Anyone looking for a unique sex toy that simulates the movement experienced with oral.
Anyone looking for a body safe vibrator that is easy to hold and use.
Anyone looking for firm clitoral stimulation.
I wouldn't recommend it to anyone who:
Doesn't like lots of clitoral stimulation.
Considers themselves a power queen.
Where Can I Get One From?
You can get the Lelo Ora 2 from ToysRYours.co.uk for £115, be sure to check out the rest of the Lelo range at ToysRYours.co.uk.
I was sent this toy in order to review it and this review doesn't contain any affiliate links.
I would love to hear what you thought of this review. What can I do better, what did you like? Let me know in the comments form below. Thank you for taking the time to read it. Joanne xx