Delivery
My Fun Factory Big Boss G5 Vibrator arrived very well packaged quickly after dispatch. Upon opening the box it was sent in I was greeted with a rather nice retail display box featuring the images of the Bog Boss G5 all over it. The packaging was very stylish with lots of information on the rear.
Removing the outer packaging I found a simple but clear message on the inner box lid - "Your Perfect Moment", I did chuckle at this and thought "I'll be the judge of that". Upon lifting the lid I got to lay my eyes on the G5 at last and the box lid was absolutely right. It looks amazing in the flesh so to speak and the pictures don't do it justice at all, it really is a nicely proportioned toy and it looks great in black.
I removed the G5 and then the internal box separator which had a small booklet on it, these turned out to be the instructions and underneath I found the charging cable with its USB plug on one end.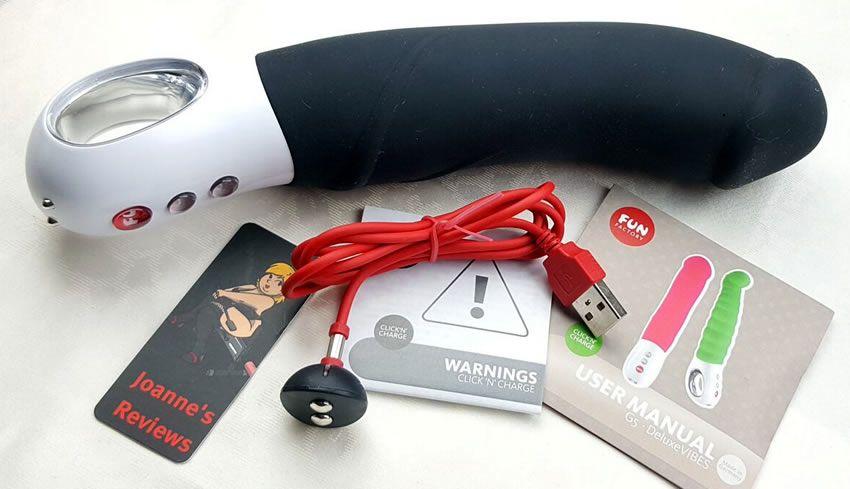 Features
The G5 series of vibrators from Fun Factory are old favourite models updated to their fifth generation (that's the G5 bit in their names) with the addition of much more powerful motors and a focus on power and performance.
The Fun Factory Big Boss G5 Vibrator is available in three colours and these are the black, Nude (flesh) and pink. All of these colour combinations feature a white control unit made of ABS built into the base of the toy.
The Big Boss does live up to its name and is 23cm (9") long with a diameter of 4.3cm to 4.6cm (1.7" to 1.8") giving an average circumference of 14.4cm (5.7"), this makes it a very nice size indeed and it feels very filling in use.
The vibrator is coated in medical grade silicone which makes it both body safe and Phthalate free, always try to stick with silicone based toys as they are definitely the best type to have as they are non-porous and easy to keep clean. The silicone blend used on the G5 is nice and soft and a little draggy when pulled across the skin so make sure that you use a good quality water based lube such as Sliquid H2O when playing. The silicone is also a veritable dust magnet so once washed and dried I highly suggest that you store the G5 in a seal-able plastic bag so that it is ready to use next time whenever the mood strikes.
It is phallic in shape and features a nicely proportioned glans at the tip, it also has a slight upward curve to it. This aids G-spot (or indeed P-spot) pleasure as the ridge on the glans is perfectly placed for good pressure on the G-spot when in use, when you add this feature to this toy's girth you can quickly see that it's a lot of fun to use.
The G5 features some stylistic veins near the base that feel great in use, they are subtle enough to not look too masculine whilst working well at the entrance to your vagina. The tip is very soft and flexible so you can have some fun moving it around inside you whilst you thrust to change the angle and pressures internally without it being uncomfortable.
The base of the toy is made out of white ABS and features three buttons and a great hole going right though its center to form a sort of loop. This makes it one of the easiest vibrators to hold and use that I have ever had the pleasure of playing with. Simple slip a finger or two through the hole to be able to comfortably hold and use the toy and this places your thumb in the perfect place to operate the three buttons. It is super easy to alter the settings even when thrusting it in and out like a mad thing.
The three control buttons are the 'Fun' button with a plus and minus button under it. The fun button switches the vibrator on and off, whilst the plus and minus buttons allow you to increase or decrease the power through its different speeds and operating modes, these are Merengue (what a strange name) Mode, Constant Mode, Aerobic Mode and Razzle Dazzle Mode (my favourite).
The powerful motor in the G5 transmits the vibrations right along its length and after holding it my hand for about five minutes whilst playing with the controls it left my hand buzzing after switching it off which is pretty damn good for a rechargeable vibrator.
The vibrator is completely waterproof so it is ideal for bath-time fun and games. It is also incredibly easy to clean having no sockets for charging plugs at all. Simply clean with warm soapy water or a sex toy cleaner.
The G5 comes with a magnetic charging cable that has two magnets on one end and a USB plug on the other so you will need to have a USB plug or socket available to be able to charge it. This magnetic charging system is elegant in its simplicity, it means no holes for water to get in and is a great way of attaching the toy to a charging cable - I love it. Simply offer up the charging cable and it will snap into place. A full charge will give you between two and four hours of play time depending on how high you set the G5 purring away inside you.
Performance
Now I like my big toys but these usually consist of Dildos from the Bad Dragon range so it was so nice to be able to enjoy that fuller feeling whilst also enjoying strong powerful vibrations. I love the operating modes and enjoy the way that the vibrations don't feel concentrated in one particular spot and this makes this toy a great one for thrusting past my G-spot. It is also very capable when it comes to clitoral stimulation with strong deep vibrations that are a lot of fun.
The controls are extremely easy to use and one feature I really like is that if you press the Fun button when in use it will immediately stop the vibrator so if you are disturbed whilst playing there is no need to panic trying to work out how to switch the thing off.
In use it is about as noisy as my electric razor on its highest settings, on lower settings it really is quite quiet. Charging is an absolute breeze with the magnetic contacts and I really do like this feature.
I find some lube essential when just starting to play but this toy but it doesn't need topping up as my natural lubrication takes over. The silicone is really nice but you just can't keep the G5 lint and dust free, it is a complete dust magnet. You won't believe the trouble I had cleaning it and keeping it lint free for the pics in this review so definitely store it in a seal-able bag when not in use (make sure it is dry first though). However that is the only downside to this toy.
Its performance really is something to shout about, it packs quite a punch and this added to its size makes it an amazing vibrator to play with and I can highly recommend giving it a go if you fancy something a little larger than normal. Dont get me wrong, it isn't huge it's just larger than most vibrators and that is a great selling point for it in my books, #snugfit.
Key Features
Key features:
Quality product made in Germany
Silicone and ABS construction makes it body safe
Rechargeable
Waterproof
Lots of girth
Magnetic charging cable
Final Thoughts
I really like the Fun Factory Big Boss G5 Vibrator, everything from its form to its performance lets you know that it is a quality vibrator. The superbly shaped handle makes use and control simplicity itself and the power and performance is everything it should be. Fun Factory have really come up with a winning design here, it certainly means I can stop mourning for the loss of my very old Patchy Paul vibrator that I picked up in Germany many years ago. The Fun Factory Big Boss G5 Vibrator is the boss and I wouldn't hesitate to recommend it to anyone wanting a larger vibrator that packs a punch. At only £69.20 it is great value for money for a Silicone vibrator with these features. It has definitely got me wanting to try more from the G5 range, maybe even the Fun Factory Patchy Paul G5 - just for old times sake of course.
Recommendations
I would recommend this sex toy to:
Anyone looking for a strong vibrator with some girth.
Anyone looking for a body safe vibrator that is easy to hold and use.
Anyone looking for a vibrator that is good for G-spot play.
I wouldn't recommend it to anyone who:
Doesn't like larger sex toys.
Joanne's rating
Where Can I Get One From?
You can get the Fun Factory Big Boss G5 from ToysRyours.co.uk for £69.20, be sure to check out the rest of the Fun Factory range at ToysRyours.co.uk.
I was sent this toy in order to review it and this review doesn't contain any affiliate links.
I would love to hear what you thought of this review. What can I do better, what did you like? Let me know in the comments form below. Thank you for taking the time to read it. Joanne xx