Delivery
I could hardly contain myself when the Crescendo finally arrived under plain cover. When I opened the shipping box I was greeted with a delightful piece of packaging for the Crescendo. Mystryvibe have put a lot of thought into the packaging and presentation of their creation and it shows. It is both luxurious and extremely functional. When you open the box you are greeted by the Crescendo vibrator itself held securely on top of its padded storage bag with some black ribbon.
Features
This is certainly a toy that has grown on me. On first look the toy looked sleek and flat but nothing screamed out at me as I took it out of the box. That was until I started really looking at it and found that it is a completely wireless toy, with wireless charging.
The first great feature abut this vibe is the fact that you can bend it into lots of different shapes. Mysteryvibe.com quite rightly realise that everyones body is different and one shape of vibrator certainly does not fit all. Being able to bend the vibrator means that it can reach places you don't normally stimulate and it can be enjoyed by guys as well as women. The toy has a type of knuckle design which means that you can alter its shape to personalise it to you and to your mood, with 6 joints to manipulate. The joints are reasonably sturdy so will maintain their position in play, however, as they are not totally rigid they may move during hard or rougher toy play.
With 6 motors the toy ensures that the vibrations are enjoyed throughout the whole length of the toy, but as each motor is individual you can have a selection of patterns which can go from just using a couple of motors to all 6 of them. The motors are reasonably quiet on the lower settings, but it is fairly noisy in the higher settings. This makes the Crescendo powerul and customisable which are a heady combination. The middle four motors are high powered with the ones on the end have MysteryVibe PowerBoost Technology which makes them even more powerful.
The Crescendo is coated in body safe silicone which makes it hypoallergenic and very easy to clean. Being coated in silicone makes it non-porous which means that a quick wash in warm water and a sex toy cleaner will have it cleaned effectively and ready for use the next time you need it. The silicone is smooth and silky to the touch, and not a total dust magnet or tacky, making it easy to keep clean.
The Crescendo comes with a charging cradle and has cordless charging, simply rest the Crescendo in the cradle and it will charge itself up. The charging pad is a nice design, and the cable length is decent, I do like the fact that you can change the cable easily to a longer one if required, which also means if the cable gets damaged it isn't difficult to change it. This also means that the toy is completely sealed making it entirely waterproof so it is great to use in the bath or shower so grab some candles to get yourself into the mood and really enjoy a bit of personal pampering.
On the larger end of the toy, are the control buttons and two fins. The buttons are two on either side of the toy, these are quite small and I found them quite difficult to select in play. The fins are a lovely addition and make really great clit stims.
The toy can be used on its own or you can link it to your phone by the app, which lets you add even more patterns to the playlist. Giving you 14 patterns to play with, which can be selected from your phone. Although to adjust the power you do have to use the buttons on the side of the toy as this can't be done with the app. One great feature is that the Crescendo contains an internal 4GB memory card for storing the programs that you design - how amazing is that?
Performance
The Crescendo is incredibly easy to bend into any shape to suit your own style of masturbation and your body shape. When clicked into shape it keeps this shape until you straighten it again which is something that other bendable toys don't do.
When using the Crescendo one thing that really annoyed me was just how much noise this thing kick out, on the lower settings it whines at you and on the highest settings it screams at you. This is by no means a discreet sex toy. However this means that the vibrations that it kicks out are quite impressive especially the more powerful motors at each end. When bent into shape I found it really easy to give myself some amazing G-spot orgasms using it and also when just teasing my clitoris with the tip I could get off easily.
The vibrations are quite rumbly which is something that I like but others might not enjoy them as much. This toy is a dichotomy, it was designed by the nicest of people as a toy for everyone to enjoy and it feels like it is trying to be the jack of all trades rather than being the best in a particular area. This makes is a pretty good toy when you take everything into account but some people may find that they need extra stimulation or another toy to 'get there'.
The App is easy to use once you have played with it a bit and I love the way that you can design your own vibration patterns, I have spent hours getting mine set just right and I love my Crescendo but I feel that it could be just that little bit better. The biggest drawback is definitely the noise but if that isn't a concern for you then definitely check out the crescendo.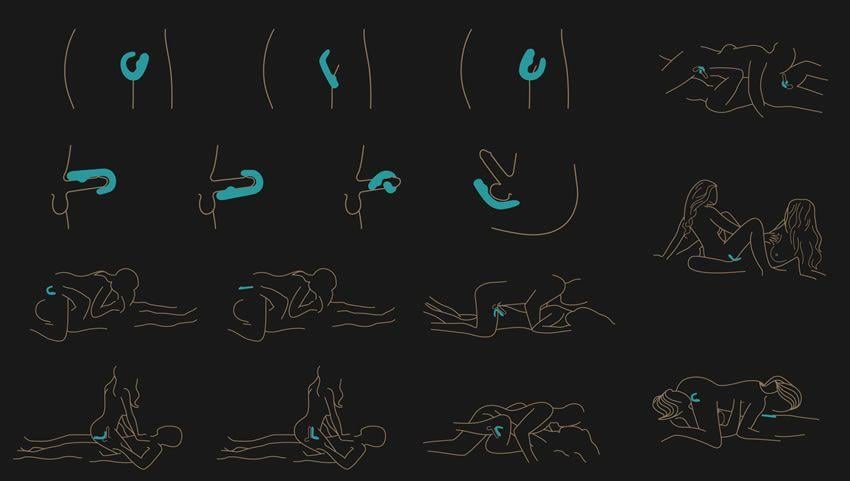 Cleaning
The Crescendo is really easy to clean as it is coated in body safe Silicone, simply wash in warm soapy water and use an antibacterial sex toy cleaner or a 10% bleach solution to clean it. Make sure that you get all body fluid residue off the toy and then ensure that it is completely dry before you put it into its storage bag. Don't boil or put in the dishwasher to clean it just clean it with warm water and a sex toy cleaner, it really is quick and simple.
Key Features
Key features:
Quality product
Body Safe Silicone
Rechargeable
Waterproof
Six Motors
Great for Clitoral or G-spot stimulation
Quiet in use
Flexible and easy to change its shape
Final Thoughts
In summary this is a very nicely sized vibrator that is great for both clitoral and g-spot stimulation. Whilst I love the fact that you can change the shape of the toy, put together with the Bluetooth and amount of patterns it really is a nice toy. The only downsides for me are the small buttons and the fact that the toy is fairly flat, so if you like a medium or large toy you would need to use an additional toy for that fuller feeling. The noisy motors may also be a concern for some people.
Mysteryvibe.com did a great job with this toy and it was amazing to get an insight into the development process. I love the way that they reached out to bloggers and reviews for input and I wish that more companies were as open with the design process as they have been.
I was sent my Crescendo by Mysteryvibe.com in exchange for a fair and honest review and I hope that you have enjoyed reading this review and that is has hopefully left you curious to try one out for yourself.
Where Can I Get One From?
Grab a Crescendo for yourself from Mystery Vibe for only £139.